Target's Black Friday 2019 deals are off the hook.
With loads of special coupons and savings events, you can usually save up to 60% without leaving home!
Check it out, fellow Target-obsessed friends. Plus, we've got more on our Target Deals Page here!
1. Plan to shop online and avoid going in store.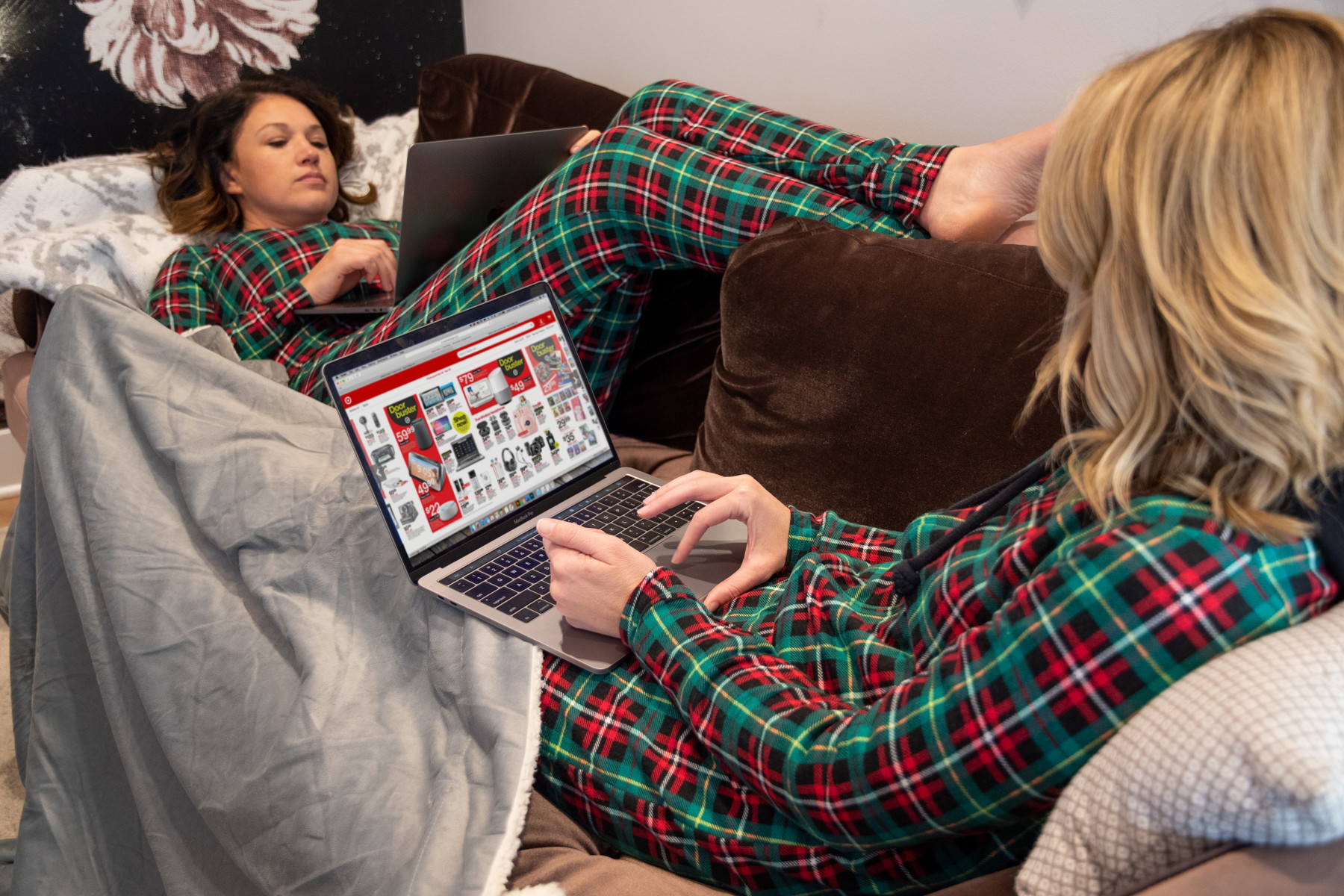 Target offers most of its Black Friday deals — including Doorbusters — online. Avoid the crowds and shop in your own home!
2. Only go in store on Black Friday if you must have a Special Purchase Doorbuster.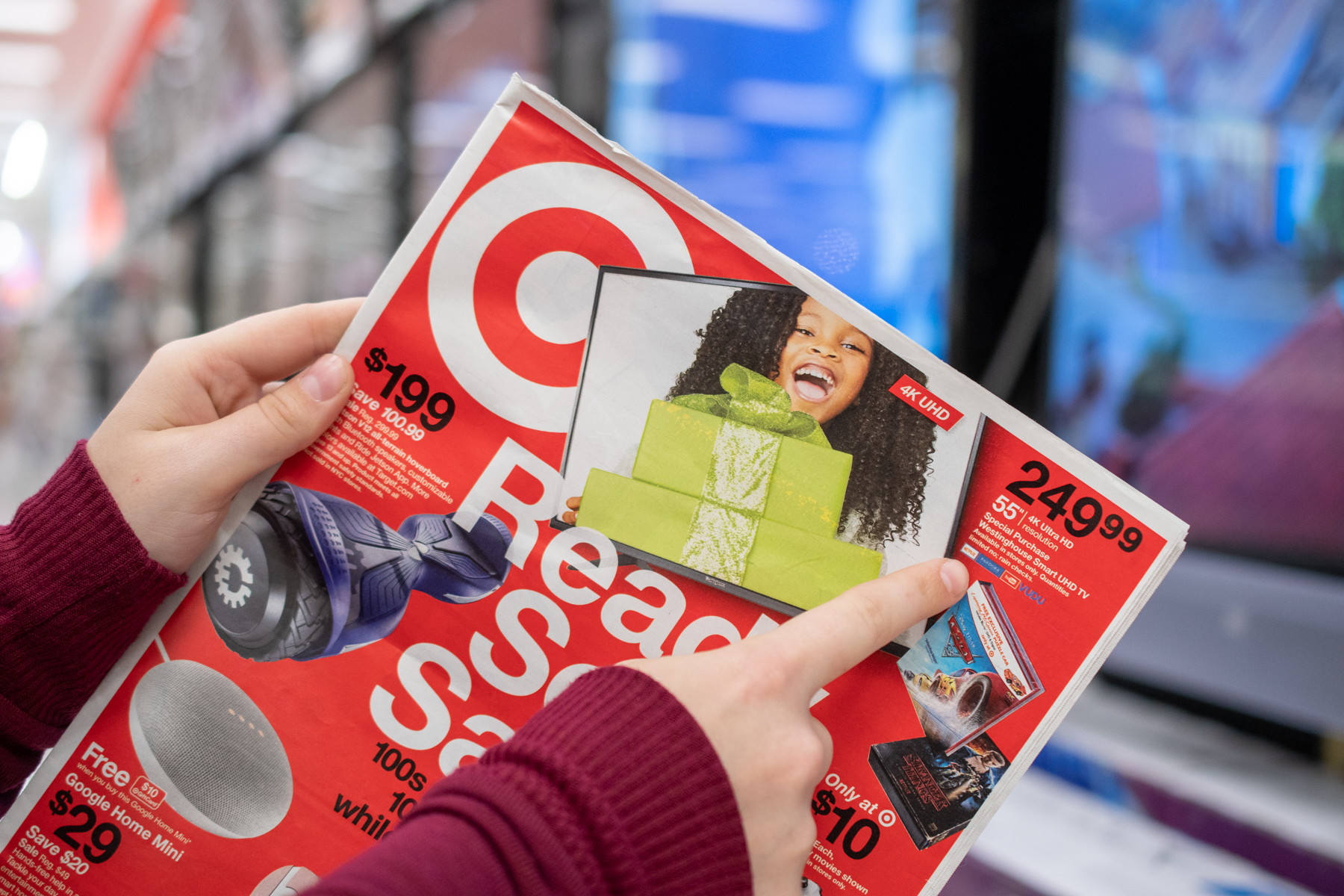 There are usually one or two Special Purchase Doorbusters at Target during Black Friday. In 2019 it was a 65″ Roku Smart UHD Element TV for $279.99. Since it was a special Black Friday offering, there's no regular price listed, but a comparable TV (TCL brand) retails for $749.99. Also, we saw Nintendo Switch Mario Kart 8 Deluxe Bundle for $299.99 (reg. $359.98) — 15% savings.
If these two items are on your Christmas shopping list, consider going in store. Otherwise, stay home and shop online!
3. Study up on Target's Black Friday ad.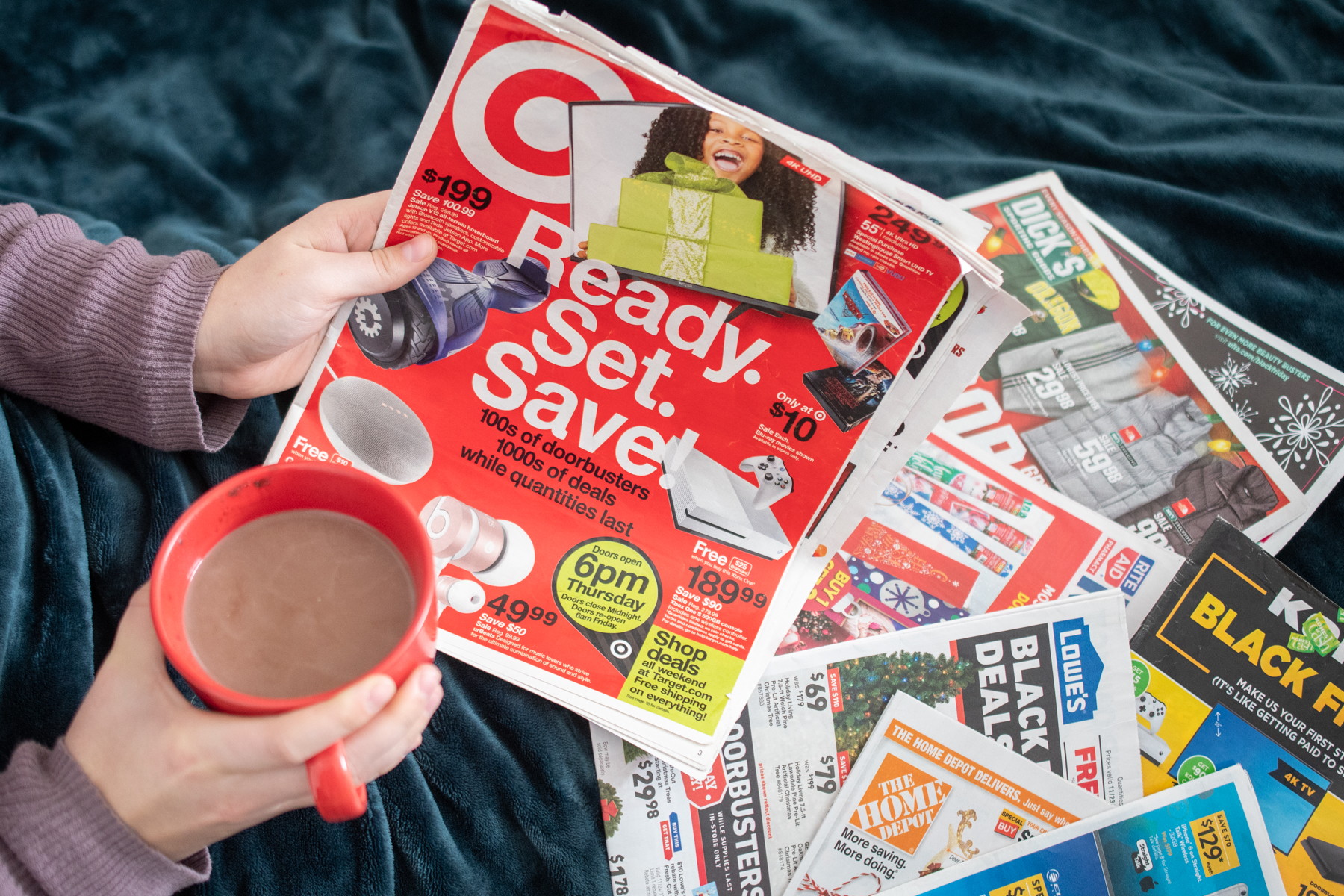 Target's Black Friday ad leaked on Nov. 6 this year, a few days later than normal.
Download the KCL app and bookmark the KCL Black Friday Deals page to be the first to know when Target deals go live.
4. Expect totally free shipping with no minimums from Nov. 1-Dec. 23.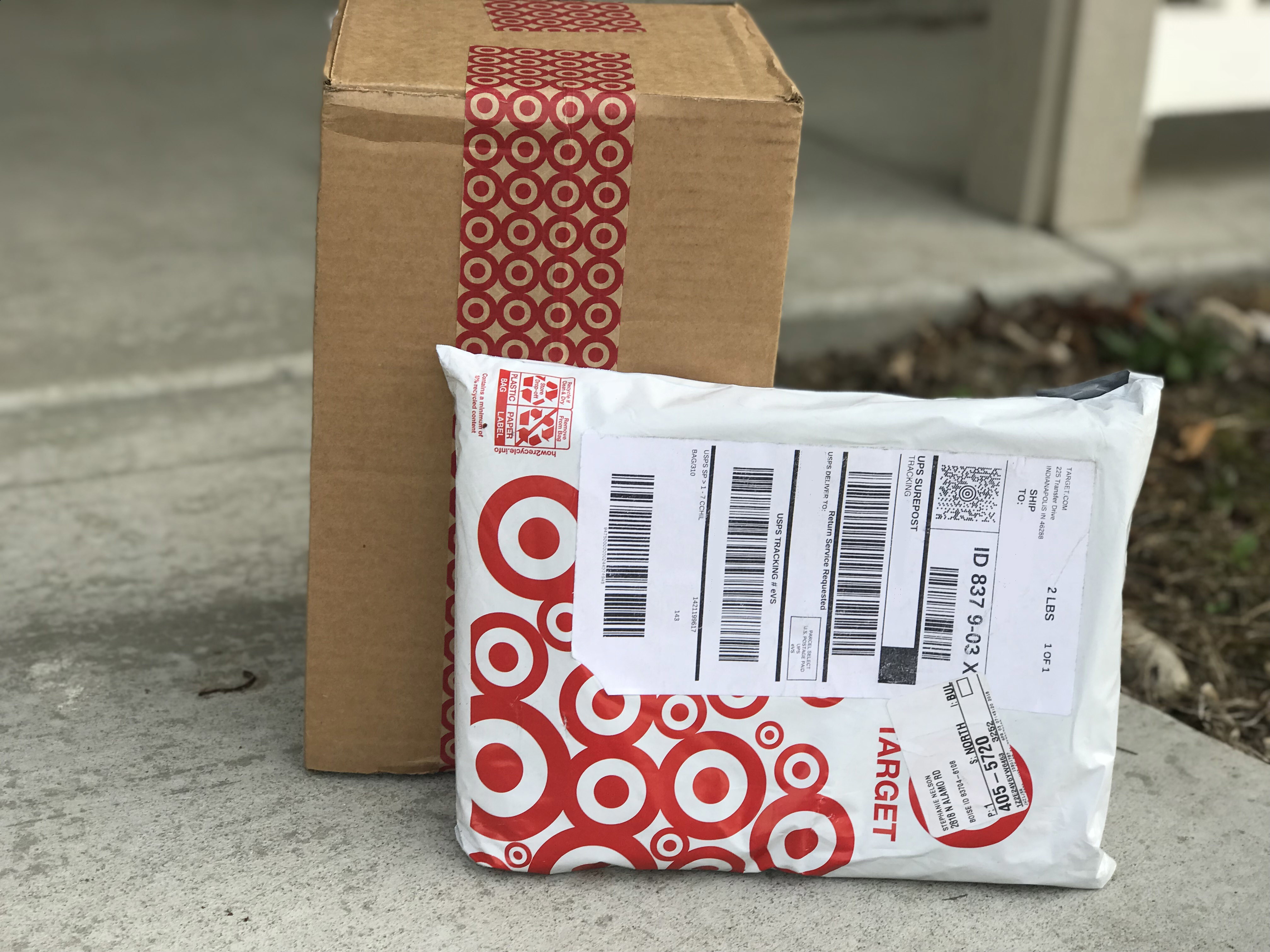 For two whole months, you can go hog-wild shopping Target.com without worrying about the usual $35 minimum purchase!
(RedCard holders get this perk all year long.)
Note that due to extremely high volume during the week leading up to Black Friday through Cyber Monday, there may be a few shipping delays.
It's not a huge deal — usually only a few days delayed. Just don't plan to get everything in exactly two days.
5. Get a Target RedCard for early access to the best deals.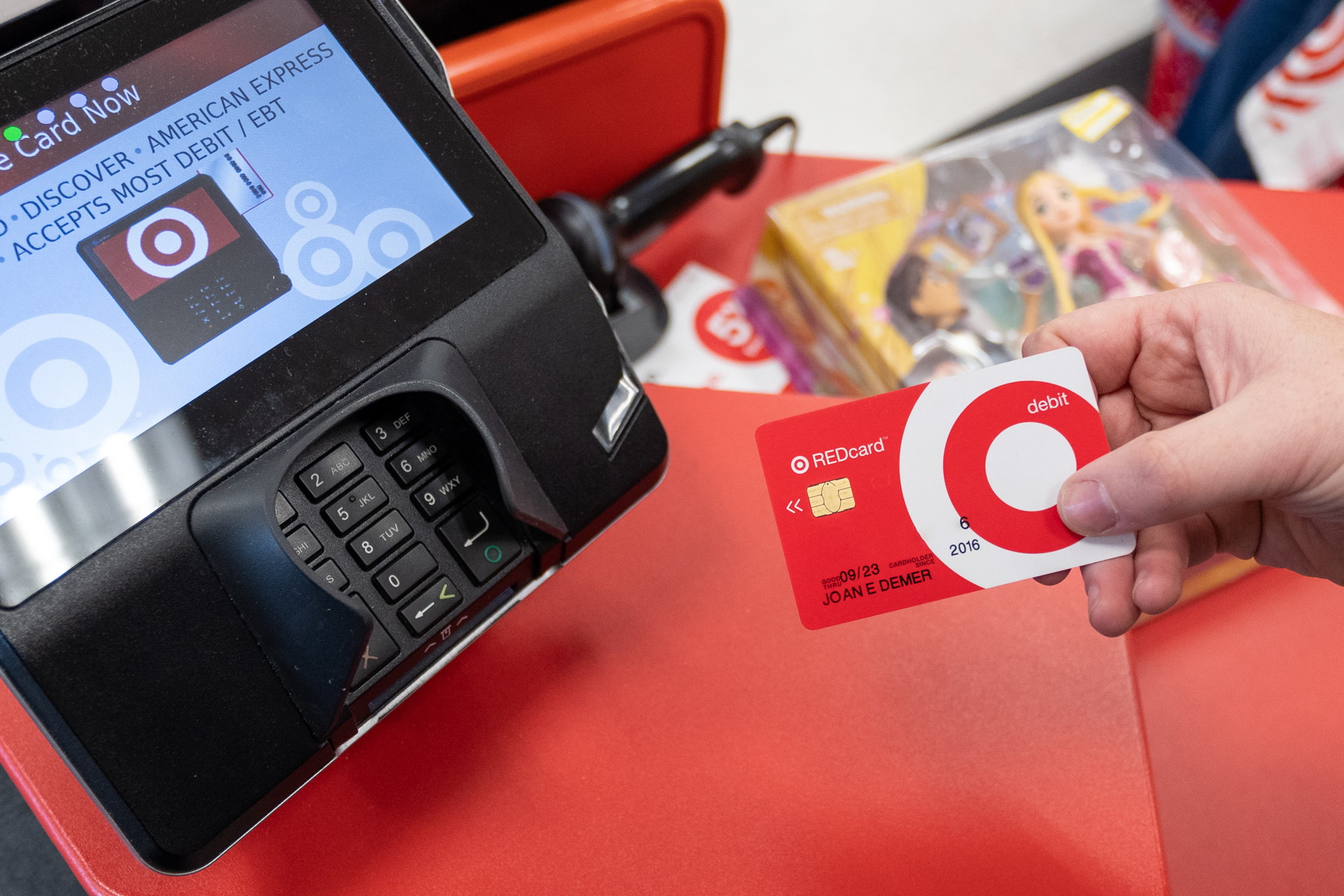 For two years in a row now, Target has offered almost all Black Friday deals 24 hours earlier for RedCard holders. The Wednesday before Thanksgiving, starting at midnight (PT), RedCard shoppers could get a jump start on Black Friday deals.
But here's the catch — you have to be fast because even though Target offers early access to RedCard holders, there are limited quantities available. When an item is gone, you'll have to wait for Black Friday shopping to open online on Thursday.
Sign up for RedCard right now to be sure you're set to participate.
6. Or, sign up for Target Circle and get 1% back on all your purchases, plus early access.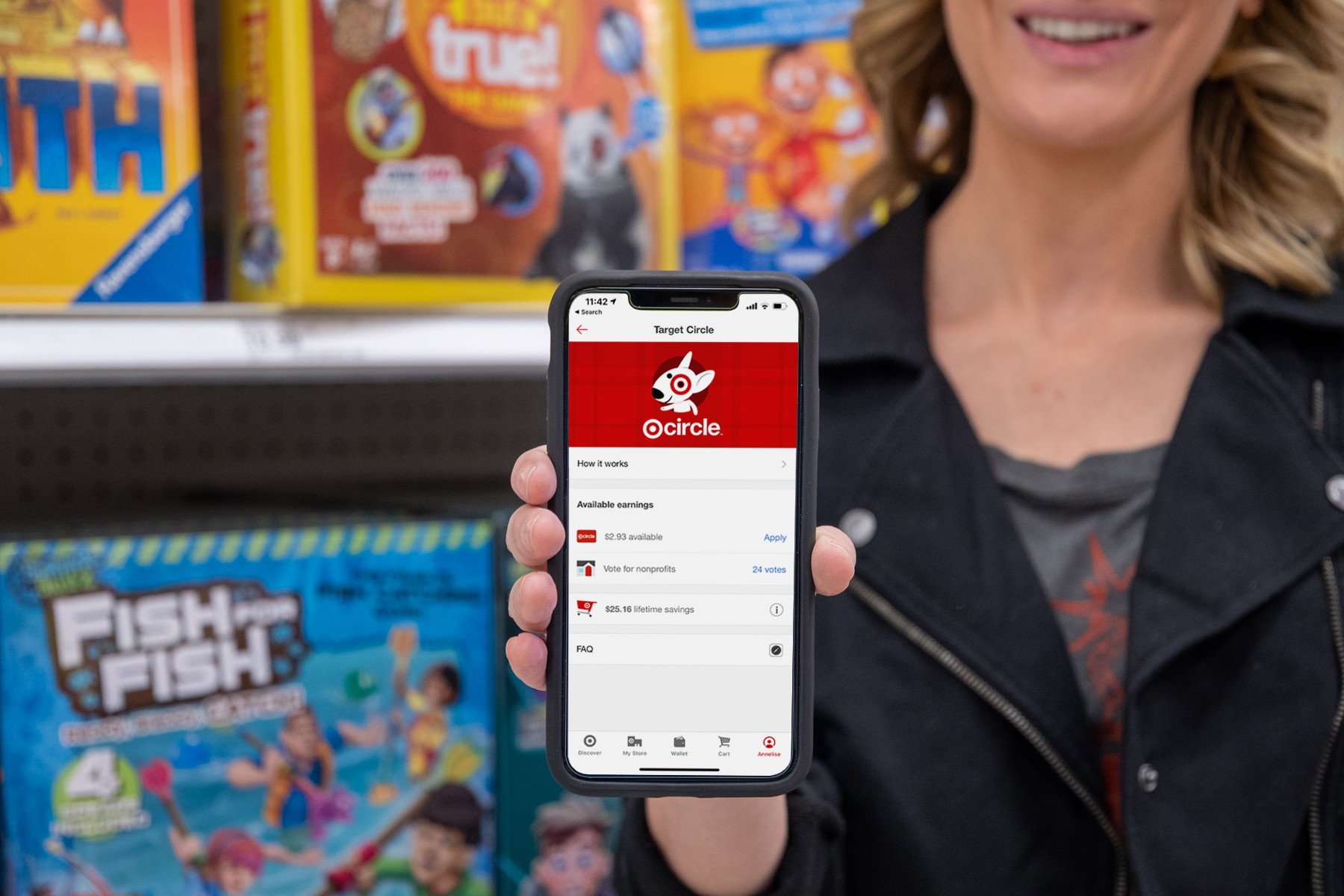 New in 2019, with Target Circle, you'll earn 1% that you can spend on future purchases every time you shop. This replaces Cartwheel offers.
The only bummer is that you can't get 5% back from Target RedCard and 1% back from Target Circle — it's one or the other.
But at least you can access deals 24 hours earlier, just like RedCard holders! Plan to shop the Wednesday before Thanksgiving in order to access Target's Black Friday deals earlier than everyone else.
If you're not a Target Circle member or a RedCard holder, plan to pull out your laptop and start shopping Thurs. Nov. 28 at 3:00 a.m. ET.
But honestly, just sign up for Target Circle. It's free and easy to get yourself early access to Target's Black Friday deals.
7. Focus on deals for Beats and holiday decor.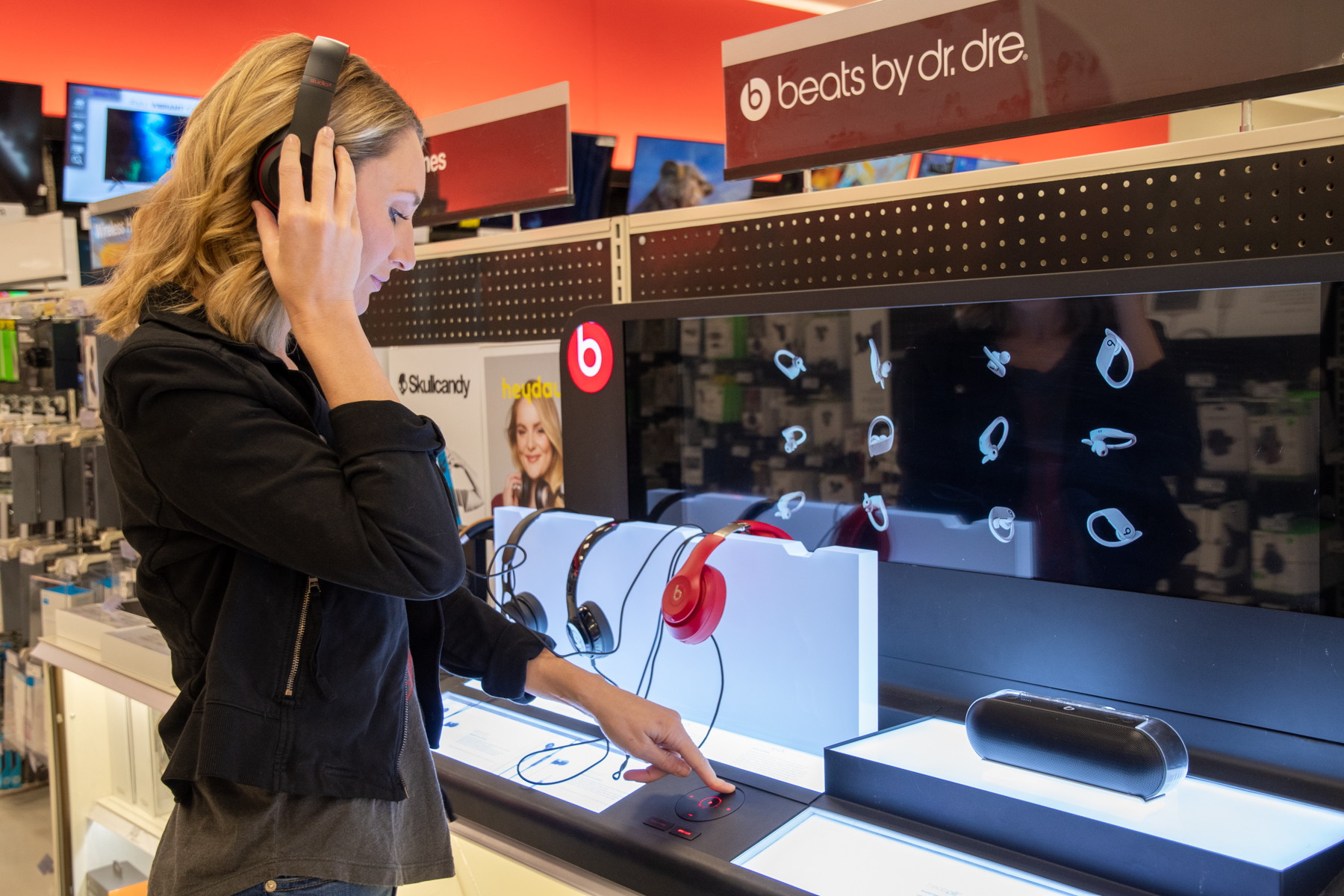 If you're planning to shop Target during Black Friday or Cyber Monday, watch for these deals:
Beats Studio Wireless Headphones (regularly $379.99)
Target: $151.99 (sale + 5% RedCard discount)
Kohl's: $279.99 + $85 back in Kohl's Cash
Target WonderShop Holiday Decor
Saturday and Sunday after Black Friday, Target offers a "$50 off a $100 purchase" on lights, trees, ornaments, stockings, gift wrap and more.
8. Spend $50 on Black Friday and get a coupon for 20% off during December.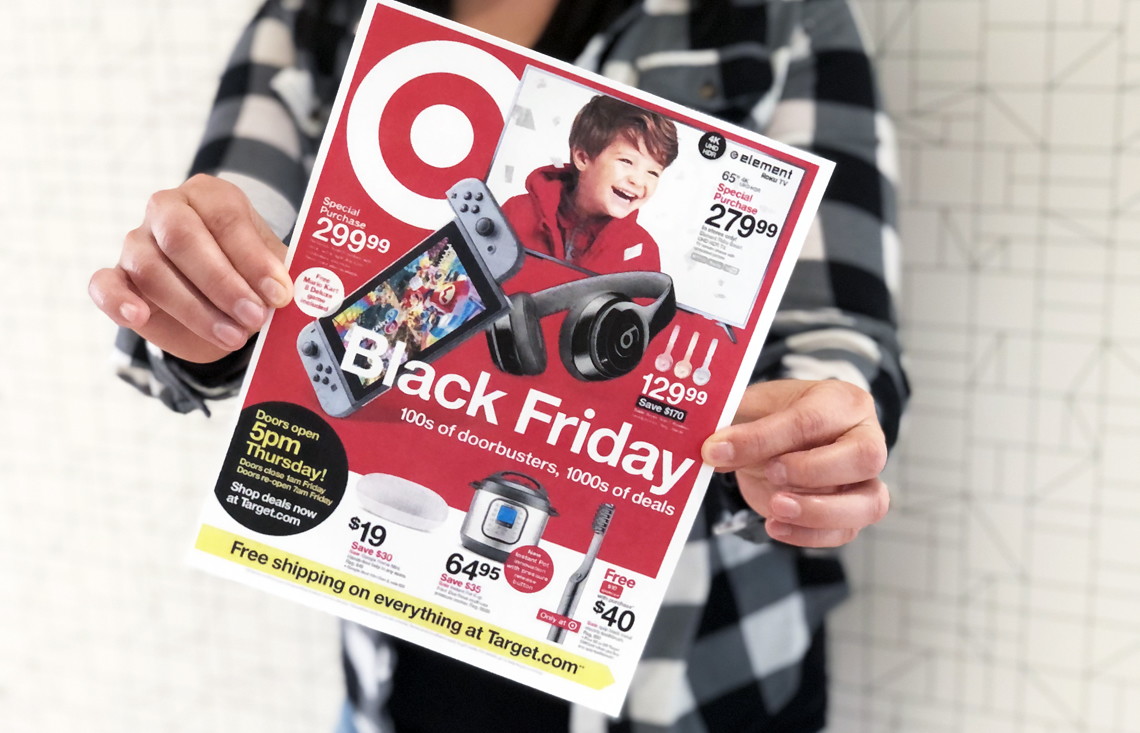 Super easy to do since you're already planning to shop on Black Friday, right?
The coupon is good from Dec. 3-14.
9. Look for gift card promos and use the gift cards to finish your list.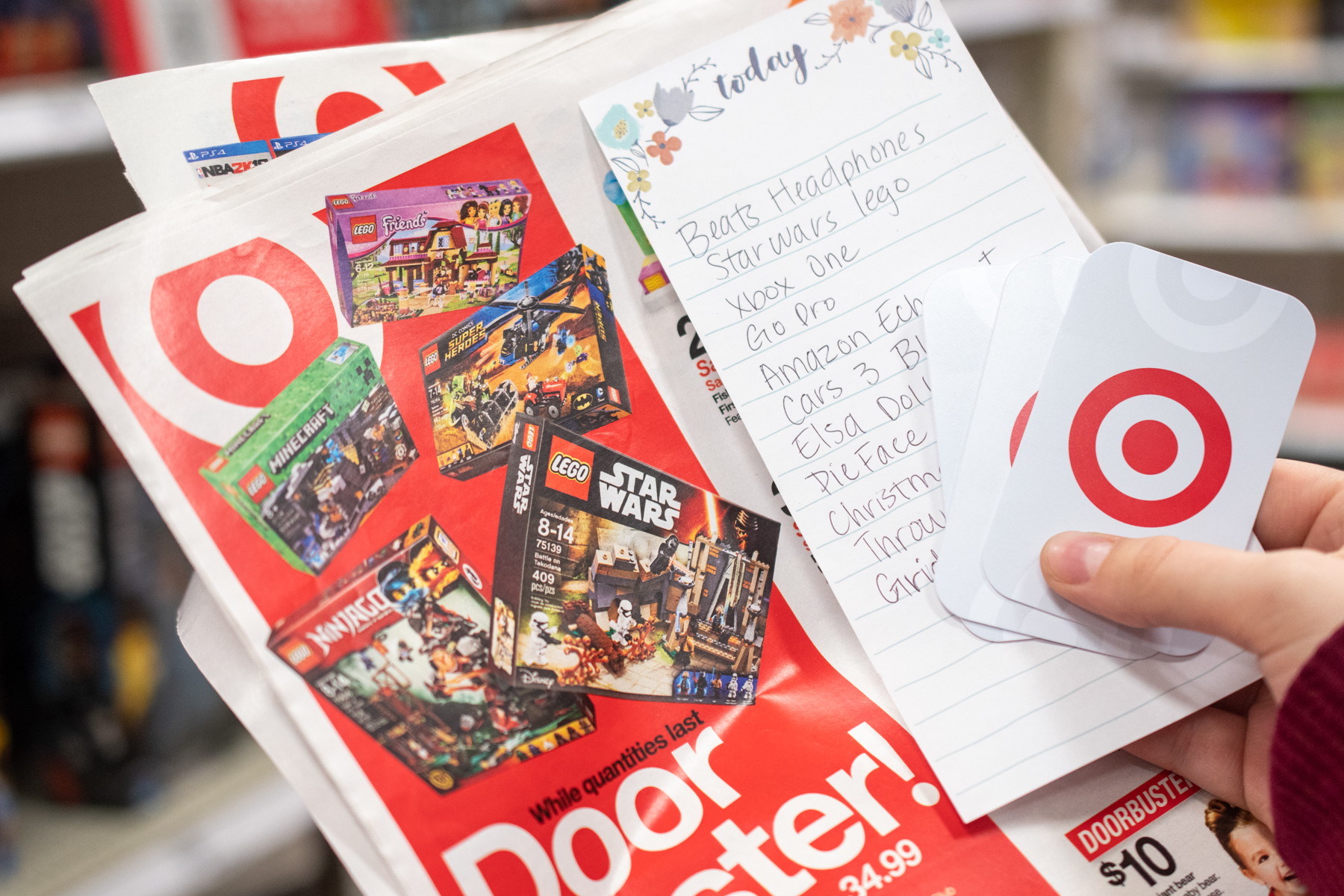 "I hate Target gift cards" — said no one ever.
Look for opportunities to earn gift cards when you buy certain items, and then use them to finish your Christmas shopping even after Black Friday is over.
For example, in 2019 there was a $200.00 Target Gift Card with an iPhone 11 Pro Max purchase.
10. Watch for Daily Deals from Nov. 1-Thanksgiving Day.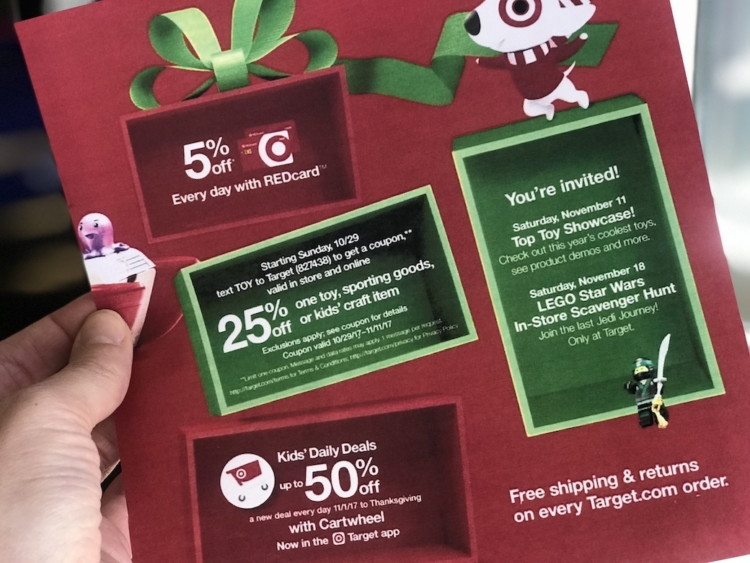 Target usually offers one children's item for up to 50% off every day until Thanksgiving Day in November.
We've seen discounts on L.O.L. Surprise!, Little Tikes, Beyblade and more.
Every deal lasts only for one day.
11. Look for a mobile coupon for 25% off one toy when you text TOY to 827438.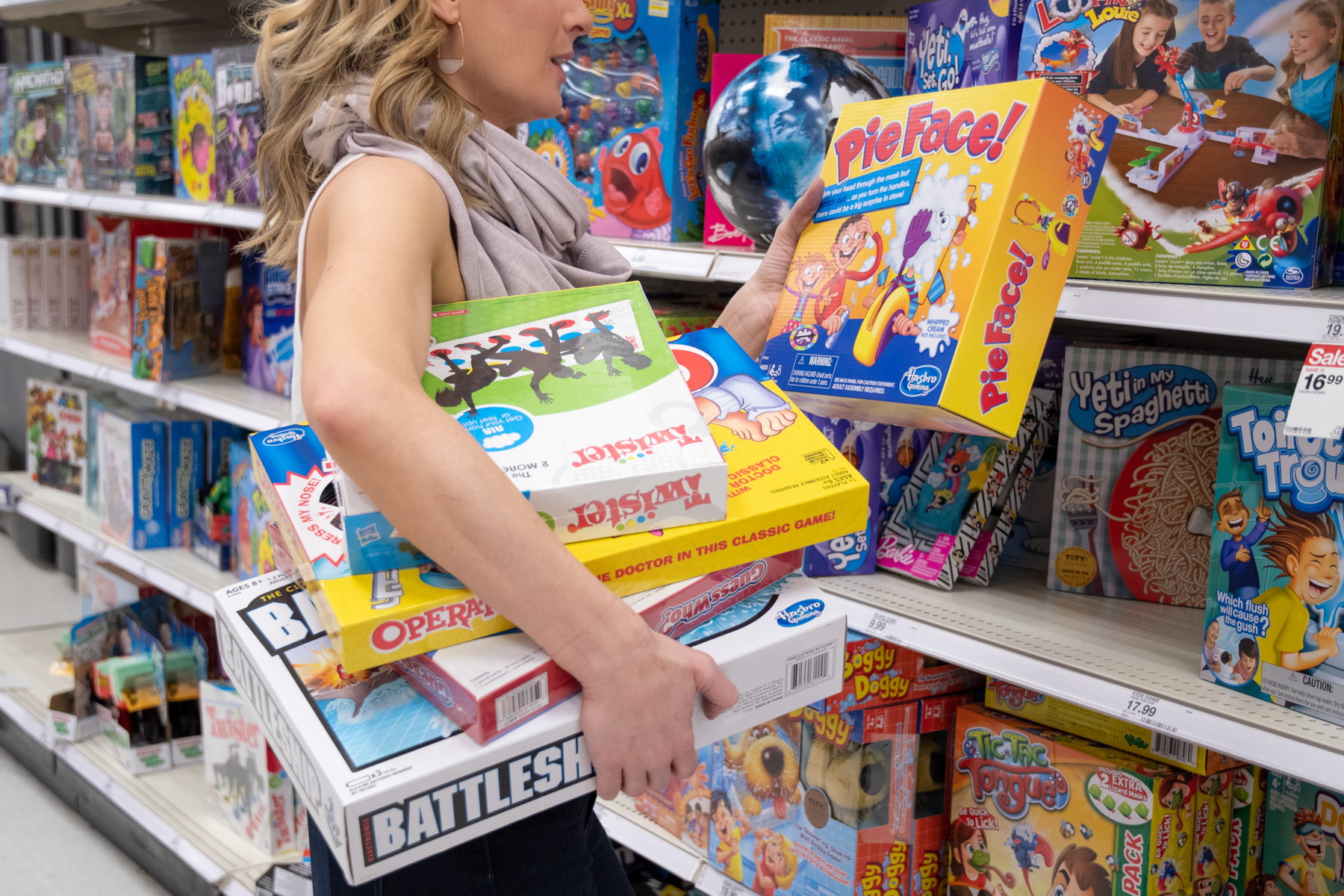 This coupon is available and valid from Oct. 27-Nov. 23.
In fact, Target releases its Holiday Toys ad about two weeks before the full Black Friday ad, and in 2019 we found better prices on toys overall during this time because of the coupon.
See a good deal on a toy at Target before Black Friday? If you can use this coupon, you can feel good about pulling the trigger.
12. Don't buy FitBit at Target — buy it at Kohl's instead.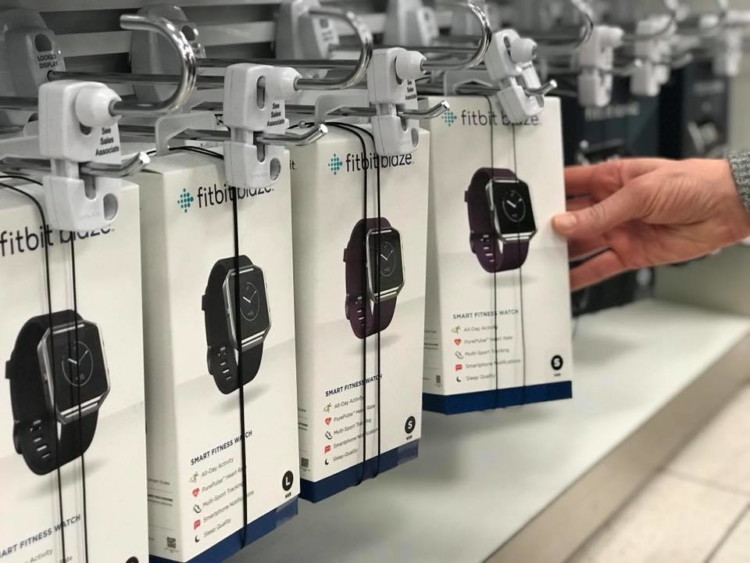 Anytime Kohl's Cash puts Kohl's ahead of Target on Black Friday, switch to Team Kohl's.
Here's an example:
FitBit Inspire HR (regularly $99.99)
Kohl's: $69.99 +$15 in Kohl's Cash (doorbuster price)
Target: $66.45 (sale price + 5% RedCard discount)
13. Buy when you can save 50%, but aim for more like 60% savings.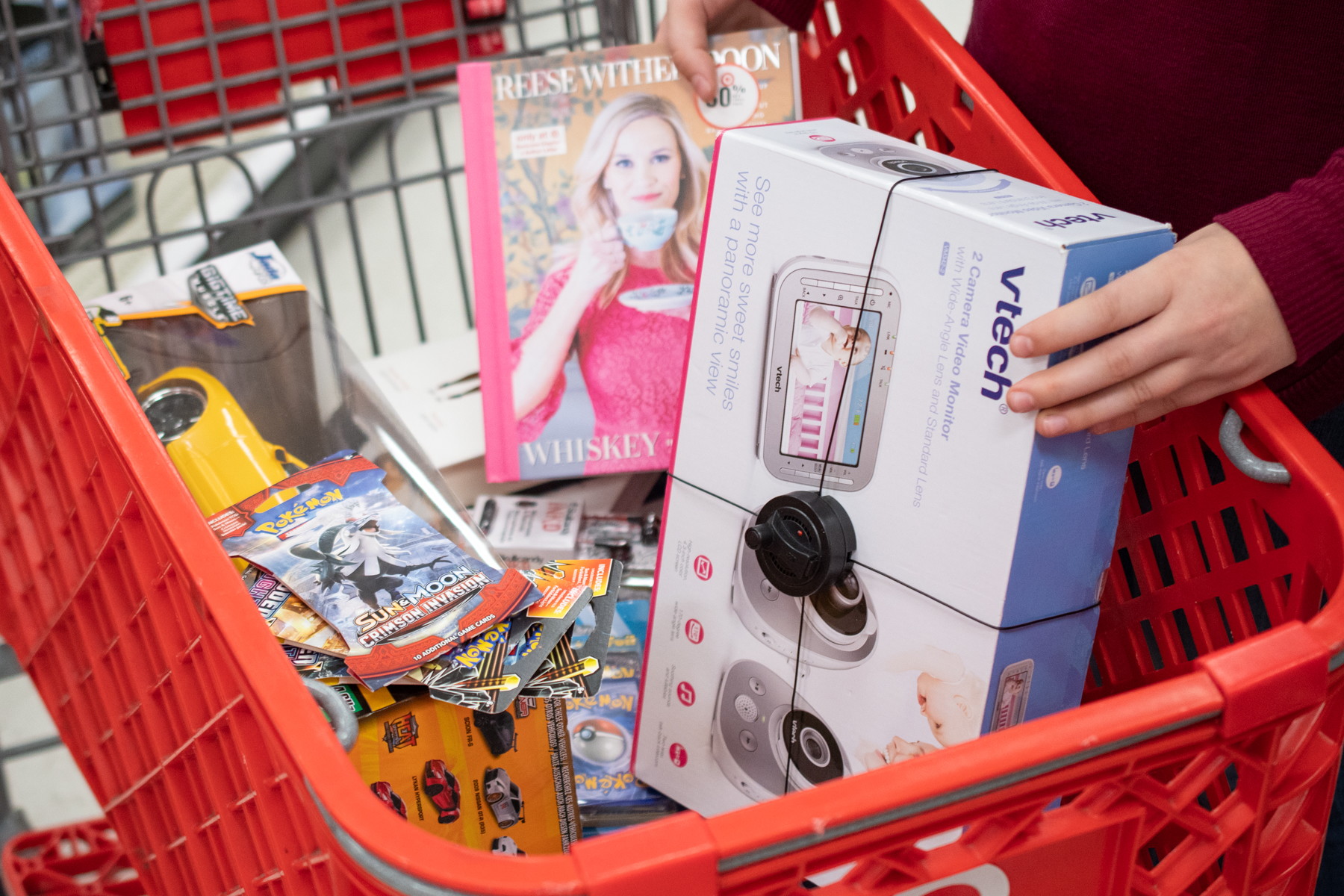 To save the most money at Target during Black Friday, factor in your 5% RedCard savings and gift card promo savings.
Expect to save about 50% off retail on these items and brands:
Beats
Google Home
Amazon Fire
Nikon
Amazon Echo
HP
Instax
Select Nintendo games
Games and puzzles
Black & Decker
Select Disney toys
Hatchimals
Fingerlings
Select luggage
Select women's sweaters
Kids' & women's boots
Men's, women's and kids' puffer coats
Throw blankets
Select vacuums
Rubbermaid & Pyrex
KitchenAid
Air fryers
Keurig
Select small kitchen appliances
Holiday decor
Select TVs
1. Don't discount Cyber Monday at Target!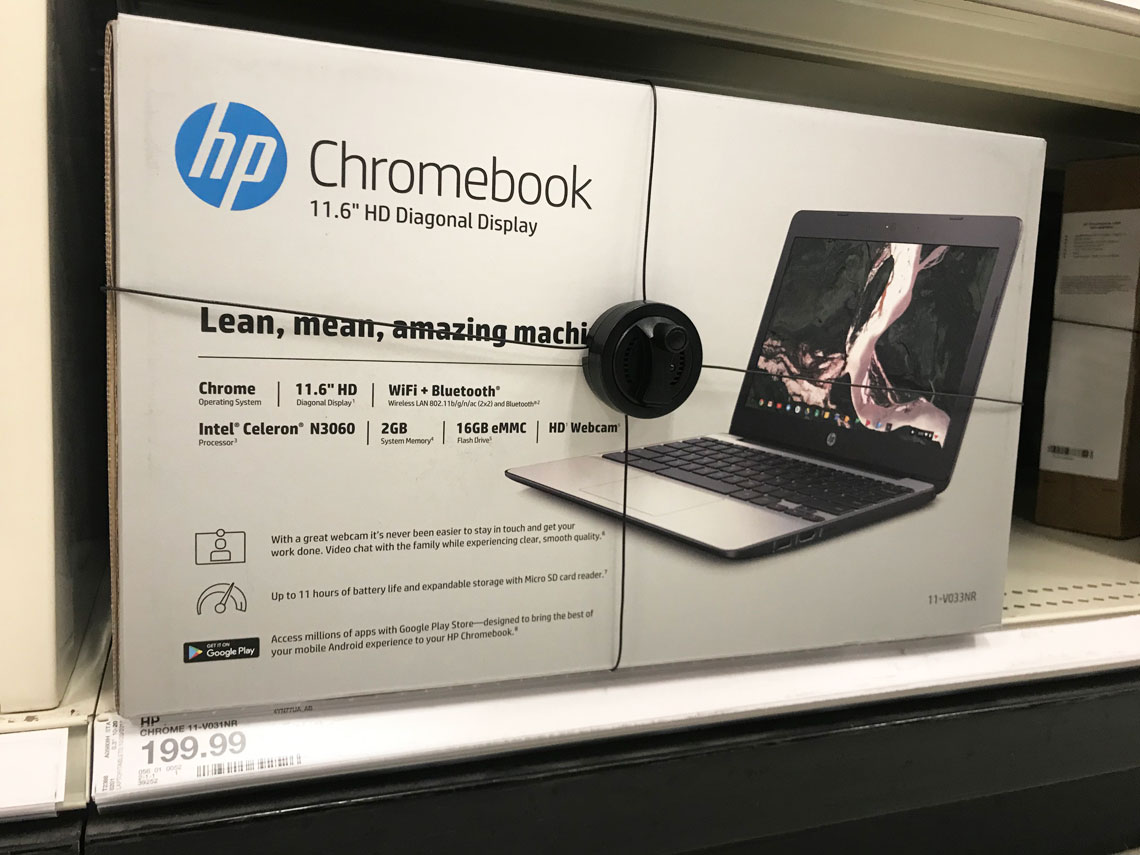 In 2019, we saw $85 Chromebooks (11.6″), Christmas trees for $50 (reg. $200, on sale for $100. Use a 50 off $100 coupon!)
Target offered an additional 15% off kitchen appliance purchases online, making brands like KitchenAid competitively priced!
15. Sign up for Paribus before you shop Target Black Friday online.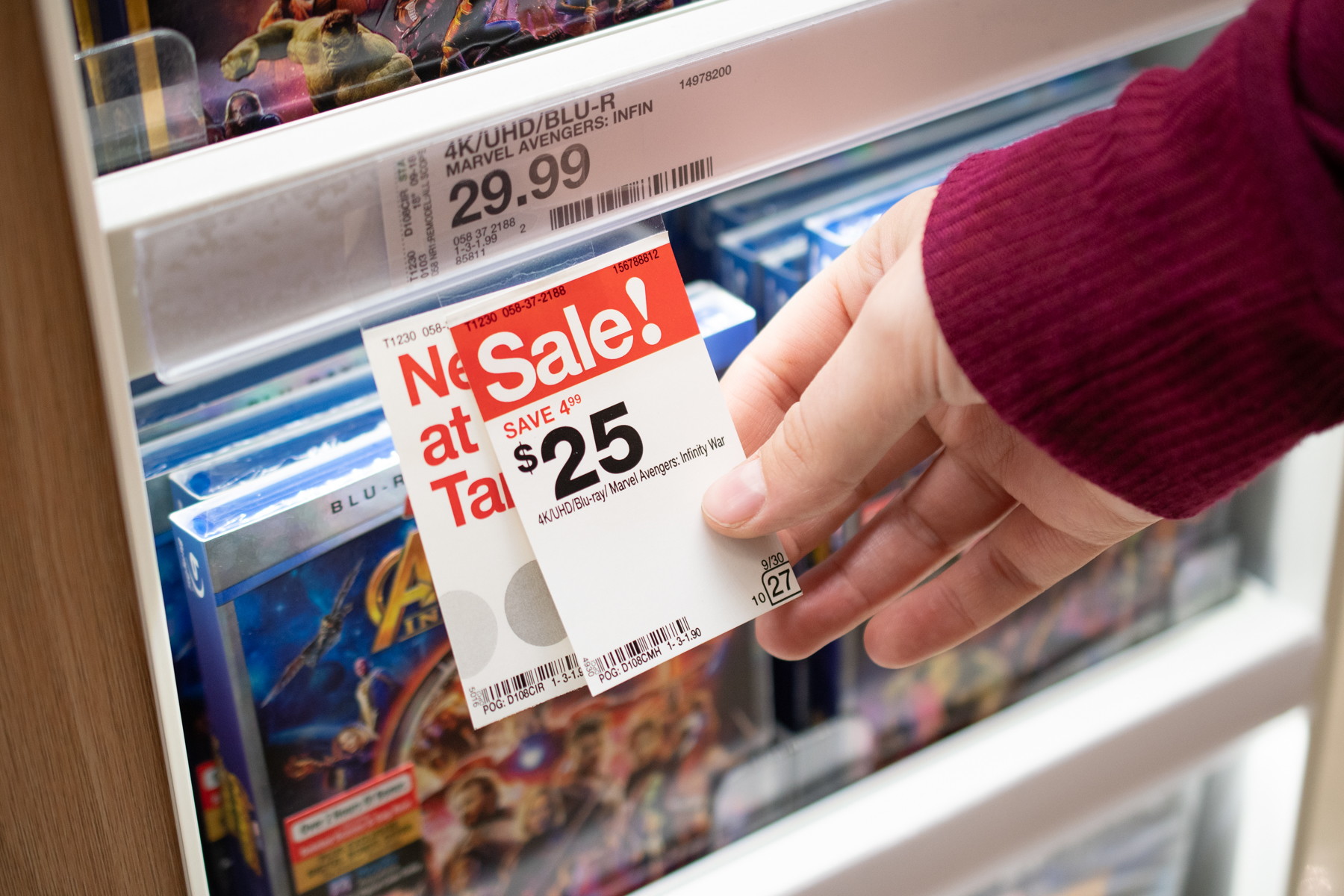 Paribus will help you get the difference if your online items are lowered in price within 14 days after you buy.
Target doesn't offer regular price adjustments on Black Friday itself, but Paribus will be busy looking for price drops on items you buy leading up to Black Friday and all during December.
(Paribus compensates us when you sign up for Paribus using the links we provided.)
16. Target's Holiday Toy ad 2019 shows up early — with exclusives.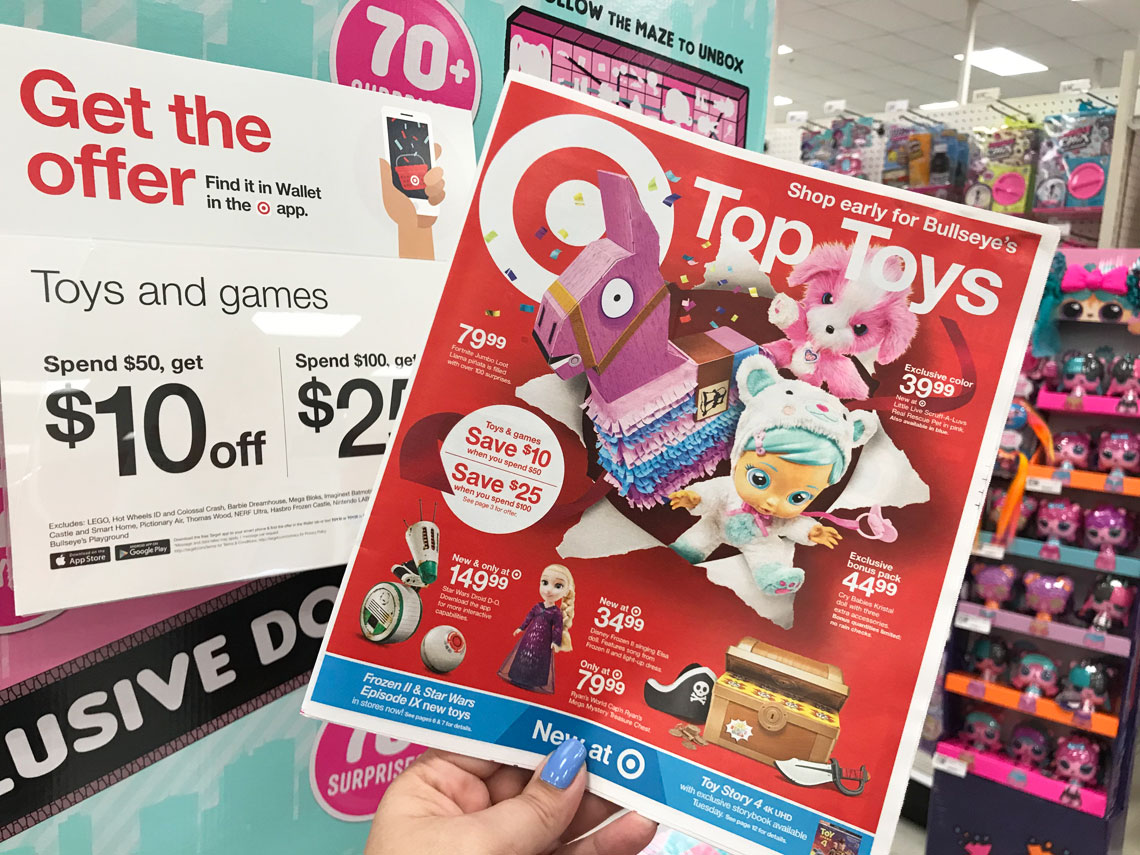 In 2019, we saw exclusive toys only available at Target — like Animal Planet Giant T-Rex Play Set. Also, toys from the Disney movies Frozen 2 and Avengers.
Check out Target's 2019 Holiday Toys.
Resources & Links Mentioned:
New! Target Circle Offers Savings for Everyone and We Are in Love
6 Ways RedCard Can Justify Your Target Shopping Addiction