We're reader-supported and only partner with brands we trust. When you buy through links on our site we may receive a small commission at no extra cost to you. Learn More. Product prices and availability are accurate as of the date and time indicated and are subject to change.
Does lululemon ever have a sale? Are there ever any lululemon coupons? Do lululemon deals even exist?!
Whether you live in activewear or not, we all want to get our hands on lululemon for less. Because no matter how much something does or doesn't cost, getting it on sale is just more fun. If you really, really want a pair of lululemon leggings, I want to help you offset the cost with these deals and out-of-the-box savings ideas.
Here is every lululemon savings tip you need to know.
Before you get started, download the KCL app and I'll let you know if I see any lululemon deals!
1. Buy sold-out lululemon leggings (and more!) directly from any store in the country — with free shipping.
When we don't wait for lululemon deals, it's because we worry that the item in our size will sell out before it makes it to markdown. But when you consider the total inventory in all the stores in the country — game changer. This is the way to get lululemon for less! (All you need is a little persistence and patience.)
When a marked-down item is sold out in your size at your local store, go to lululemon.com and look the item up. When you find it, select "Check All Store Inventory" and consider all zip codes.
Next, call up the store that has your size in stock and ask to do a "send sale order" over the phone with your credit card. The lululemon store ships it to your house for free and you pay the marked-down sale price!
You can also check if nearby stores have items you're looking for in the lululemon app.
2. lululemon stores will price match lululemon.com and vice versa.
Since each store is a franchise, prices in store may not match lululemon.com prices.
But if you purchase an item either online or in store and you find the same item for less in the other place, upload a picture of your receipt and a picture of the item's tag to the lululemon live chat; the customer service team will process a price match.
Unfortunately, lululemon does not offer a traditional price adjustment (like when you buy a top for $44 and 10 days later see it on sale for $29 and request money back).
3. Shop "We Made Too Much" lululemon sales Thursday morning.
lululemon offers markdowns on merchandise in stores and online every Thursday morning. The lululemon sale section is called "We Made Too Much."
Look for a deal on that pair of lululemon leggings online on Thursdays between 11 a.m. and noon EST and mid-morning in-store.
lululemon deals to shop now:
PRICE SUMMARY
Multiple colors & sizes included
As low as
$29.00
$58.00
(50% Off)
PRICE SUMMARY
Multiple colors & sizes included
As low as
$29.00
$48.00
(40% Off)
PRICE SUMMARY
Multiple colors & sizes included
As low as
$59.00
$128.00
(54% Off)
PRICE SUMMARY
Multiple colors & sizes included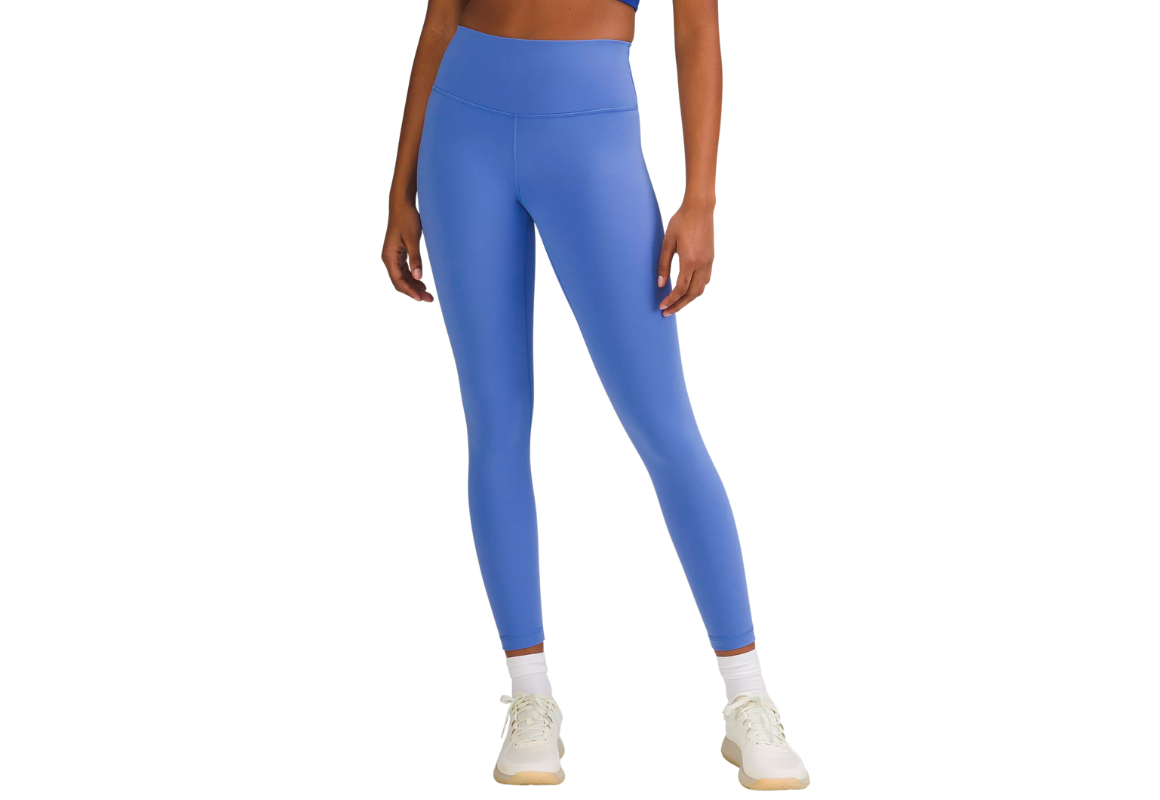 As low as
$59.00
$98.00
(40% Off)
PRICE SUMMARY
Multiple colors & sizes included
As low as
$79.00
$148.00
(47% Off)
PRICE SUMMARY
Multiple colors & sizes included
Related: We found all the best deals from this week's We Made Too Much sale.
4. Aim for 30% savings with lululemon deals.
Big savings margins like 50% or more at lululemon are nearly impossible to find, except for bras — you can save up to 55% on those! Aim for around 30% savings on everything else when you shop in store or online.
I studied lululemon sales over a month's time and created the table above to help map out price points and minimum savings goals. Leggings are the hottest commodity with rare markdowns. Bras, jackets, and bags have the largest margins and see deeper markdowns.
While the savings goal for lululemon is about 30%, the outlet savings goal is more like 40%. Find a lululemon outlet near you.
5. What is Black Friday like at lululemon?
When you're trying to save money, it's natural to assume that Black Friday would be a good time to shop lululemon.
But lululemon's retail stores and website don't really "do" traditional Black Friday in the sense that you'll get deeper savings than normal. Instead, the sale racks just get more merchandise on markdown.
Don't totally avoid lululemon during the holidays, though, because on Boxing Day (the day after Christmas), store savings can reach up to 70%, depending on the item. Of course, it will be the wild colors and patterns that see the deepest savings, not black leggings.
Following your local lululemon on Facebook is the best way to learn more about your store's seasonal sales and events.
6. Shop one of the 29 lululemon outlet locations.
lululemon outlet stores sell both the current and last season's original lululemon merchandise. Prices are similar or slightly better than typical "We Made Too Much" sale racks or online prices. Aim to save 40% or more at one of the 19 U.S. lululemon outlet locations.
Although these are no more, lululemon warehouse sales used to happen once a year, and you could save 50% if you were willing to travel to the one store in the country to fight the crowds. (RIP warehouse sales.) Today, all of the inventory once reserved for warehouse sales is sent to the outlets.
Note that "send sale" orders, which I talked about above, cannot be processed, because lululemon outlets don't ship.
Find out if you live near one of the 29 lululemon outlet locations in the U.S. and Canada.
7. Start a local running club and apply for Sweat Collective to save an extra 25%.
What is lululemon Sweat Collective?
The Sweat Collective is the lululemon trainer savings. Not a trainer? That's okay. Read on.
lululemon wants local fitness leaders wearing their apparel, so they established a professional savings called Sweat Collective. If you teach group fitness, train folks, or lead a running club, you can join Sweat Collective and get a 25% savings on all your lululemon purchases, regular price and sale, both in store and online.
My ex-husband leads an informal running club that meets four times a week. They have a Facebook page and a name, but that's about it. He was accepted to the lululemon Sweat Collective program immediately after applying online. Then he received final approval three days later after uploading his running club schedule and answering some other simple questions.
Note that Sweat Collective savings can be used at outlet locations!
8. lululemon's military savings is 15% off and includes markdowns.
The lululemon military and first responder savings gets shoppers 15% off everything in the store, including markdowns. (This includes police, firefighters, EMTs/paramedics and correctional officers.) Spouses of active military — including RCMP spouses — are also eligible for the savings. There are no exclusions or limits. The savings must be used in-store, because you have to show a government ID.
lululemon does not currently offer student or teacher savings.
Related: Find out how to get the lululemon military savings.
9. Order multiples for a lululemon team savings of 25% off.
The lululemon team savings program allows you to buy multiples of some items for 25% off.
Each store can vary with its quantity requirements, but the general corporate rule is 25% off for orders of 12 or more. Some stores will give quantity team savings for as few as six of the same item. And some stores give 30% off instead of 25%.
10. We Made Too Much and outlet purchases are final.
The lululemon reselling marketplace is so hot for many reasons — the main one being that sale merchandise cannot be returned. Basically any lululemon deal is always a final sale (unless you're a lululemon member, which lets you exchange or make returns in-store for credit).
If you regret a purchase, rest assured lululemon merchandise is extremely sellable online.
11. The best apps for buying previously worn lululemon are Poshmark and ThredUp.
Poshmark and ThredUp are two wildly similar apps for buying and selling previously worn lululemon merchandise. For sellers: Both apps make it easy to list items from your phone and take a commission on sales. Poshmark and ThredUp are gold mines for lightly or never-worn lululemon leggings, hats, sports bras, and more.
12. Set eBay alerts for savings on lululemon gear.
Search by brand and size like "lululemon 8," then sort by "ending soonest" and "auction only" to play the bidding game. You'll have the best luck if you do this on weekdays when eBay traffic is lowest.
Or, search for something specific like "lululemon Sculpt Tank II," and save the search to receive email alerts when new items matching your criteria arrive in stock. These alerts are especially helpful when a seller lists a competitive Buy It Now price and you can get it before anyone else sees it.
Are there fake lululemon items on eBay? Knowing the wild west of the internet, probably. Protect yourself by shopping smart.
Sellers with huge quantities of new, identical items are more likely to be selling counterfeits than a seller with a single, obviously worn item. There's no foolproof way to avoid counterfeits, but trust your gut and ask questions!
13. Facebook groups are actually some of the best places for scoring deals on lululemon.
Listen. This picture doesn't have anything to do with Facebook groups, but you have to agree it would have been a shame not to include it.
Dozens of great Facebook groups exist just for buying and selling lululemon. They all require you to have a Paypal account before you join, and many have wait lists to join.
14. lululemon does free hemming and sometimes repairs — even if you bought the item previously worn.
lululemon offers complimentary hemming on tops and bottoms.
The cool part? You don't need tags or a receipt to request the alteration, and the items don't have to be new. That's in writing in the official lululemon hemming policy.
Many lululemon stores will also repair ripped seams and/or holes for free. So whether you're buying used, damaged lululemon apparel to wear yourself or getting ready to sell used, damaged apparel, you may be able to get free alterations at your local store.
15. Make every purchase with a lululemon gift card deal to save an extra 4% – 6%.
What's a gift card deal? Well, if you receive an unwanted gift card, you can sell it to websites like Raise.com for cash. Raise then turns around and lists the gift card for sale at a reduced price — like $24 for a $25 gift card (4% savings).
16. lululemon leggings and black everything are the hardest items to find on sale.
The most difficult lululemon items to purchase on sale? Solid black cool racerback tanks, and solid black Wunder Under tights (and really all black leggings, for that matter).
lululemon intentionally produces limited quantities of most styles, because they want items to sell out. But, classic styles that get produced continuously don't sell out and don't get marked down.
If you see a sale on the black leggings you love, buy them.
PRO TIP: lululemon adds new products to their website every Tuesday at 6:15 p.m. EST. Look for new inventory under the What's New section of lululemon.com.
17. lululemon leggings fabric: What's the difference between Luon and Luxtreme anyway?
There are five main fabric families at lululemon: Two original fabrics, each with variations and three newer fabrics. Fabrics are listed below from heaviest to lightest:
Luon — Thicker, cottony fabric. Medium compression. Risk of pilling. Great for lounging.
seriously light luon
light luon
regular luon
full-on luon
Nulux — Thicker version of buttery smooth, synthetic Nulu. Medium compression.
Luxtreme — Technical, somewhat slippery fabric. Higher compression. Great for running.
light luxtreme
regular luxtreme
full-on luxtreme (my fave)
Everlux — Combination of Nulu and Luxtreme. Medium compression.
Nulu — Extremely soft and thin fabric. Low compression.
18. lululemon fit: What's the difference between "hugged" and "held-in"?
19. Don't put lululemon leggings in the dryer unless you want to kill them.
The dryer is your new pair of lululemon leggings' Kryptonite. If you can hang dry your leggings every time, you'll make them last longer, which is basically saving yourself money in the long run.
Care instructions:
Wash all lululemon apparel in cold water and HANG DRY. (No seriously. Step away from the dryer.)
Do not use fabric softener, as it ruins moisture wicking properties of the garment.
Wash similar fabrics together. Washing workout fabrics with cotton can cause them to pill.
For more lululemon fabric care tips visit Agent Athletica.
20. Get a free bag when you shop in store or do a sale send order, but not when you shop lululemon.com.
I shouldn't get so excited about the bags. I really shouldn't. I shouldn't be able to sell them on eBay for over five bucks. But I do and I can.
21. lululemon shipping is free and so are returns.
Process your return online, print a prepaid label, and drop it at a shipping center.
22. lululemon return policy says you have 30 days to return everything but underwear and water bottles.
… And of course, you can't return anything from the "We Made Too Much" rack.
You must create your return authorization within 30 days of receiving your order, or 30 days from your in-store purchase date. Unless you bought your item during the holiday season between Nov. 4 and Dec. 24. In that case, you get until Jan. 24 to return your purchases — that's almost three months!
Official lululemon return policy states that original tags must be attached. But in reality, their customer service is so awesome that you might be able to swing a return without tags.
If you need us to translate the fine-print for you, check out our complete guide to the lululemon return policy.
23. Take serious advantage of the lululemon Warranty!
The lululemon warranty is amazing! I chatted with customer service about my favorite leggings — they're five years old but I found a hole in them. I definitely didn't have a receipt or a record of my purchase. Customer service emailed me a form to fill out in order to be considered for a return, even though they no longer sell my leggings. They sent me a $30 gift card, which I applied towards a new pair of leggings on sale and only paid $39 for them!
PRO TIP: Enter your phone number at checkout when you're shopping in store, and sign in to your account when you're shopping lululemon.com. If you do this, you can make returns without your actual receipt.
24. lululemon's employee savings wins at 40% – 60% off!
Full-time lululemon employees get a 60% employee savings. Part-time employees under 25 hours get a 40% savings. For markdowns, employees can save up to 75% on the original price.
Employees can only buy for themselves with the employee savings. Entry-level employees, called "educators," reportedly start at $12-13 per hour.
lululemon FAQ
1. Does lululemon ever go on sale?
On Thursday mornings, yes! Shop either in-store or online to find new sale markdowns in the "We Made Too Much" section. The new items show up between 11 a.m. and noon EST on Thursdays.
2. Does lululemon do Black Friday sales?
There's not a dedicated, traditional lululemon Black Friday sale per se, but you'll see a lot more markdowns than usual during this time of year. And check in on Boxing Day (Dec. 26) because I've found up to 70% off.
3. Is lululemon worth it?
If you can find lululemon items on sale or pre-worn, absolutely. Considering the company offers free repairs or hems—even on pre-owned items—you're pretty safe buying lululemon. Also, their vast array of fabric of leggings, and spectrum of fit make it so you can pretty predictably find something to fall in love with.
4. Is lululemon sustainable?
lululemon plans to use at least 75% sustainable materials by 2025. Polyester, cotton, and animal-sourced materials fit into this category, with cotton and animal materials reaching 100% sustainability by 2025. Forest products will be sustainable by the end of 2023. Nylon will be sustainable by 2023. lululemon also plans to increase options for recycling or reusing products.