We're reader-supported and only partner with brands we trust. When you buy through links on our site we may receive a small commission at no extra cost to you. Learn More. Product prices and availability are accurate as of the date and time indicated and are subject to change.
Yes, National Dog Day is a real holiday. It was first created in 2004 by Colleen Paige, a dog trainer and pet adoption activist. We celebrate National Dog Day every year on Aug. 26.
In honor of dogs and the people who love them, several retailers and restaurants offer National Dog Day deals. In 2023, Purina gave out FREE SuperPet Smart ID Tags.
And aside from helping dog owners save on pet supplies, some food chains like Dunkin', take proceeds from your purchase to help animals in need. So it's a win-win for us all.
Below are some deals that happened in 2023 that we expect to return in 2024.
And for more smart shopping tips and savings hacks, text HACKS to 57299. Or, download the Krazy Coupon Lady app. Also, make sure to check out our tips on the best pet loyalty programs so you can earn rewards while saving money.
What is National Dog Day?
National Dog Day was founded in 2004 by pet expert Colleen Paige. All dogs of all breeds are celebrated on this day.
Besides celebrating our own pet dogs, this holiday also brings awareness to dogs in shelters waiting to be adopted. It's also a day that honors all the dogs that help law enforcement or provide aid to people who need it.
The holiday is celebrated every year on Aug. 26. Colleen chose this date because it signifies the day Colleen's family adopted her dog, Sheltie, when she was just 10 years old.
Nowadays, Colleen partners with large rescue organizations, like The Human Society of The United States and West Coast Labrador Retriever Rescue, to encourage new pet owners to adopt, not shop.
RELATED: 8 Ways to Get Pet Freebies for Your Furry Friends
National Dog Day Deals We Expect in 2024
From deals on pet toys to free tattoos from Barkbox, here are some deals we saw in 2023 that we expect to return in 2024.
Score a FREE SuperPet Smart ID Tag!
On Aug. 26, 2023 Purina offered a completely free, web-enabled smart tag from DynoTag. All you had to do was fill out a short form and you'd receive the tag in about six weeks.
Each tag has a QR code that links to a private cloud drive where you can store vital information about your pet, including vet records and more detailed contact information. If your fur baby gets lost, anyone with a phone and internet access can view the documents you uploaded. Plus, you'll get an instant email notification (with location information!) whenever your pet's tag is viewed.
Enter a contest with BarkBox to get a free tattoo of your pet!
(Still happening): Enter the BarkBox Dog Tattoo Contest and they'll pay for a tattoo of your dog. Yes, really. Just enter your and your dog's information on the entry page by Sep. 8, 2023, and you could be one of 100 winners to receive a $150 pre-paid Visa gift card to fund your new ink. Plus, your pup will receive a gift bundle for being your muse. Get more details and enter the Dog Tattoo Giveaway for your chance to win.
Order an iced latte via the Dunkin' app on Aug. 26 and Dunkin' will donate $1 to support the Dogs for Joy program.
Dunkin' celebrated National Dog Day on Saturday, Aug. 26, 2023, in support of the Joy in Childhood Foundation Dogs for Joy program. When you order an iced latte via the Dunkin' mobile app on National Dog Day, they donated $1 for every iced latte ordered to the Joy in Childhood Foundation to support the Dogs for Joy program.
Stop by Krispy Kreme on Aug. 26 and grab their new dog treats.
To celebrate the Pumpkin Spice season and National Dog Day, Krispy Kreme released their line of Pup'kin Spice Doggie Doughnuts on Aug. 26. You would be able to grab these specialty doughnuts until Aug. 31 at select Krispy Kreme locations.
Gift your pup a subscription to Super Chewer and they'll get treats and toys every month.
(Still happening): Treat your pup to a subscription to Super Chewer and get your first box for just $5. Each month your dog will receive two tough toys, two full-size bags of treats, and two meaty chews. You could customize your monthly subscription box based on your dog's size, breed, and nutritional preferences.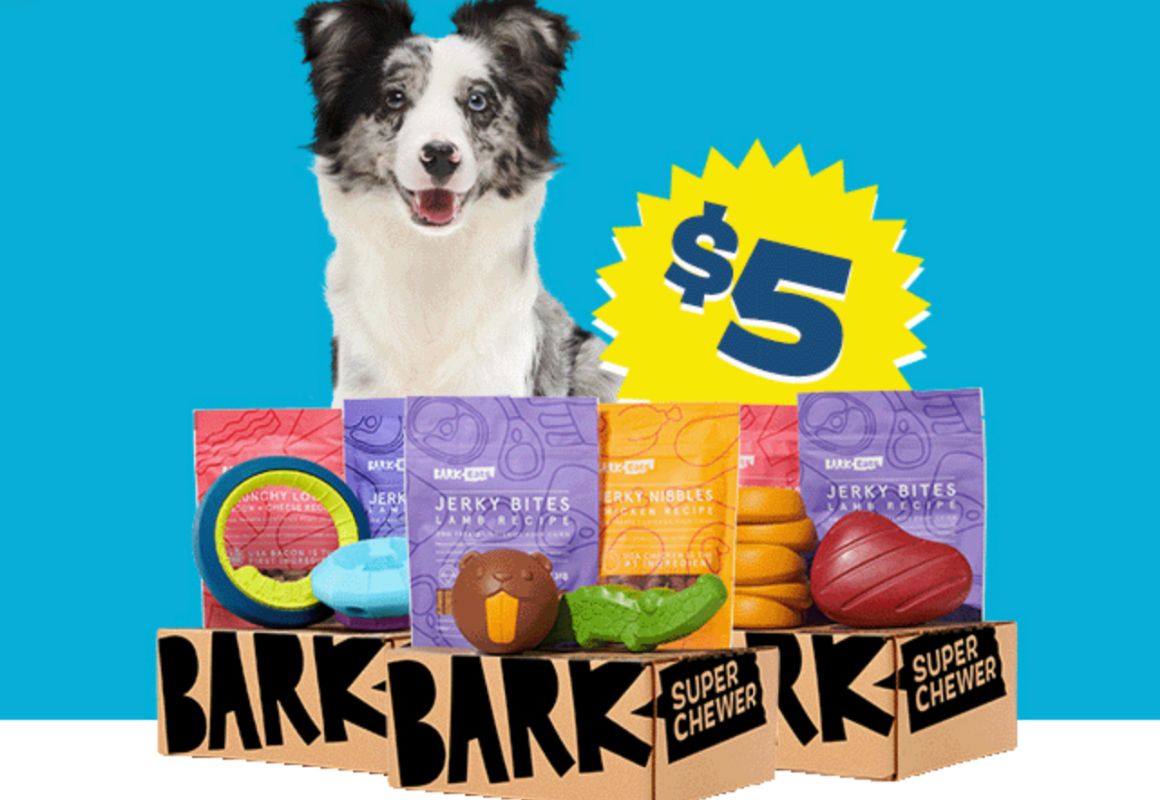 Get your first box for $5 when you subscribe for a multi-month plan
PRICE SUMMARY
This is a subscription — if you choose to cancel in the middle of your plan, you'll continue to receive your box for the full length of the contract, and the cancellation will take effect at the end of your plan.