We're reader-supported and only partner with brands we trust. When you buy through links on our site we may receive a small commission at no extra cost to you. Learn More. Product prices and availability are accurate as of the date and time indicated and are subject to change.
Parents and kids have pretty much bought every Little Tikes Story Dream Machine Starter Set there is — because they're all sold out online. You can normally find the in-demand toy at Walmart or Amazon, but it constantly goes in and out of stock. (Although, some select Walmart stores have them now, and it's worth checking your local store).
What's all the hype about? Well, the Story Dream Machine is pretty cool. You can think of it like a projector for children's books. So instead of flipping through pages, you insert a storybook cartridge into the Dream Machine and watch it play on the wall. Kids can watch the words and pictures pop up on the screen, while a narrator reads them the story.
Targeted for little readers aged 3 years and up, we can see why the toy is a huge game-changer for bedtime story time.
For more smart shopping tips and savings hacks, text HACKS to 57299. Or, download the Krazy Coupon Lady app.
The Little Tikes Story Dream Machine Starter Set is currently sold out online. But you can find it in-store at Walmart for $49.
Some Walmart stores have the Story Dream Machine in stock, and on shelves now. If your store has it, this is the best time to grab it before it sells out again so you can have it in time for the holidays.
We promise to keep an eye on the toy and will alert our readers right away once we see this back in stock online. Shameless plug here, but that's why having the Krazy Coupon Lady app is handy so you'll be the first to know about restock alerts and deals!
The Story Dream Machine Starter Set will cost you $49 at either Amazon or Walmart. It comes with the Story Dream Machine, plus three classic Little Golden books:
The Poky Little Puppy
Tawny Scrawny Lion
The Saggy Baggy Elephant
We haven't seen this go on sale at all yet, but as always, we're keeping our eyes peeled for deals.
Amazon
Walmart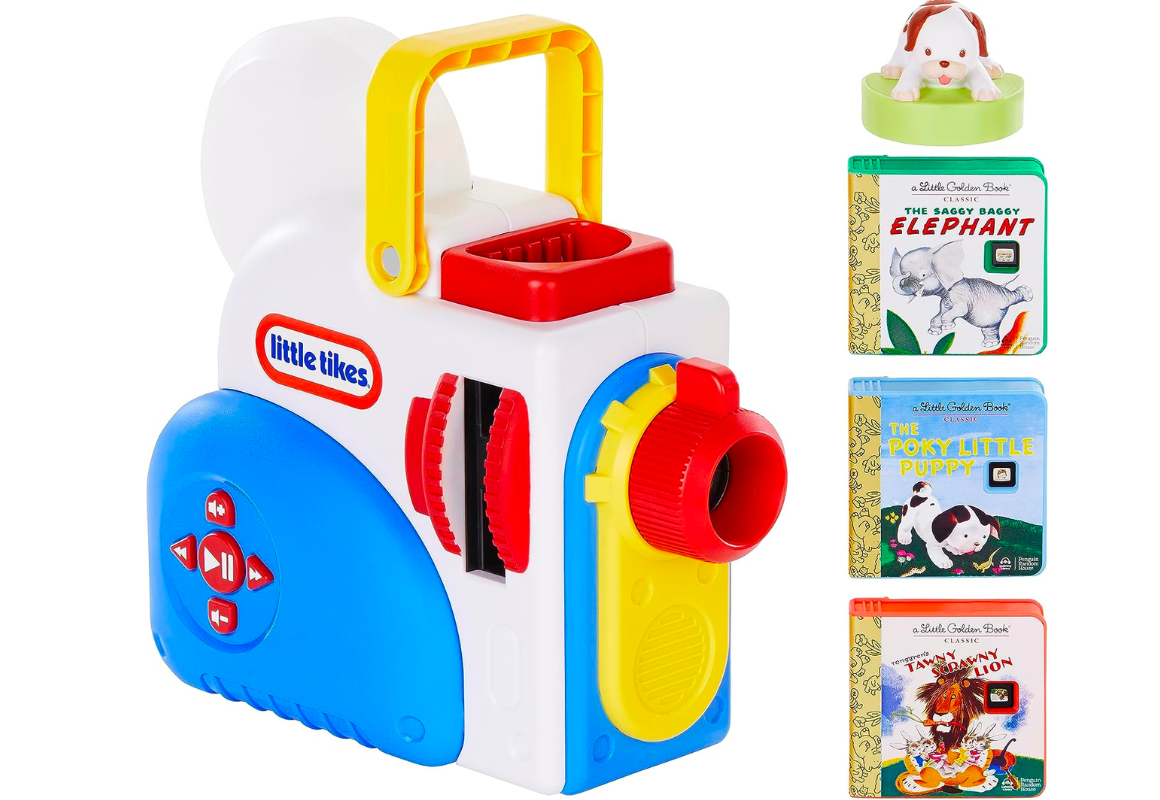 Shipping:
Free with Walmart+ or on orders of $35+
RELATED: People Are Going CRAZY Over This Ken Mermaid Doll on Amazon
Little Tikes has other story collections that you can purchase separately, for $15 each.
The Story Dream Machine Starter Set already comes with three books, which is plenty. But if you want to add to your collection, you can find Little Shark, Big Shark, or Berenstain Bears story collections for the Story Dream Machine at Amazon or Walmart for just $15 each. Each set comes with three books, so each book really comes down to $5 each.
Note that the machine is only compatible with the Little Tikes Story Dream Machine story collections.
RELATED: 10 Ways to Get Free Books Online for the Whole Family
The Story Dream Machine also serves as a white noise machine and night light.
Aside from playing gentle light effects in nightlight mode, this little machine also offers five white noise sounds to help kids fall asleep. If you're worried about the volume being too loud, parents and kids can use the kid-friendly controls to adjust the volume.
As for keeping the machine charged, it runs on four AA batteries, which aren't included.