The holiday season will be here before you know it. Like many other retailers, Target is already putting Christmas decor out on the floor. Today, we finally tracked down the new 6-piece ornament set that's trending on TikTok and selling out fast.
Where to Shop
I spotted these in the seasonal section of my Target. Usually, this is the back, right-hand quadrant. If you'd prefer to shop online, they are out of stock for shipping but depending on local availability, you might be able to get them for store pick-up.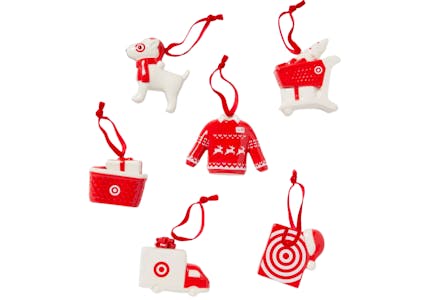 As low as
$13.30
$20.00
(34% Off)
MOBILE COUPONS NEEDED
5% off - Target RedCard Savings
Shipping:
Free with RedCard or on orders of $35+
Avoid Paying Full Price
There are already resellers on eBay listing this ornament set for more than double the regular price. However, there's no need to spend over $40 on a small pack of ornaments. Below, we've rounded up four best ways to save money on the Ceramic Target Christmas Tree Ornament set.
1. Use Your RedCard for 5% Off
RedCard holders will save 5% on every purchase, no matter if its a full-priced or sale-priced item. If you're new, sign up for a RedCard today and you might get a cardholder-exclusive coupon. When I signed up, the offer was $40 off a purchase of $40 or more.
2. Use Your Circle Bonus as Payment
Each month, Target offers a Circle Bonus that varies by user.
My offer this month is $20 off a future purchase after four or more transactions over $50. Another offer I saw was $15 in rewards after making two separate $90 purchases.
You can't use your Bonus rewards in the same transaction as you earn them in, but you can do multiple transactions a day. If you're purchasing $200 worth of items and you have the bonus on four $50 transactions, try to split up each transaction and then do a 5th transaction and use the Bonus Reward as your payment.
3. Check for an Early-November Sale
In the first half of November 2022, we saw a 20% sale on Wondershop holiday decor. If that sale happens again in 2023, we would expect to see a price drop on this ornament set around Nov. 5, 2023.
4. Be Patient (And Wait Until Dec. 26)
Listen, this will be tough to do, but if you want the best price you'll likely need to shop after Christmas when we see the Target Christmas clearance sale.
Usually holiday gift sets, apparel, and decor are some of the first items to be discounted. Come back and check our Target coupning page the day after Christmas to see our Target clearance items.