You probably know all of the conventional places to buy cheap school supplies (like Target, Walmart, etc.). But what about going the non-traditional route?
Here are a few places you might be overlooking as you're checking off that back-to-school supplies list.
(Pssst! But don't do a thing before you bookmark KCL's Back-to-School Deals page! We're ready to hook you up with savings galore.)
1. Check out Michaels and Jo-Ann Fabrics to buy markers and art supplies with coupons.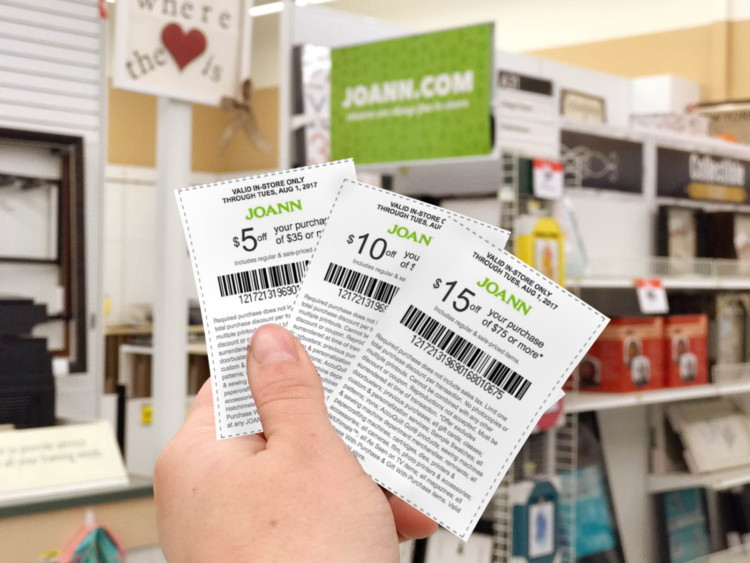 When it comes to markers, watercolors or other art supplies, don't underestimate craft stores like Michaels or Jo-Ann Fabrics.
These stores have MAD coupons and discounts every week. We've seen coupons for 25% off an entire purchase and 40% off one regular-priced item.
This may be your best bet to cheap school supplies in the art category — especially if you strike out when back-to-school shopping at Walmart.
TIP: Looking to buy online? Shop Michaels.com, because they allow unlimited promo codes. Jo-Ann Fabrics only allows one promo code to be used.
Learn more about how to get the best back-to-school deals from home.
2. Use drugstore rewards programs at CVS and Walgreens to buy notebooks and pencils.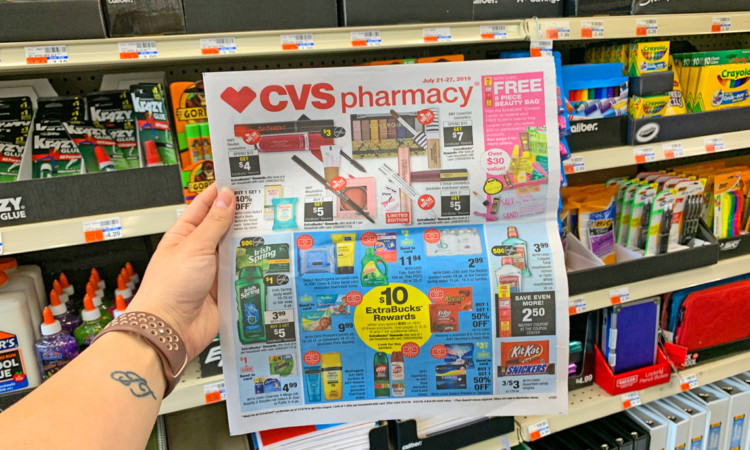 You most likely have that one drugstore you use for your personal care items, but you should also be checking out their school and office supplies section!
Drugstores usually have all of the basics your child will need like notebooks, pencils, pens and folders.
Use your Balance Rewards (Walgreens) or ExtraCare Rewards (CVS) points to get cheap school supplies. The best way to earn these is by doing moneymaker deals at KCL.
Moneymakers are deeply-discounted items you'll use coupons to buy. And since you'll also earn rewards points that act like store cash, it's like you're making money.
Then use this "store cash" — Register Rewards (Walgreens) or ExtraBucks (CVS) to buy your back-to-school supplies!
3. Get out-of-the-box (or dive into it) — look for used calculators and binders in recycle bins and dumpsters at schools.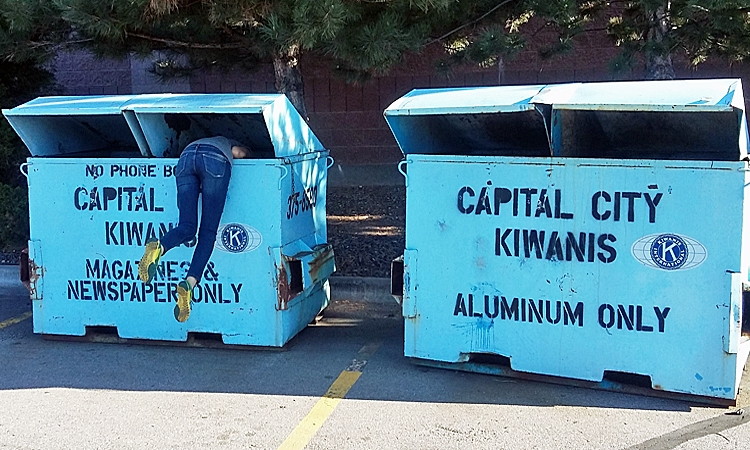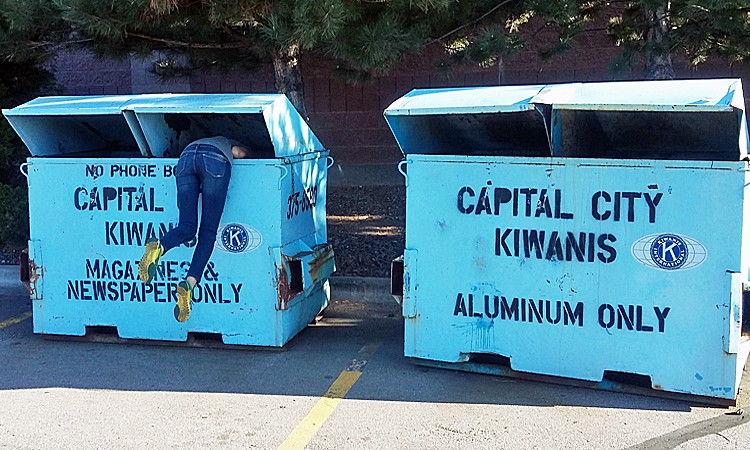 This might sound unsavory, but while middle and high school students are tossing their unused calculators in the trash at the end of the school year, your kids could be making out like bandits.
We scored an extra TI calculator someone threw out. It worked perfectly, and we saved $35 over buying a new one! Hellooo cheap school supplies!
4. Shop Hollar.com, an online dollar store, for character backpacks and gear.
If you haven't heard of Hollar, you're seriously missing out. Hollar has extremely low-priced and cute back-to-school supplies for $1-$2 and usually no more than $5.
What should you be using Hollar for? Back-to-school BACKPACKS. If your child likes themed stuff like Marvel, My Little Pony, Star Wars, etc. then Hollar is your jam.
You can also find tape, markers, notebooks and more under Hollar's back-to-school section.
5. Go second-hand and get cheap school supplies from thrift stores, Freecycle and Craigslist.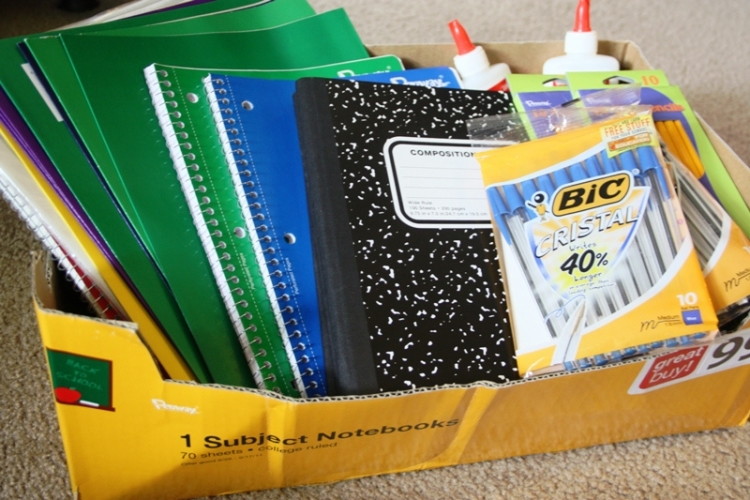 Thrift stores usually have an aisle for office supplies — binders, markers, calculators, you name it.
Craigslist is also a great place to find items like rulers, calculators, and staplers on the cheap. Make sure to check out the "free stuff" section on Craigslist as well!
Freecycle will show you all free items people are giving away for no cost in your area.
Read more back-to-school shopping hacks if you want to save all the money.
6. Shop Dollar Tree for $1.00 scientific calculators.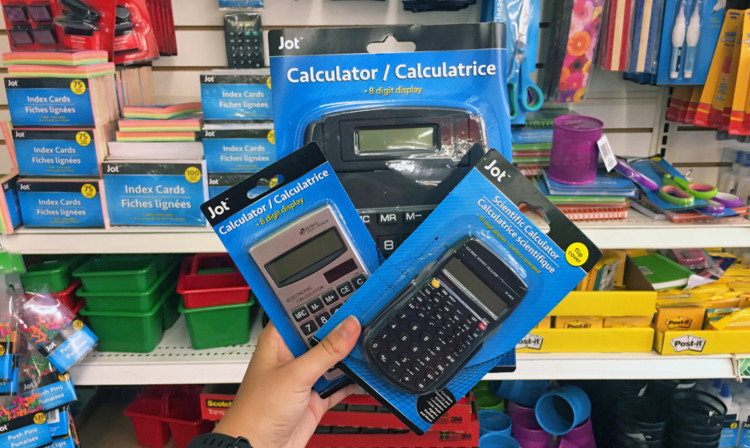 Ah, Dollar Tree, how we love you — especially when it comes to cheap school supplies.
This is where you should be buying your scientific calculators, clipboards, planners and the items that you think your kids will lose — the dollar store will save you big in the long run.
Plus, there are 43 name-brand school-supplies you can find at the dollar store.
7. Check out bulk lots at Amazon and Oriental Trading Company to save on notebooks, binders and glue.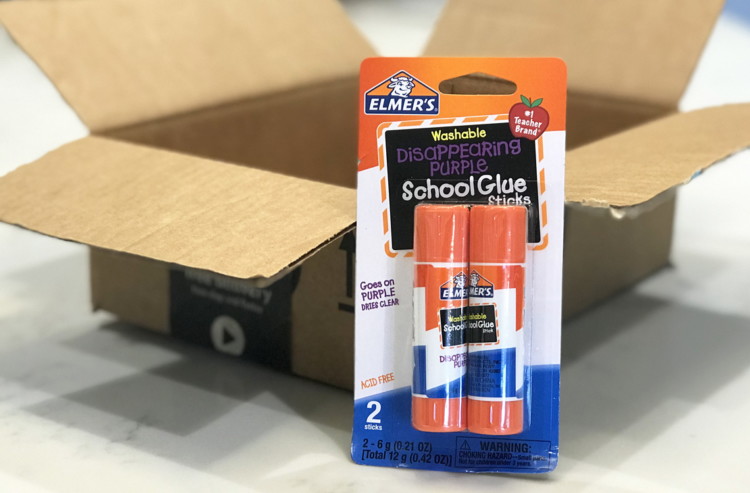 If you have multiple children or want to buy in bulk just to have school supplies in the future, buy your back-to-school supplies in bulk online.
Use websites like Oriental Trading, Discount School Supply and US School Supply. Buying in bulk is an excellent way to save on notebooks, folders, glue, binders — all of the items you know you'll use this year or next.
Amazon even has an entire bulk section for office supplies!
TIP: Partner up with another parent or two, buy in bulk and split the items (and cost)!
8. SamsClub.com and eBay auctions are little-known places to buy pens and Post-its.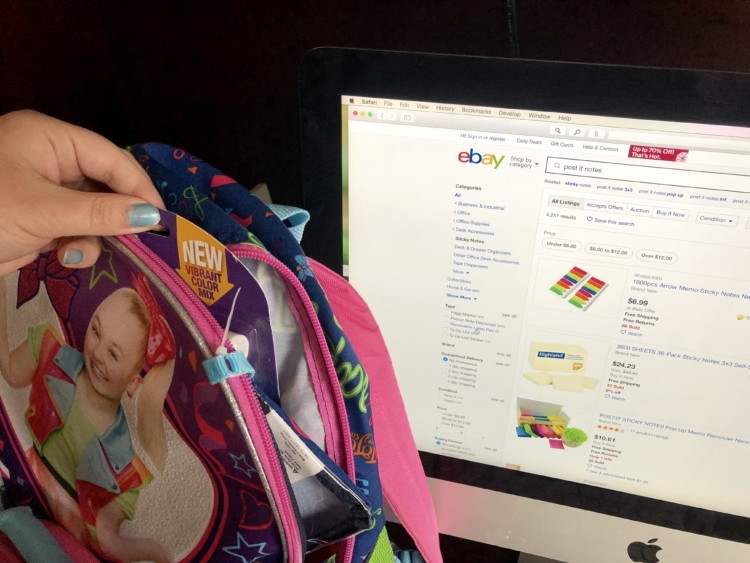 Sam's Club has an auction section where you can bid on supplies like paper, envelopes, art supplies, etc.!
If you see an item you're interested in, it will usually be for sale at a very low price. People can then place "bids" on how much they want to pay, and when the time runs out, the highest bidder wins!
eBay also has a bidding section! Only difference is that sometimes they have a "Buy It Now" button where you can buy it at the set price.
We found a 120-piece sticky-note bookmark set on eBay for $1.20 with FREE shipping! Not too shabby if you ask us.
TIP: Be careful when placing bids, because you may end up overpaying for items! Check online to see the normal asking price before placing a bid.
9. Manufacturer sites like FiveStarDirect sell clearance items online.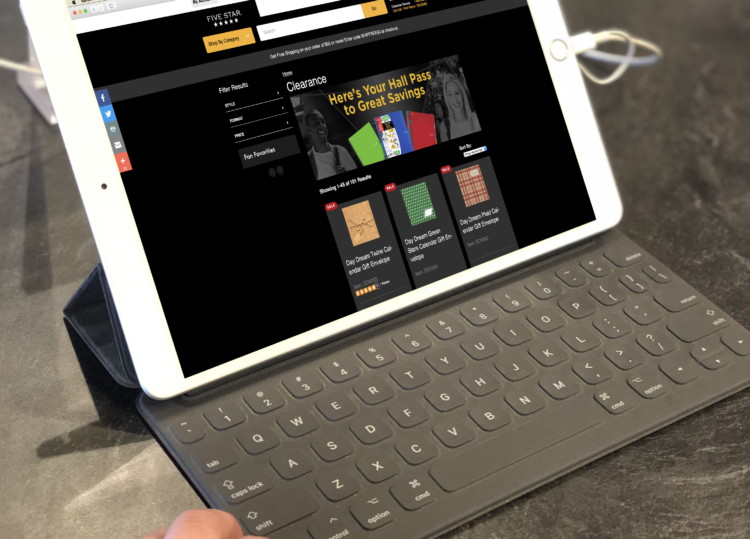 Name-brand items can be expensive, but some of them have clearance sections where you can find awesome discounts on items from your child's back-to-school list.
Check out the Crayola, FiveStarDirect, Mead and Bic sale sections!
10. Name-brand back-to-school backpacks are cheapest at 6pm.com and eBags.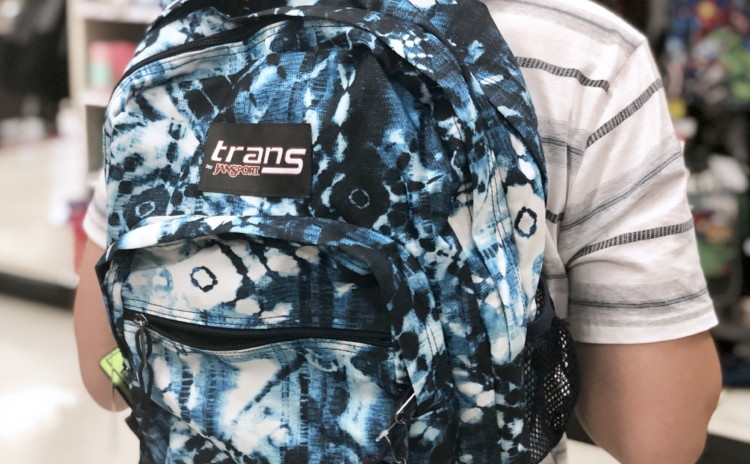 If you want a back-to-school backpack that's going to last (or if your child just really wants a name-brand bag), your best bet is 6pm and eBags.
You'll be saving anywhere from 10% to 50% off with tons of different color and style options.
Resources and Links Mentioned:
These Retailers Allow Coupon Stacking Online
How to Get the Best Back-to-School Sales Without Leaving Your House
Hollar.com & Hollar's Back-to-School Deals
26 Back-to-School Shopping Hacks That'll Save You All the Money
43 Name Brand School Supplies at the Dollar Store
Oriental Trading Company, Discount School Supply & US School Supply
Crayola, FiveStarDirect, Mead & Bic