Now that it's officially spooky season, I've already spotted quite a few of my neighbors putting up giant skeleton decorations like Home Depot's 12-foot-tall "Skelly." But you know what else I've seen? His enormous price tag — $299 at full price! I also recently learned that Home Depot's giant skeleton isn't getting restocked after this season. So what's a skeleton-loving smart-shopper like me to do?
The good news is there are plenty of other oversized skeletons in stock at stores like Walmart, Amazon, Target, and Spirit Halloween. But in order to compare skeleton deals across stores, you need to know how to spot a good skeleton deal from a bad one, no matter the size.
To help guide your giant skeleton decoration shopping this season, I've rounded up all the current options to choose from. And most of these are not so scary for your budget, especially if you can find them during Halloween clearance sales. I included life-size and oversized skeletons at various price points, plus some insider tips about how to save even more money on your purchase.
For more smart shopping tips and savings hacks, text HACKS to 57299 or download the Krazy Coupon Lady app.
Before you invest in a giant skeleton, consider the cost per foot — and its lifespan.
If you've been thinking about adding a giant skeleton to your yard decor this year, of course, we recommend grabbing one as soon as possible. But that doesn't mean you should rush into a decision. Especially since most of these giant skeleton decorations are quite an investment. (Home Depot's 12-foot-tall Skelly is $299, for example.)
To compare the cost of giant skeleton decorations, it's helpful to calculate the cost per foot of skeleton height. And you'll also want to consider the quality. After all, you won't want to invest a lot of money into a skeleton only to have to replace it next season.
Based on our calculations, here's what you should aim to pay for a skeleton:
Standalone skeletons: $24.90 – $25.90 per foot of height
Hanging skeletons: $5.32 per foot of height
1. Home Depot has the most popular giant skeleton decoration ($24.92 per foot), but he's no longer in stock.
This is the giant skeleton decoration that started it all! First released three years ago, Skelly is the original giant skeleton. The 12-foot figure cost $299 when he was in stock, making him one of the cheapest options per foot of height (at $24.92 per foot).
Folks who purchased Skelly the first year say he's held up well, so if you're able to find one on resale sites like Facebook Marketplace, this is a good investment. The Home Depot also has plenty of other oversized Halloween decor for sale, and right now you can sign up for a coupon on their site to get $5 off your purchase.
PRICE SUMMARY
Currently out of stock online; $24.92 per foot
2. Walmart's 10-foot skeleton was as low as $19.90 per foot on Oct. 16, but it's out of stock now.
Since the original Home Depot skeleton has gone in and out of stock so often this past Halloween season, we found a Walmart version that became almost as popular. It's a bit shorter at 10 feet tall, and while the price per foot is a dollar more at full price, it was still $40 cheaper than the Home Depot skeleton.
At full price, the Walmart skeleton cost $259, but we saw him go on sale online for $129.50 (a whopping 50% off) starting on Oct. 16. But as of Oct. 30, he's out of stock online.
Pro tip: You could add this giant skeleton decoration to your next Walmart+ order and have it delivered to your doorstep for free. No need to drive home with a giant skeleton decoration sticking out your car window.
Since this is a large purchase, be sure to familiarize yourself with Walmart rewards and check for Walmart Cash offers. Even if this purchase doesn't qualify, you can use your Walmart Cash earned from previous Walmart purchases toward the skeleton.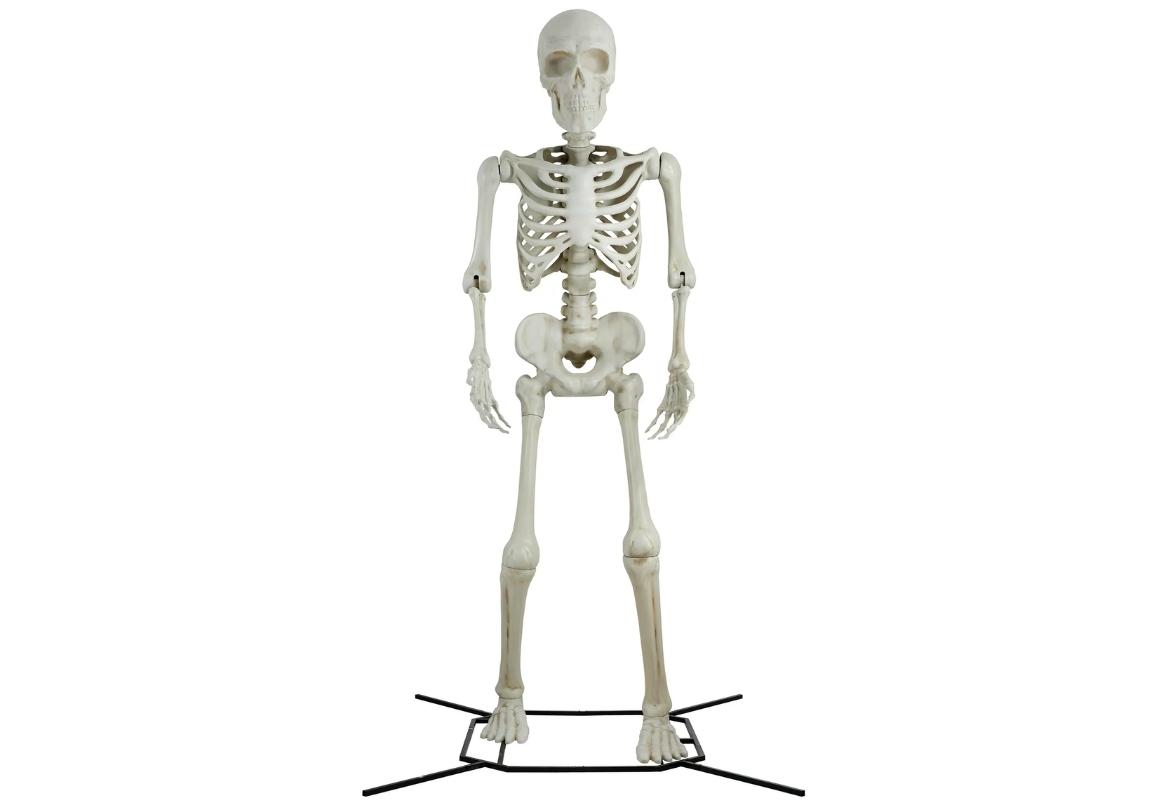 $129.50
$259.00
(50% Off)
Shipping:
Free with Walmart+ or on orders of $35+
3. Amazon's 10-foot skeleton ($24.90 per foot) is cheaper than Walmart's at full price, but reviews aren't good at all.
Sure, you can save $10 by ordering Amazon's version of the 10-foot skeleton, but we recommend shelling out the extra cash for the Walmart figure instead when he's in stock. Why? The Amazon skeleton doesn't have great reviews; reviewers say he's difficult to put together, and the parts don't seem super sturdy.
If you're going to spend this much on an outdoor yard decoration, consider opting for one that will last for several years.
A better Amazon skeleton deal: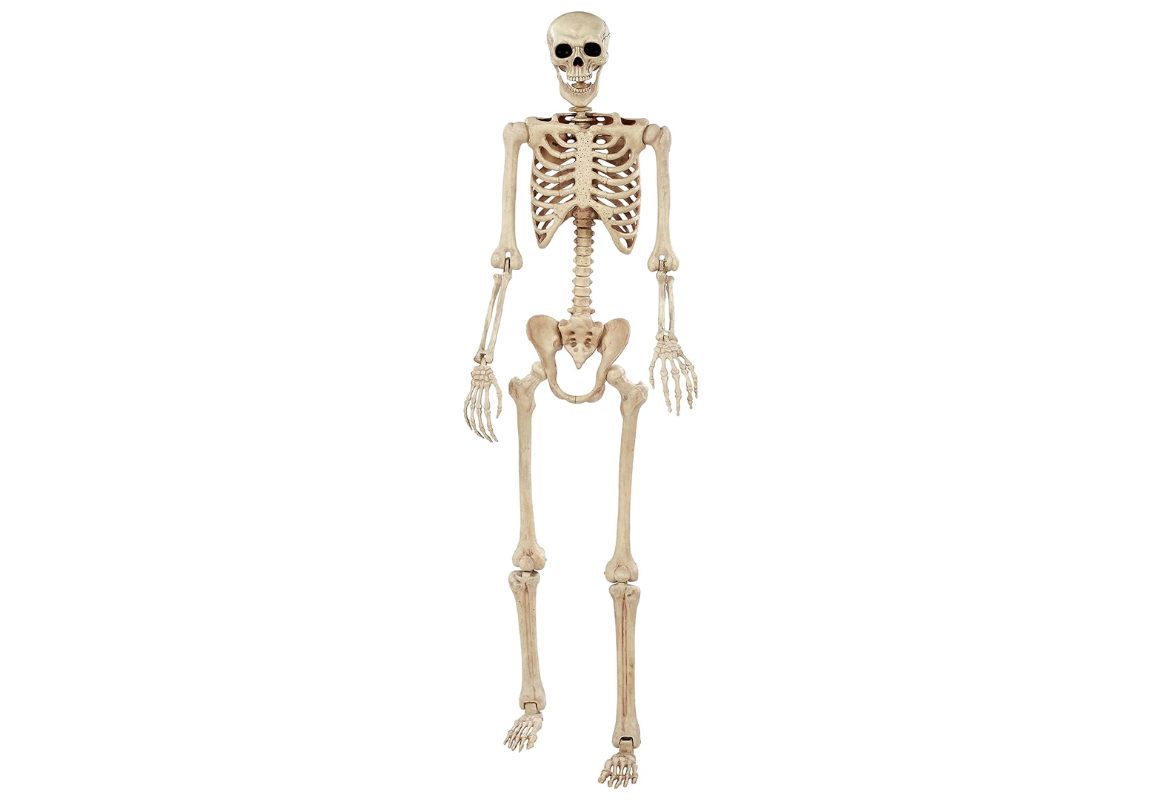 4. Spirit Halloween has a 6-foot skeleton ($50 per foot), but the price per foot is double Walmart's.
It's not officially spooky season until a Spirit Halloween pops up in your local shopping mall, and this year they're offering a 6-foot realistic skeleton decoration. While this one does have some cool features — it's animatronic, motion-activated, and comes pre-programmed with a variety of phrases — it's not the best deal we've found.
This Spirit skeleton costs pretty much the same as The Home Depot's Skelly (ok, this one's $0.99 more), but it's half the size.
Of course, if you have a way to get discounts at Spirit Halloween — like an employee discount or a 20% off coupon from their email newsletter — this could be worth it. Otherwise, we recommend shopping one of the other options to get the most for your money.
5. Oriental Trading Co's skeleton is only 5 feet tall — but it comes with three skeleton dogs (for about $33.75 per foot).
The "giant" skeleton offered at Oriental Trading Co. is shorter than most, at just 5 feet tall. But the dog-walking figure comes in a set with three skeletal pups. You'll pay just under $270 for the whole setup, and since it takes up a lot more surface area, you won't need to fill your yard with quite as many other lawn decorations.
This is one of the more expensive items on our list in terms of cost per foot, but if your heart's set on adding a spooky dog walker to your yard, think about it this way: You're essentially getting four lawn decorations for the price of one.
If you consider the five-foot skeleton and add a foot for each of the three pups, it comes out to $33.75 per foot of skeleton.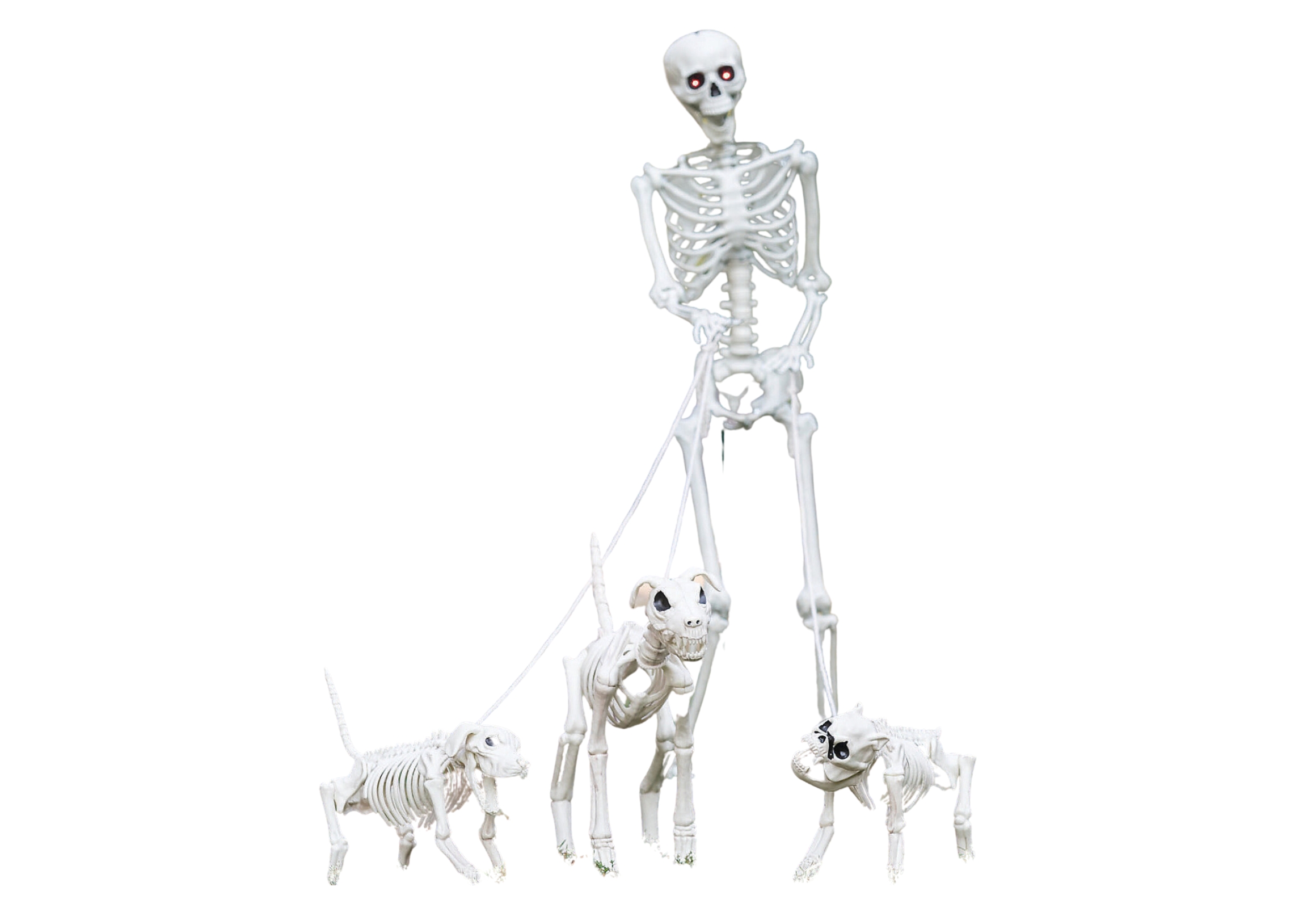 PRICE SUMMARY
Cost per foot (including dogs): $33.75
Another Oriental Trading Co. deal:
6. Target's 5-foot skeletons are as low as $7.60 per foot, but they don't stand up on their own.
If you're looking for a quick Halloween decor fix, add one of Target's spooky 5-foot skeletons to your cart. You'll pay $40 for them at full price, which is a total steal compared to the prices of the other skeletons.
These options don't stand up on their own, so if you're going for a true Skelly look, skip buying the Target options. But they are posable, so you could sit them on your front porch or style them popping out of your front bushes. They also come with a wire out of the top of the head for easy hanging.
To save even more, use your Target Red Card to get 5% off.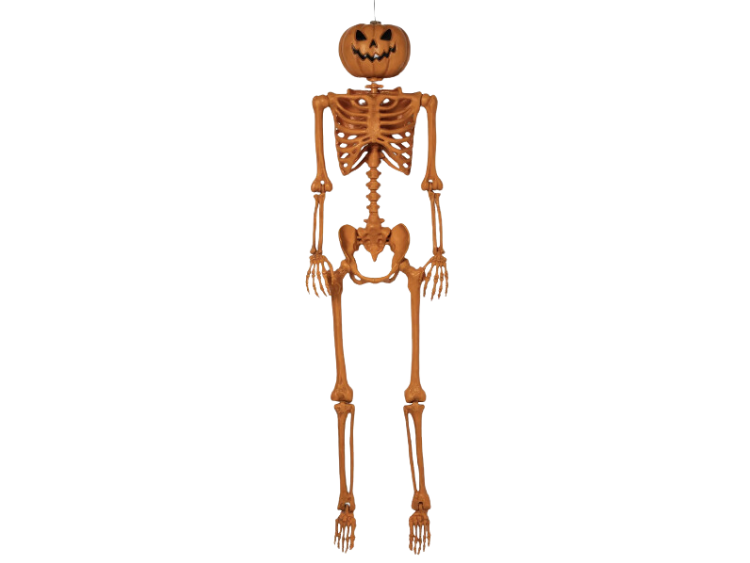 As low as
$38.00
$40.00
(5% Off)
MOBILE COUPONS NEEDED
5% off - Target RedCard Savings
Shipping:
Free on orders of $35+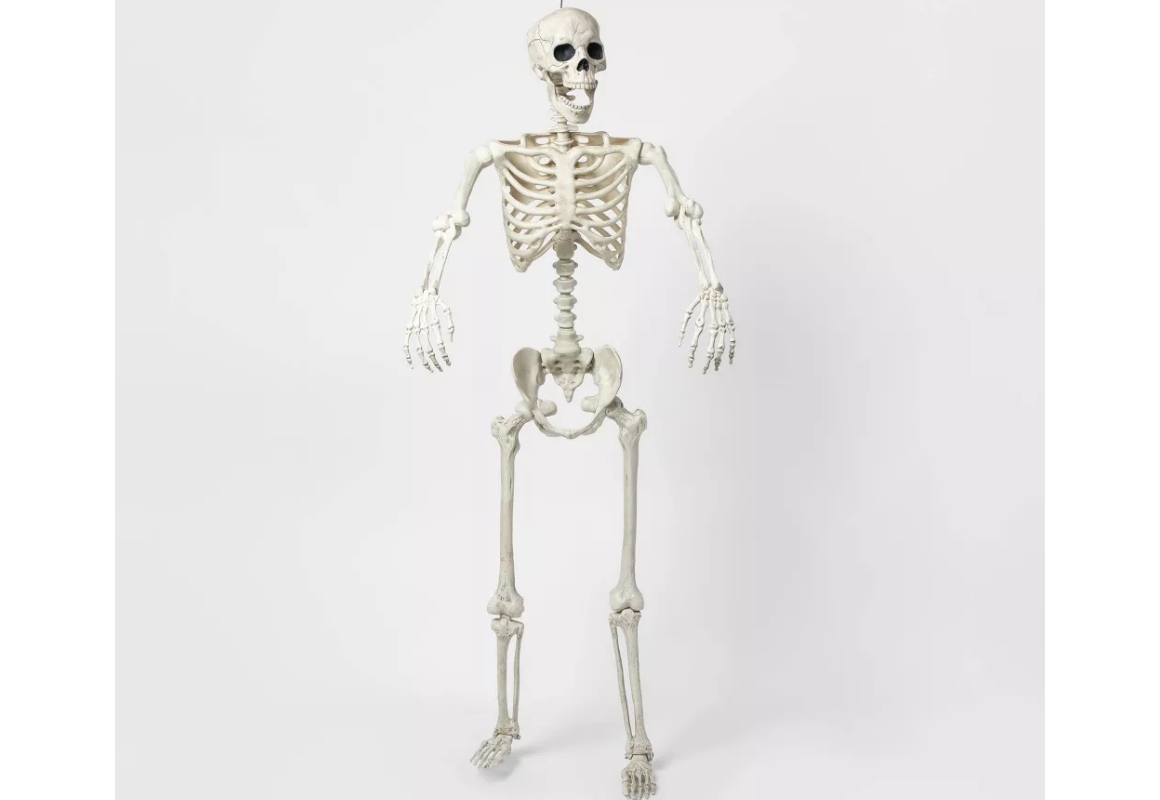 As low as
$38.00
$40.00
(5% Off)
MOBILE COUPONS NEEDED
5% off - Target RedCard Savings
What about Target's viral Jack-o'-Lantern named Lewis?
You may have heard the buzz in 2023 about the lifesize jack-o'-lantern character named "Lewis" that you could buy at Target. While he's currently sold out, we fully expect he'll be back next year since shoppers went wild for him this year!
As for his price, the 8-foot-tall decoration cost $180 in 2023, which came out to $22.50 per foot of height. If you paid with a RedCard, you'd pay $171 (or $21.38 per foot).
7. Aldi has a cheap 5-foot posable skeleton ($6 per foot), but they have limited stock.
Aldi came out with a posable skeleton this year in their Aldi Finds aisle, and at just under $30, it's definitely the cheapest option we've seen, though.
Like Target's version, it doesn't stand on its own, so it's best for sitting on the front porch or hanging as part of a spooky display. It's worth noting that we haven't heard great reviews about the quality of this particular Aldi find — so while it's a great deal (especially compared to some of the other options), it's probably best used indoors if you want it to last more than one season.
8. Costco doesn't sell a skeleton this year, but they do have a 7-foot animated mummy ($38.57 per foot).
Last year, Costco had an ultra-popular 10-foot skeleton that could talk. And while they didn't bring it back for 2023, they do have a 7-foot animated mummy that's motion-activated with light-up eyes, spooky noises, and glow-in-the-dark bones.
He's just under $270 (or $38.57 per foot), but you may be able to squeeze some more savings out of this one. Costco has a 30-day price-protection program, which means if you buy something from Costco and then they lower the price within 30 days, they'll refund you the difference. Since we're already within 30 days from Halloween, there's a good chance they'll drop the price on this if it doesn't sell out.