If you're serious about your coffee, you know Nespresso machines typically cost upwards of $250, and that doesn't include the coffee pods. That's why when I come across Nespresso Black Friday deals, I get excited. Those little capsules can run anywhere from $9 to $14.50 for a sleeve of 10. And the fancier models — like those with a steam wand or milk frother — can cost up to $650.
Luckily, Nespresso coffee machines and pods go on sale a few times a year, and the best time to find a deal is on Black Friday, Thanksgiving, and all throughout December. Based on Nespresso Black Friday deals we've seen in the past, these discounts were worth the wait.
To help you find the best Nespresso Black Friday deals on machines and pods this year, we're keeping an eye on the best ones. But if you really want to stay on top of deals, download The Krazy Coupon Lady app. Or, text DEALS to 57299 and receive real-time deal alerts.
Nespresso Deals to Shop Now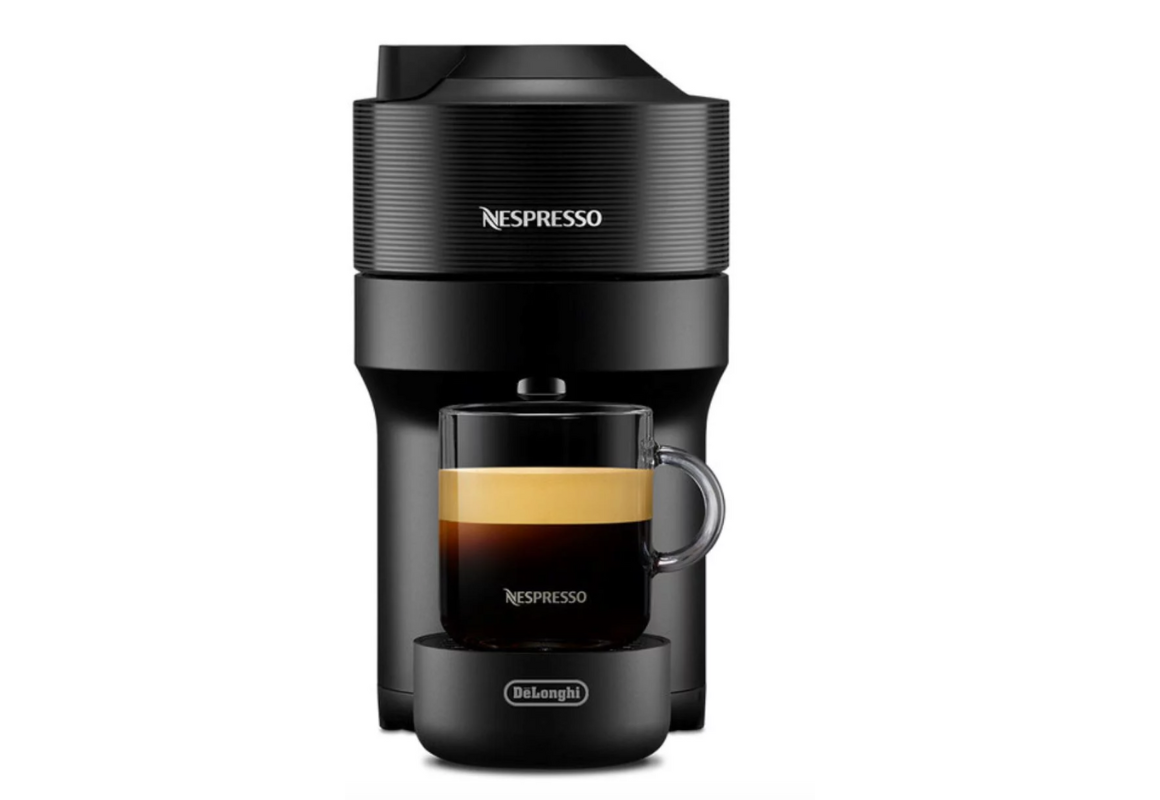 Shipping:
Free with Walmart+ or on orders of $35+
$139.30
$199.00
(30% Off)
Shipping:
Free with Amazon Prime or on orders of $35+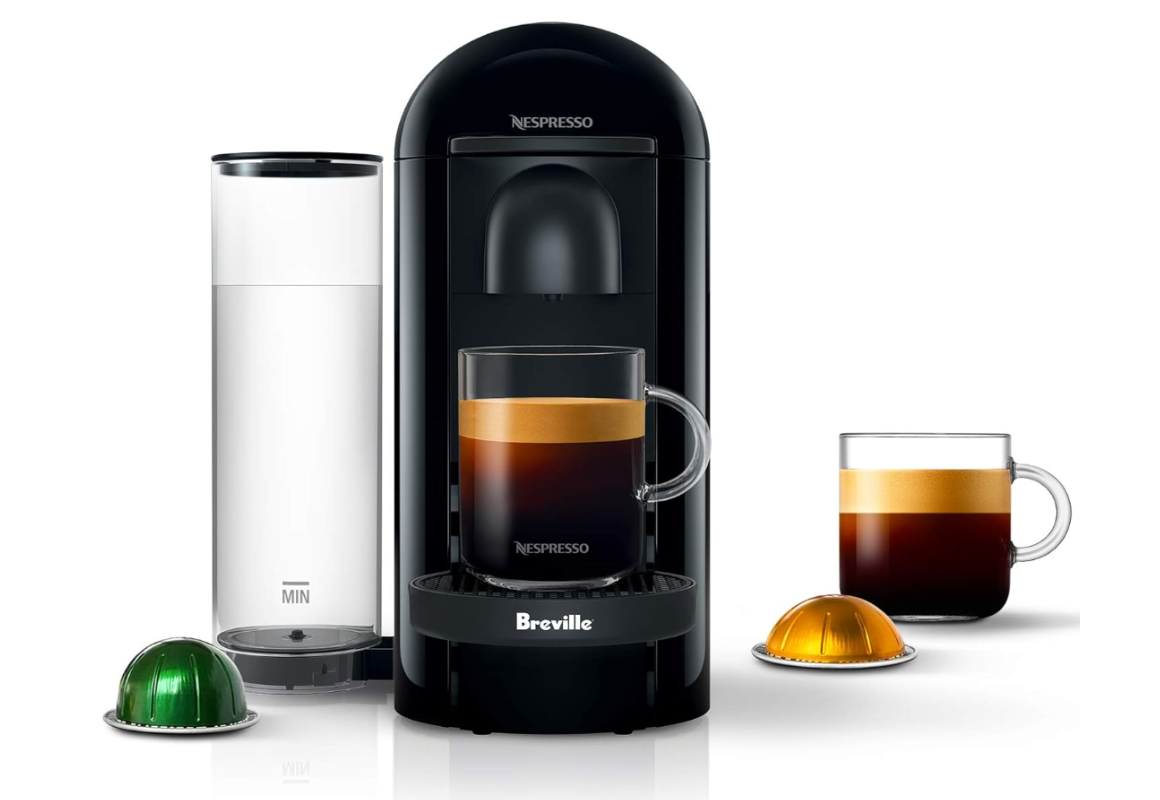 $118.97
$169.95
(30% Off)
Shipping:
Free with Amazon Prime or on orders of $35+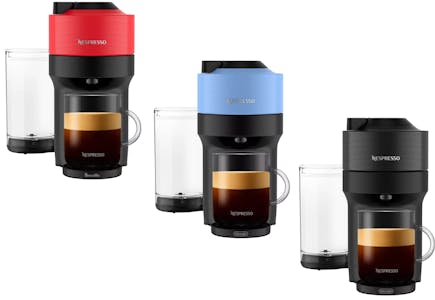 As low as
$94.99
$129.99
(27% Off)
MOBILE COUPONS NEEDED
Shipping:
Free with RedCard or on orders of $35+
PRICE SUMMARY
Available in Gray, Liquorice Black, Mango Yellow, Mint, Pacific Blue, and Red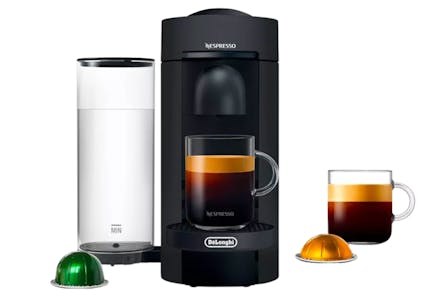 As low as
$121.12
$199.99
(39% Off)
MOBILE COUPONS NEEDED
Shipping:
Free with RedCard or on orders of $35+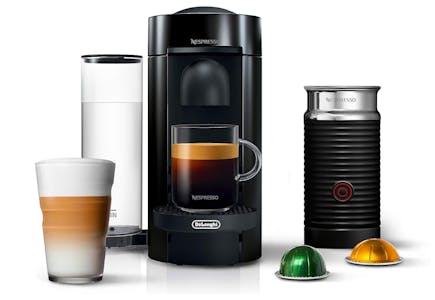 $153.99
$219.00
(30% Off)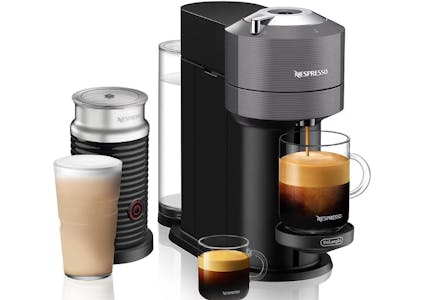 $159.98
$218.00
(27% Off)
When do Nespresso Black Friday deals begin?
I'm already seeing some early Black Friday deals as of mid-November, but I expect more to arrive before Black Friday 2023. For instance, on Nov. 17, 2022 Target had a 1-day only deal on a Nespresso VertuoPlus Coffee and Espresso Machine. It was regularly priced $199.99, but was marked 45% to $109.24. Nice.
Best Nespresso Black Friday and Cyber Monday Deals From 2022
Nespresso Vertuo Next
Nespresso VertuoPlus
Nespresso Essenza Mini
Nespresso Lattissima
You can usually find the best Nespresso Black Friday deals at Walmart and Amazon.
Historically, Walmart and Amazon slash Nespresso prices on Black Friday. We're talking anywhere from $40 – $50 off a $200 machine, at least. These deals are always easy to find, and both offer free shipping. (That's if you're a Walmart+ member or if you have Amazon Prime, of course). Walmart will often offer rollback prices on Nespresso machines and pods outside of Black Friday, and Amazon will randomly have coupons you can apply at checkout (they'll appear on the product listing).
Also, we've seen one-hit wonder deals at other retailers, like Bloomingdale's and Williams Sonoma. It takes a bit of popping in and out of store sites to see who has the best deal, but the Krazy Coupon Lady app will always keep you up-to-date with the latest details.
Plus, you can save when you join Nespresso's Referral Rewards program.
Also, if you already own a Nespresso and want to save on coffee pods, take advantage of their Referral Rewards program. For example, say your friend is thinking about buying a Nespresso machine on Black Friday. Refer them and upon their purchase, you'll earn $10 off your next coffee order of five or more sleeves, and they get $40 off any machine. Plus, they get a free capsule dispenser. Everyone wins.