We're reader-supported and only partner with brands we trust. When you buy through links on our site we may receive a small commission at no extra cost to you. Learn More. Product prices and availability are accurate as of the date and time indicated and are subject to change.
I used to wait until the last minute to go back-to-school shopping, but then I learned that the best deals actually happen in July. From clothes to sneakers to school uniform options, we're bringing you the best hacks and tips to save big on back-to-school apparel and shoes, so you don't end up paying more in the final hour.
Here are our favorite back-to-school hacks, including ways you can save big on DSW shoes, Hey Dude, and more.
Text HACKS to 57299 for more money-saving secrets and hacks.
1. Save up to 77% on shoes from Sperry, Chaco, and Merrell at DSW right now — with a stackable 10% discount just for Krazy Coupon Lady readers.
Now through August 31, DSW is offering a back-to-school deal: You'll get an extra 30% off any qualifying purchase of Chaco, Merrell, Sperry, and Wolverine products. Plus, if you use the code KRAZYEXTRA, you can save another 10% off. (And yes, these offers can be combined!). Using these offers, I got a pair of Kids' Chaco Booties — originally priced at $35 — for just over $8. The same pair is listed for $60 at Chacos.com.
And while you can save up to 77% off regular prices during these sales, there are many ways to find great deals year-round. First, you can get 10% off just by signing up for their promotional emails and 15% off for signing up for text messages. Another way to save big is by joining the DSW VIP rewards program because there are so many perks. First, standard shipping for online orders under $75 usually costs $7.95, but DSW VIP members get free ground shipping with no exceptions. So if you place four orders throughout the year, you'll save over $30 on shipping alone.
Next, you'll get a $5 coupon on your birthday, and receive other offers throughout the year. In the past week alone, I've gotten an offer for $25 off any order of $49 or more, as well as a 25% off discount code for a future purchase. Whenever I'm at DSW, I always make a beeline to the clearance racks in the back for massive savings. That's where shoes are marked down for an extra 20 to 60% off.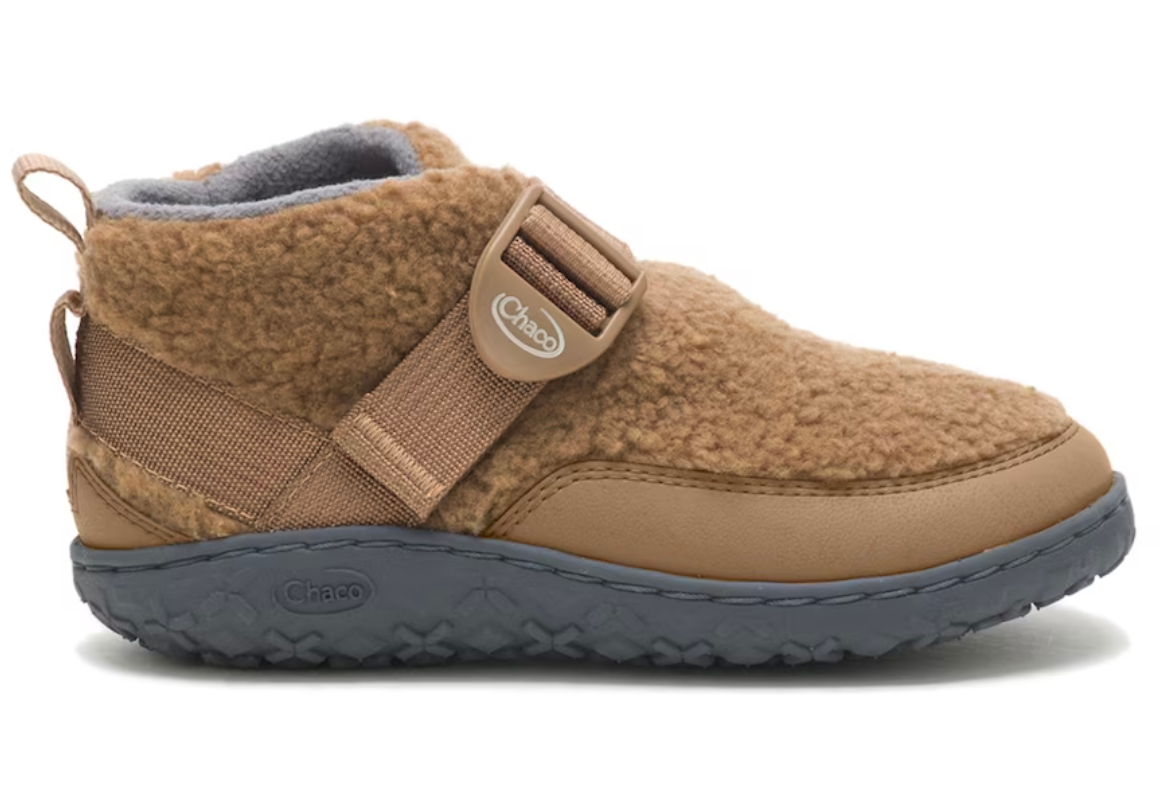 Shipping:
Free for DSW VIP Rewards members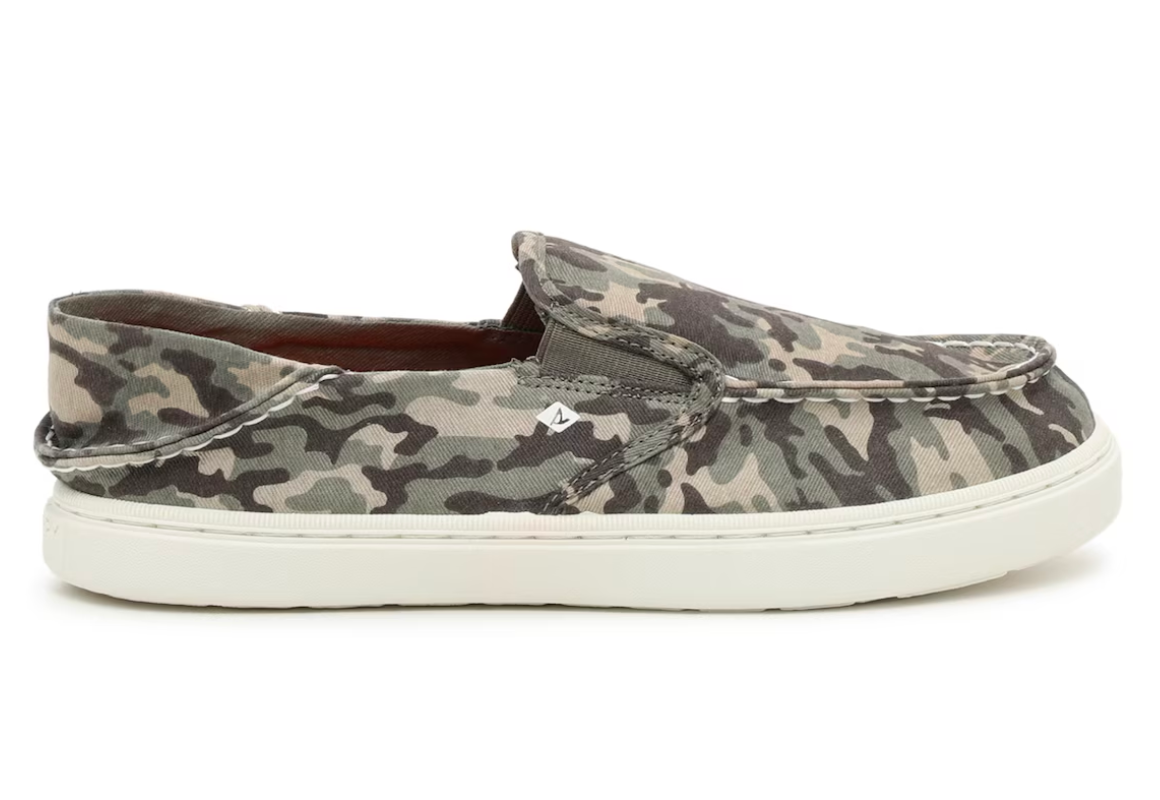 Shipping:
Free for DSW VIP Rewards members
2. Hey Dude is currently running a summer clearance sale, but starting on July 27, you can save up to 85% off by using the promo code BTS.
My family loves Hey Dude, so I'm always checking their website for the latest sales. I aim to save at least 35% off the retail price when I'm buying a pair of their shoes. When it comes to their children's footwear, I keep my budget at $30 or less per pair. From July 27 through August 14, Hey Dude will be offering some back-to-school deals. You can save up to 60% off regular prices, and then get an extra 25% by using the code BTS at checkout.
But right now, they're having a summer clearance sale at HeyDude.com and you can get up to 56% off select styles. For example, the Wendy Youth Linen sneakers are marked down from $44.95 to $19.99. And if you sign up for Hey Dude's email list, they'll send you a discount code that you can use for an extra 15% off your next purchase. (Note that this offer cannot be combined with other offers or promo codes). Next, military, healthcare professionals, teachers, and seniors can receive 20% off at checkout with verification through ID.me every day of the year.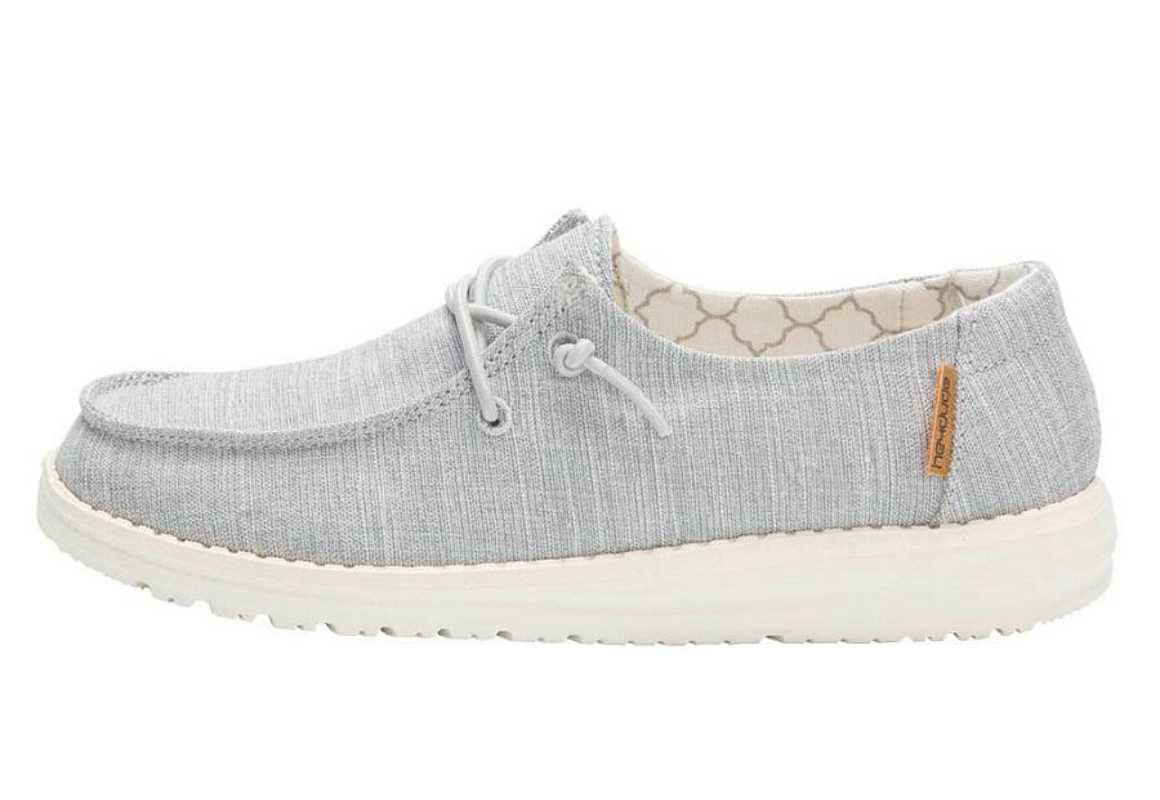 As low as
$17.00
$44.95
(62% Off)
15% off with email sign-up
Shipping:
Free on orders of $60+
3. Save up to 70% by buying your school uniform options now before prices go up next month.
I'll never forget the year I waited until the last minute to get the polos and khakis for my kids' school uniforms. They were sold out of their sizes at Walmart, so I had to pay full price at a department store. You'll save yourself a lot of money — and stress — if you buy them this month.
At Old Navy, I aim to pay no more than $5 for kids' polos and $15 for uniform-style slacks.
You can find these prices there right now: Boys and girls polo shirts are $5, which is 50% off the regular price. Boys uniform pants are marked down as well — from $24.99 to $15, a 40% savings. They also have two-packs of boys' uniform pants in different color options (2 blue, 2 beige, or 1 blue, 1 beige) on sale for 40% off. Instead of paying $49.99, you'll pay $30, which makes them $15 per pair.
Shipping:
Free on orders of $50+
Shipping:
Free on orders of $50+
Shipping:
Free on orders of $50+
Plus, there are several other ways to save on top of these discounts:
If you sign up for Old Navy text alerts, you can save an extra $5 on any order of $35+.
If you open an Old Navy credit card, you'll get an extra 30% off your first purchase.
You can get 67% off uniform polos, slacks, and jeggings at The Children's Place.
I aim to pay no more than $7 per polo or $13 for each pair of slacks or jeggings at The Children's Place. Right now, polos are as low as $6.39, while uniform jeggings are $11.20 a pair. Here's how you can save big on back-to-school shopping there:
Save an extra 25% if you sign up for their e-mails or text messages. You'll receive the promo code via email or SMS text.
Save an extra 20% if you use the promo code GIMME20 and place your order by Sept. 2.
Shipping is always free, but if you have your order shipped to your local Children's Place store instead of your house, you'll save an extra 15%.
Note that the above offers cannot be combined.
As an example, I bought a 10-pack of children's polos and a 2-pack of pull-on girls' jeggings and used the GIMME20 promo code at checkout. The 10-pack of polos was originally marked down 47%, from $149.95 to $79.99, which made each polo $7.99. After the promo code, my total on the shirts before tax was $63.99, so the final cost for each polo was $6.39. The 2-pack of jeggings, originally $59.95, is 53% off and on sale for $28, but with the extra 20% off at checkout, it came down to $22.40, so I paid $11.20 for each pair. In total, I saved 67% on the polos and 63% on the jeggings.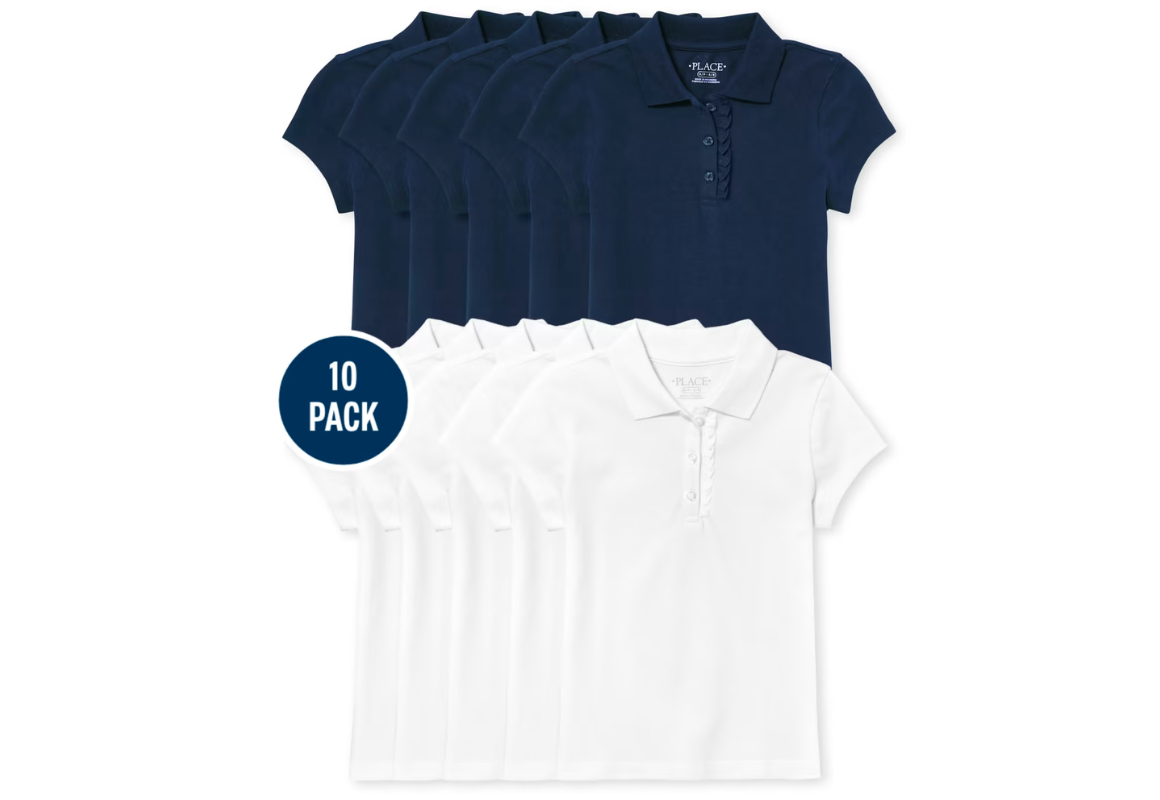 JCPenney also has can't-miss sales on school uniform items, including polos for $4.99.
Plus, now through July 23, you can save an extra 30% on select items by using the promo code HOTDEALS at checkout. I used the code and got an IZOD skirt for just $11.19, which was 60% off the regular price of $28.
Shipping:
Free on orders of $75+
Shipping:
Free on orders of $75+
4. Do your back-to-school shopping on tax-free weekends for even more savings.
A lot of states offer tax-free weekends in late July or early August. That means you don't have to pay state sales tax on clothing, footwear, or school supplies. That savings can go a long way depending on where you live. For example, the state sales tax rate in Mississippi is 7%, but can go as high as 8% in certain municipalities. So if you went back-to-school shopping during Mississippi's tax-free weekend (July 28-29), you could save up to 8% on top of any other discounts. Click here to learn more about tax-free weekends around the country and to see if your state is offering it this year.
5. Use our shoe sizing hack to save money on new sneakers from popular brands like Converse, Nike, Vans, and Adidas.
My daughter is only 11, but she already wears a women's size 7 in shoes. I recently learned that a lot of popular brands — like Adidas, Converse, and Nike — offer Big Kid's sizes. Typically, they go up to a boy's size 7, which is a 9 in women's. The sneakers are the same, but the prices definitely aren't. For example, you'll pay $75 for a pair of Converse Chuck Taylor All Star Lift Platforms in a women's size 7, but that same pair in a youth size 5 costs $60. In this case, buying them in the Youth Size will save you $15, or 20% — and that's before any other discounts.
6. Get a 20-pack of Hanes ankle socks for just $10 — a 33% savings — at Target.com.
When I'm buying socks for my kids, I aim to spend less than 70 cents a pair. Right now is a good time to stock up on them at Target.com for back-to-school. Here's why: A 10-pack of Hanes girls' no-show socks is marked down at Kohl's right now, from $16 to $10.20. That's $1.02 per pair. But you can buy a 20-pack of the same socks at Target for $10, which is a 33% of savings and makes them just 50 cents a pair. You can get the same deal on 20-packs of boys socks, too. They're also marked down 33%, from $14.99 to $10.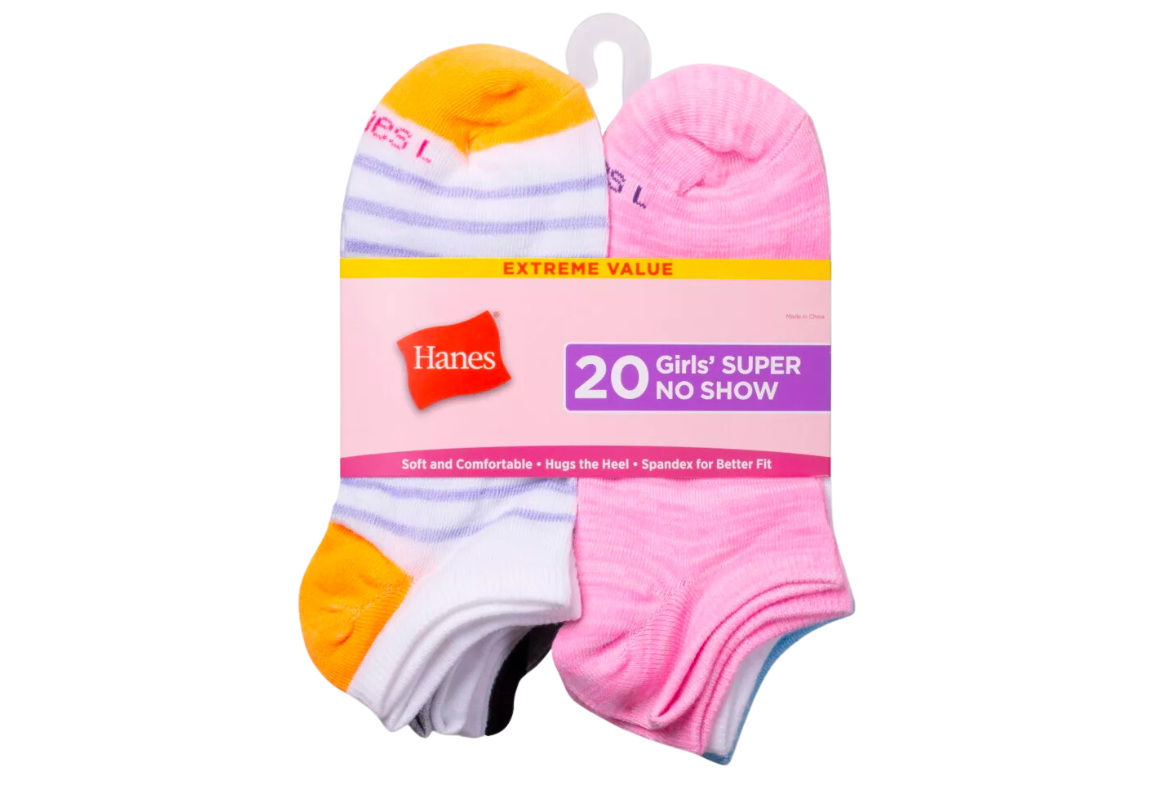 Shipping:
Free on orders of $35+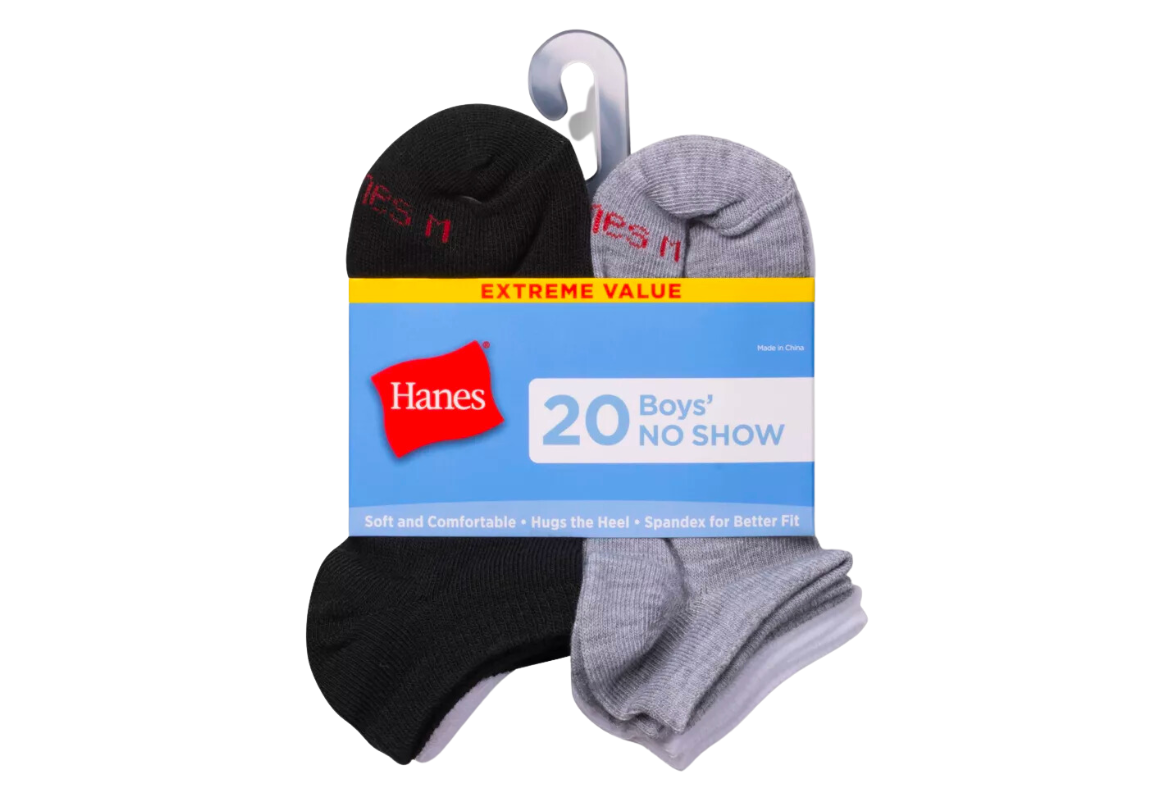 Shipping:
Free on orders of $35+
7. Save an extra 10% on Crocs if you use a Bank of America debit card and enroll in BANKAMERIDEALS.
Kids' Crocs generally retail for around $35 – $50, but I won't pay more than $25 per pair. That's because I can always find great markdowns and deals at Crocs.com. For example, right now, a pair of Lined Toddler Marbled Crocs are marked down to $25 – a 50% savings – on Crocs.com. If you sign up for emails with the Crocs Club, you'll learn about these sales and also save 15% on your next purchase.
Plus, if you have a Bank of America debit card, you can save an extra 10% at Crocs.com. That — and the 15% code — brings your final price down to $20.25, saving you almost $30 off the retail price, for a total savings of 60%.
Here's how you can find extra savings with Bank of America: Simply log into the Bank of America mobile app and scroll down. You'll see something called "BANKAMERIDEALS." These offers can save you anywhere from 1 – 15% on purchases of clothing, food, travel and more. It's totally free and you don't need to fill in any information. You can just quickly scroll through the deals and add whichever ones you think you might use.
The deals change every 30 days or so, but I check every few weeks to see the current offers. So far this year, I've earned $105 cash back on my statement. Now through August 15, you can get 10% back at Crocs stores or on Crocs.com, for a cash back maximum of $10. What I love about this, too, is it stacks with any other offer, so you can really maximize your savings.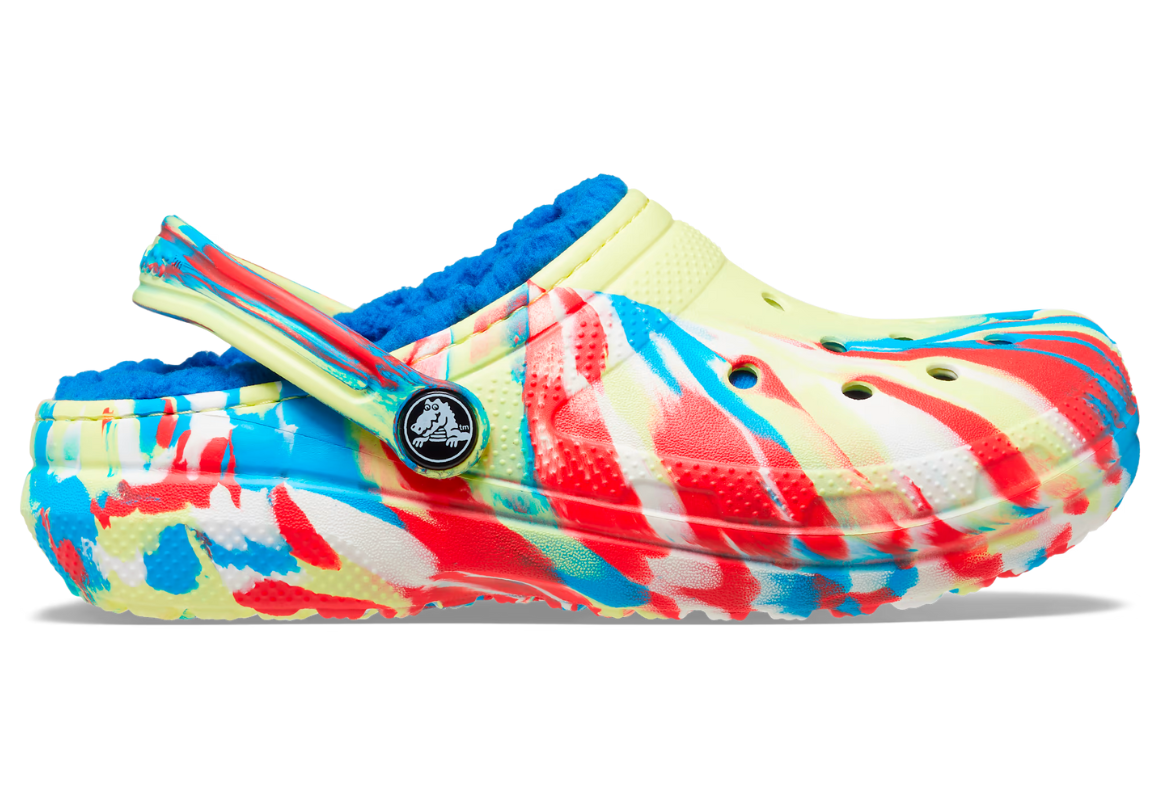 As low as
$20.25
$49.99
(59% Off)
10% off with BANKAMERIDEALS enrollment
15% off with Crocs Club sign-up
Shipping:
Free for Crocs Club Members
8. Use your CashApp card for automatic savings of up to 10% at stores like Kohl's and Nike when you complete your order within the app.
If you have CashApp and haven't registered for their free Cash Card, it's an easy way to get extra savings. It's a free debit card tied to your CashApp balance, and there's a constant rotation of new deals, or "Boosts" that you can add to get discounts. Right now, they're offering a ton of great cash back offers, like 10% off at Crocs, Levi's, and Tillys, 8% off at Adidas, and 5% off at The Children's Place, Kohl's, and Old Navy.
All you need to do is place your order within the app. I love that you can stack the savings with any other promotions the store is offering. The maximum discount is typically $50, so it's a generous deal. Last week, I used it at Dick's Sporting Goods. I filled my cart on my computer, and then logged into my account via CashApp and completed my order. I immediately saved $7 and it was so simple. I also saved almost $10 combined on my back-to-school shopping at The Children's Place and Old Navy using CashApp, so the savings can really add up.