We're reader-supported and only partner with brands we trust. When you buy through links on our site we may receive a small commission at no extra cost to you. Learn More. Product prices and availability are accurate as of the date and time indicated and are subject to change.
In the world of affordable luxury brands, Kate Spade ranks right up there alongside Coach and Tory Burch in terms of their quality and popularity. But with some styles costing upwards of $500, Kate Spade handbags are far from cheap. That's where the Kate Spade Surprise Sale comes in.
Once you learn how (and when) to shop the Kate Spade Surprise Sales, you'll unlock deals of up to 78% off hundreds of different bags and accessories. Some deals stick around for a few days or weeks, while others disappear after 24 hours.
That means staying on top of each sale is key. If you don't have time to search for all the best deals on Kate Spade's chic clutches or colorful office supplies yourself, we've done the hard work for you. Here's a look at what you can find during the current Kate Spade Surprise Sale and how to shop the next one.
Download The Krazy Coupon Lady app for more money-saving tips and deals.
Kate Spade Surprise Sale: April 2023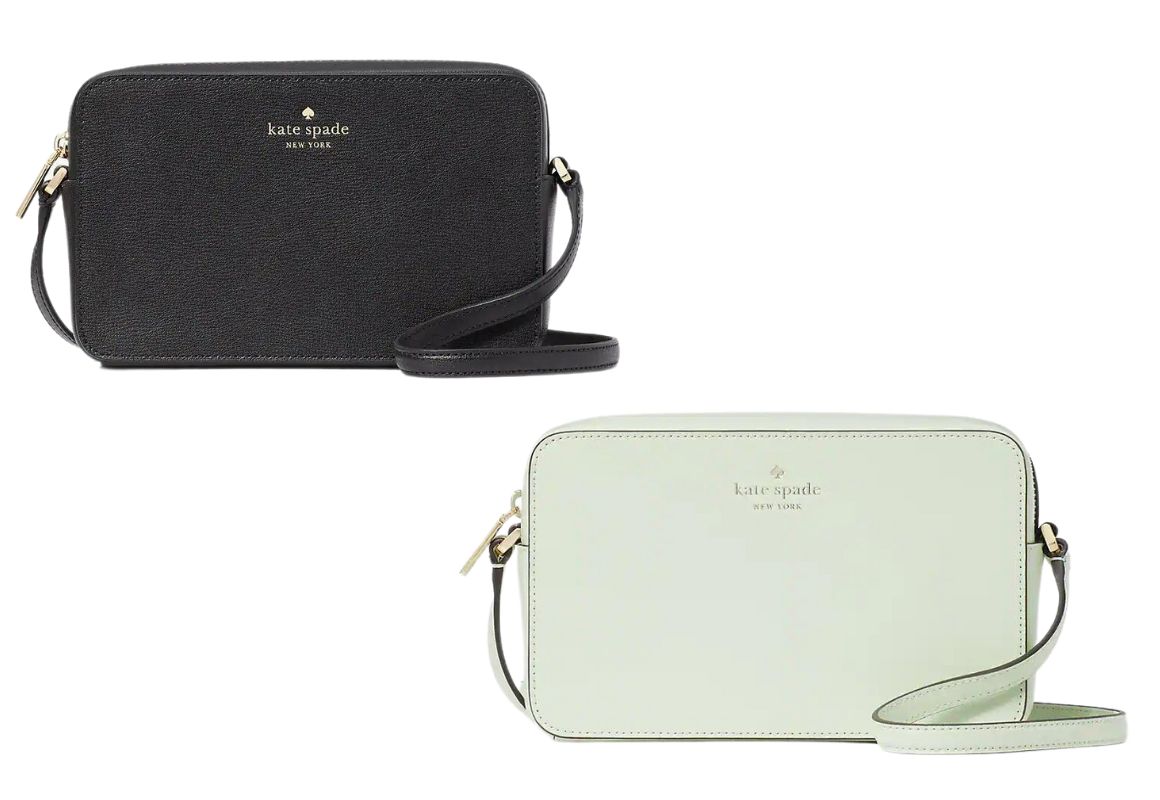 Shipping:
Free on orders of $50+
1. You have through April 21 to shop the current Kate Spade Surprise Sale.
While most brands offer sales directly on their website, the Kate Spade Surprise Sale works a little differently. You find the deals listed on the Surprise Kate Spade website, which is only available during Surprise Sale events (like right now!).
When a Surprise Sale is underway, you'll see short-term flash sales with discounts as high as 75% off. You can find deals on handbags, jewelry, wallets, desk accessories, and more — all from Kate Spade, not knockoffs. There's also a "Deal of the Day" page with special deals that usually last only 24 hours or occasionally 48 hours.
Is there a special promo code or coupon?
Nope! You don't need a coupon or a promo code to shop the sale, which is a big plus. You just need to visit the Surprise Kate Spade website to find everything or shop the handpicked deals above.
2. Kate Spade Surprise Sales happen about five times a year.
Fortunately for us, the Kate Spade Surprise Sale happens a few times a year. There are no set dates for the sales (hence the "surprise" part), but you can usually bet that one will be going on in the following months:
February
March
May
September
December
TIP: To get a heads-up on each sale, sign up for the Kate Spade email list.
3. Each sale can last days or even weeks, but the good stuff sells out fast.
The Surprise Sale usually goes on for a few days or weeks, although the duration can vary.
For the sale happening now, deals will be going on until March 2, 2023. Remember, though: some of those deals only last for 24 hours. Also, shopping the sale as early as possible is the best way to get the best and most covetable deals.
4. And it's not just handbags on sale — save on wallets, shoes, and jewelry, too!
Each sale is a little bit different, but you can still almost always expect to find a nice variety of options. This can include handbags, jewelry, tech accessories, cosmetic cases, shoes, clothing, wallets, and more. Some of the deals include bundles, like a handbag and a matching wallet.
5. You won't find bridal or seasonal items in a Kate Spade Surprise Sale.
The Surprise Sale includes so many different items that it can sometimes feel like nothing is excluded. However, the Surprise Sale usually doesn't include just-released items or seasonal pieces. They don't usually include bridal items either, like jewelry and gifts. Still, each sale is a little bit different, and pieces can really vary.
6. The Surprise Sale never happens in a physical store.
If you want to shop the Kate Spade Surprise Sale, those deals aren't going to be something you find in stores. The specific deals are only shoppable online. That said, you can find other Kate Spade clearance deals and sales in stores and in their outlet stores, too.
Related: Use these tips to avoid getting ripped off at outlet stores.
7. Get free standard shipping with the Kate Spade Surprise Sale.
When you shop the Surprise Kate Spade site, you will get some free shipping depending on which type of shipping you want. Both USPS Priority and standard ground shipping are free. Two-day shipping costs $20, and next-day shipping is $30.
Related: Here's how to save money on Coach and get a real bag for knockoff prices.