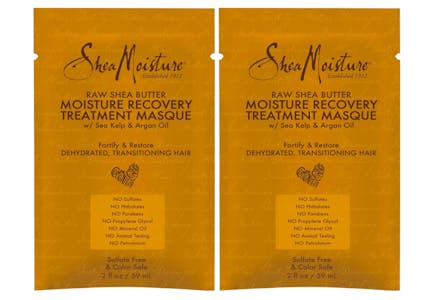 Buy 1 get 1 50% off
Buy 2, receive $4 ExtraBucks
PRICE SUMMARY
Pay $4.94, receive $4 ExtraBucks
Get all the new deals and savings hacks straight to your inbox
Select SheaMoisture products are BOGO 50% off at CVS this week, plus you'll get $4 ExtraBucks when you buy two. Included in this promotion are the SheaMoisture Raw Shea Butter hair mask sachets, which are priced at just $3.29 online at
CVS.com
. Purchase two and your final cost will be $0.47 each after rewards.
This deal is advertised online, but in-store availability may differ. Before buying in stores, I suggest scanning the item's barcode at the CVS Coupon Kiosk. This will show you whether or not the item is BOGO 50% off. Learn more CVS couponing tips, and shop all the CVS deals under $1 this week.
Store sales and promotions can vary by region. Before shopping, check your local ad to confirm that this deal is available in your area.
Text WALGREENS to 57299 and be the first to know about the best Walgreens deals.