It's time to get the house looking great for the holidays! Don't spend a lot of time or money doing it, though — these 53 clever decorating hacks are just what you need!
1. Tie garland or heavy ornaments on your tree with evergreen pipe cleaners.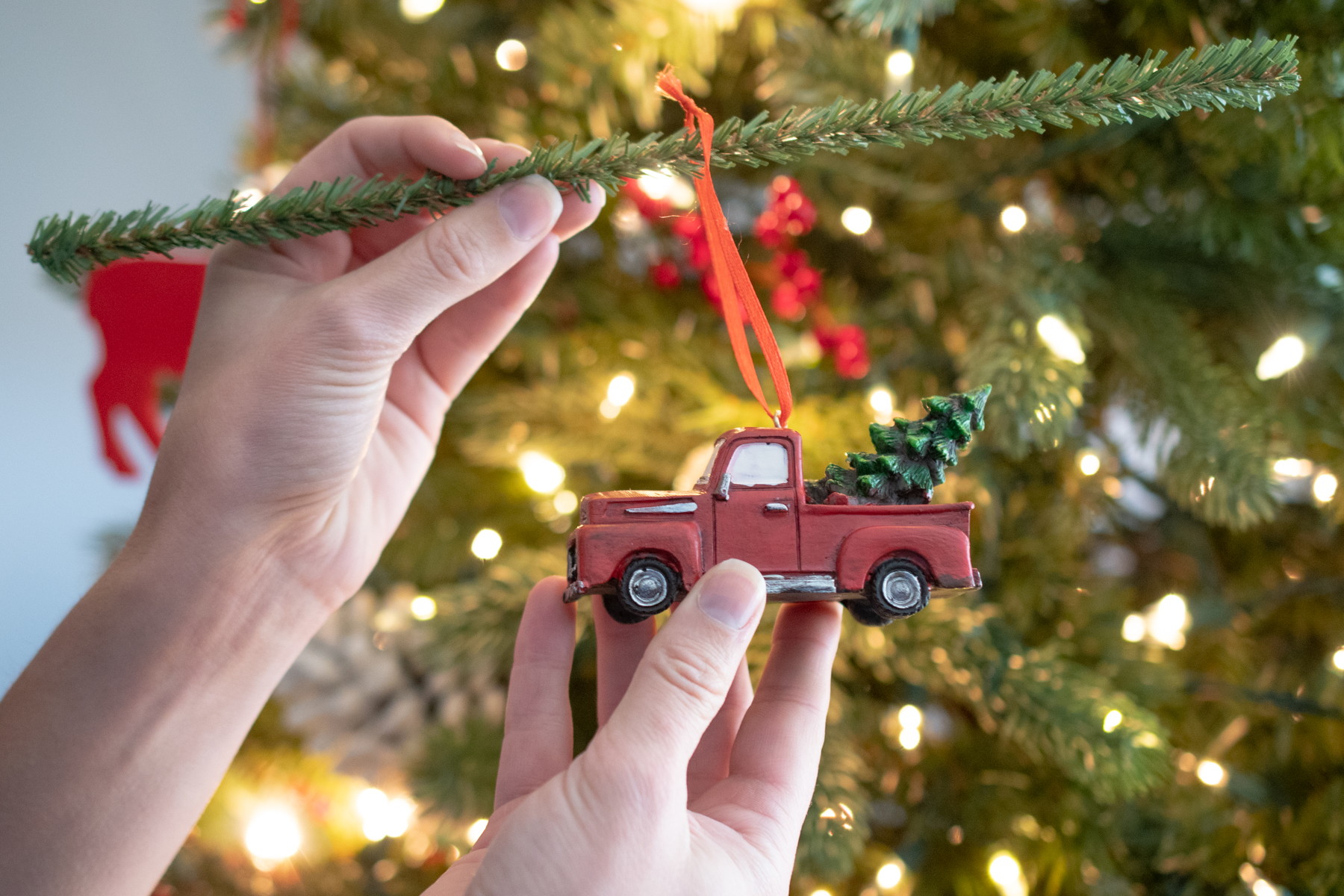 2. Use Command hooks to avoid nail holes when hanging wreaths, garland, or banners on your mantel or door frame.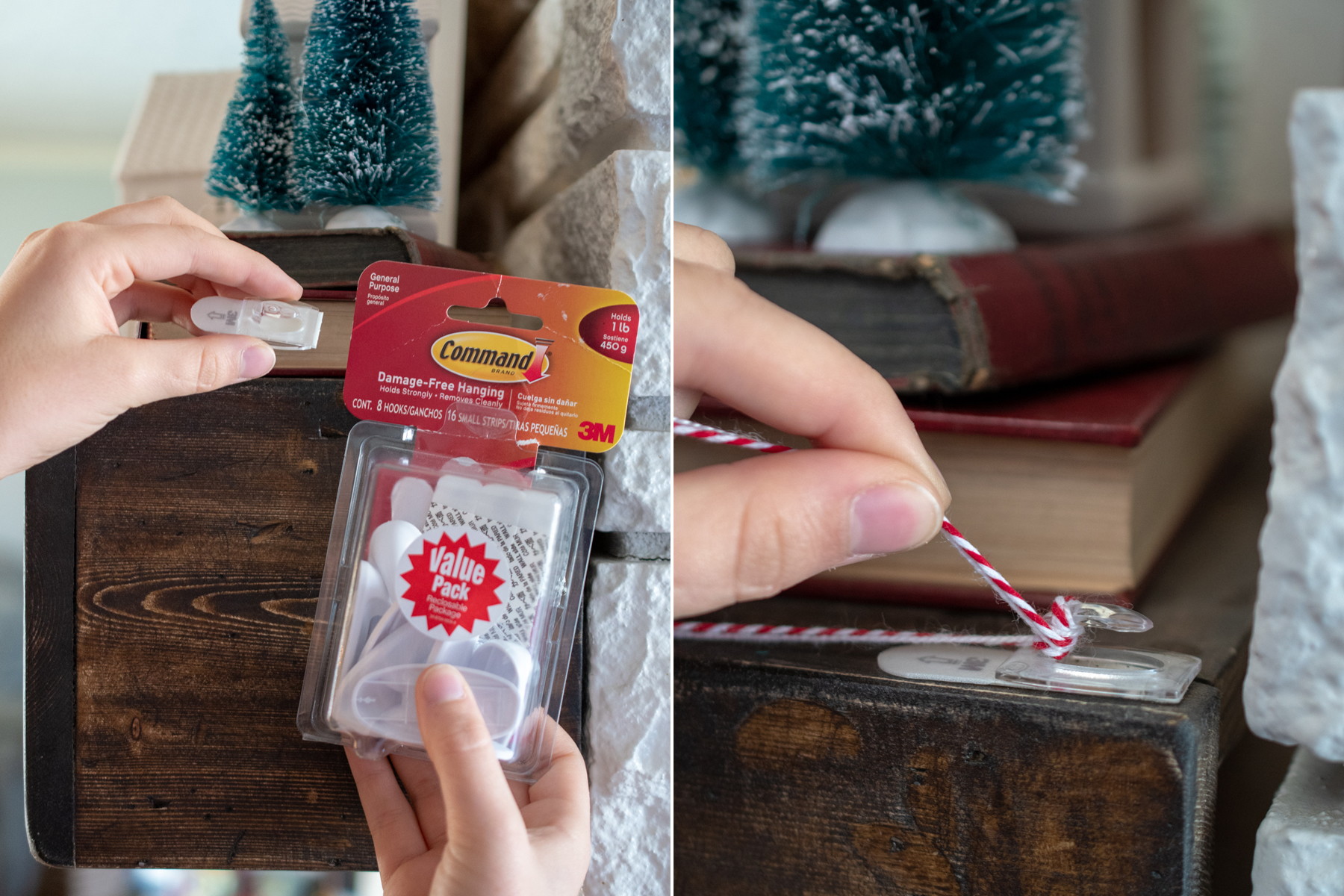 3. Use tiny ornaments to make a Christmas tree garland.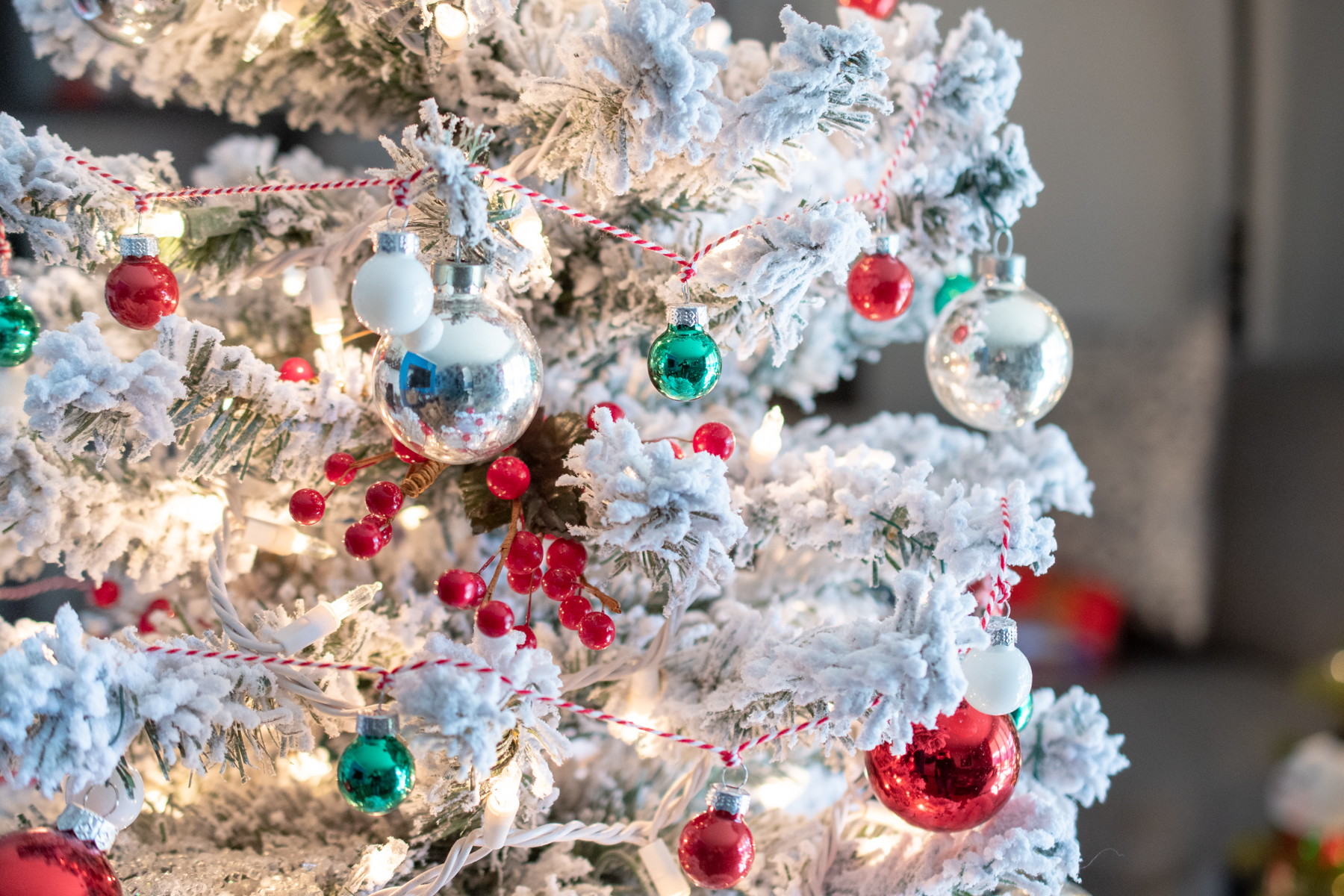 Make your garland with several boxes of small ornaments from Target's Dollar Spot or from the Dollar Store.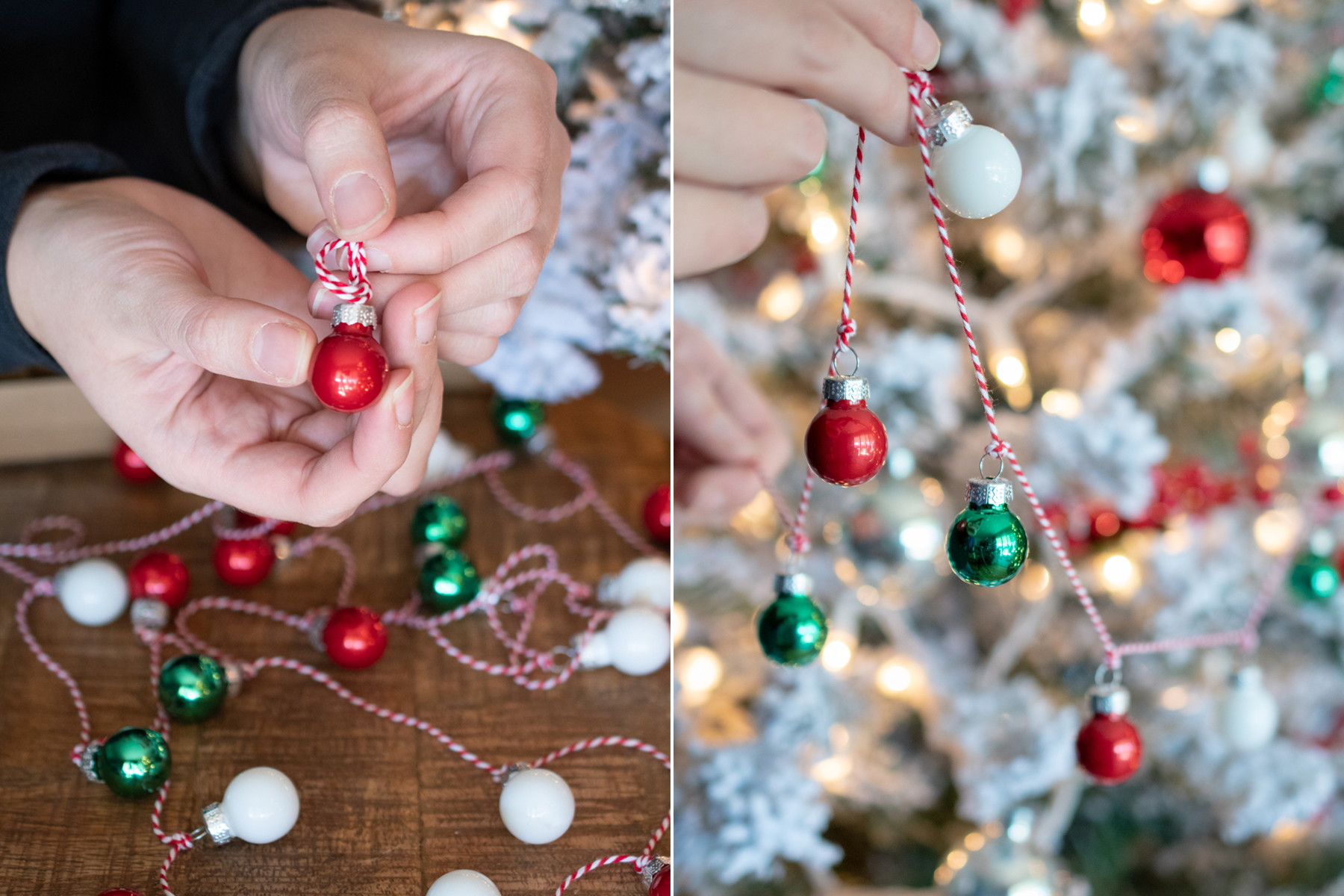 Using baker's twine, tie each ornament an even distance apart. Drape them over the branches of your mini Christmas tree and enjoy!
4. Use candy canes to add color and festivity to holiday flower arrangements.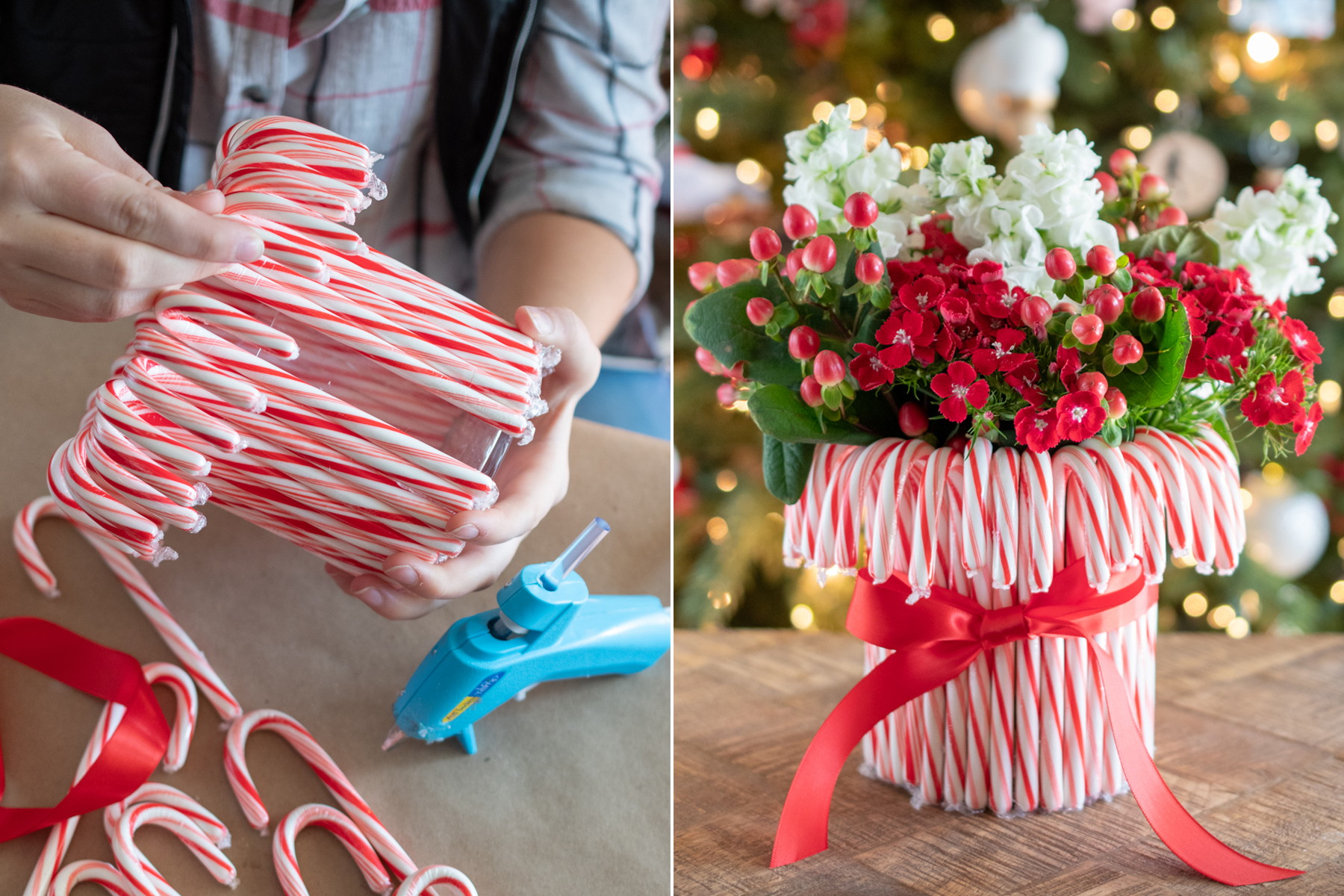 Use hot glue to attach candy canes to a glass vase. Tie it with a ribbon and fill the vase with flowers. It's great for your home or as a gift for a holiday party.
5. Protect outdoor cords by placing the plugs in a lidded plastic container.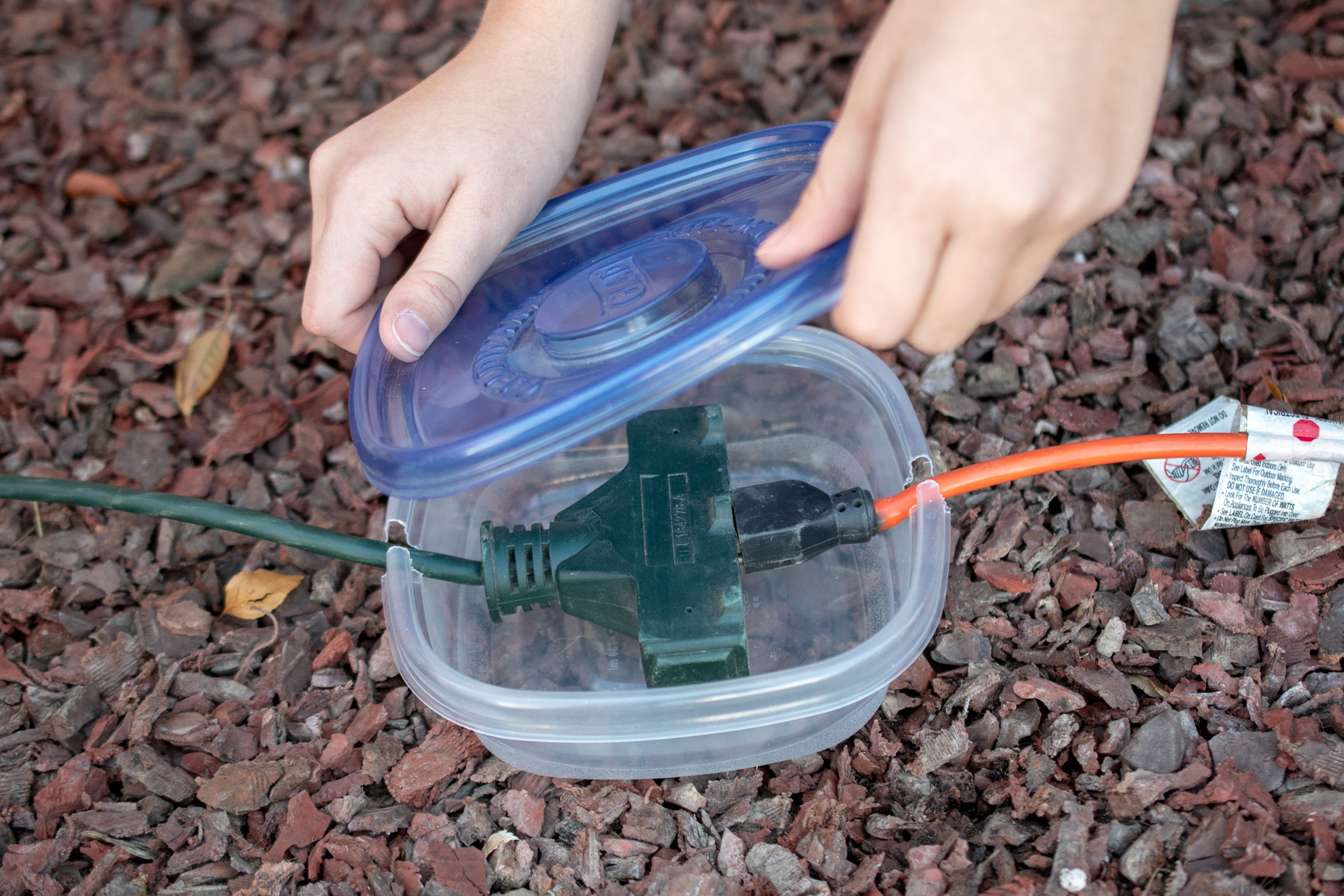 6. Hang bells on the bottom branches of your trees to hear when kids and pets are pulling on it.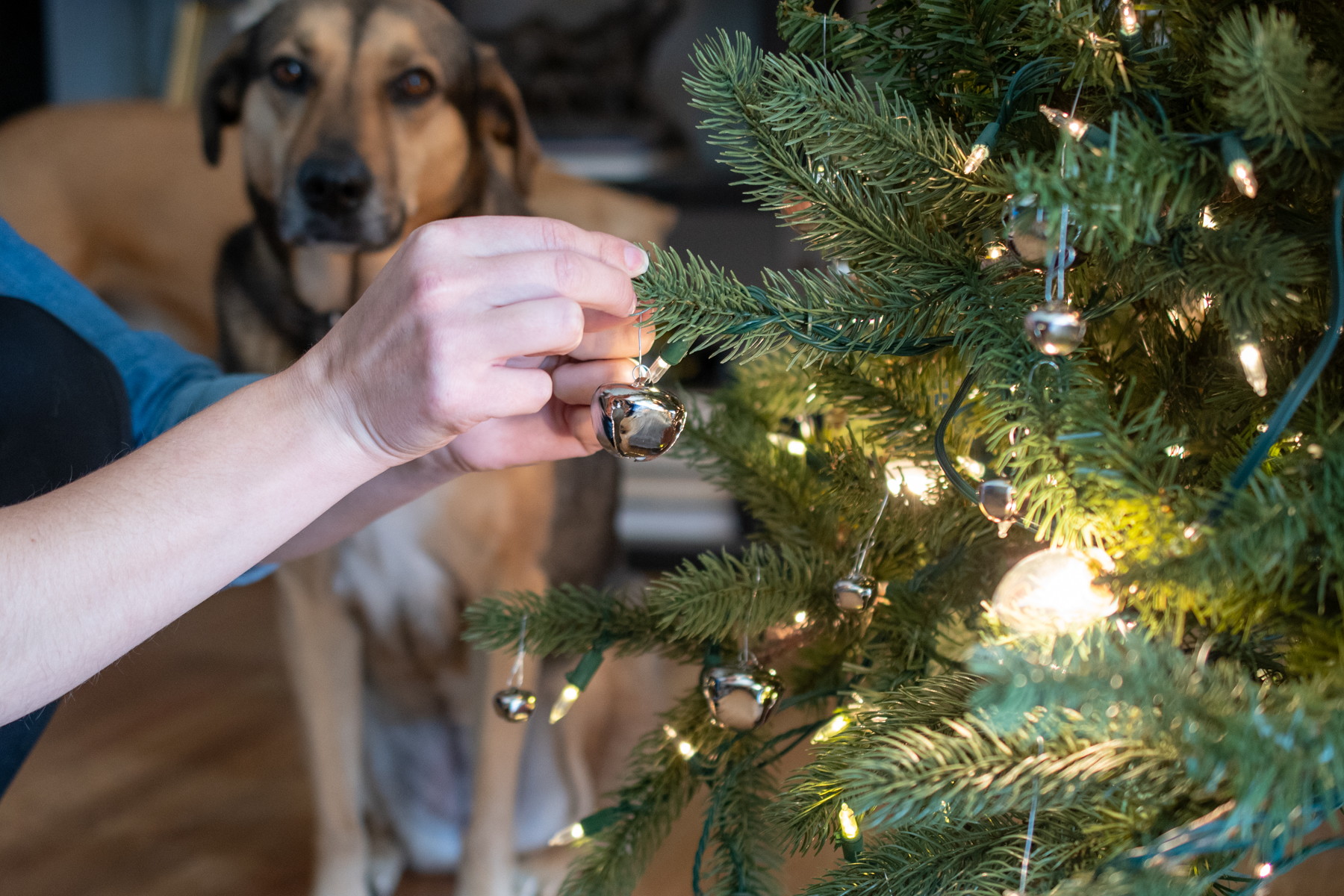 7. Use specific gift wrap for each member of your family instead of gift tags to cut down on Christmas present peeking.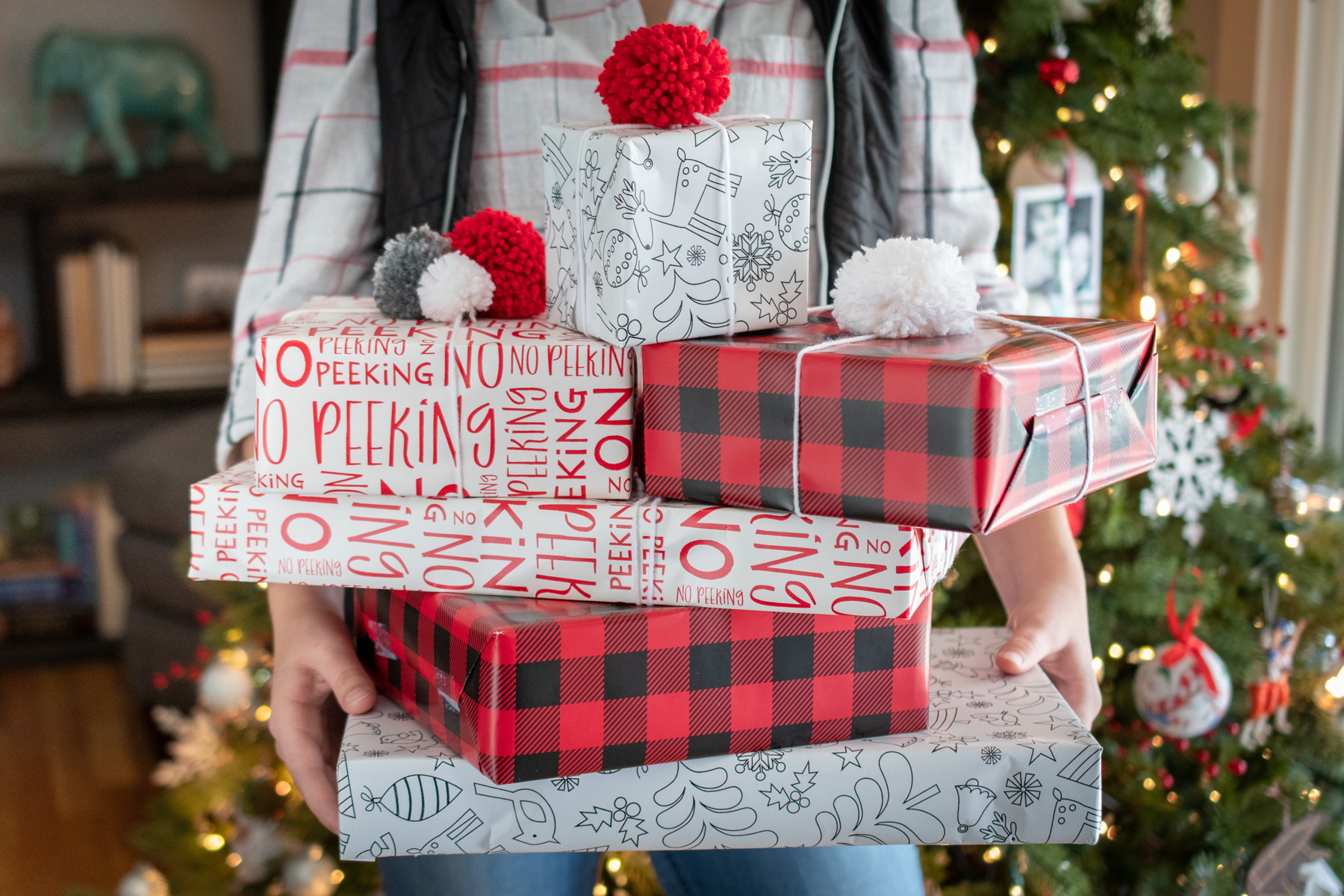 The tagless presents in varied gift wrap will prevent your kids from knowing which gifts are theirs before Christmas. Plus, it gives a personal touch. There's no need to put name tags on the packages.
On Christmas morning give each family member a square of their gift wrap to let them know which gifts belong to them.
8. Transform a Christmas mug into a fun planter — just add greenery.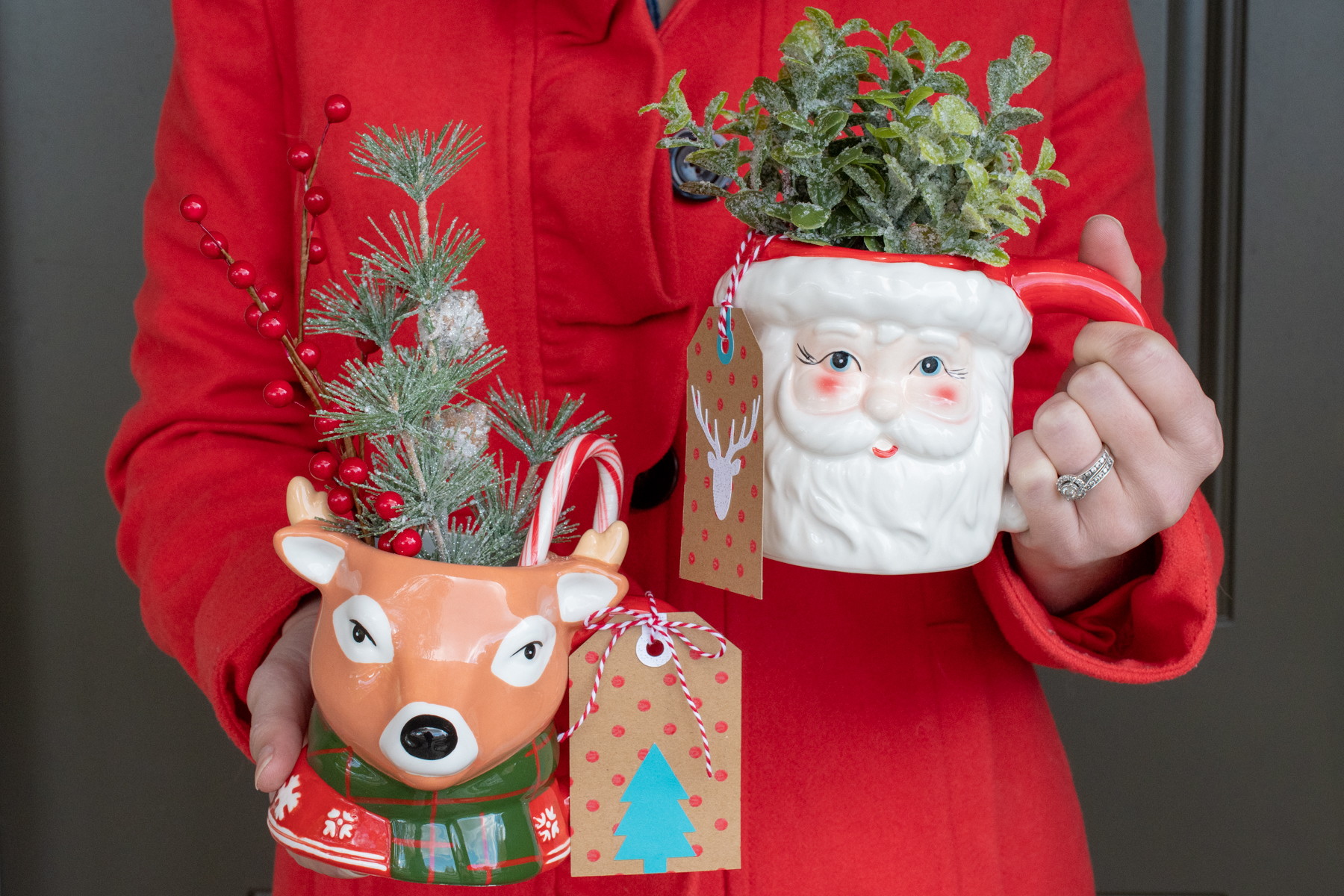 Artificial plants work best, but even if you put live plants in there, once it dies, the recipient can just use the mug — win-win!
9. Save on buying expensive fragrances by simmering a bag of your favorite smelling tea.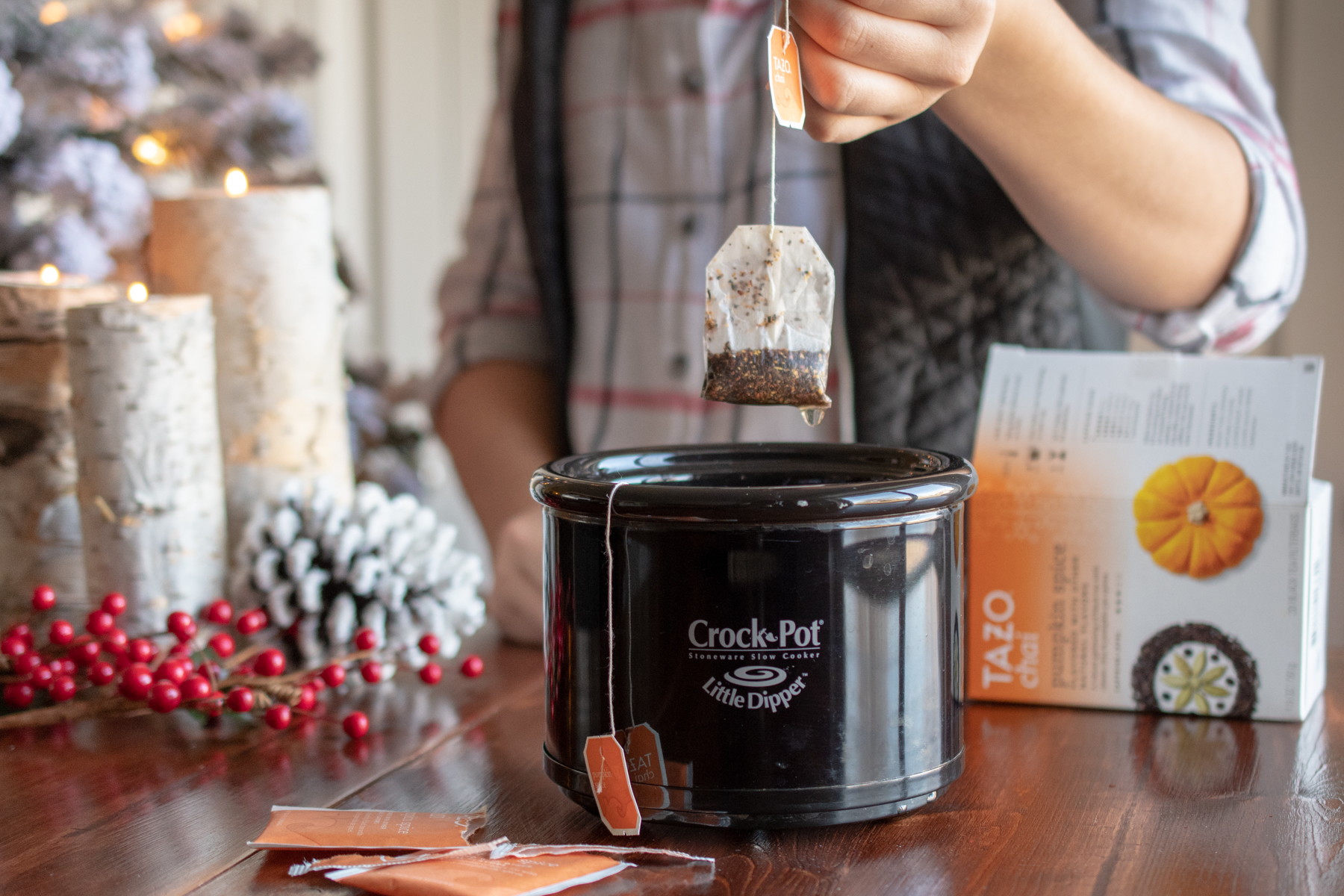 This is great for holiday parties or when you want to make your home smell amazing.
The scent will last until all the water in the pot is gone! Be careful not to leave the pot unattended as the water will eventually evaporate.
10. Tie string and greens to a tree branch to display Christmas cards as they arrive in the mail.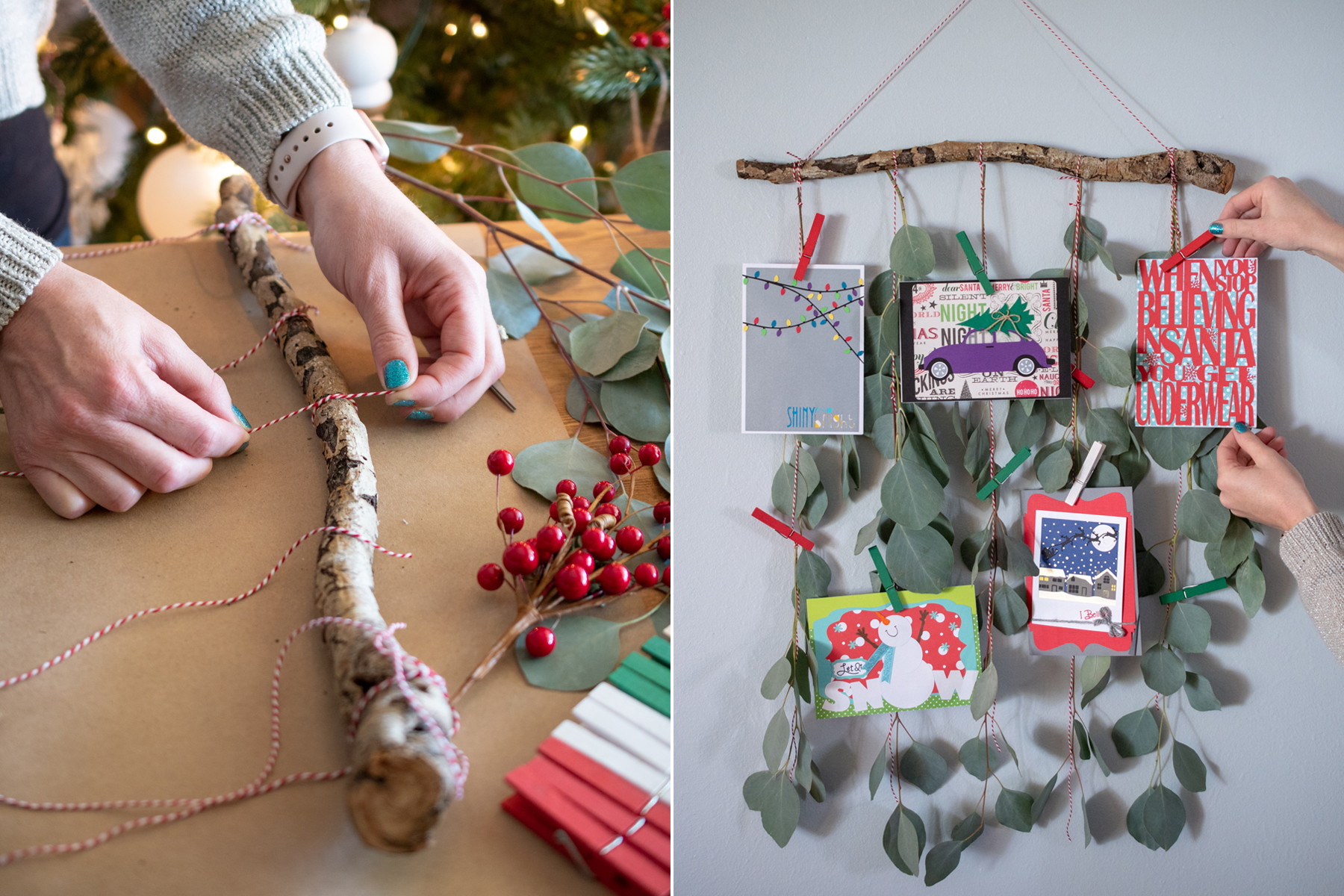 When the holidays are over, dispose of it so you don't have to store it — or convert it to display family photos.
11. Use floral picks to add color, variety and texture to your Christmas tree.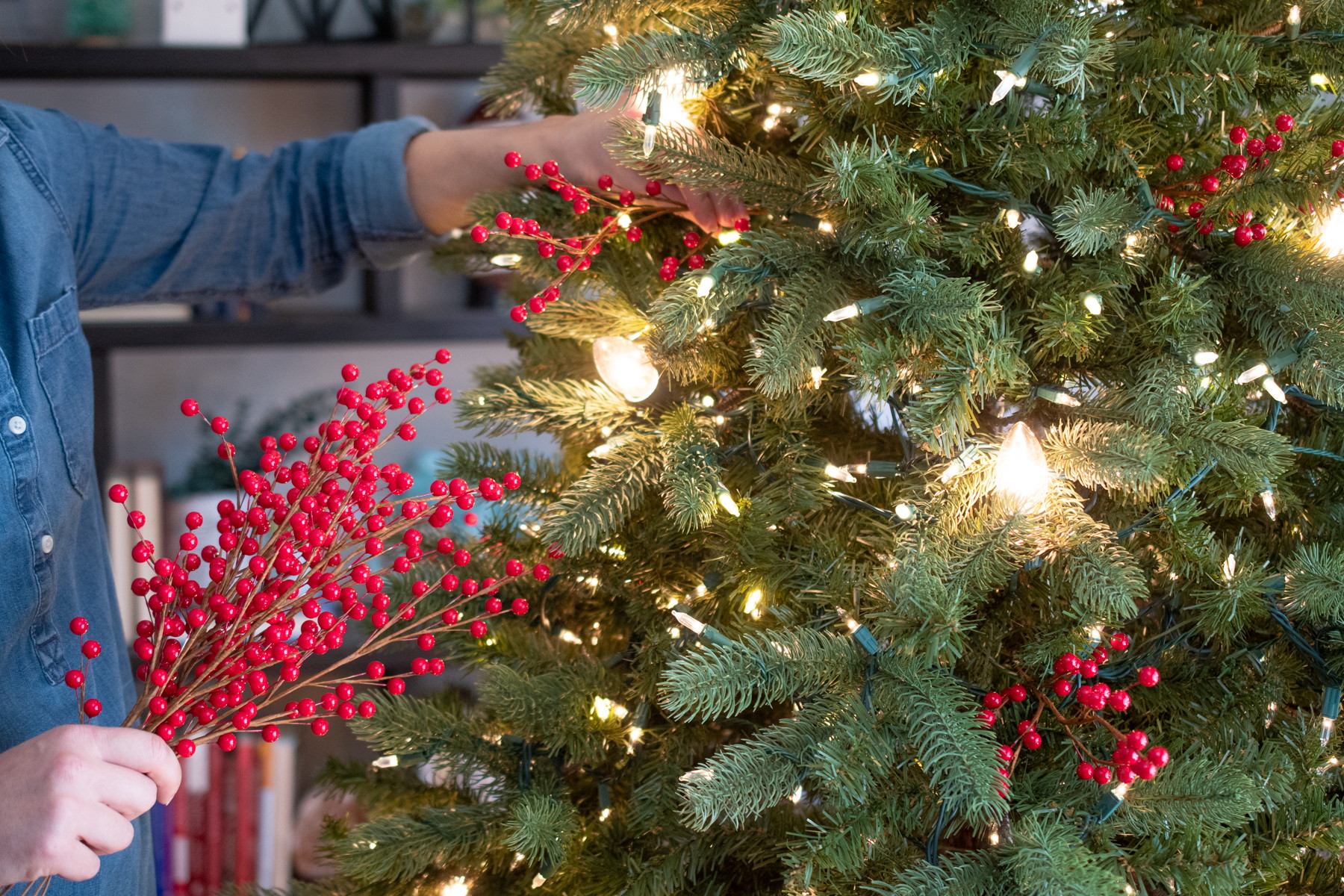 For a more natural look, put the floral picks in the Christmas tree in the same direction as the branches. Spread them throughout the tree, but especially in any spots that might not appear as full.
12. Salvage a strand of burnt-out lights with a Light Keeper Pro!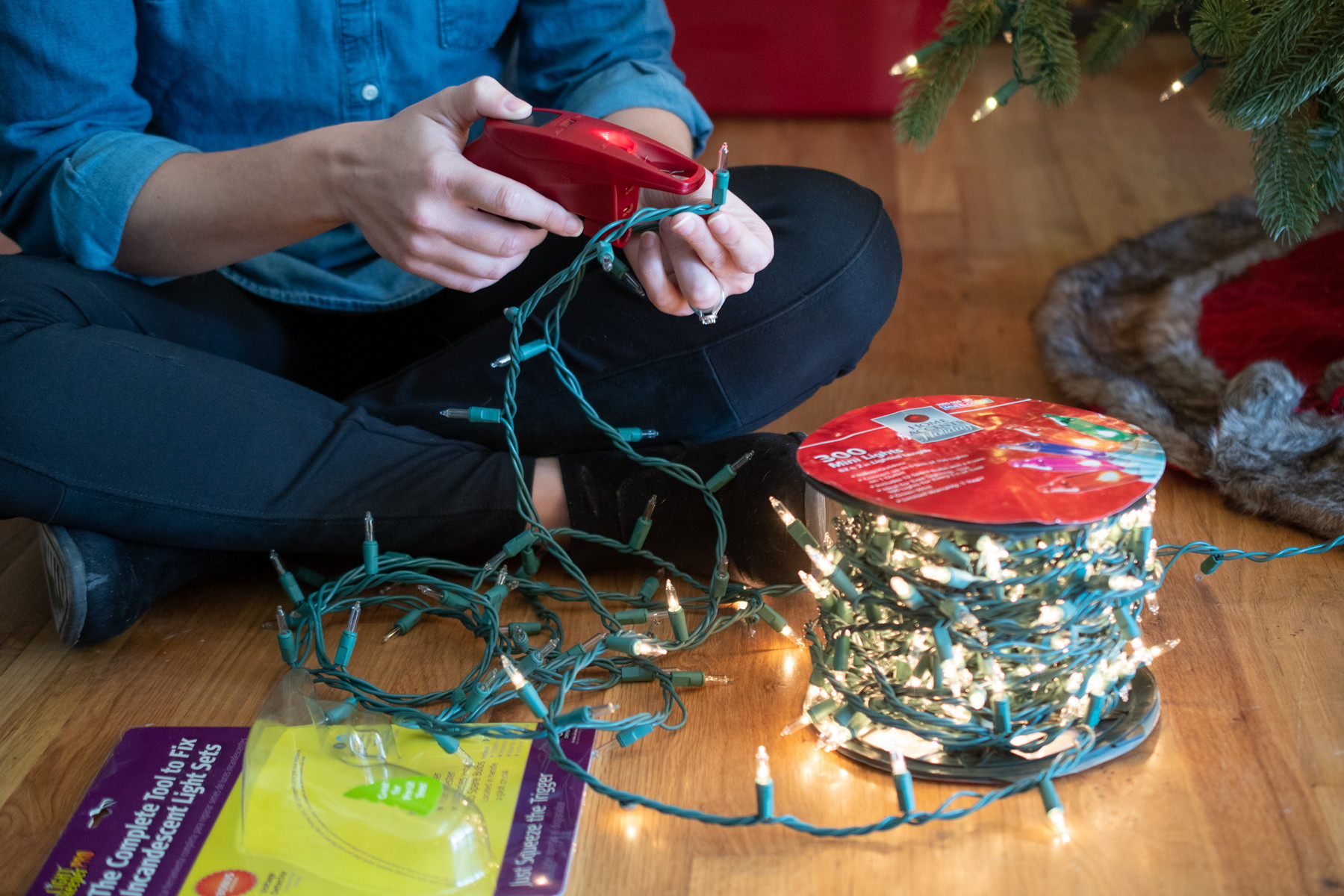 When your strand of lights stops working, use a Light Keeper to find the burnt out or broken bulb. This is a simple tool that in the long run will save you lots of coin — and it actually works!
This is great for fixing lights that are challenging to replace, like those on a pre-lit tree or garland.
13. Make your own gift wrap with paint and a potato stamp.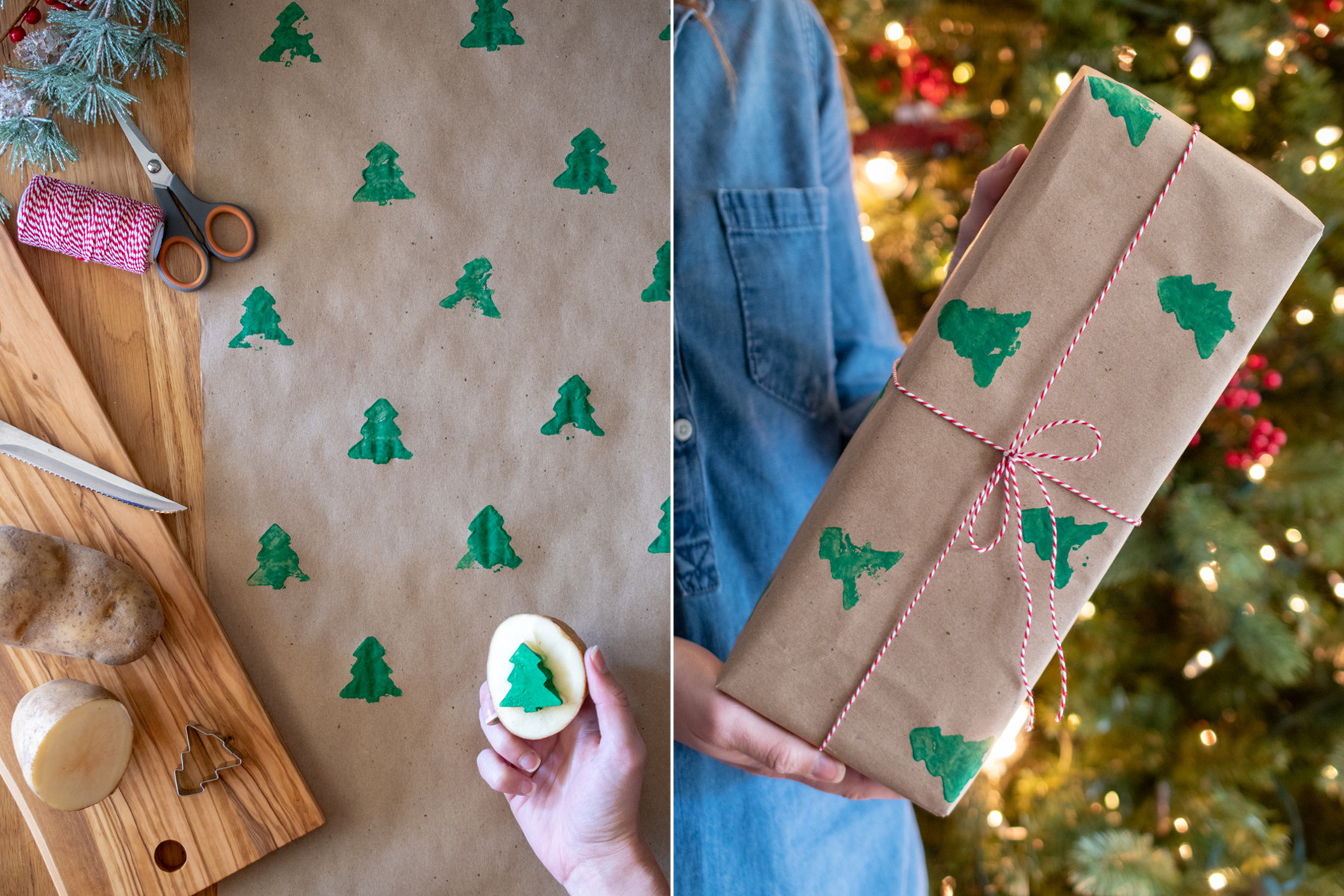 Make a stamp by cutting into one half of a potato with a cookie cutter. Cut around the cookie cutter to remove the excess potato. Apply the paint to the surface of the potato with a brush and stamp away.
14. Plan on at least one strand of 100 count mini lights per foot high of your tree.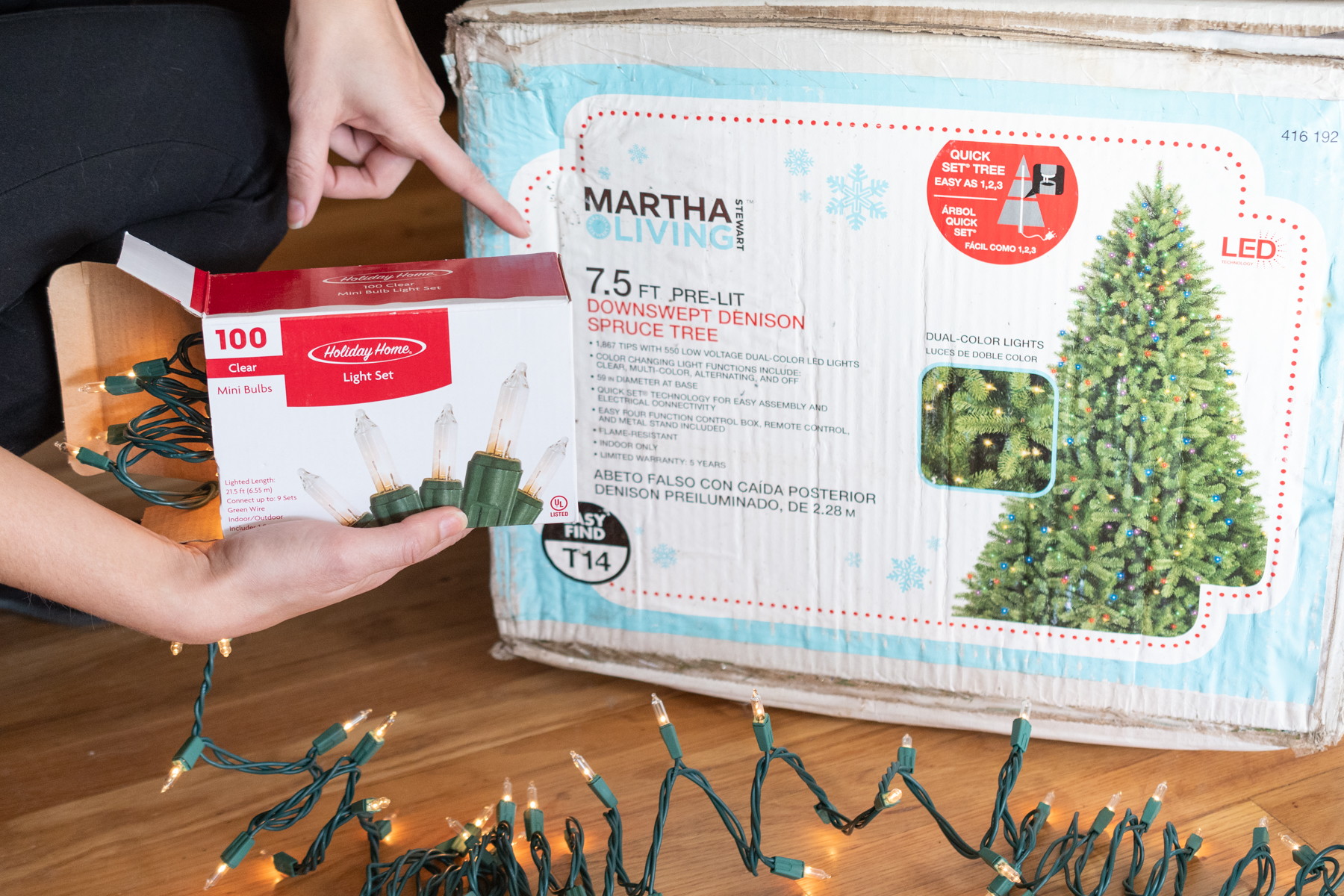 Pre-lit trees can be pretty on their own, but if you want to really make a statement, add more lights!
15. Add a handful of jingle bells to each gift box before they're wrapped to disguise the sound of the gift inside.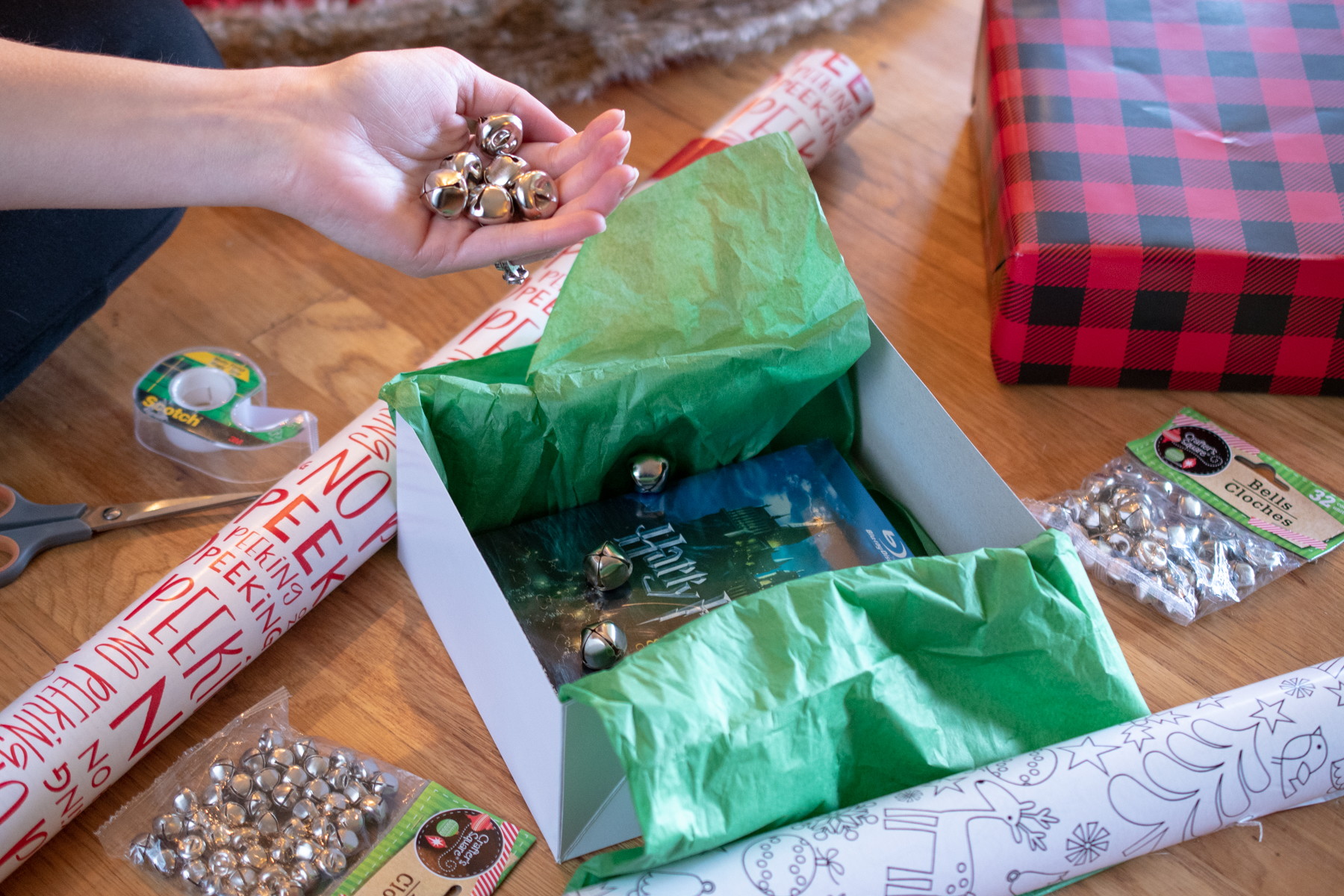 When your kids and husband try shaking packages to guess their contents, you'll have the upper hand.
16. Use yarn pom poms on packages instead of bows.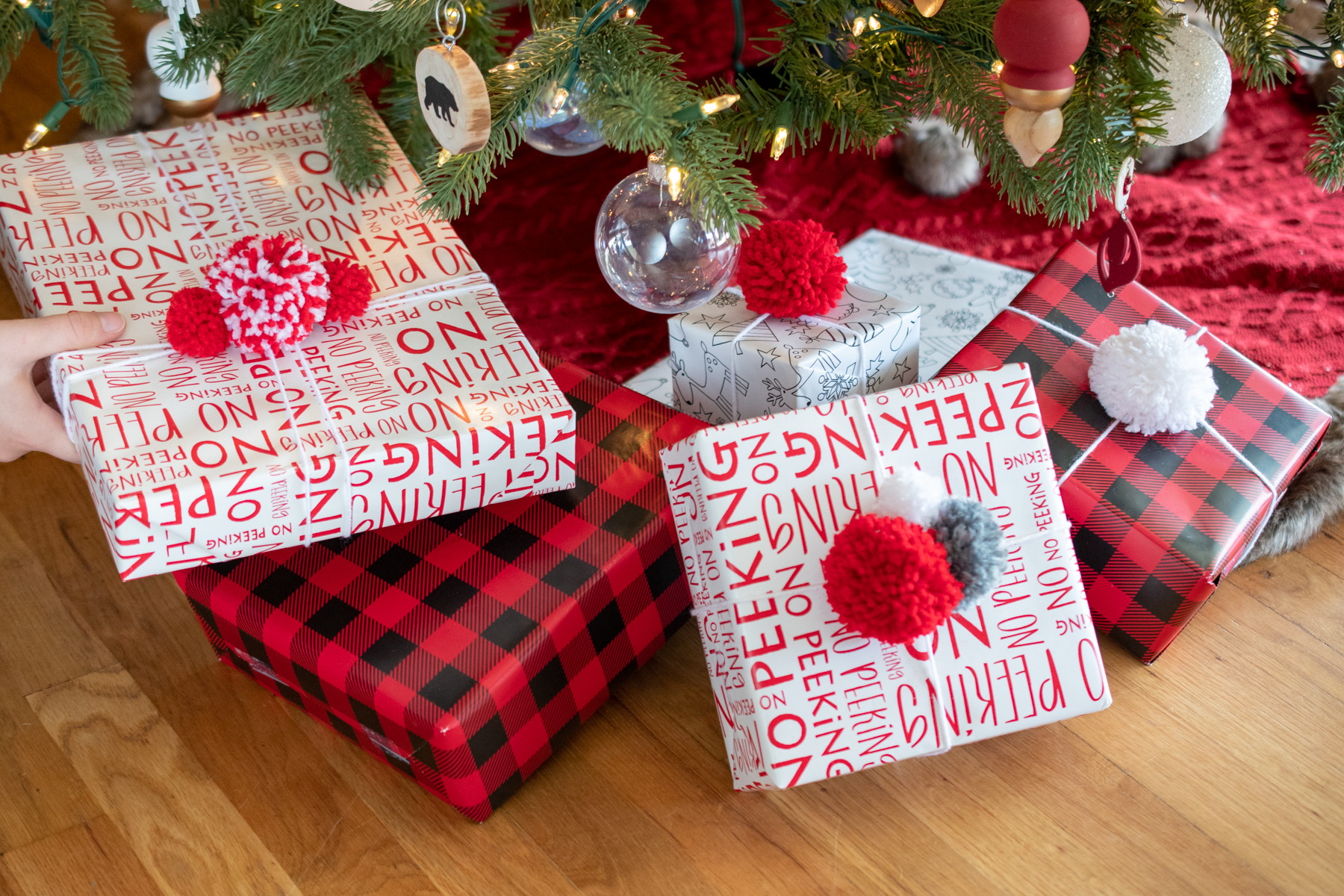 Not only are they fun, inexpensive, and easy to make, you don't have to worry about them being crushed like bows when storing them till the next Christmas.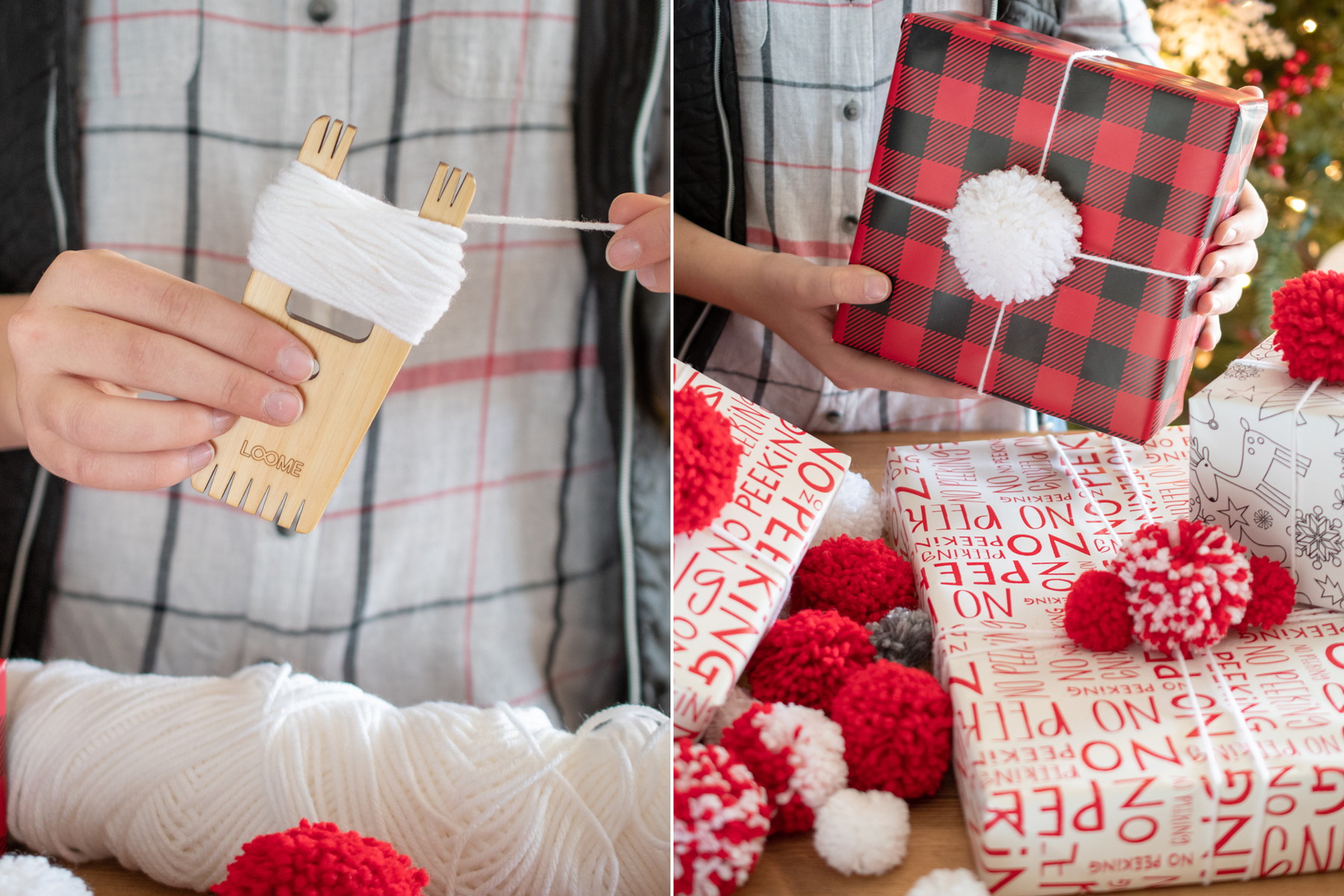 Purchase pom poms from your local craft store or make your own, with a DIY pom pom
Loome
and yarn in your favorite color.
17. Store decorations in matching bins to easily distinguish which ones contain your Christmas decor.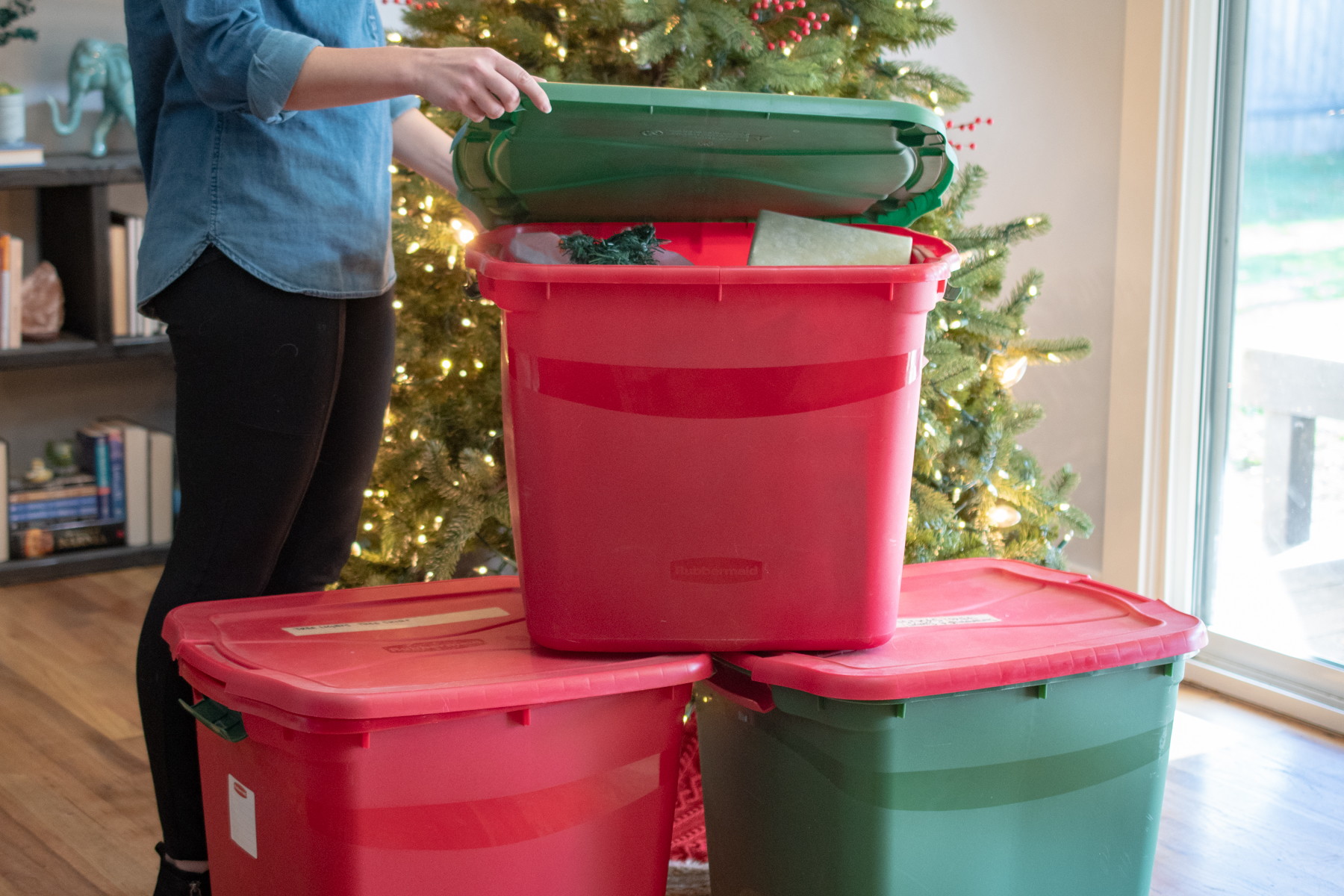 18. Make Christmas tree lights easy to locate when it's time to put up your tree by storing them in a zip-top bag.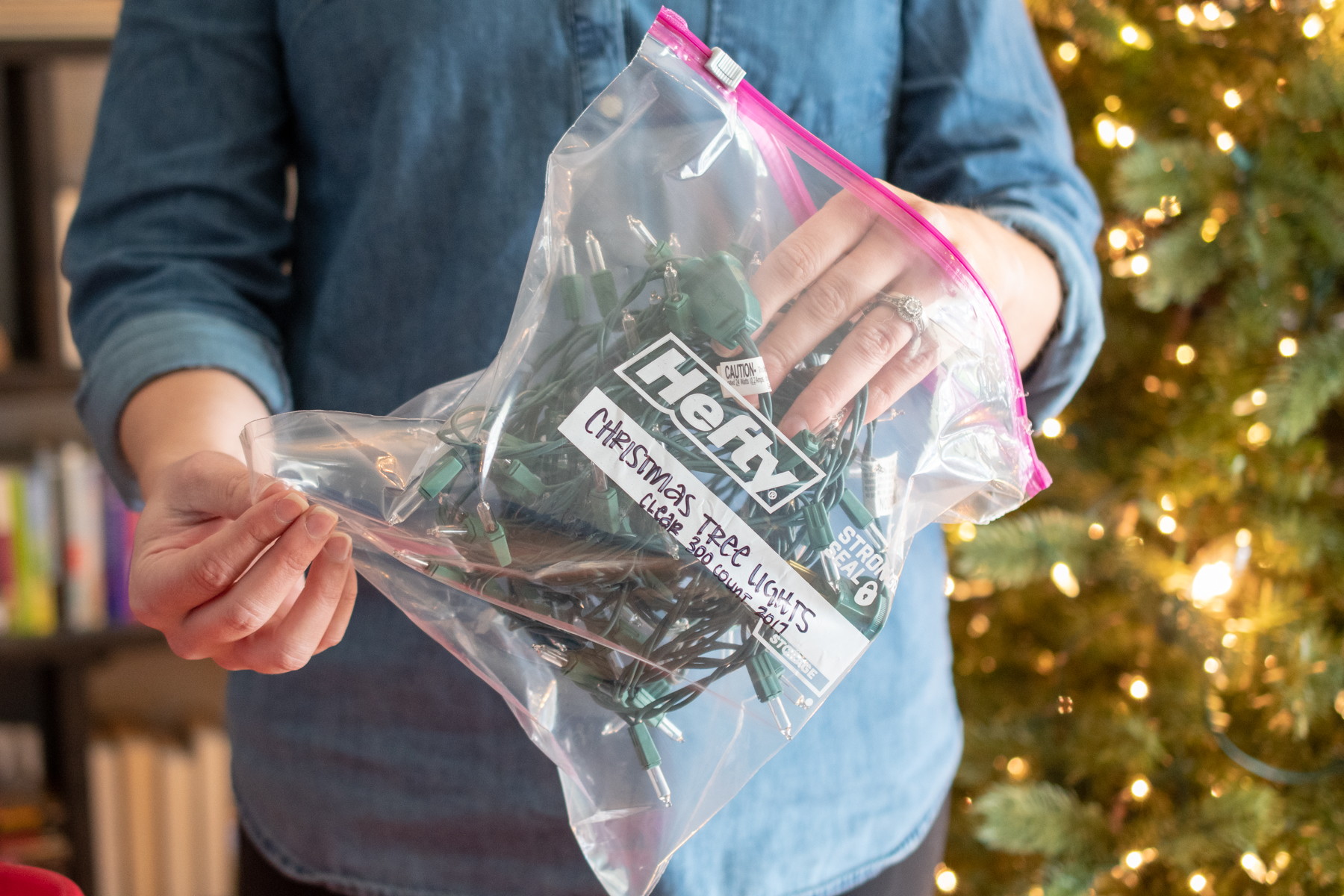 19. Decorate with recycled DIY mercury glass light bulbs.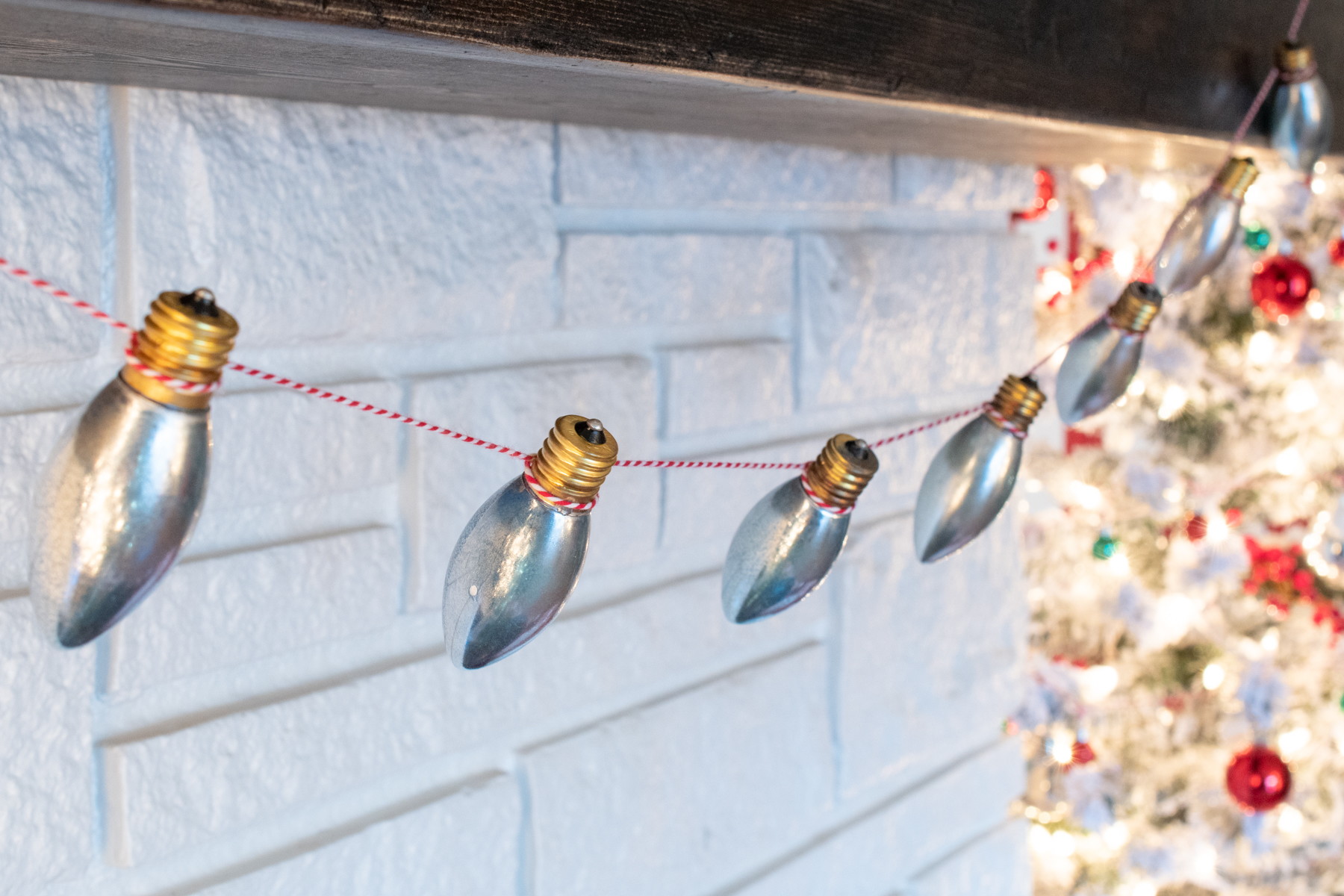 Instead of tossing your burnt-out Christmas light bulbs, transform them into a festive garland.
You'll need c7 or c9 light bulbs, mirror effect spray paint, vinegar, water, a spray bottle, a paper towel and twine.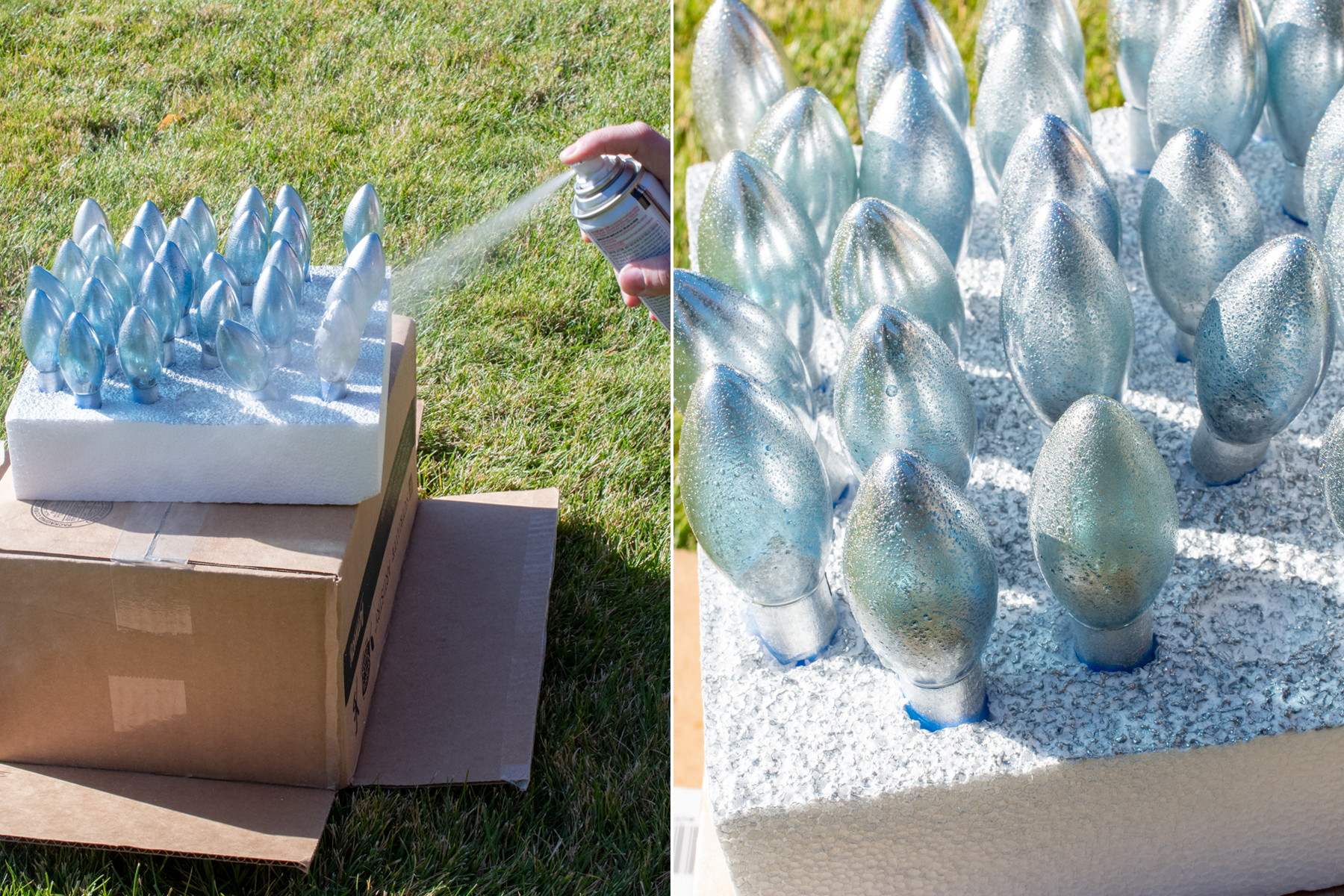 Make sure your light bulbs are clean. Stand them upright and spray them with mirror effect spray paint.
Immediately following, use a spray bottle to lightly mist the newly painted bulbs with a mix of one part vinegar to one part water. Don't overdo it; let the mixture sit on the surface of the bulbs in droplets rather than run down.
Allow the mixture to sit for a few seconds before using a wet but well wrung-out paper towel to gently dab off the vinegar water droplets.
Allow your bulbs to dry completely before tying them together with bakers twine to make your garland.
20. Prevent small, fragile Christmas ornaments from breaking by storing them in an egg carton.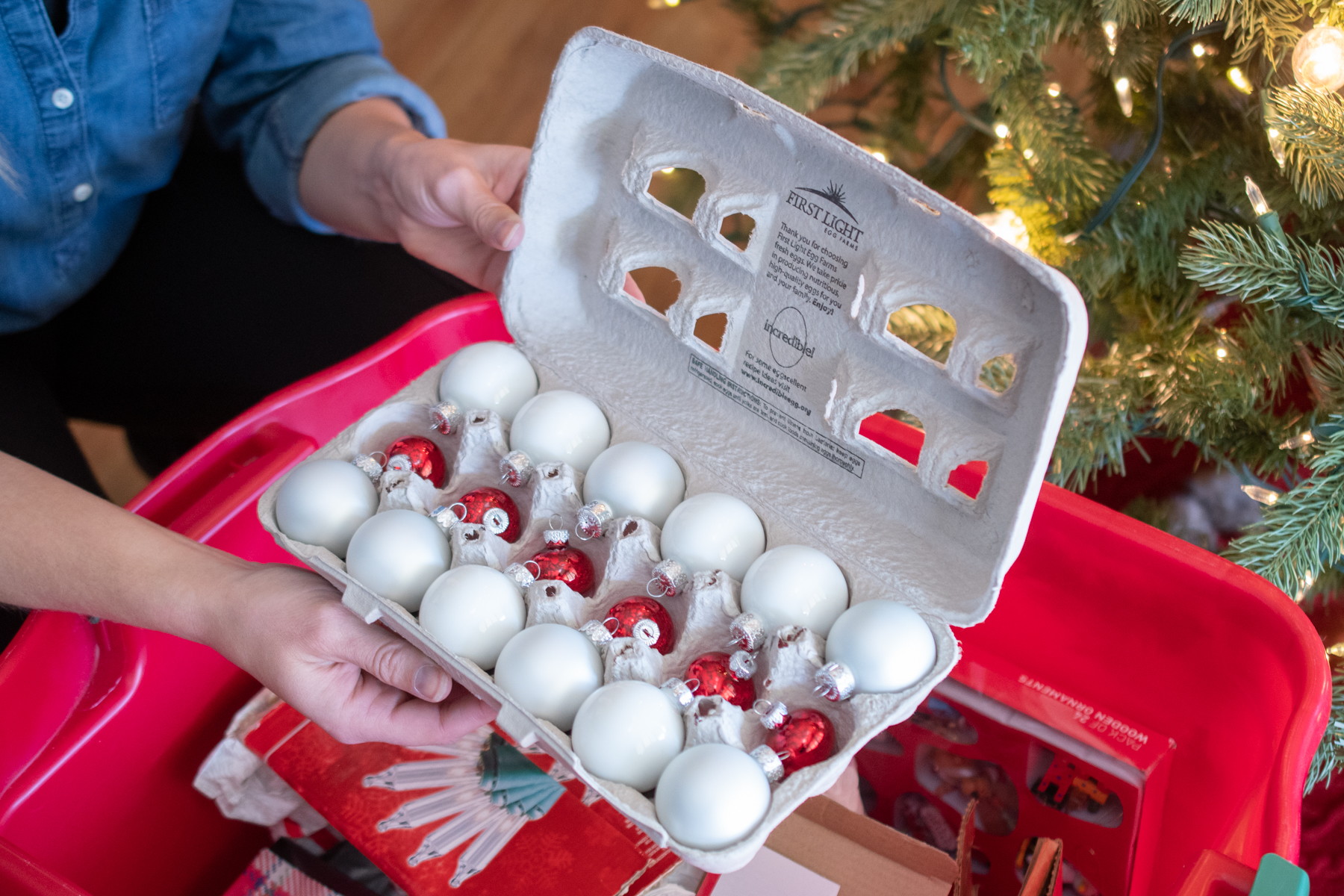 21. Skip buying expensive outdoor pre-lit evergreen trees and make your own from a tomato cage, lights, and garland.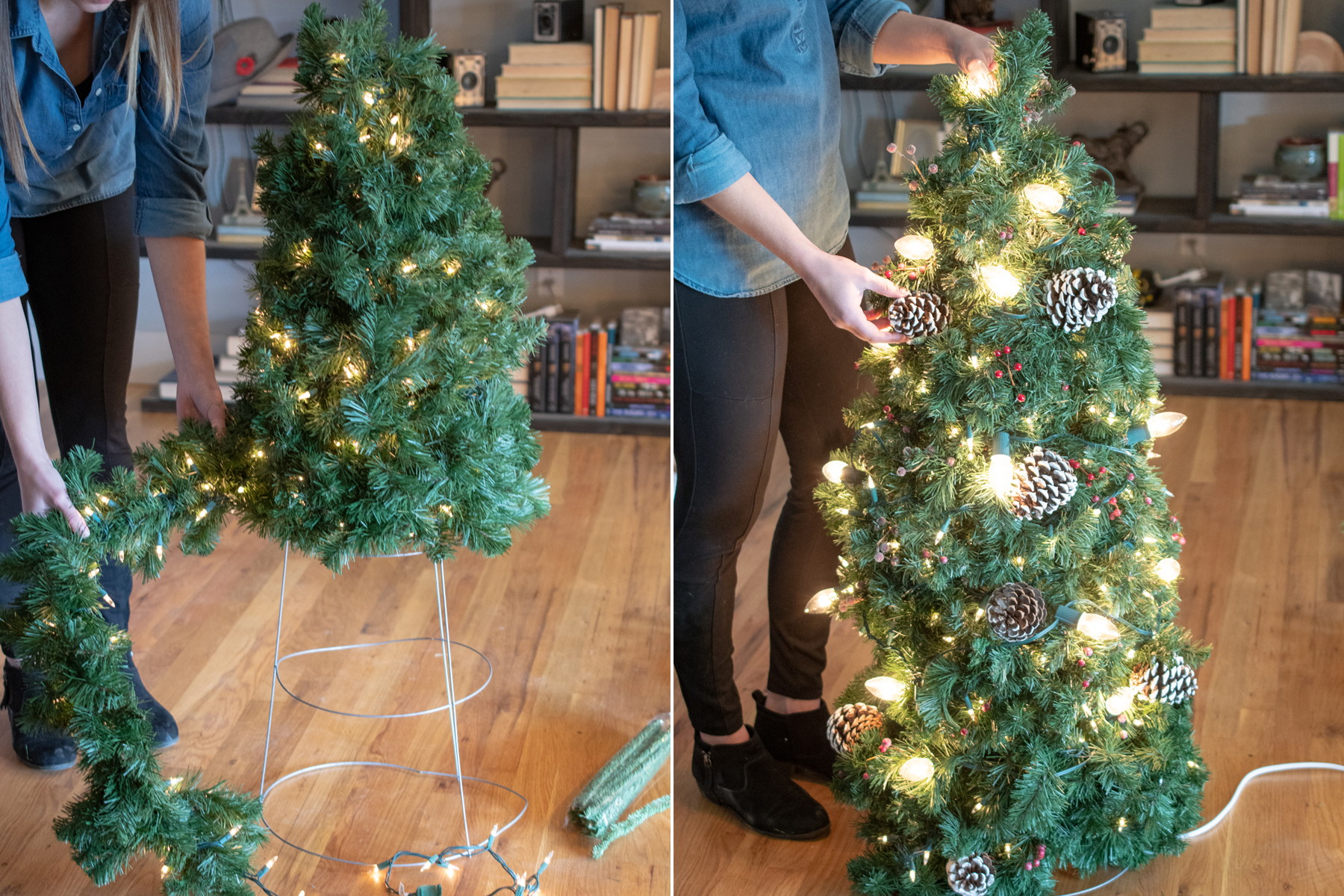 Many stores like Home Depot and Lowe's continue to carry tomato cages during the winter for this very purpose. You can even find them in green!
Place your tomato cage upside down on the ground. Using floral wire or evergreen pipe cleaners tie the pointed tips of the cage together to make your tree shape. Beginning at the top, wrap the garland around the cage securing it in place. The closer you attach the garland the more realistic your tree will look.
Add strands of lights. When the tomato cage is completely wrapped, finish it off with pine cones and pieces from red berry floral picks.
22. Take photos of your decor when it's all placed so you can remember for next year.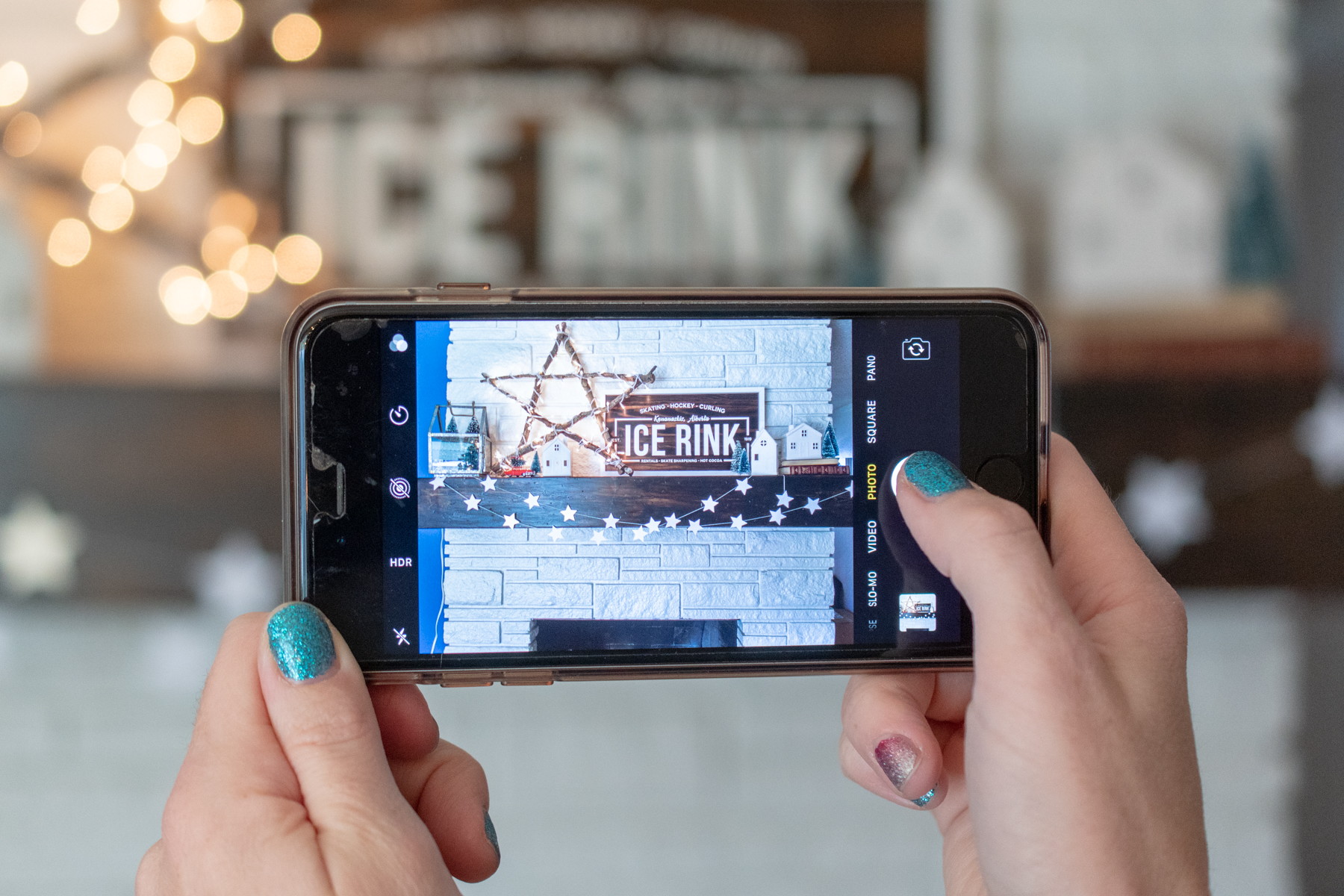 Snap a picture of your mantel, tree, and other decorated areas of your home. Store the photos in a folder on your phone to easily locate when you need them again.
23. Decorate with disposable items like paper or greenery so you don't have to store it all year long.
24. Hang ball ornaments deep inside the branches of your tree to fill gaps and hide any bare spots.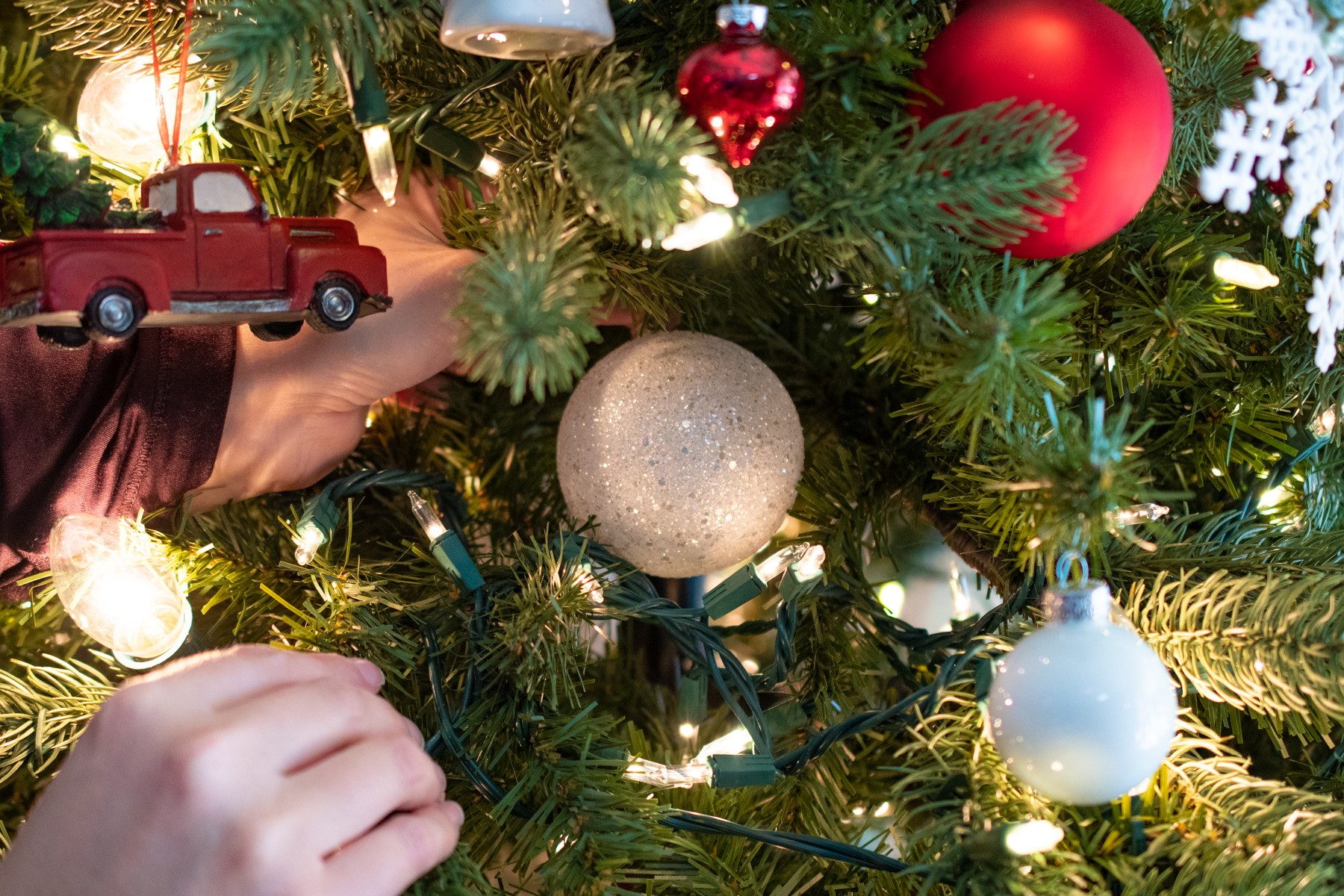 Do this step after adding lights but before adding the bulk of your ornaments. This is especially helpful for hiding the ugly center post of an artificial tree.
25. Keep Christmas lights wrapped around a clothes hanger to prevent them from tangling.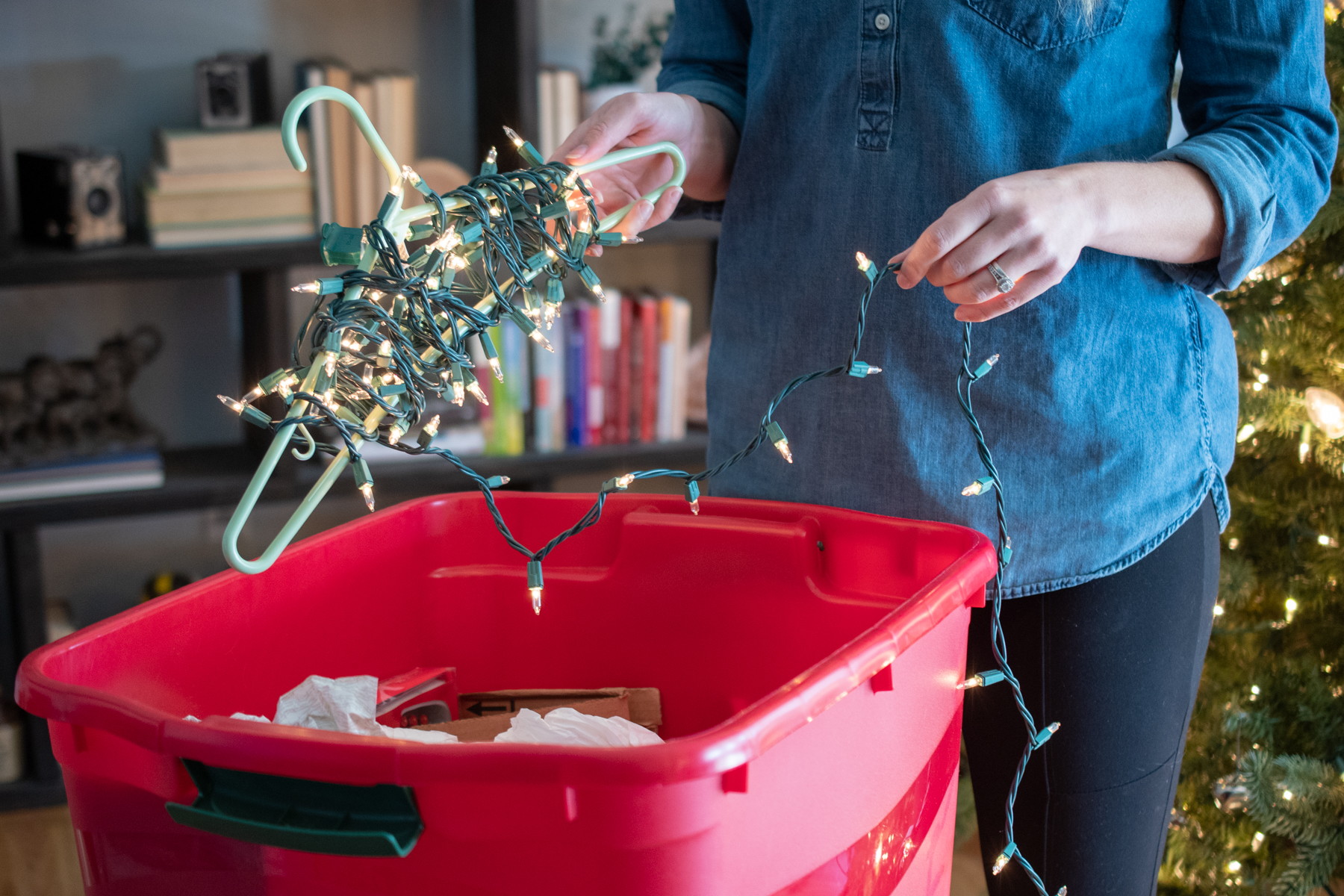 26. Or, wrap them around the Christmas light box they came in for easy storage.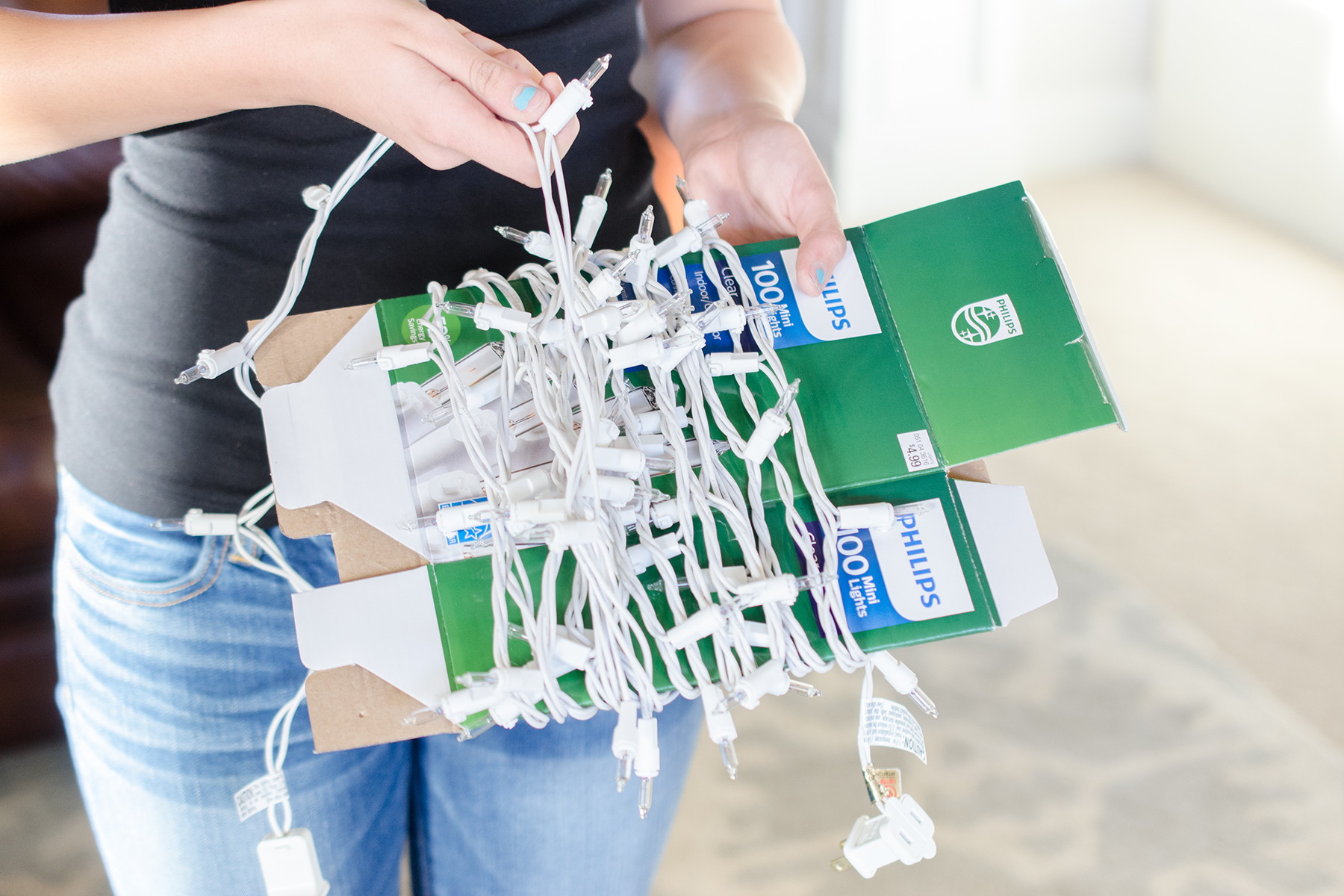 27. Cut the bottoms off hanging shoe organizer pockets to store gift-wrapping supplies.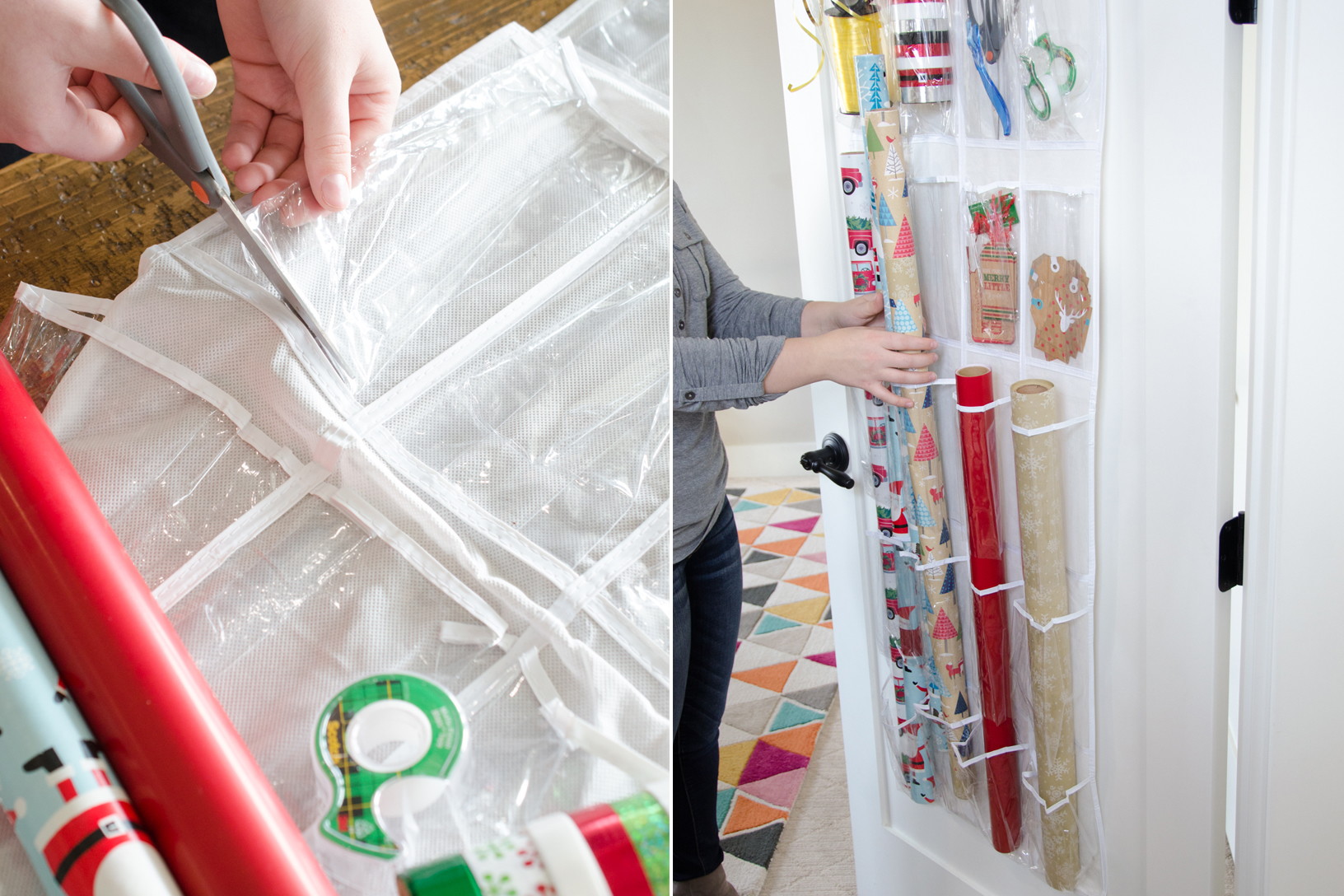 28. Spray paint Christmas light cords to make them more festive.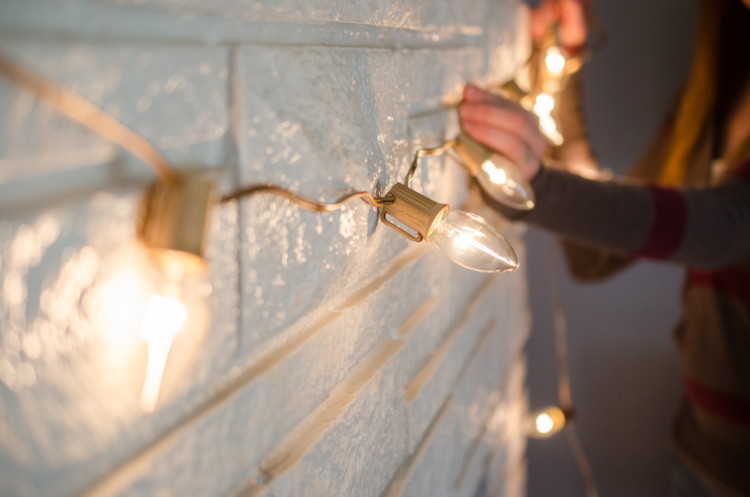 Prepare the light strand by removing the bulbs and inserting a wadded piece of paper into each socket to protect the inside from paint. Spray the strand. When it's fully dry, replace the light bulbs and enjoy.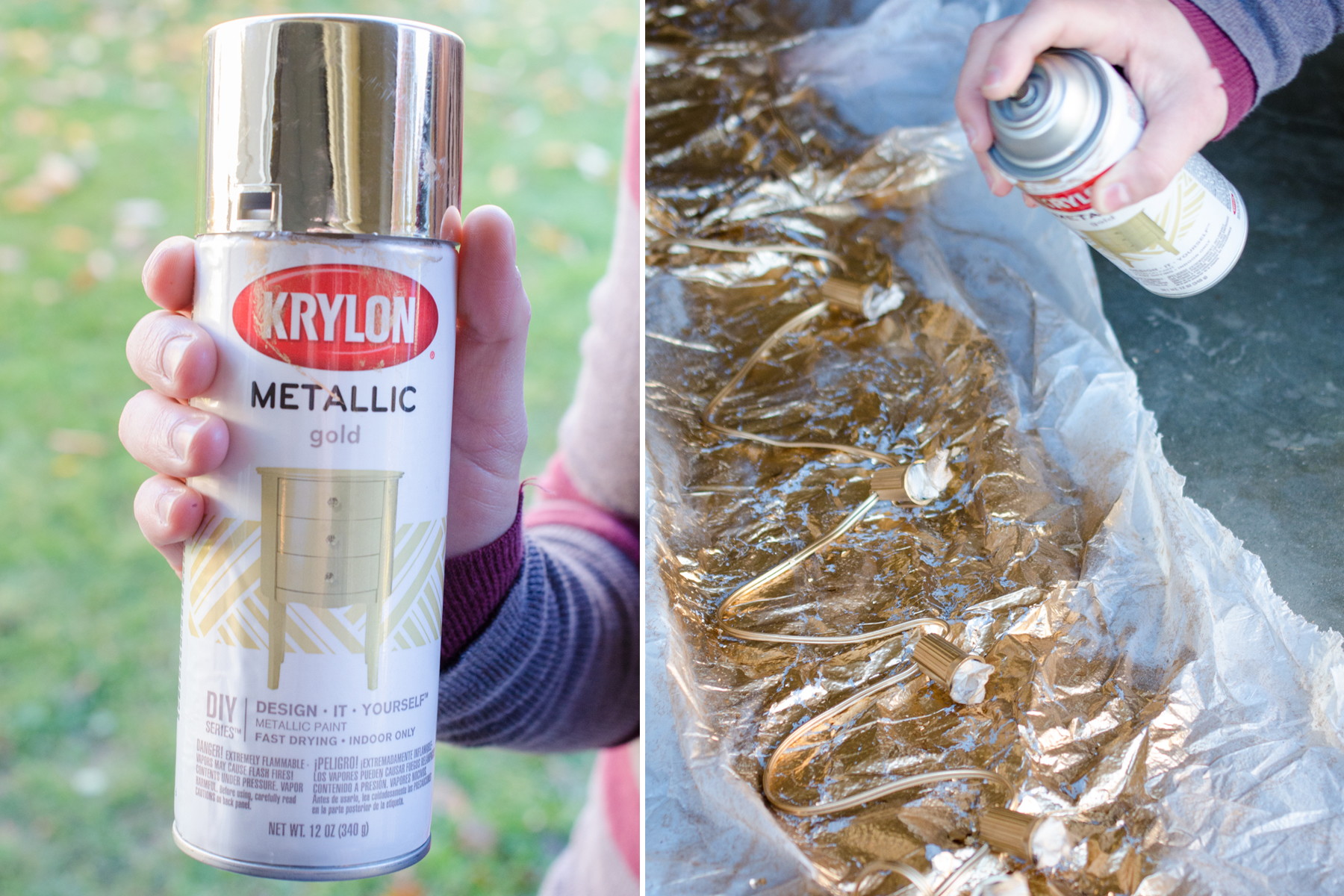 29. Use hot glue to make snowflake window clings.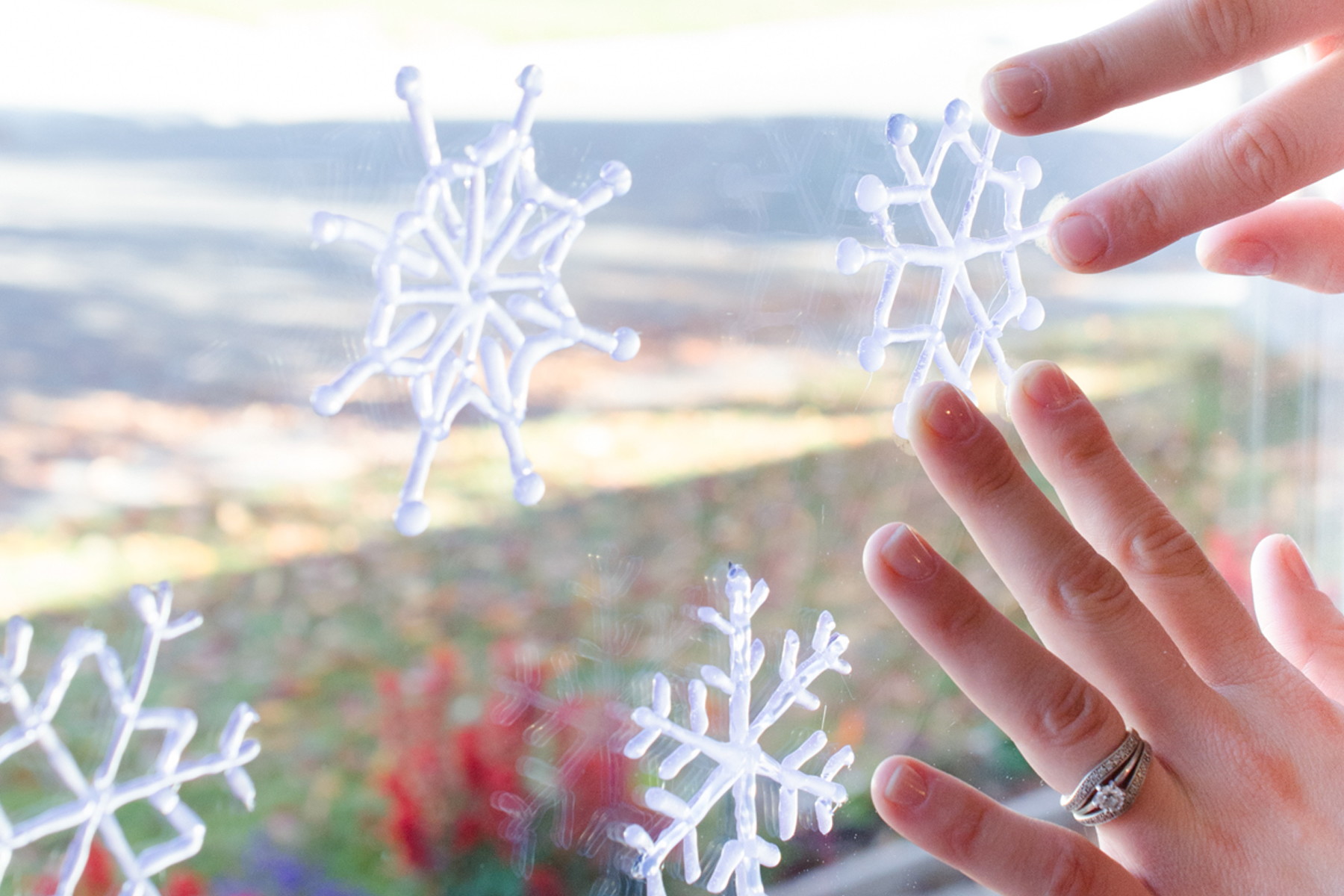 Print out a few snowflake images from the Internet and use them as templates to create these easy hot-glue snowflakes.
Place your printed-out snowflake templates under a sheet of parchment paper, and use a hot glue gun to trace the design. Once dry, the glue will easily peel off the parchment paper. Then, just add dabs of hot glue to the back of the snowflakes and stick them onto your window. The snowflake will easily pop off when it's time to take the decorations down.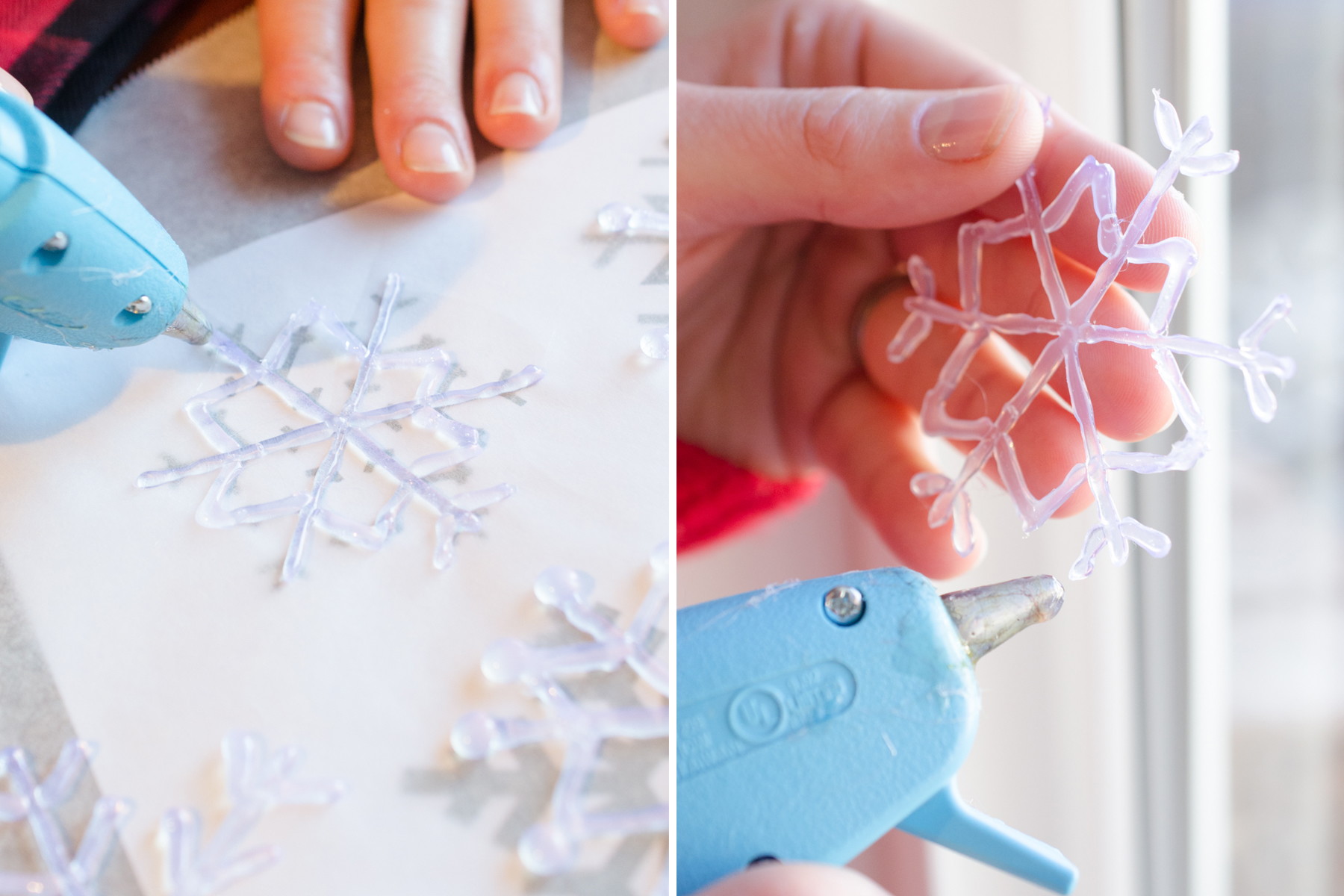 NOTE: Don't touch the hot glue gun directly to the window, especially if your window is cold. The heat can break the glass!
30. For more of a wow factor, use two different sizes of Christmas light bulbs on your tree.

31. Use a tension rod for ribbon storage to make wrapping gifts easier.

32. Put tiny mirror ornaments inside your tree to reflect the lights.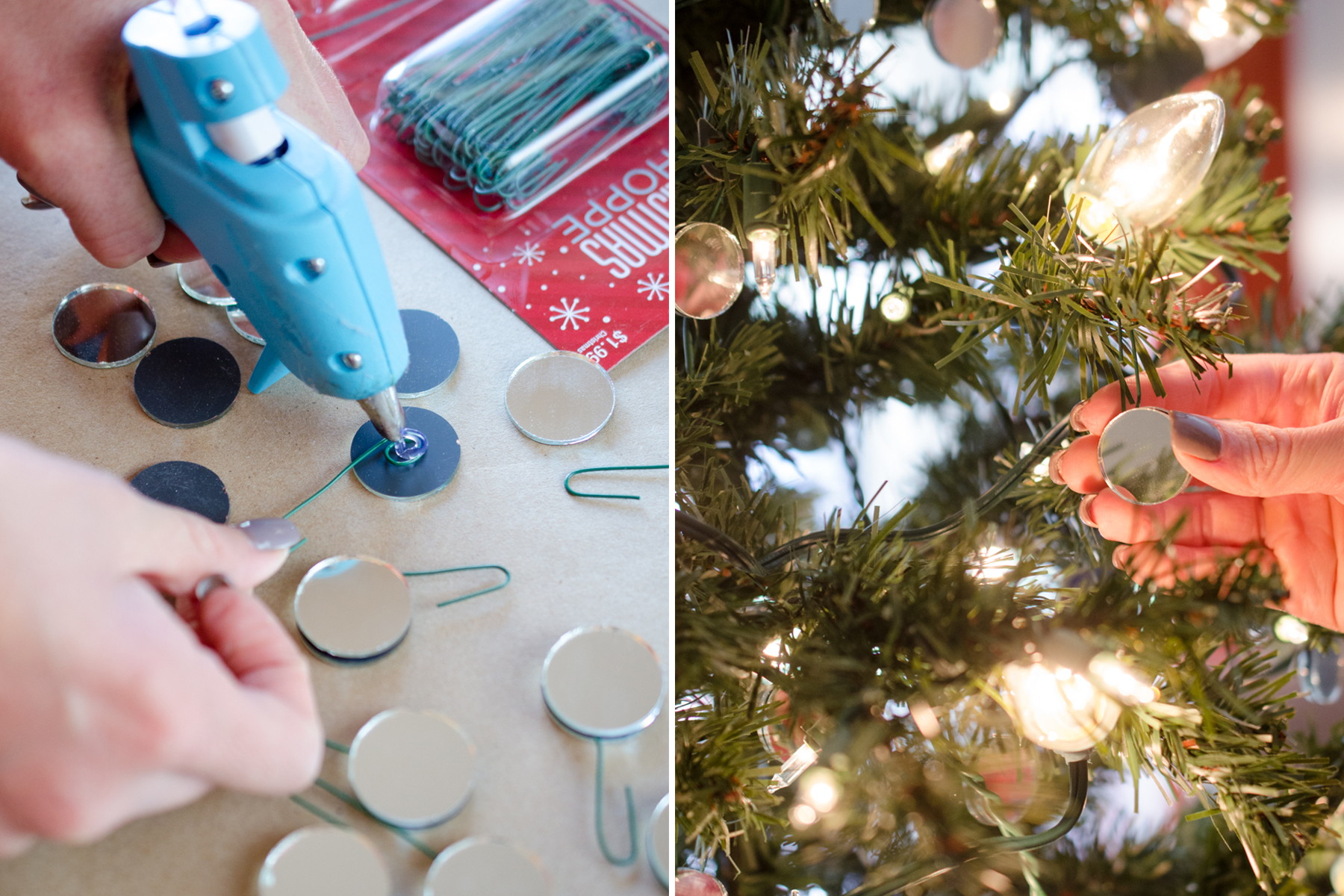 It'll look like you have double the lights!
33. Use a candy cane to seal gift bags.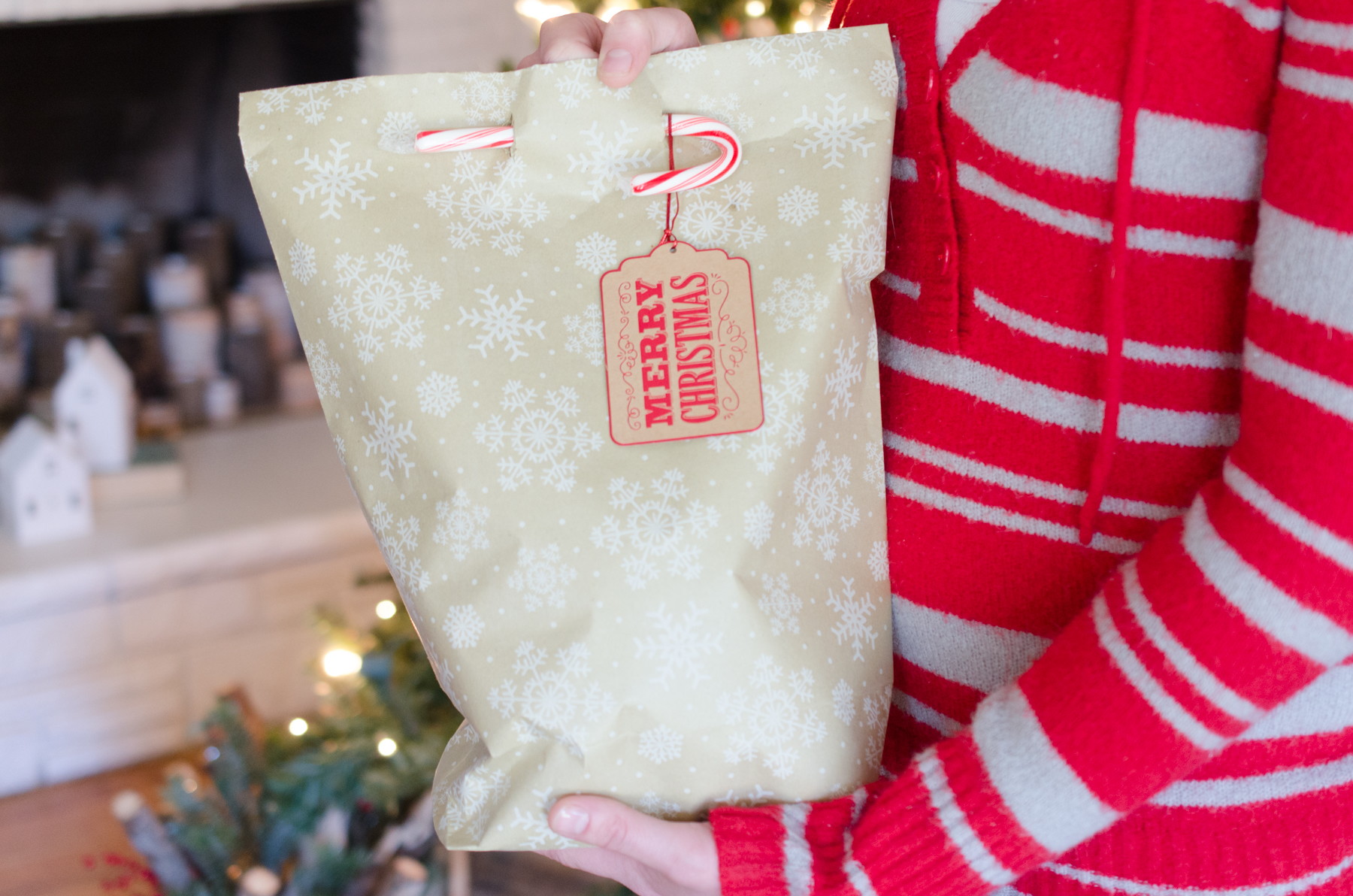 34. Make an advent calendar from a hanging shoe organizer.

35. Use hot glue to hang lights on bricks.

I can't believe I never thought of that before.
36. Wrap a big cardboard box and use it as a decorative wrapping-paper wastebasket on Christmas day.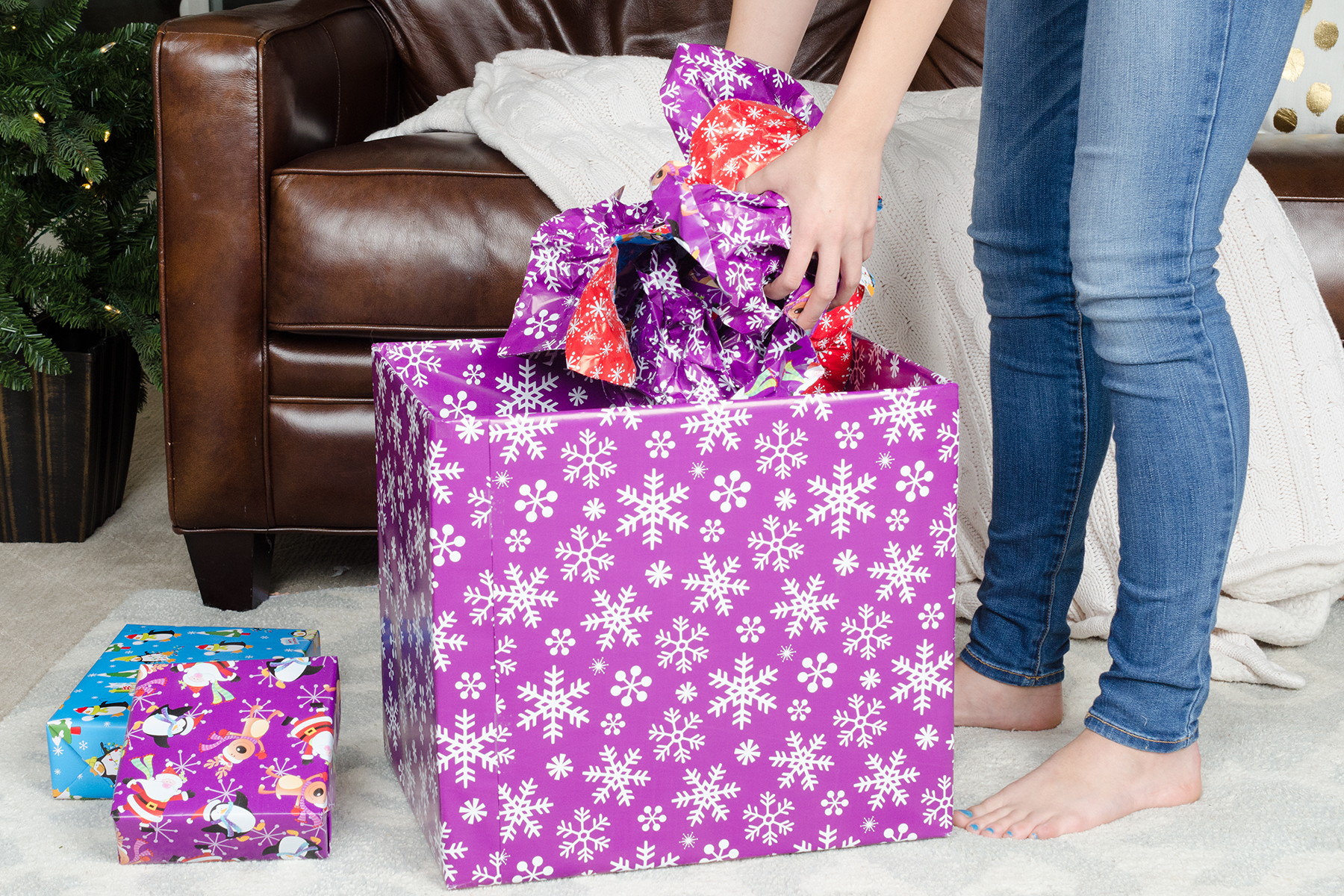 37. Keep your budget in check by tracking gift purchases with Santa's Bag.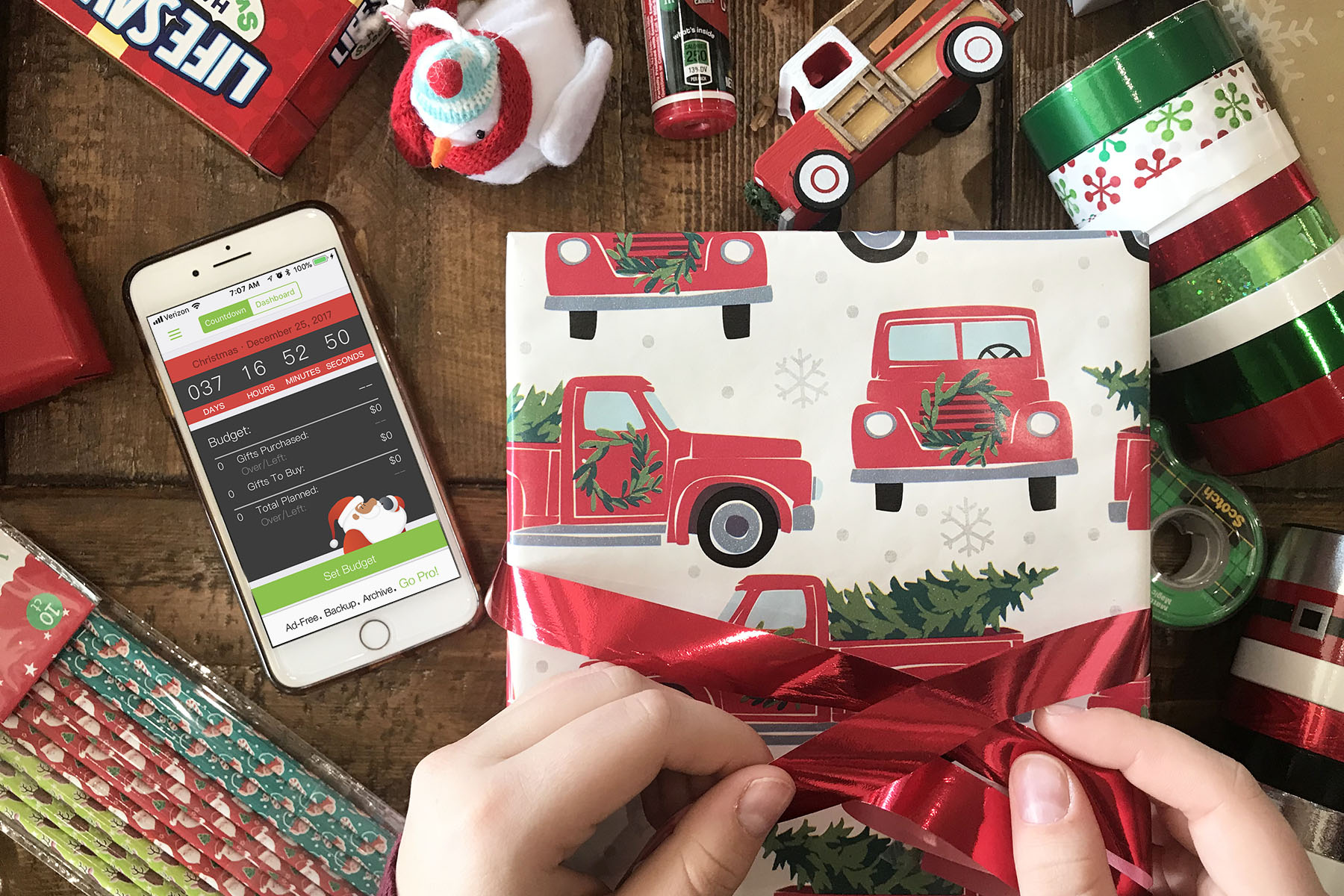 It's a fantastic little app.
38. Make Santa-themed lights using mini red cups.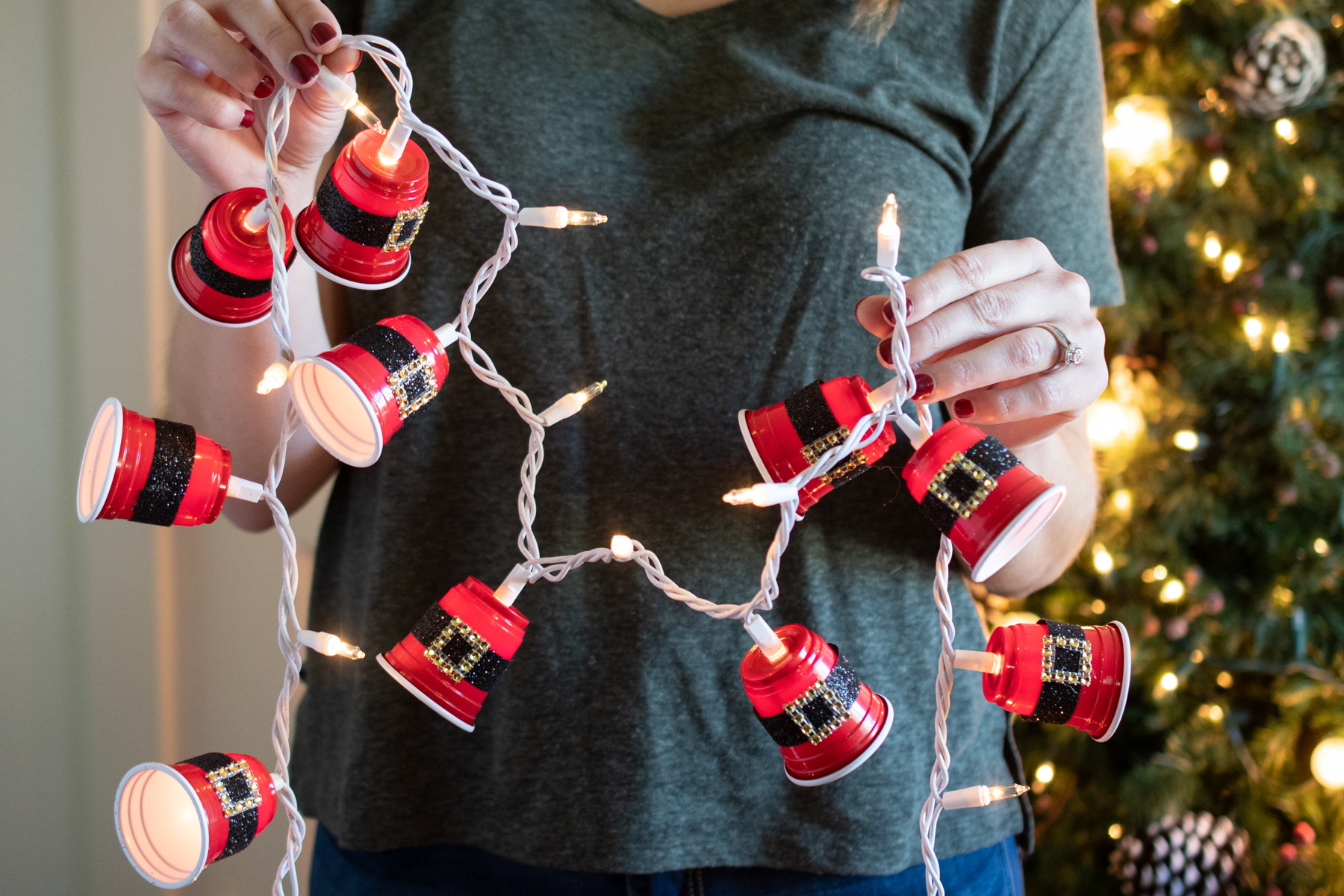 Head to the Dollar Tree to find everything you need to make these adorable mini red cup Santa lights.
You'll need a strand of Christmas lights, mini red cups, black glitter ribbon, a gold "rhinestone" adhesive sheet, craft knife, hot glue, and glue gun.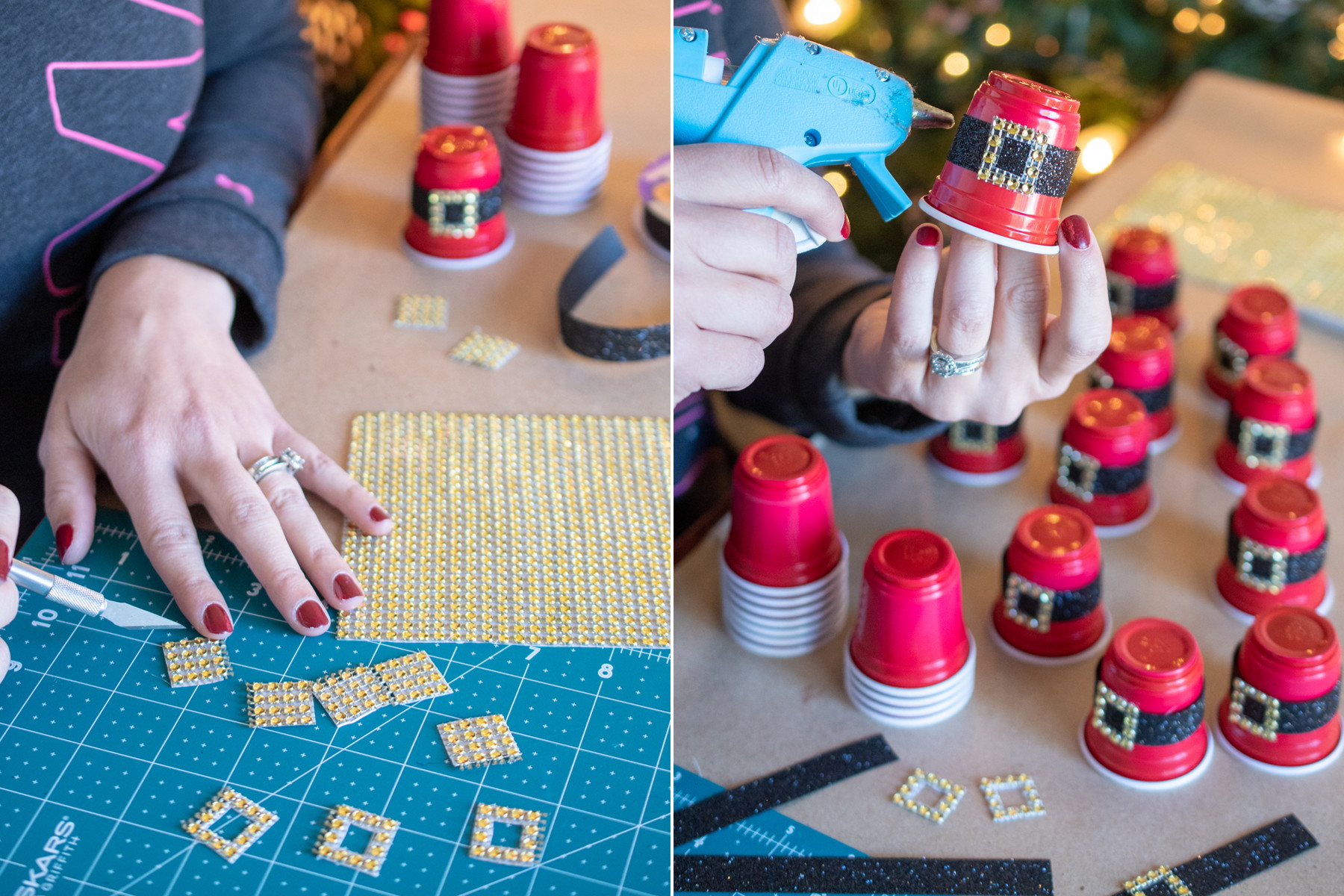 Using a craft knife, cut square buckles from an adhesive sheet of gold "rhinestones" found in the craft section at the Dollar Tree. Cut pieces of black glitter ribbon so they wrap completely around each cup. Secure them in place with hot glue.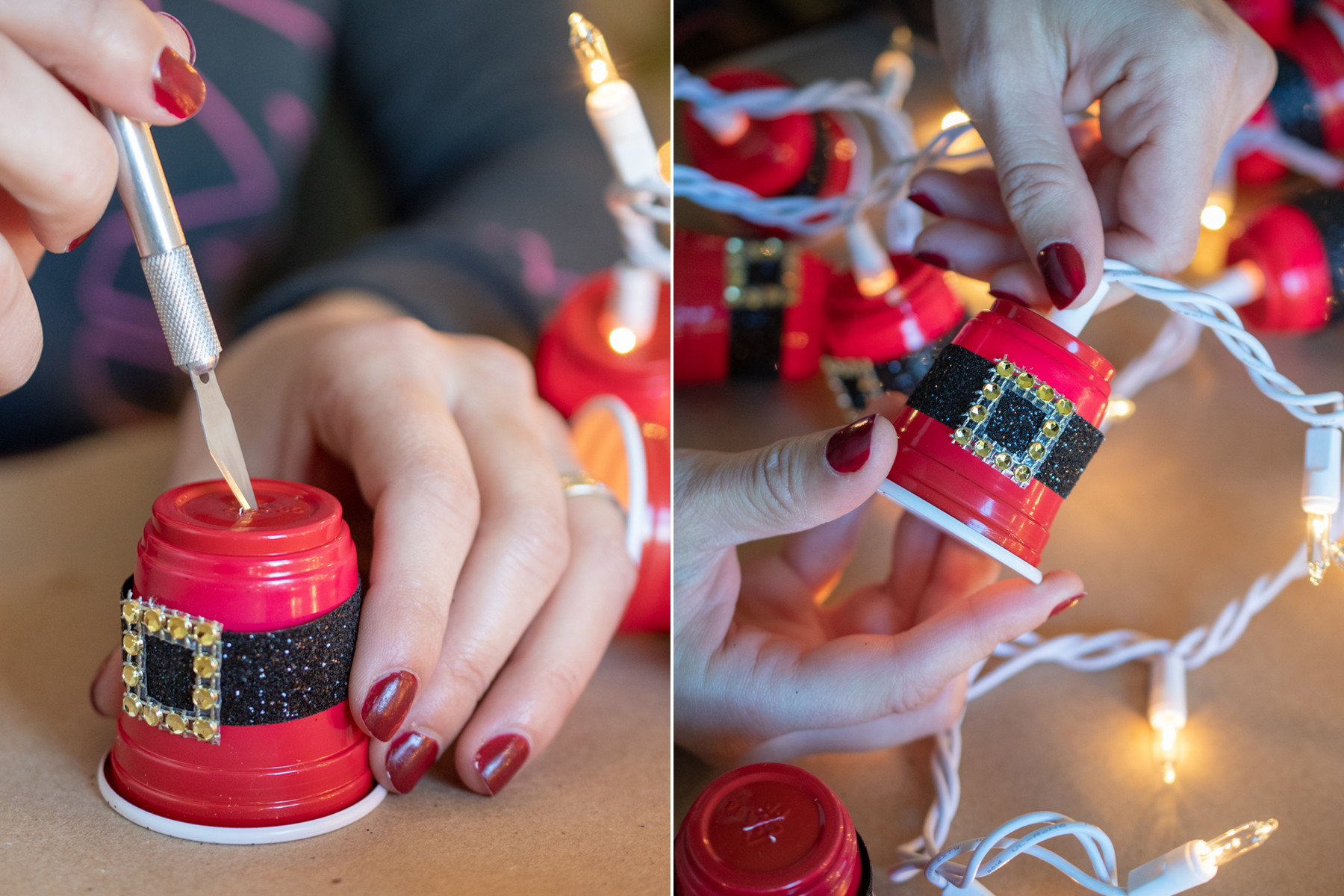 With a craft knife, carefully cut a small X into the bottom of each cup and insert a light into each hole. Hang them up for a holiday party, or put them above your kids' beds for a festive night light.
39. Create a DIY table runner with paper snowflakes.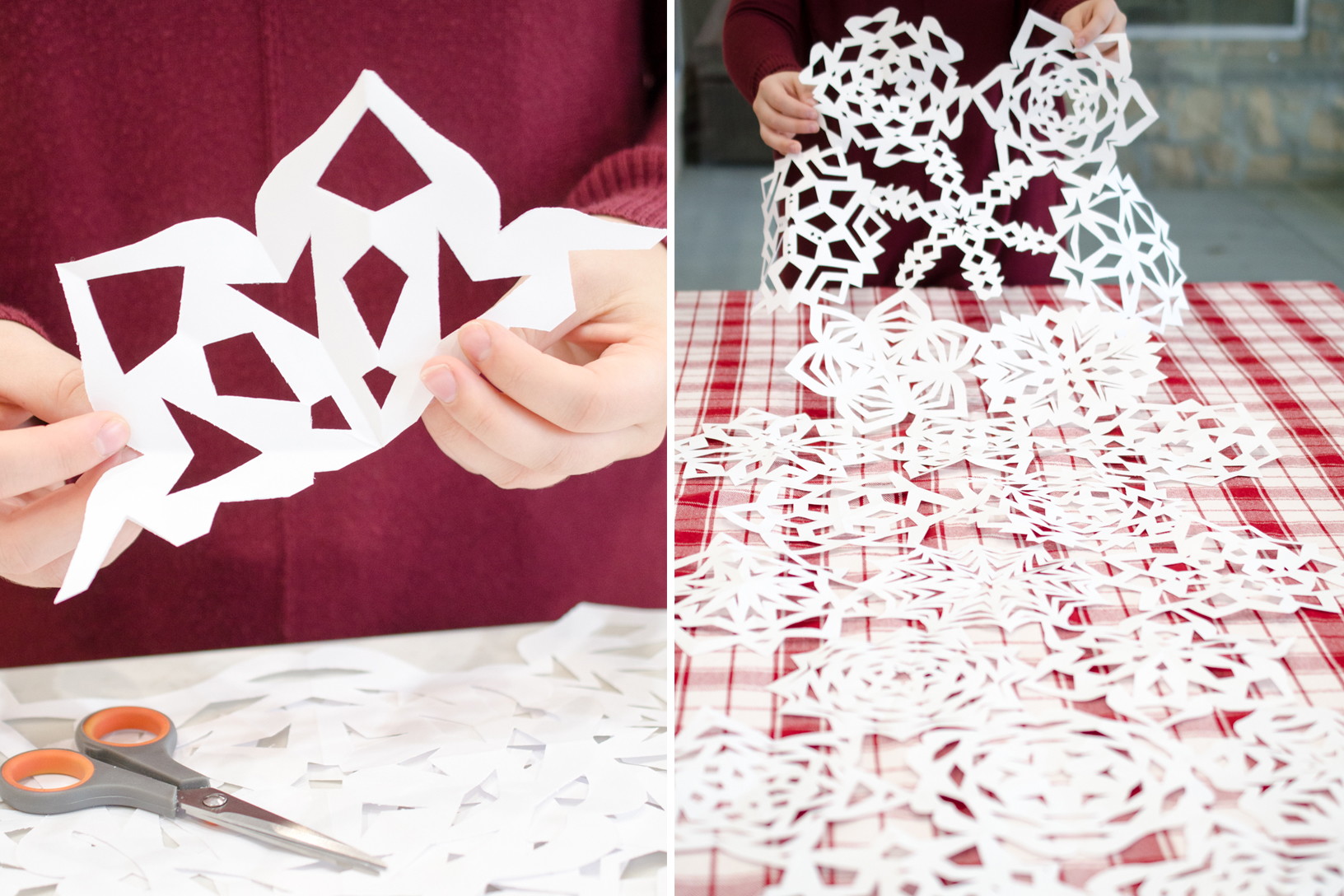 40. Brighten your home with wintry Epsom salt mason jars.
You'll need a mason jar, Mod Podge, foam brush, Epsom salt, glitter, greenery and twine, a flameless tea light, hot glue and a glue gun.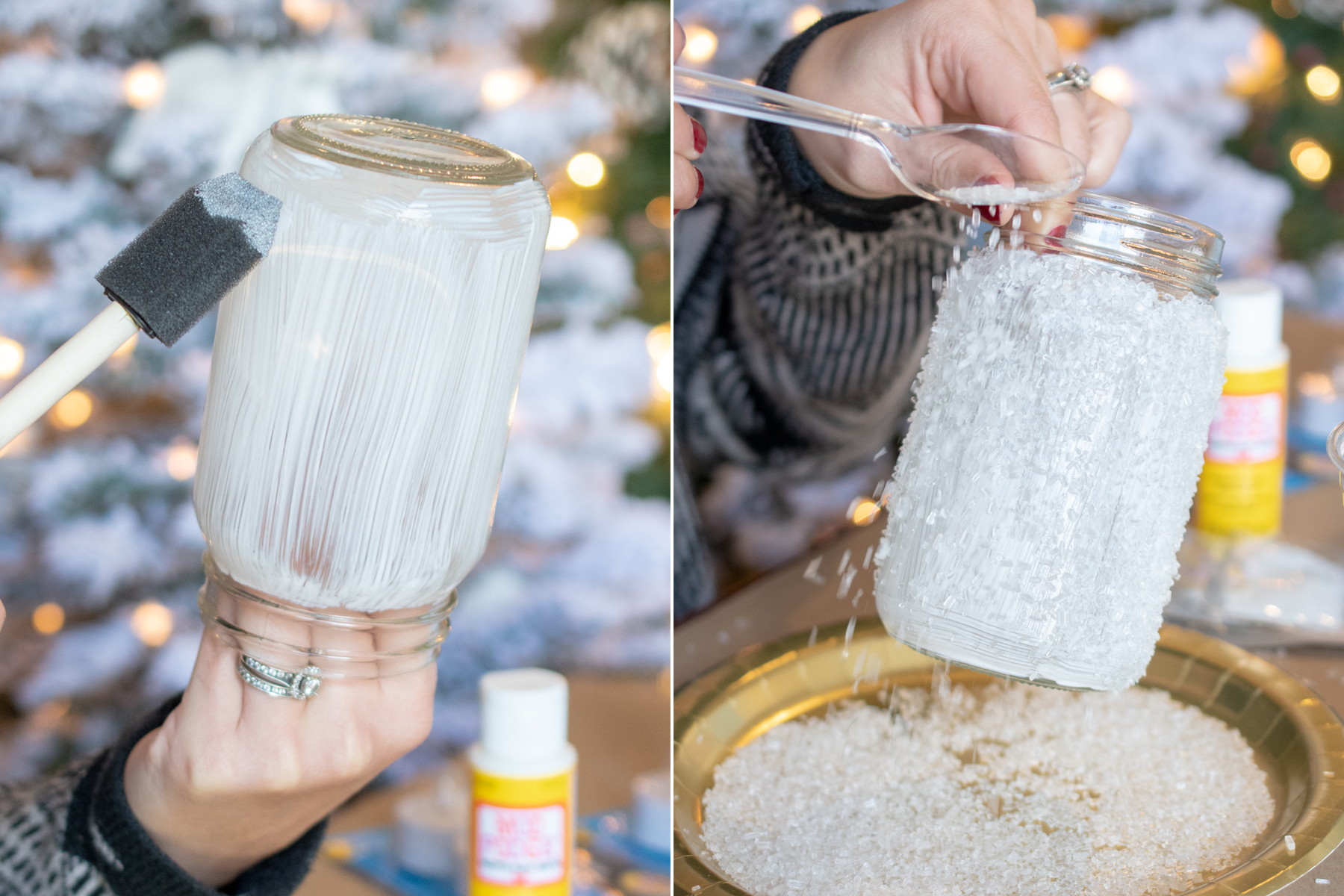 In a disposable bowl or cup, mix the Epsom salt and glitter. Apply an even layer of Mod Podge on the exterior of your mason jar. Be careful not to layer it on too thick to avoid dripping.
Sprinkle the Epsom salt glitter on the jar until it's completely covered. For easy cleanup, do this over a paper plate to catch any excess. Place the jar on wax paper and allow it to dry overnight.
When the glue is completely dry, wrap twine around the mouth of your jar and attach faux greenery with a dab of hot glue. Insert a flameless tea light into the jar, and use it on your table as a centerpiece, on your mantel, or on your front porch.
41. Decorate festive holiday cookies by sprinkling powdered sugar over a paper snowflake.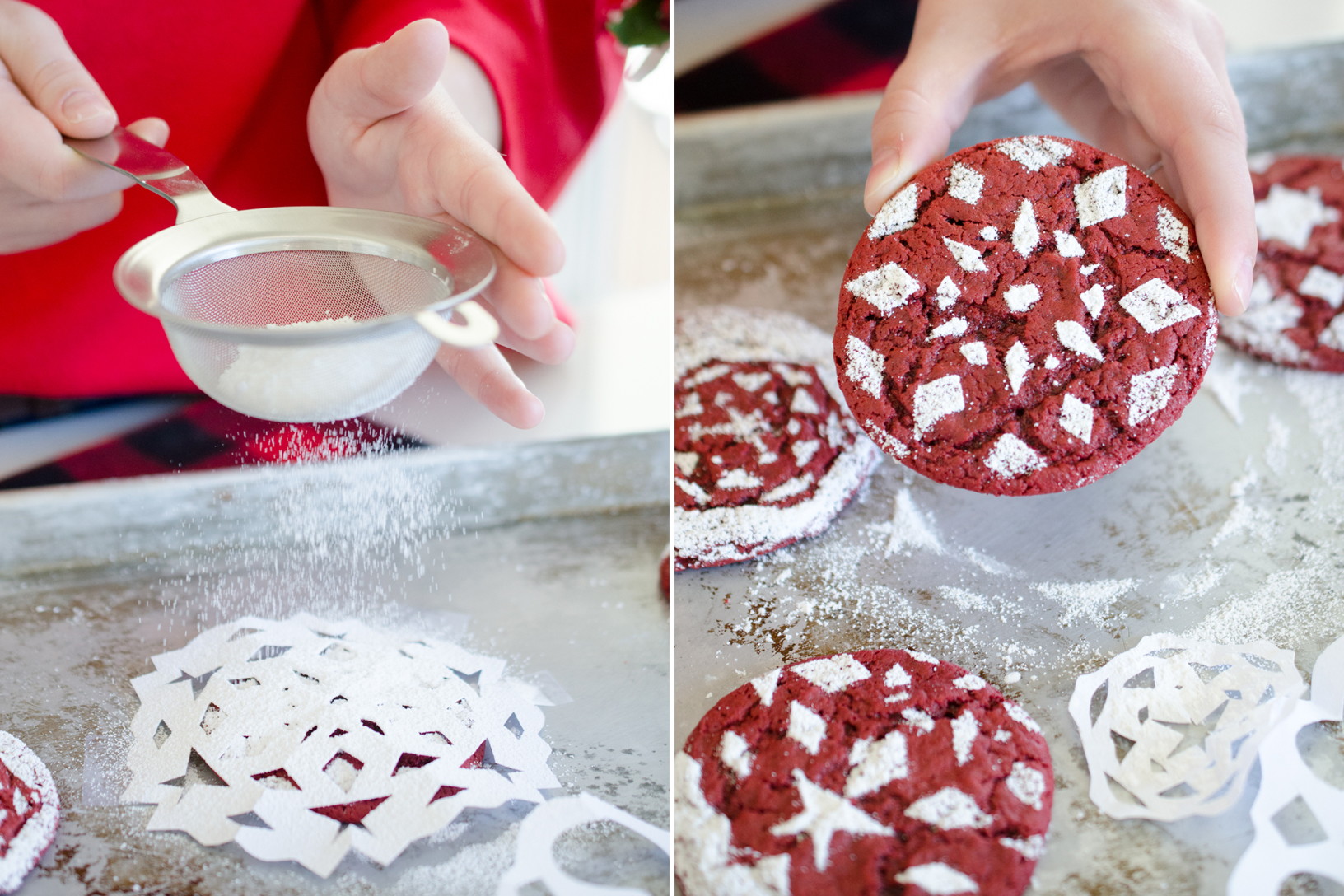 To sprinkle powdered sugar, use a sieve or fine strainer. For best results, decorate just before serving.
42. Turn a Christmas tin into a gift box that can hang on your tree with a ribbon and ornament hook.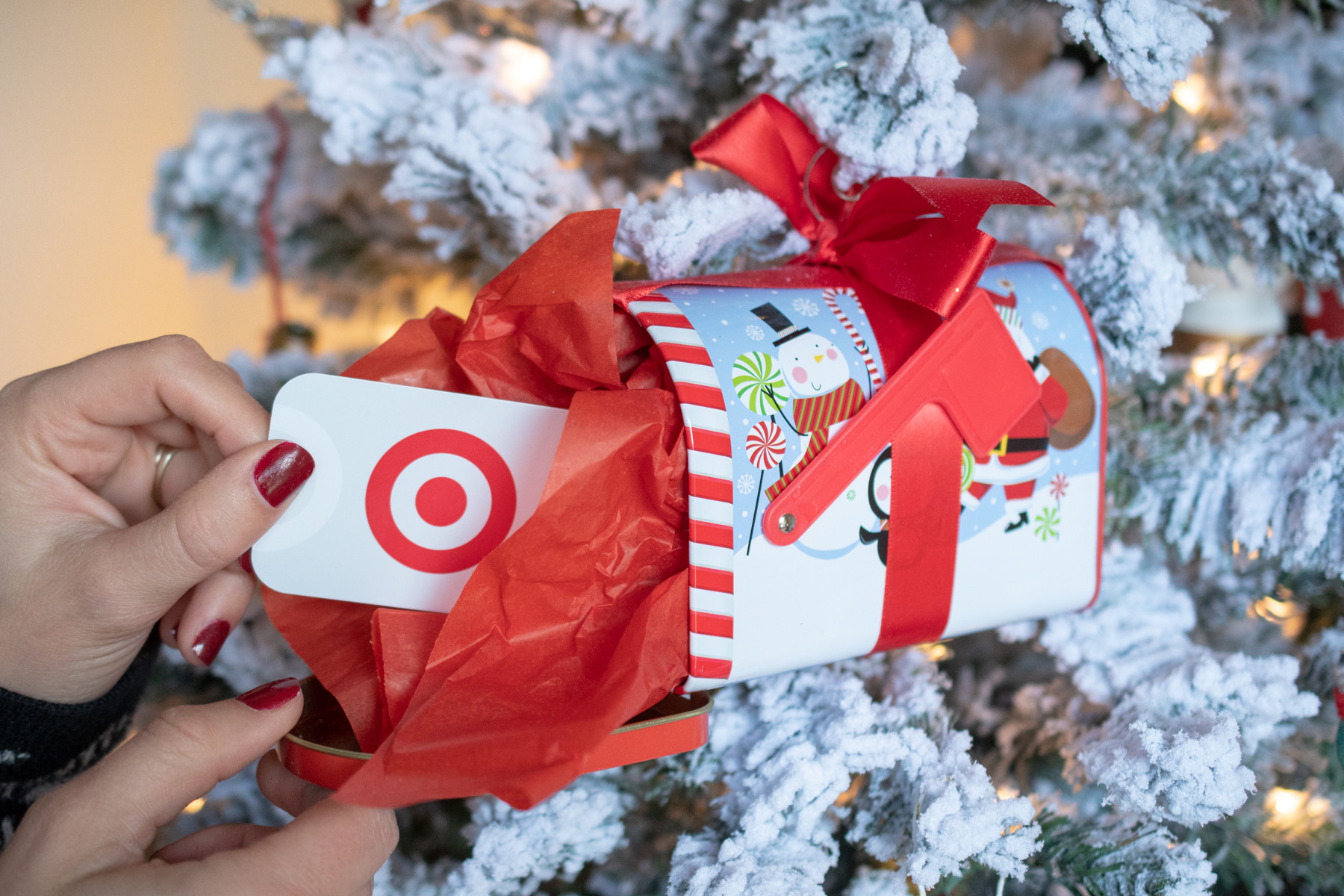 43. Skip buying expensive napkin rings and make your own with jingle bells and wire.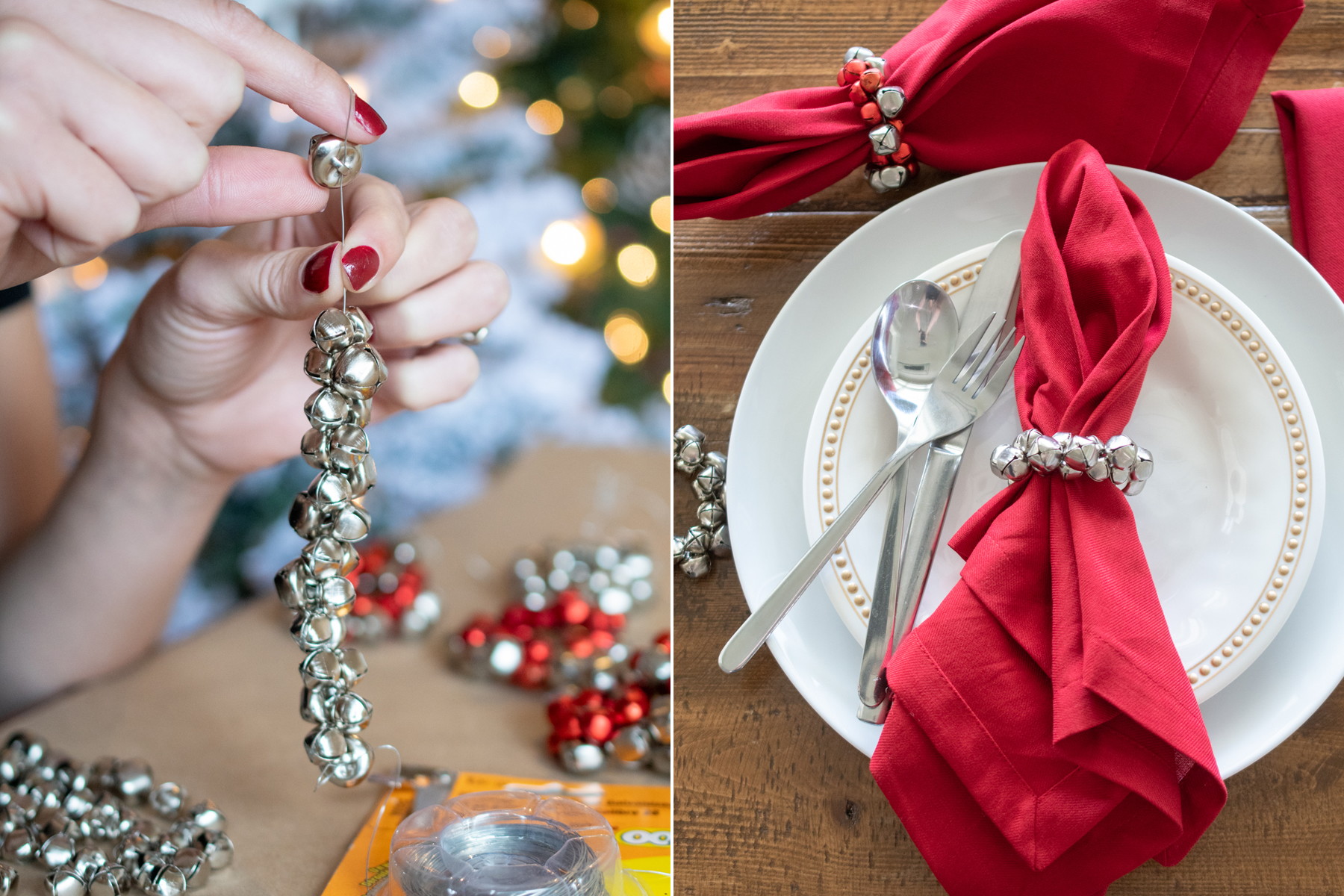 String bells onto the wire alternating the pattern by size — for example, one large and two small, repeated until there are 10 large and 20 small bells on the wire. Cut the wire and use the pliers to twist the ends tightly together, forming the napkin ring.
44. Melt chocolate for decorating cookies in a slow cooker.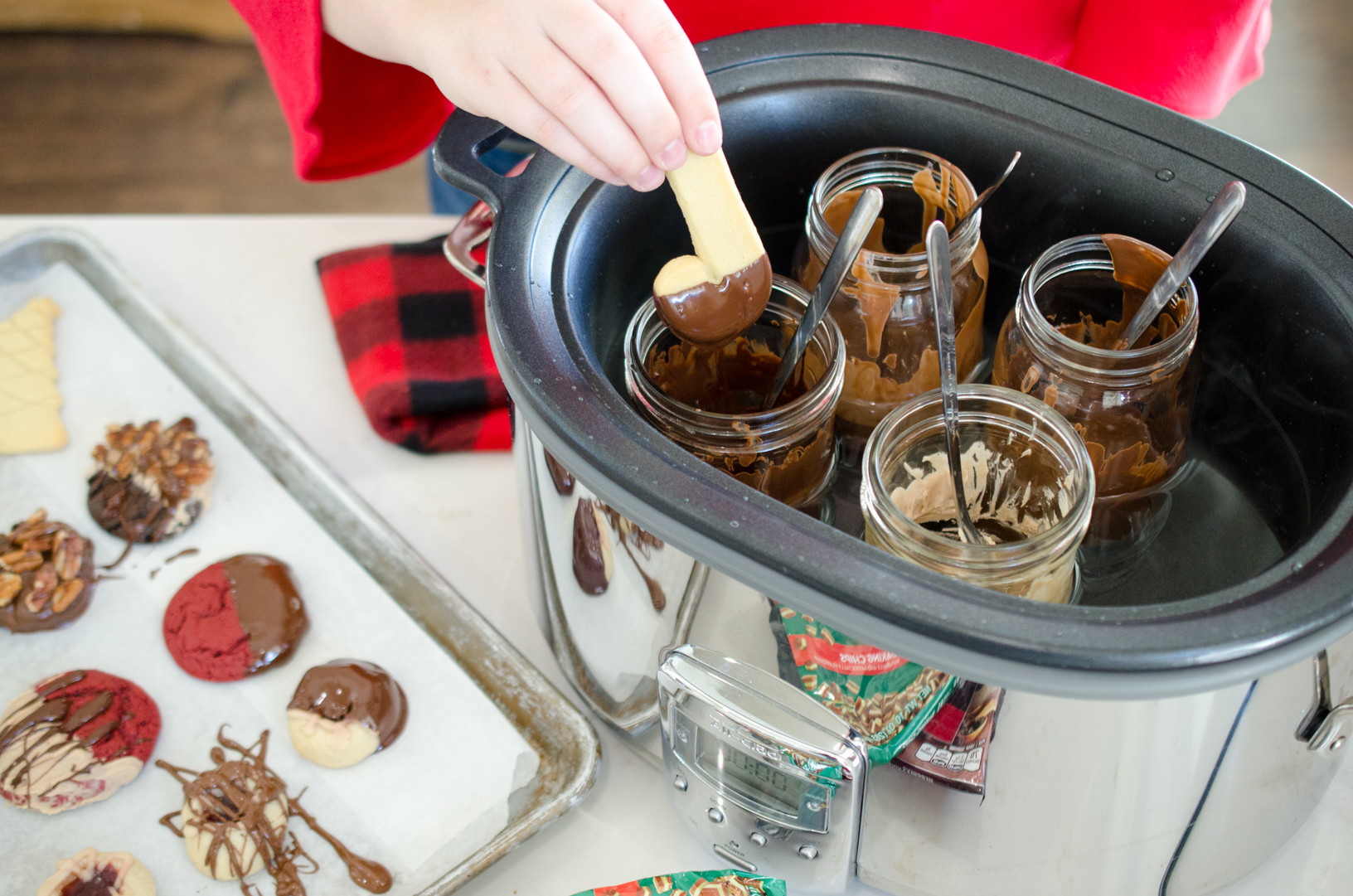 Add enough hot water to your slow cooker to reach about halfway up the sides of mason jars, then turn your cooker on high. Don't get any water inside the jars — water will cause your melted chocolate to seize and thicken.
Leave your slow cooker uncovered, then after about 30 minutes, stir the chocolate. Once the chocolate is melted, reduce your cooker's heat to low. Dip cookies in the chocolate, or use it to drizzle over treats.
45. Use candy as bows on Christmas packages.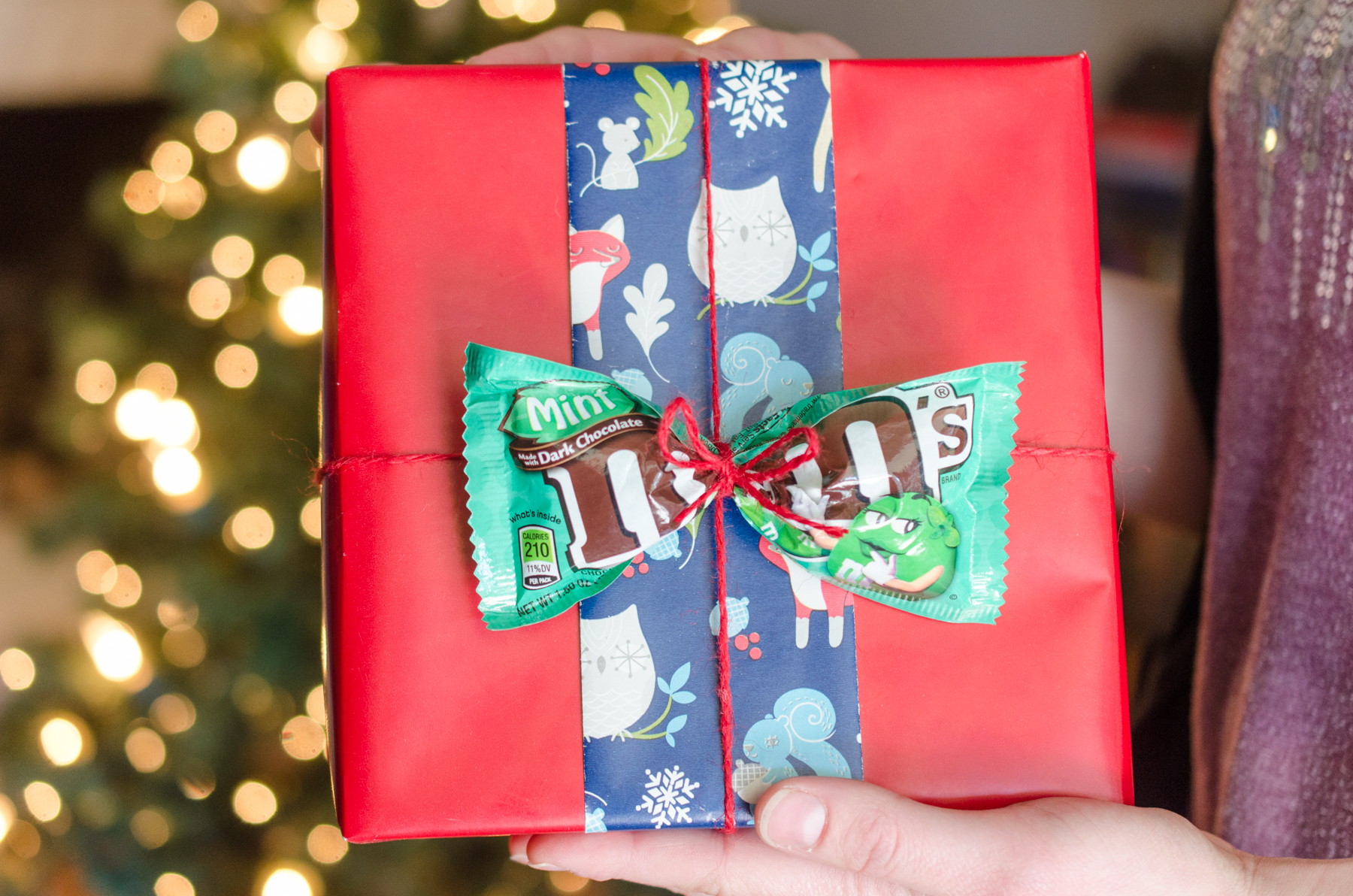 46. Use paint and glitter to make an expensive-looking, shatterproof miniature village.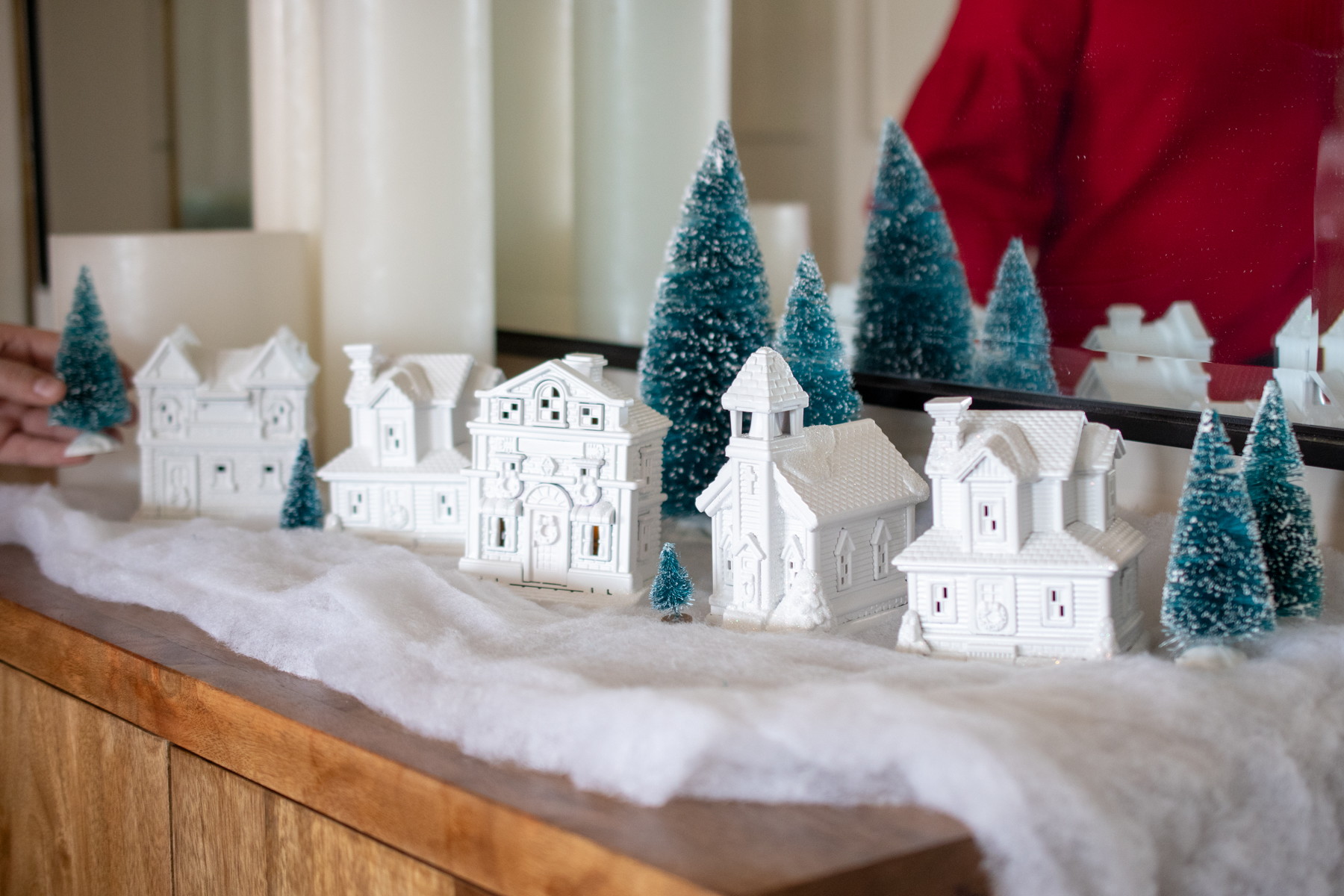 Village pieces can be expensive and very fragile. Save money and create a classy village your kids won't break!
Get plastic village pieces from Dollar Tree, white spray paint, a paintbrush, Mod Podge, glitter, and flameless tea light candles.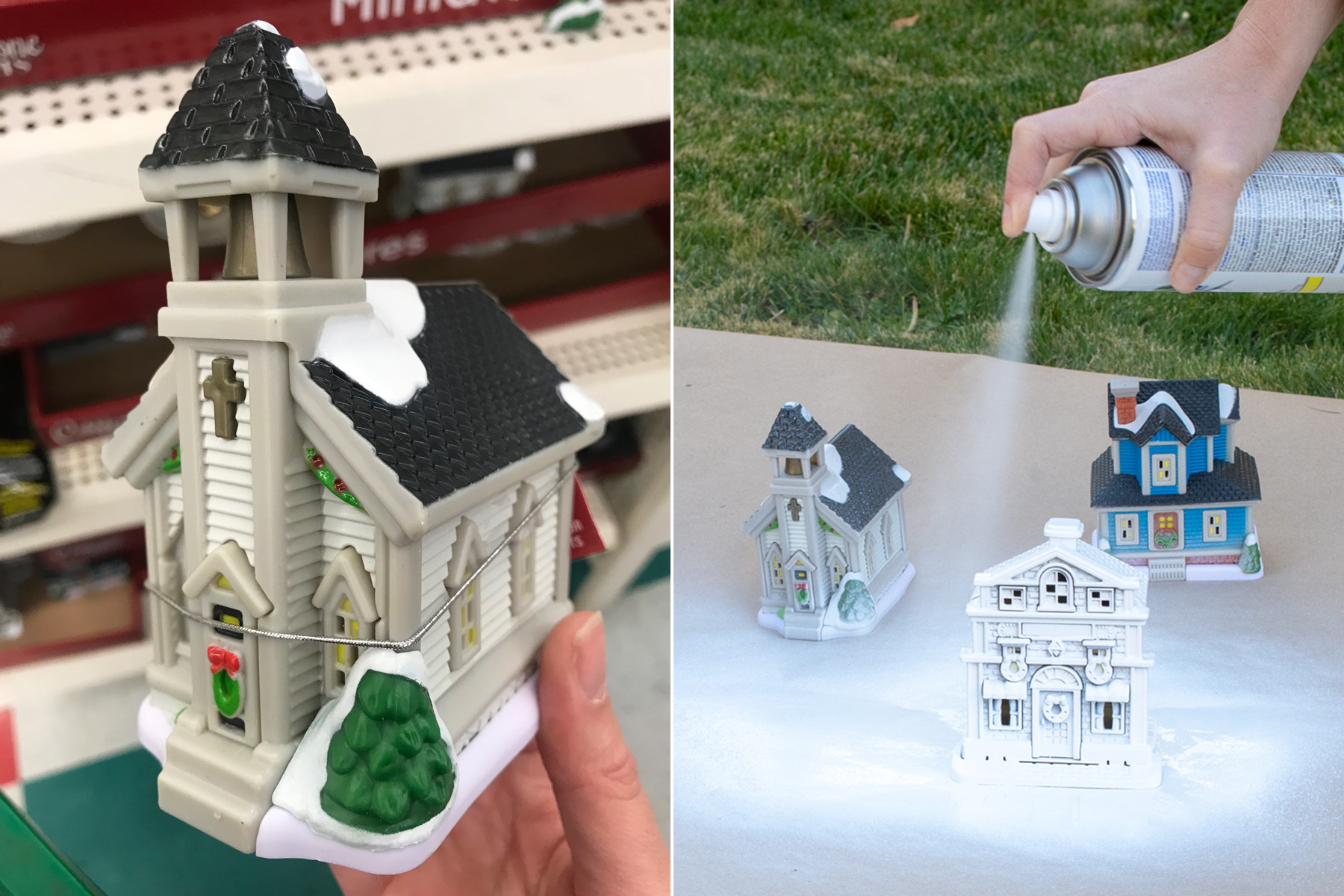 Following the directions on your spray paint can, apply several even coats of spray paint to your plastic village pieces.
Once the paint has completely dried, apply Mod Podge where you want it — I applied mine only to the areas that were previously white with snow — and then sprinkle on a layer of white glitter. Put a flameless tea light candle beneath each building and display your new village pieces for everyone to enjoy.
47. Make your own star ribbon with Model Magic.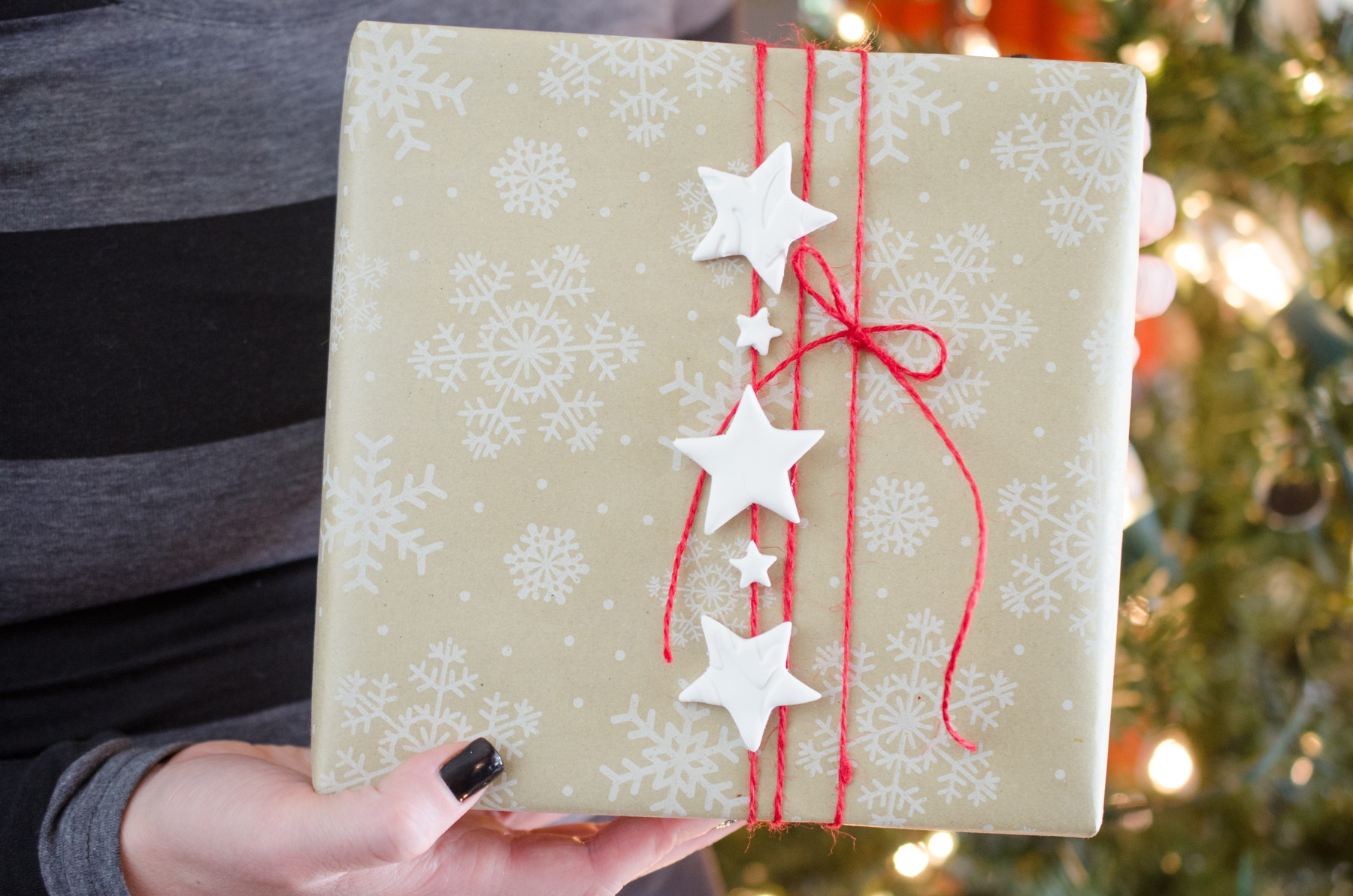 With a rolling pin, roll out Model Magic onto freezer or wax paper (don't use regular paper as the Model Magic will stick). Use a small cookie cutter of your choice to cut out the modeling clay. Then follow the drying instructions on the package. Glue the dried shapes onto ribbon or baker's twine and wrap around a gift.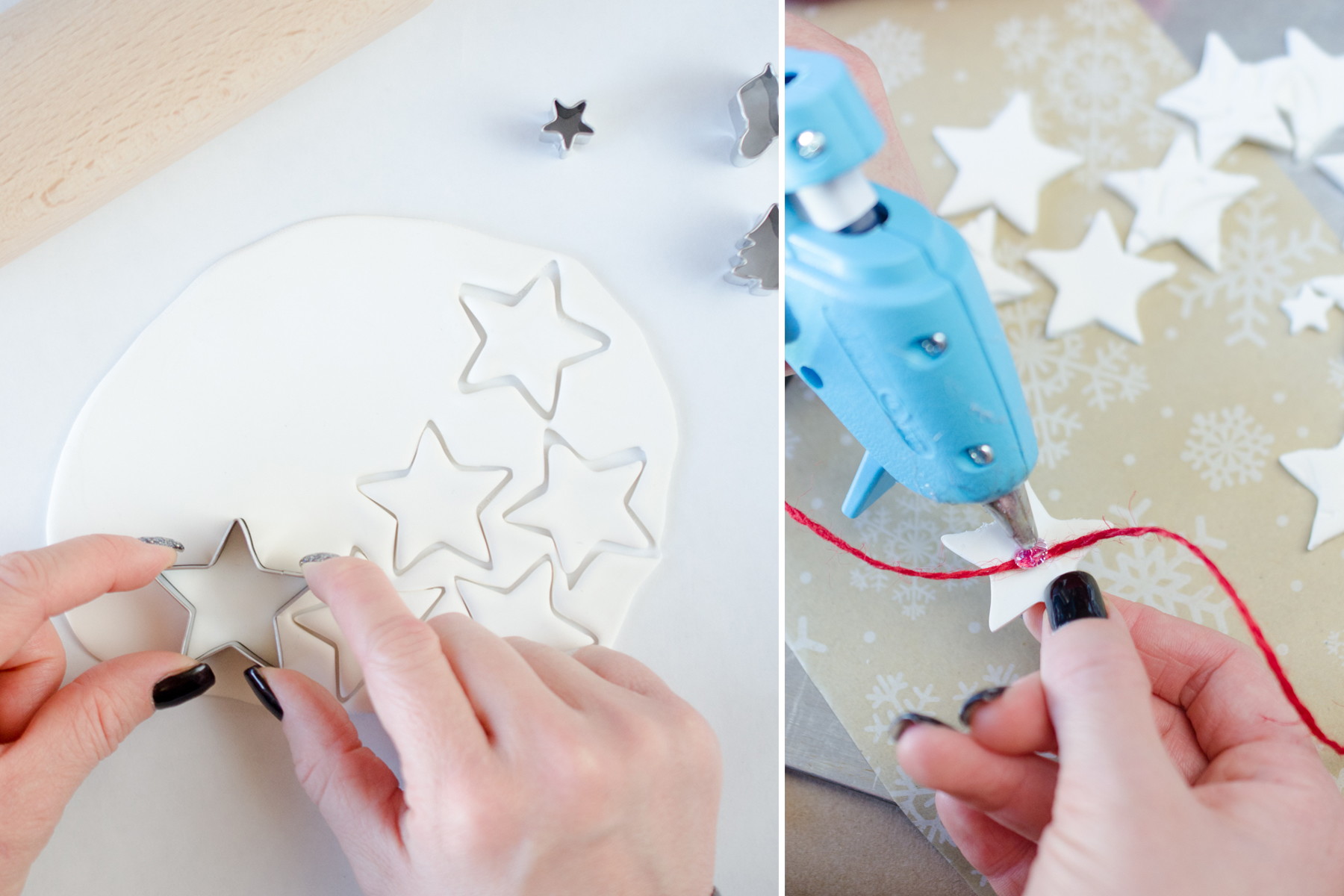 NOTE: The more you work with and knead the Model Magic, the easier it will be to roll out and cut with cookie cutters.
48. Press cookie cutters into frozen whipped cream for holiday hot cocoa.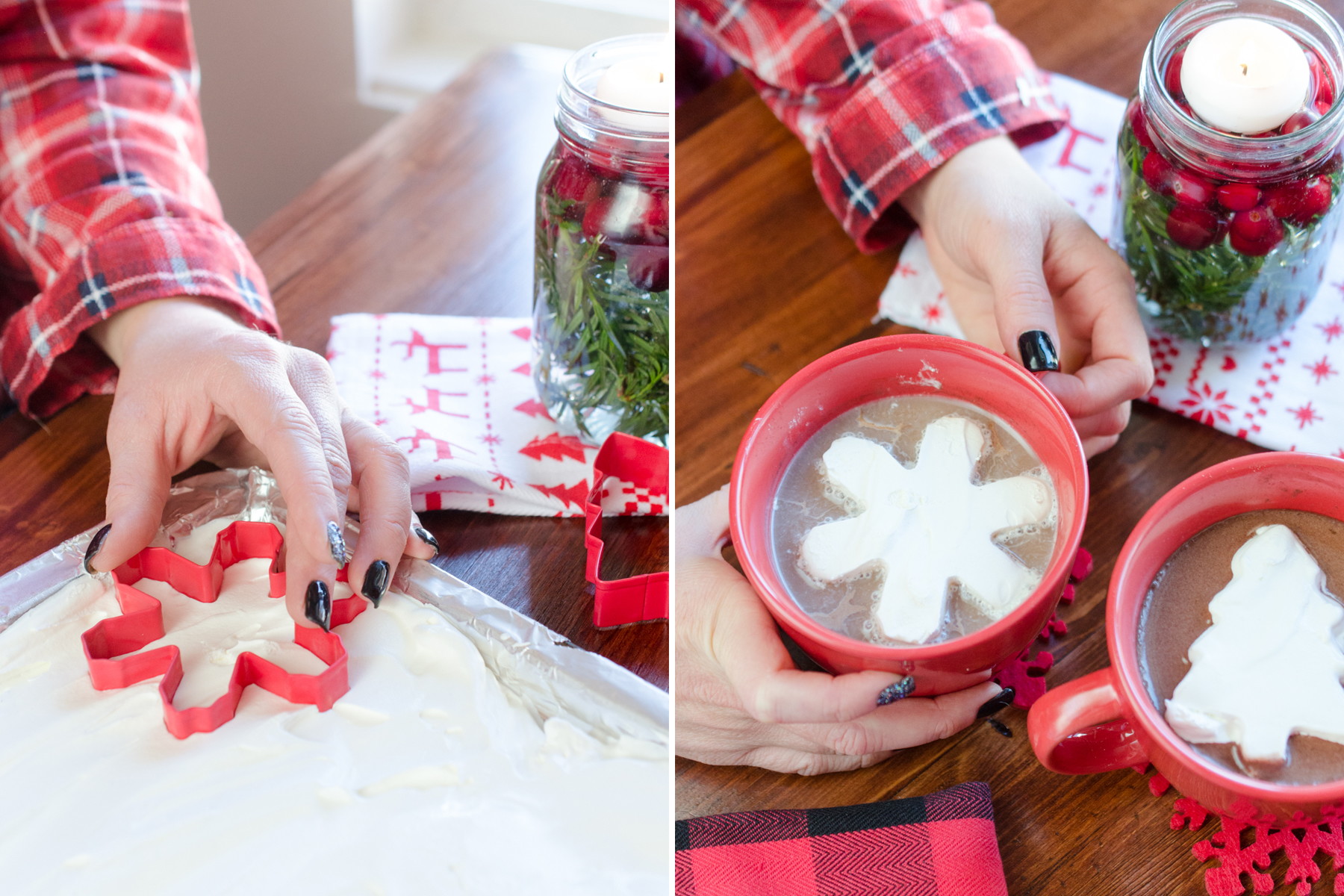 Spread whipped topping onto a foil-lined cookie sheet and freeze. Once the whipped cream is frozen, use holiday cookie cutters to create shapes that add a fun element to your party's hot cocoa bar.
49. Use toilet paper tubes to prevent wrapping paper from unrolling.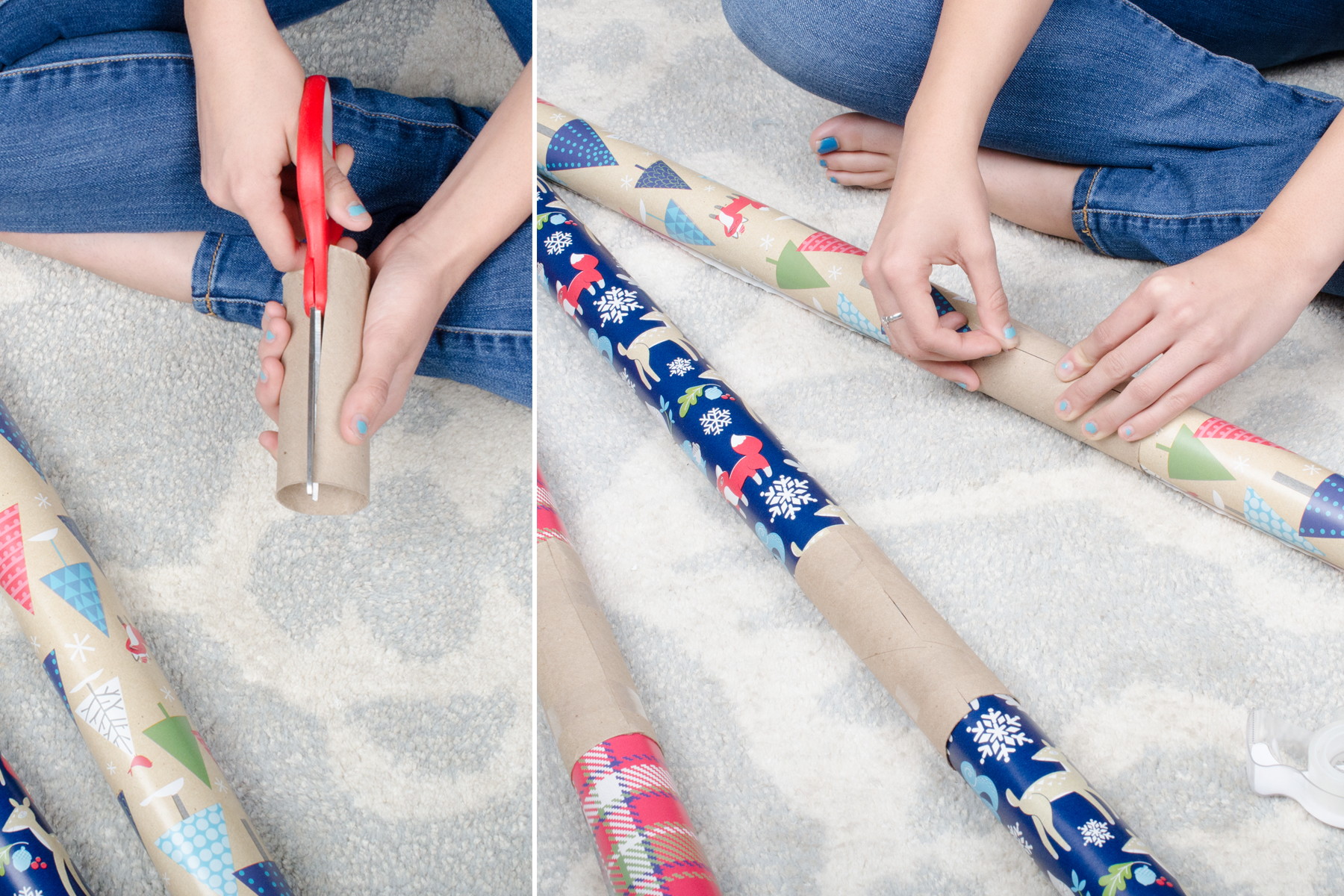 50. Use double-sided tape and confetti instead of ribbons.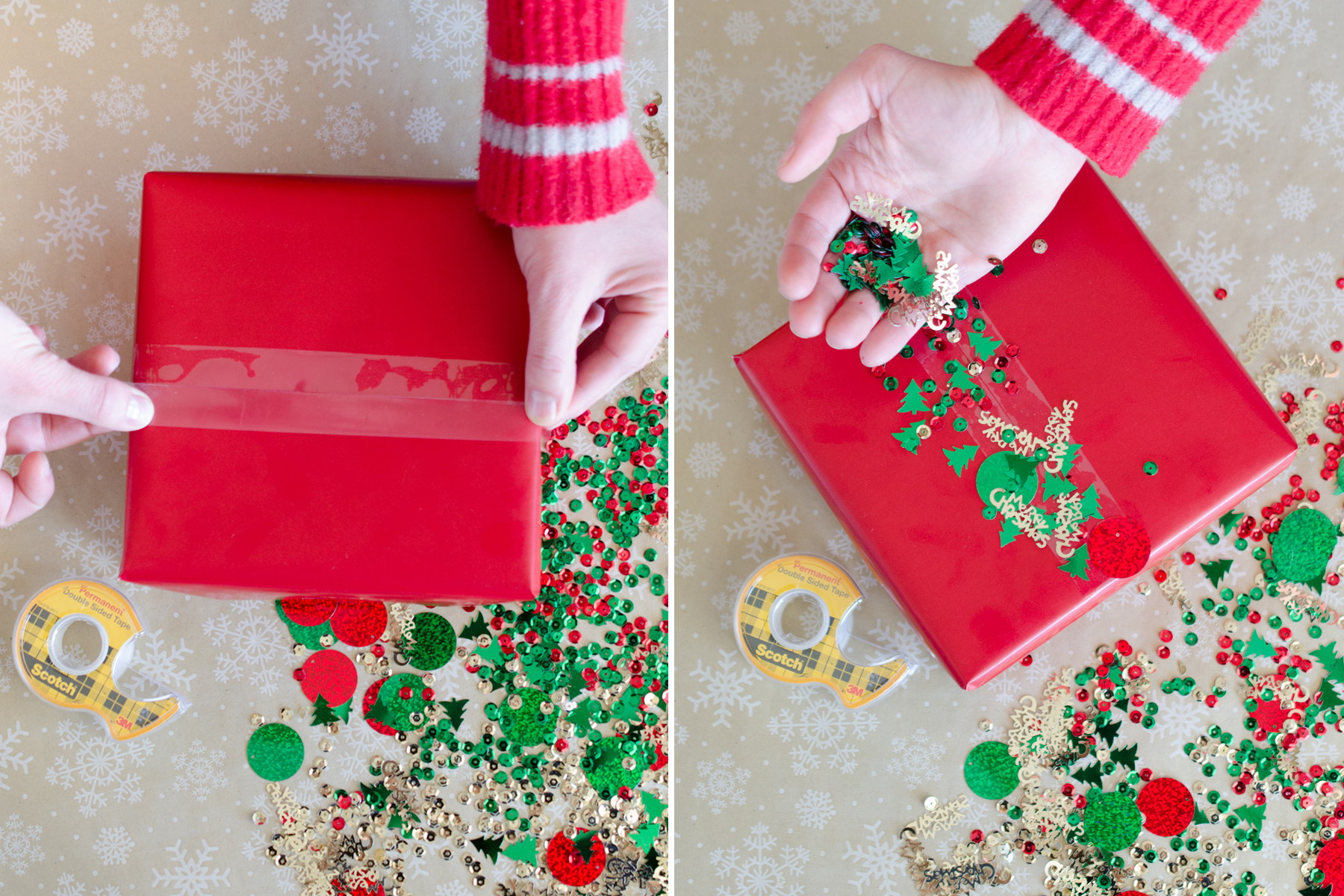 51. Add greenery, water, cranberries and floating candles to a mason jar for an easy centerpiece.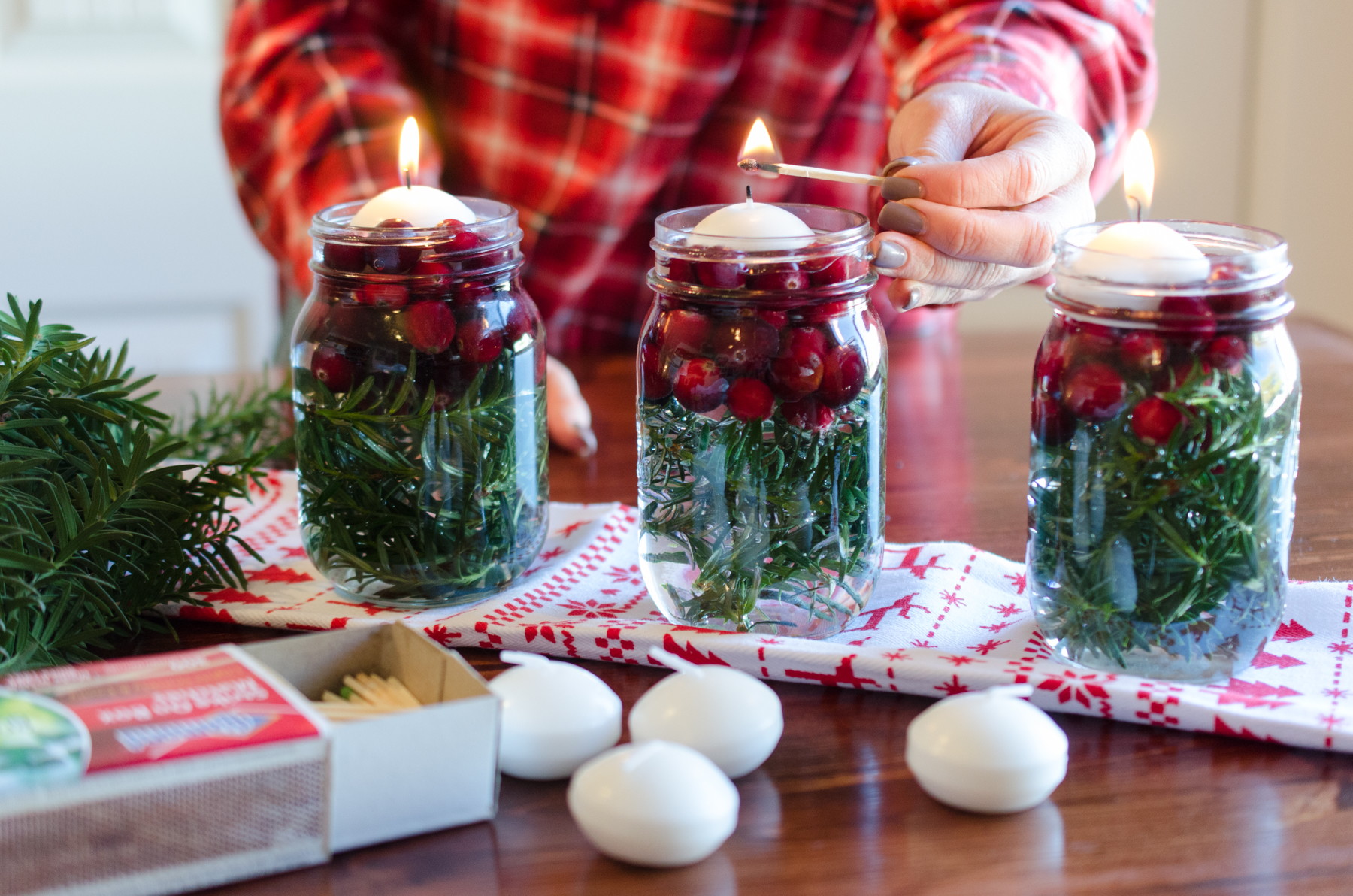 52. Use candy canes as place card holders.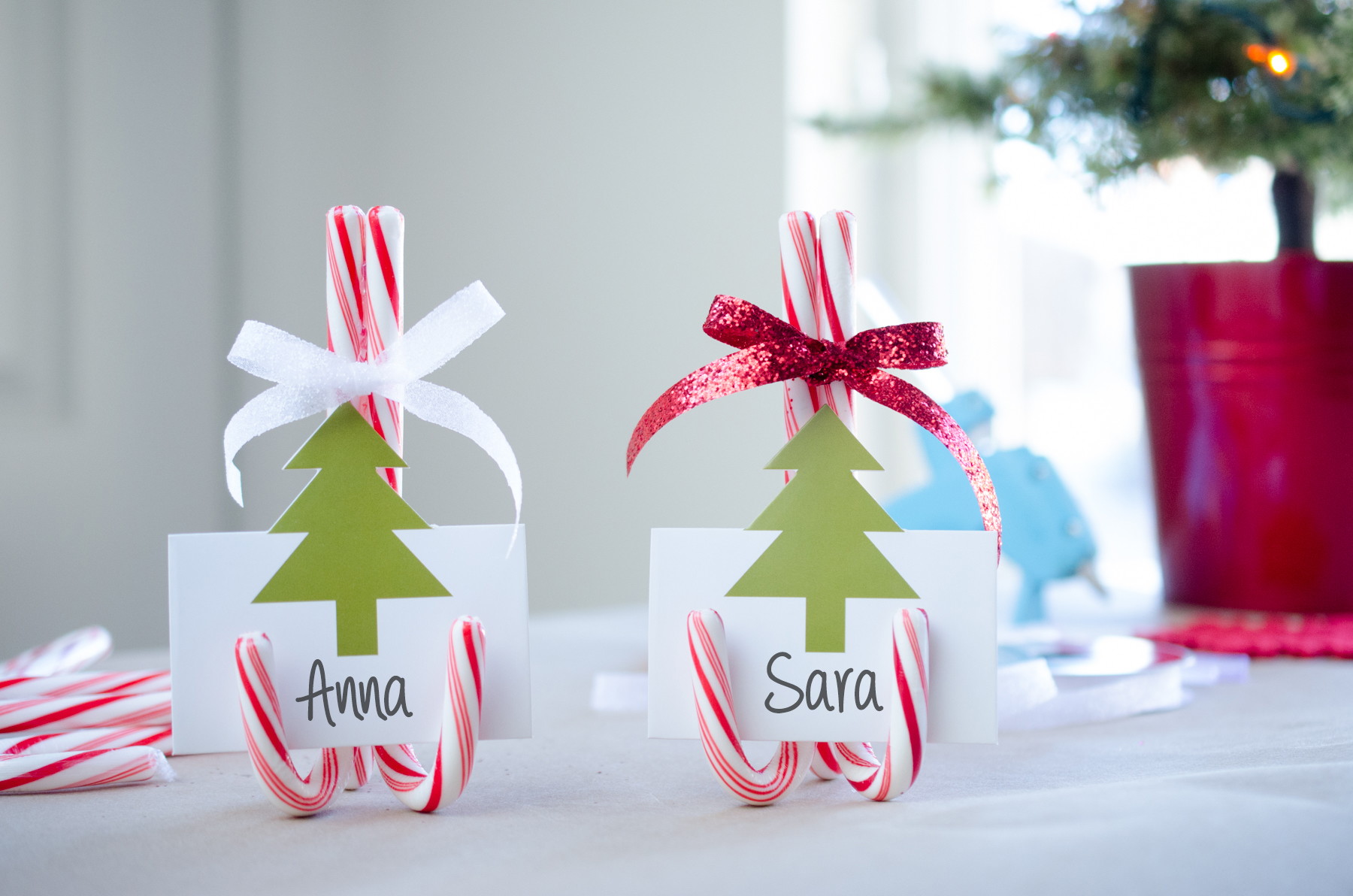 Hot glue three unwrapped candy canes, starting with two canes first, then attaching the third.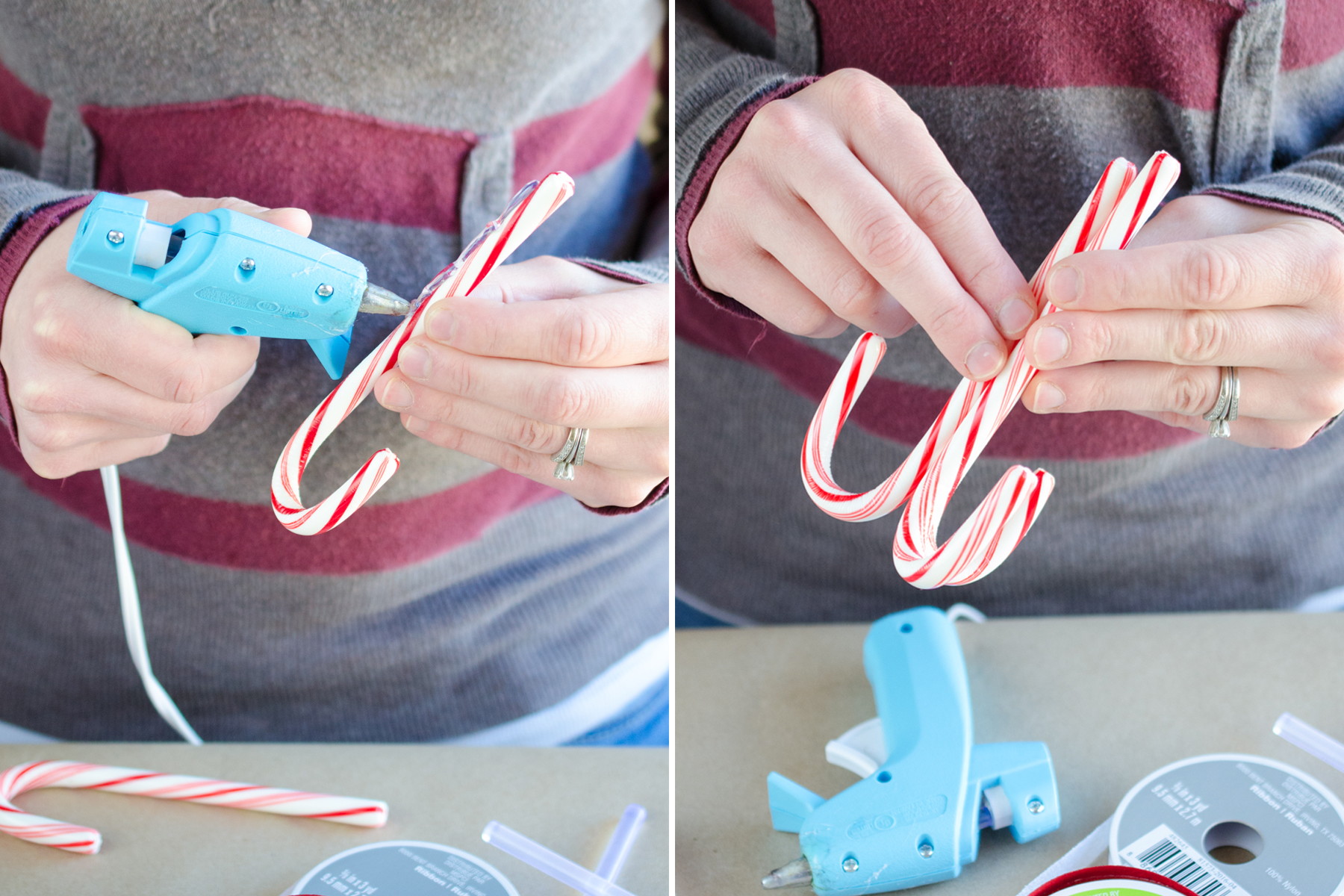 Add decorative ribbon, and slip a place card into two of the hooks.
53. Make a snowman out of a dollar store candle.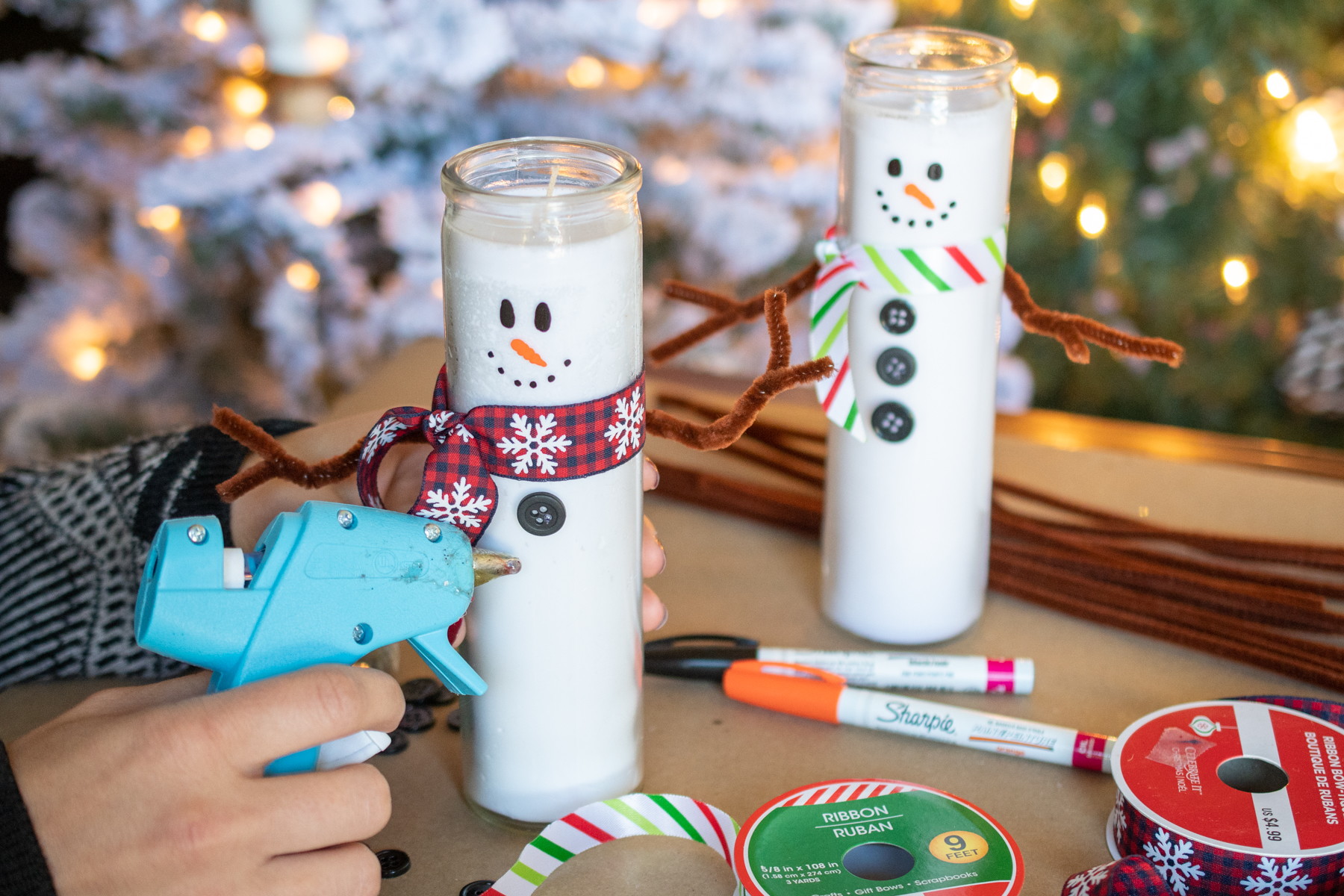 Twist together two pipe cleaners and attach them with hot glue to the back of your candle to make twig arms. Tie a ribbon just above the pipe cleaners for a scarf. Use paint pens to draw on your snowman's face, and finish it off by hot gluing buttons in place.