Figuring out how to organize school supplies is essential for both at-home learners or families with kids going to school in person. Before you start, declutter and toss old, broken items so that you're organizing usable supplies.
Follow these tips to make everyone's life a little easier when it comes to school, homeschool, homework, and keeping everything you need in check. Here's how to organize school supplies the cheap and easy way.
Need more school supplies? Bookmark KCL's back-to-school deals page for discounts on everything you need—from backpacks and apparel to pencils and notebooks.
1. Transform a dish rack into a file and school supplies organizer.

Forget file holders. Instead, learn how to organize school supplies with a dish rack. Just set it up on your work surface and fill the cutlery container with pens, pencils, and markers. Choose a few colorful file folders to add to the rack, and you're ready for the deluge of school papers that's about to come your way.
If you love saving money (because we all do), check out how you can save on these supplies: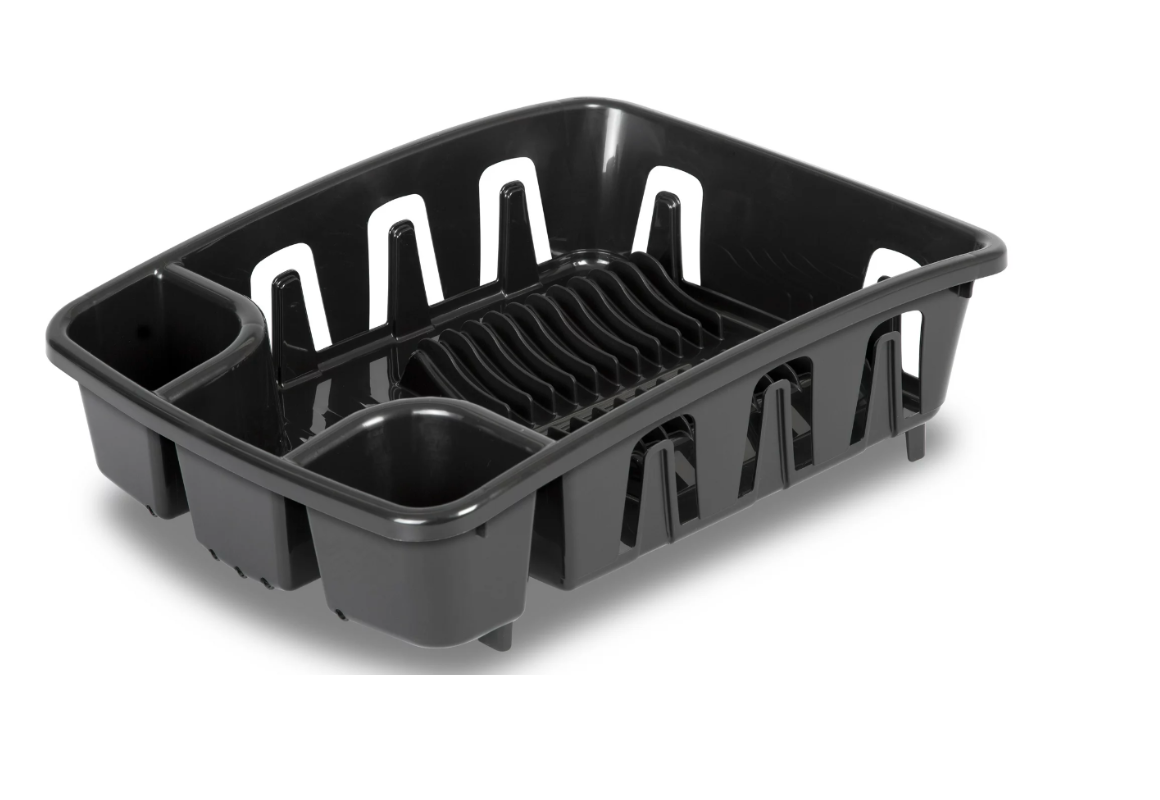 Shipping:
Free with Walmart+ or on orders of $35+
2. Store paper clips, rubber bands, and erasers in an old spice rack.

Wondering how to organize school supplies that are so tiny, they get lost? Use those empty (or near empty) spice containers sitting around your kitchen. Rinse and dry your empty spice containers. Then, fill them with rubber bands, erasers, highlighters, or anything else you need.
Psst…if you don't have any containers to repurpose, then you'll find stellar back-to-school organization solutions on our storage deals page.
3. How to organize school supplies the cheap way: Use repurposed food tins!

Just peel the labels off your desired number of cans, rinse them, and leave them to dry. You could even use gold spray paint and add stickers for decoration. This idea is perfect for a homeschool organization setup, because kids can just grab what they need as they're doing their work
4. Or, leave the tins on a desk painted and decorated with washi tape.
Organizing school supplies doesn't have to be boring. Add a little personalization with washi tape. This colorful tape can be used on pencils, dividers, paper clips, and more. You can keep this project really cheap by picking up washi tape at Dollar Tree. Washi tape may be labeled "decorative tape" or "decorative adhesive paper craft tape," but it's the same idea. Plus, it's often sold elsewhere starting at $3.
Related: See the best washi tape organization ideas here.
5. Hang homework and important papers from clothespins.
If you want your papers out where you can see them, try this trick for hanging papers or artwork. You'll need these items to get started:
Supplies:
Strip of cardboard

Clothespins

Adhesive strips or double sided-tape

Clear school glue

Construction paper
Directions:
Take your strip of cardboard and lay it flat on the table. The length of the strip you need will depend on how many kids you have.

Use one clothespin for each kid. Lay them out along the cardboard strip to get a feel for where they need to be glued. To make this easy, clip each of the clothespins to a sheet of paper. Next, lay them down with enough room so they don't overlap. Then make a mark on the cardboard strip where each clothespin is.

Glue the back of each clothespin, and stick it onto the cardboard strip. While you're waiting for the glue to dry, you can make the name tags.

Write your child's name on a piece of printer paper with a marker and cut it out into a shape. Make it as simple or as fun as you want to. Then trace your shape onto whatever color construction paper you'd like, add a little extra room to the perimeter, and cut that out, too. Stick those together with a thin layer of glue and voila!

Take your finished clothespin creation and put it up on the wall using double sided tape or adhesive strips. Then add your children's name tags above where they will need to put their papers.
Hang school paperwork from your new DIY organizer, making it easy for kids to grab and go in the morning. Leave notes like your child's name or a message for the day.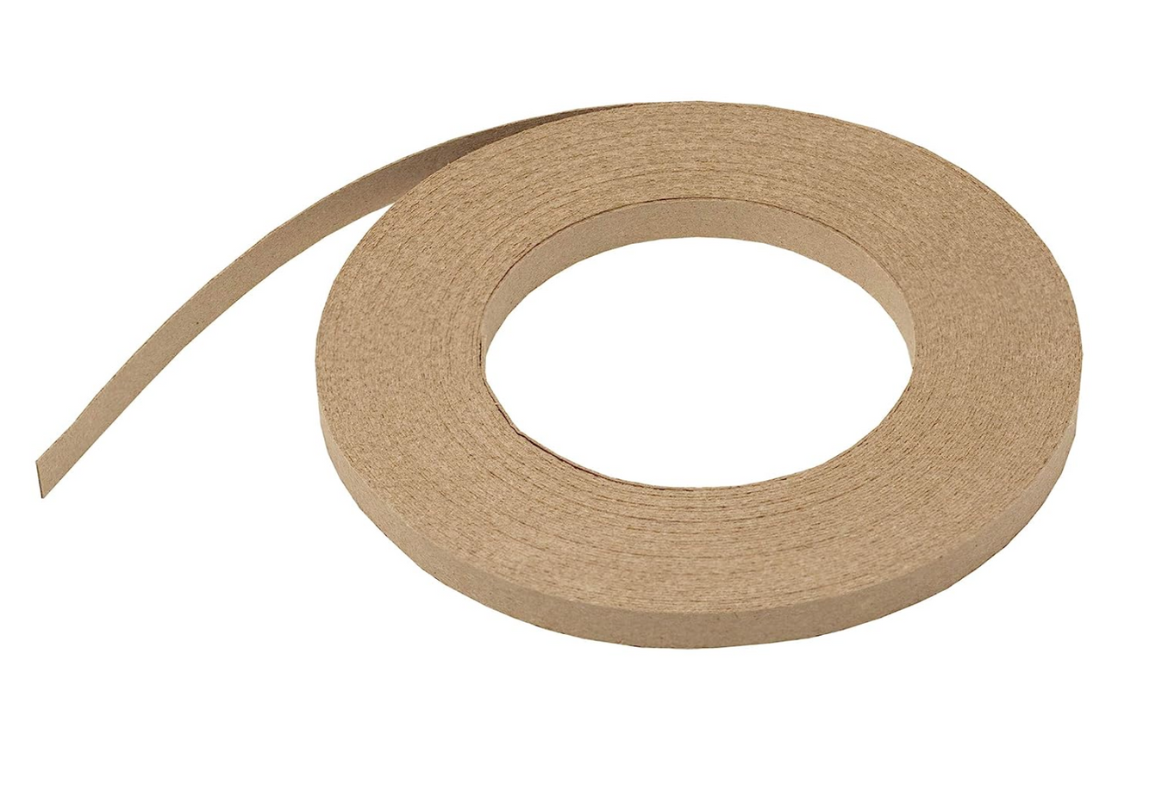 Shipping:
Free with RedCard and on orders of $35+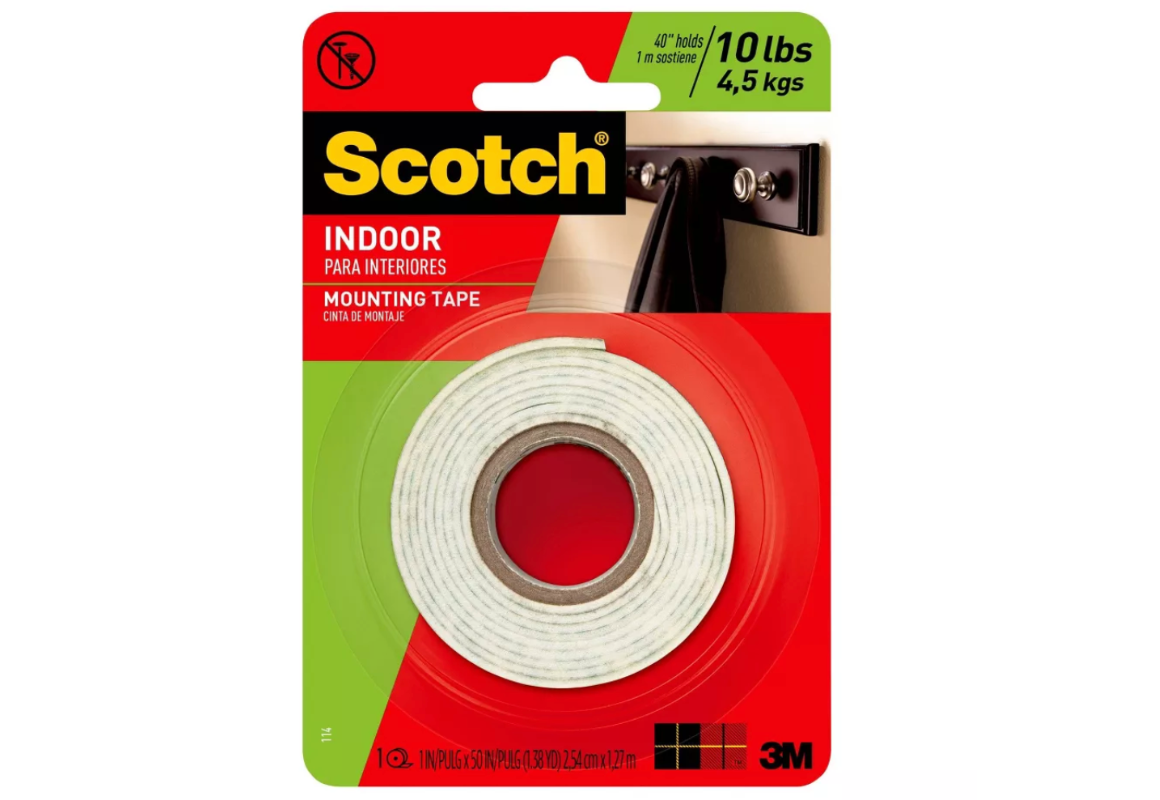 Shipping:
Free with RedCard and on orders of $35+
6. Transform a jar into a school supplies organizer by using chalkboard labels.
Thanks to Dollar Tree and craft stores, you can find out how to organize school supplies on the cheap — in this case, with glass jars. Apply chalkboard paint to the jars for a label system that you can switch out when you change your mind.
7. Decorate shoe boxes and then store notebooks inside.

Sometimes old-school decoration methods are the best methods. You likely have a few shoe boxes lying around the house, so break out the colored pencils and markers and let your creativity fly.
You could also use clear plastic containers and decorate with stickers, washi tape, or Sharpies. When you're done, throw in your favorite school notebooks and journals. You could even store extra school supplies like pencils, crayons, and markers.
Related: Get all the notebooks you need — see KCL's stationery deals.
8. Chalk paint a filing cabinet for your grown-up organization needs.

We can all use a little help in the organization department, not just school-age kids. Use chalkboard paint to label each drawer front, and keep a weekly calendar on the side. Just paint the side of the cabinet and in the space above the drawer pulls.
The drawers are great for organization, but the calendar and to-do lists written outside can help your whole family. If you're interested in some ways to get free paint, we have some genius tips to explore.
9. Transform a tackle box into a school supplies organizer.
A tackle box works because of its compartments for small items such as glue sticks, Post-its, erasers, and pencil sharpeners. Since it's metal, you can personalize it by painting it. When homework is done, cleanup is a cinch, and no one is ever complaining they can't find what they need.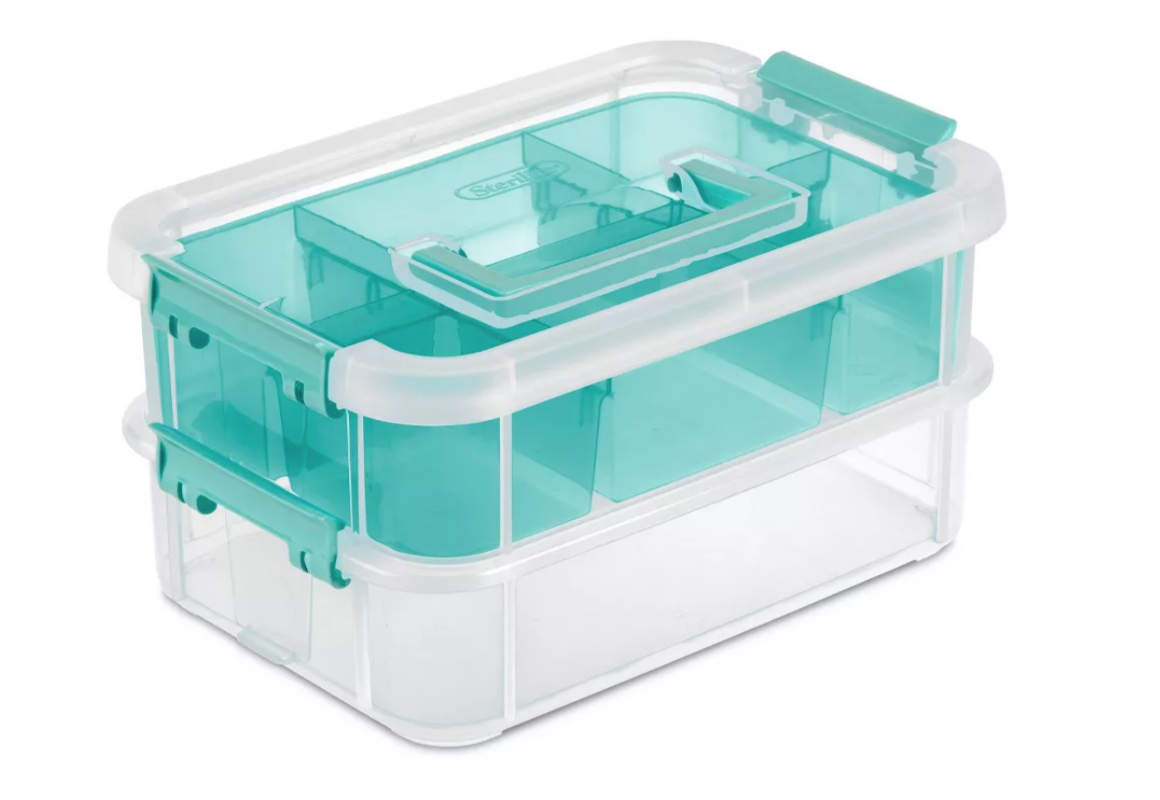 Shipping:
Free with RedCard and on orders of $35+
10. Fill a bath caddy with school supplies to create easy access during homework time.

Like the tackle box, a bath caddy is the perfect school supplies organizer to transport your pens, pencils, glue bottles, and scissors. Whether it's weekend art projects or a homeschool setup, you'll finally be able to see and find everything you need easily. The best part is you can find these caddies at Dollar Tree, and they come in an array of colors.
11. File school papers in a plastic storage bin.
Oh yes, we know how much artwork your elementary child brings home. This solution is best for the projects that include macaroni shells and glitter. Containment is key!
A plastic storage bin with hanging file folder space will help you keep it organized. When the school year is over, sort through all the papers in your homework bin. Decide what to keep, scrapbook, or recycle.
Shipping:
Free with Walmart+ or on orders of $35+
12. Or, organize your kids' papers with binder clips.

Binder clips are inexpensive and can be used for many other means. In this case, label (use a label maker to save time and keep it neat) the binder clips with information like when papers are due and what papers need to be signed or reviewed. Hang them from nails near your organization station so homework is ready to go. You no longer have to dig through stacks of papers.
13. Use an old muffin tin as a school supplies organizer.

Here's a school supplies organization tip that'll double as a contribution to the environment. Re-purpose grimy old muffin tins as holders for office and school supplies.
Kids will get a kick out of this storage solution, and they can help by adding the supplies that they use the most. Colorful cupcake holders can contribute some flare and make it easier to transport supplies.
14. Or, reuse clean K-Cups to hold small school supplies.
Speaking of good for the environment, instead of tossing K-Cups, use them to organize your school supplies! Clean them out and fill them with eraser tops, clothespins, paperclips, and more. Store them in a drawer to keep your counter decluttered. Or stash them in a rolling cart or tackle box.
Related: But wait, there's more—check out these ways to reuse Keurig K-Cups.
15. Separate school supplies with drawer dividers and box lids.
If space is tight and you have an empty drawer, sometimes you have to think "outside the box" for storage. Use small shoebox lids for longer items like scissors and pencils. The more colorful, the better. In need of extra supplies? Don't forget to get your coupons.
16. Fill a hanging shoe organizer with school supplies.
Shoe organizers can help your life in so many ways — other than keeping shoes tidy. Simply hang it on your door, fill it with supplies, and you're done! While you're at it, label the pockets. Hanging shoe organizers are about to become your new BFF with these insanely smart ways to use a shoe organizer.
17. Establish a command center for backpacks, books, and assignments.

Having everything in one place is a good step toward getting the kids out the door and on the bus, on time. Pick a spot in your house that's roomy enough to set items down when the kids get home from school or have the items needed to get out of the house quickly.
If you have the wall space, install wall hooks and wall-mounted file holders. Label each hook with your child's name to store backpacks, and directly above them add the file holders for papers to leave at home, review, or sign. Let your kids decorate the file holders with washi tape or stickers to make it their own.