If quick and easy access to tons of savings is your sort of thing, let me introduce you to the world of AARP discounts. And no, joining AARP isn't just for people ages 50 and over. You can actually be as young as 13 and join AARP!
Once you sign up for an AARP membership, you'll get a physical AARP card that you can flash for a discount at participating stores, of course. But these days, some of their best discounts are on the AARP website. That's where you'll find additional restaurant deals and percentage-off savings on stuff like your AT&T bill, flights, car rentals, and more.
So if you've been wondering if an AARP membership is worth it, here are the best AARP benefits to help weigh your options.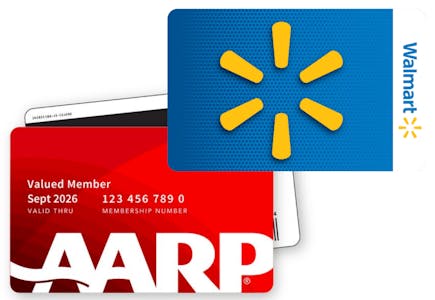 Get a free $5 Walmart gift card with a new subscription
PRICE SUMMARY
Pay $12.00, receive $5 Walmart gift card
Download The Krazy Coupon Lady app so you never miss out on the best tips and discounts.
You can get an AARP membership for as low as $12 right now — plus get a free trunk organizer.
We see AARP membership discounts from time to time, and if you join as a new member and choose automatic renewal, you'll only pay $12 for a whole year of membership.
Here's how to claim this offer:
Use our link to go to the AARP website.
Click the "join today" button.
Enter your personal information.
Choose the 1-year membership with automatic renewal option.
Continue to billing and checkout.
Get a free trunk organizer with a new subscription.
PRICE SUMMARY
$12 for the first year, plus a free trunk organizer.
A Quick Rundown of the Best AARP Discounts in 2023
Once you peel back all the layers of AARP discounts, it can get a little overwhelming. To quickly scope out your potential savings, use this list of the best AARP discounts as a guide to what you'll get as a member.
Using just one of these discounts could easily cover the cost of your annual membership fee. And remember — you don't need to be over a certain age to get most of them.
Save up to 50% at LensCrafters.
Get 50% off prescription lenses from LensCrafters and 30% off prescription sunglasses. Just present your AARP membership card at checkout.
30% off Avis & Budget Car Rentals.
Take 30% off rental car base rates and get a 3% credit for future rentals within the next 12 months. Plus, you get a free upgrade on compact through full-size rental car bookings. To redeem your discount, book your rental car online through the AARP Budget Rental Car portal or the AARP Avis Portal. For even bigger savings, use these tips to spend less on rental cars.
Up to 30% off at Proflowers & FTD Flowers.
AARP members save 25% sitewide on flowers and 30% on select items with promo code AARP30 for FTD and Proflowers. To redeem your discount and see which items qualify, place your order for each florist through the AARP Flowers & Gifts page.
Save $65 – $200 on flights with British Airways.
Take $65 off round-trip economy fares and $200 off business class fares with British Airways. To redeem your discount, book your plane ticket online through the AARP British Airways portal.
$10 off per line with AT&T.
Members can save $10 per line each month with an AT&T Unlimited Premium plan, along with up to $50 in waived activation and upgrade fees. Show your AARP membership card in store or use your AARP login to shop online at ATT.com.
10% off at select restaurants.
This is the easiest way to save with AARP. You can take 10% off your bill at over a dozen chain restaurants, including Bonefish Grill, Corner Bakery, Landry's, and Outback Steakhouse. Simply show your AARP card to your server at eligible restaurants.
What to Know About AARP Discounts and How They Work:
1. You'll either show your card or link your account to get AARP benefits.
There are a few different ways to use your AARP membership for discounts. For most in-store purchases, all you have to do is flash your membership card (or the digital version on your mobile app).
If you're shopping online, you may need to link your AARP account through a browser or app to get the discount. This is true for a place like Jamba, while other sites send you an AARP discount code to use online.
Hotel and travel bookings are usually done online through the AARP Travel page.
2. You don't need to carry around an AARP card to get the discount.
AARP members get a physical membership card and a digital version that works the same way. So if you forget your card, you can prove your membership using the AARP Now app (iOS / Android) so you'll never miss a discount online or in store.
3. You can share your AARP benefits with another person in your house for free.
You can share your AARP benefits with another person in your household for free. So for the price of one membership, you can add a child, family member, spouse, or partner to your AARP account. They'll even get their own membership card.
Related: Is AARP Worth It?
4. Use your AARP discounts to book cheaper hotels.
AARP partners with dozens of hotel chains, which usually offer a 10% – 15% discount (and other perks like late checkout) to AARP members. Most eligible hotels will offer you a special member rate, which is only available through their website.
Your best bet is to find participating hotels on the AARP Hotels page and click through to see each discounted AARP rate.
5. Use your AARP discounts to book cheaper flights.
You can save anywhere from $65 – $200 on plane tickets with British Airways. Your AARP discount is good to use on round-trip transatlantic tickets to over 130 destinations.
Visit the AARP Flights page on their website to explore eligible routes and book discounted fares.
6. Plan to save on the go while you travel.
The AARP Now app makes it ridiculously easy to get membership discounts near you, even if you're in an unfamiliar place. All you have to do is enter your city in the app to see all the AARP discounts for restaurants, services, and vendors in that area.
7. Use your AARP discounts to save on curbside and to-go orders.
Your AARP card isn't just good for dining out. You can grab discounts on curbside or carry-out orders, too!
Place your order over the phone and let them know you're an AARP member. Your discount won't work on delivery orders through third-party apps (think DoorDash or GrubHub). But you should be able to save at least 10% on food and nonalcoholic beverages from many popular restaurants.
8. Know where to find even more AARP discounts.
It's hard to remember the long list of AARP discounts and member benefits you have access to, especially since there are multiple ways to redeem them. To make sure you always have a full list of benefits handy, bookmark the AARP Membership Discount page for easy access. When you click through to each vendor on the list, you'll see a pop-up explaining the terms and conditions of how to save.
9. Get an AARP membership discount when you opt for a multi-year plan.
An AARP membership currently costs $12 for your first year, then $16 every year after that. But you can save 10% on a 3-year membership and 21% on your annual fees with a 5-year membership. So to save the most on your AARP Membership fee, sign up for automatic renewal and a 5-year term. You'll end up paying $63 instead of $80.
10. Save up to 30% on a multi-year AARP membership if you're a military member or veteran.
Military members and veterans get a special discount on their AARP membership fees. With the military discount, you'll pay $9 per year for a 5-year membership or $10 per year for a 3-year membership.
A 1-year membership costs the same for military and non-military members, but the discounts on the 3- and 5-year memberships are worth snatching.