Grinch holiday decorations are a fun way to add some laughs to your seasonal decor. And we found several discounts and deals so you don't have to pay full price on your Grinchy decorations. We also were able to find the popular My Life As a Grinch doll in stock at Walmart!
If you're a fan of the classic holiday film, we've found sales at stores like Hobby Lobby and Walmart that feature Grinch decorations you could use on your front door, lawn, or home. From grouchy stockings and ornaments to a fully functional Christmas tree stand, check out these deals on Grinch holiday decorations below.
Text SAVE to 57299 (KRAZY) or download The Krazy Coupon Lady app to stay up to date on the latest savings.
You can find the popular My Life As a Grinch doll in stock at Walmart in-store or online.
This doll restocked on Nov. 22 and quickly sold out. However, it's back! Depending on your location, you can find various styles available for shipping or store pickup. I'm only able to find it in-store at a few locations near me, but one of our team members can find it in stock online for shipping in her area.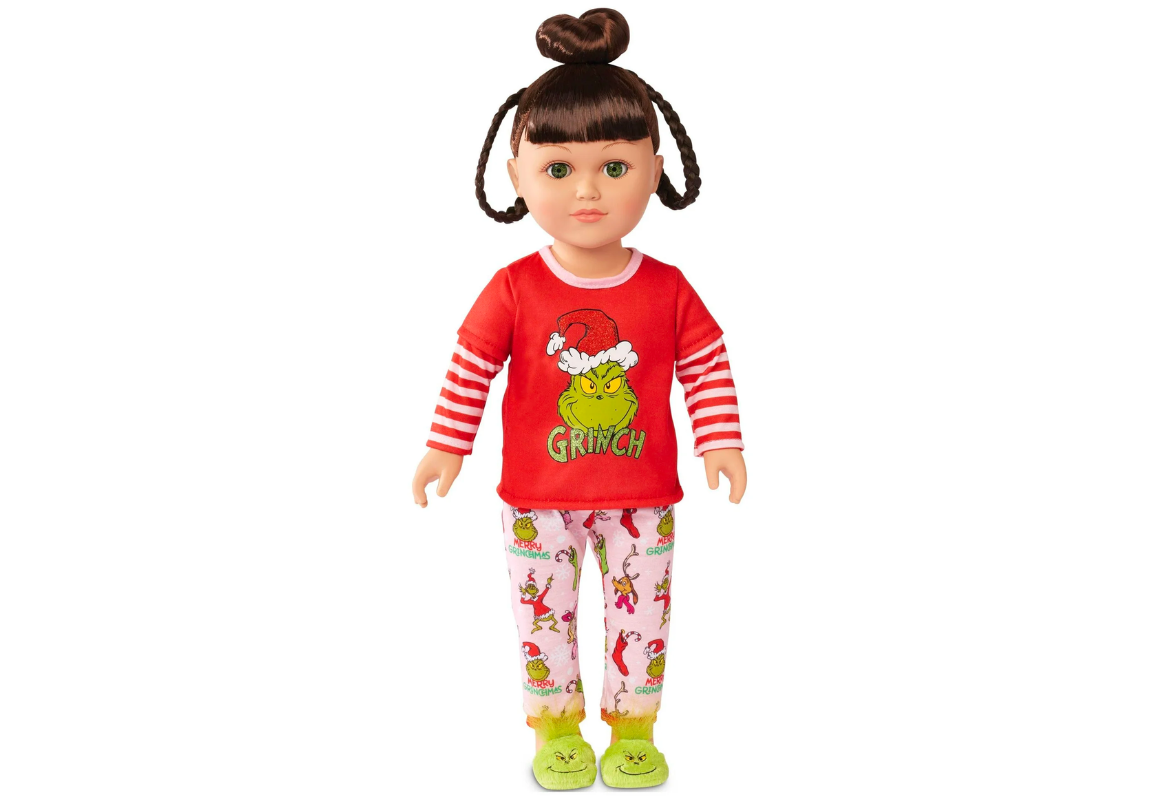 Shipping:
Free with Walmart+ or on orders of $35+
Right now, you can find a bunch of Grinch Christmas decor for 50% off at Hobby Lobby.
From Grinch plushes to Grinch nutcrackers, to even Grinch table runners and drinkware, you can instantly save 50% off all Grinch holiday decor now. Deals are happening in-store and online, and we don't know when this sale will end. Here are some of our favorite steals:
Hobby Lobby
Indoor Grinch Holiday Decoration Deals Happening Now
We love the extra bit of personality that these decorations bring to the home, and all without breaking the bank. Options start at just a little over $7 with all our faves costing less than $20. Given how list prices for Disney merch can reach the triple digits easily, these are a steal. (Now if only stealing Christmas were that easy.)
Walmart
Amazon
Related: The Best Stocking Stuffers Under $10 That Are Actually Useful
Deals on Outdoor Grinch Holiday Decorations
Outdoor decorations are a great way to spread some Christmas cheer (or Christmas fear depending on how much of a Grinch you want to be!). And while I know outdoor decor, especially inflatables, can get pricey, we found goodies on sale for as much as 53% off. And even the most expensive items on this list are still only $35 after sales.
Amazon
Oriental Trading
When are the best times to shop for Grinch decor?
There are two major sale dates that offer the best prices on Christmas decorations: Black Friday and post-holiday clearance sales.
For Black Friday, you can expect to save at least 50% on decor. The best days to shop are Thursday, Nov. 23 – Friday, Nov. 24, since that's when all the different retailers' sales overlap.
Holiday clearance sales start as soon as Dec. 26 and offer up to 90% off. While you'll be shopping for next year's decor, a good deal makes it worth it.
Which stores have the best prices on Grinchmas goodies?
For indoor decor, I recommend shopping at Walmart's selection for the lowest list prices. For example, you can find a Grinch model train set for under $15 at Walmart, but a comparable set runs for nearly $30 on Amazon.
If you're looking for outdoor decorations, I suggest Oriental Trading because their inflatables are significantly cheaper than competitors. At Oriental Trading, you can find a four-foot Grinch inflatable (reg. $54.99) on sale for $35. By comparison, the same item at Michaels retails for $91.99 and is only on sale for $55.19. That's still $20 more than Oriental Trading's sale price. Other comparable shops include Lowe's, Home Depot, and Kohl's.
While Hobby Lobby usually has really good sales, their list prices are on the more expensive side. Unless there's a 50% off or more sale, steer clear. Target has relatively good prices but the selection is pretty minimal. When you sort through Grinch items sold by Target, there are only eight options.