Nintendo deals are hard to come by, especially on consoles. Outside of Mario Day in March, most retailers save their biggest discounts for the holiday season. I'll show you the best video game deals you'll see this year.
If you're able to hit even some of these sales, you'll be saving money on games, and controllers, and potentially having a Nintendo Switch purchase earn you more than $100 toward other retail buys.
Be sure to bookmark our Nintendo Deals page on KCL and keep up with all of the latest deals! For more smart shopping tips and savings hacks, text HACKS to 57299.
Or download the Krazy Coupon Lady app.
Walmart Nintendo Switch Sale!
Remember, these games don't require internet and have so many games for kids and adults. Consider for long road trips with kids (especially when you need a tablet break).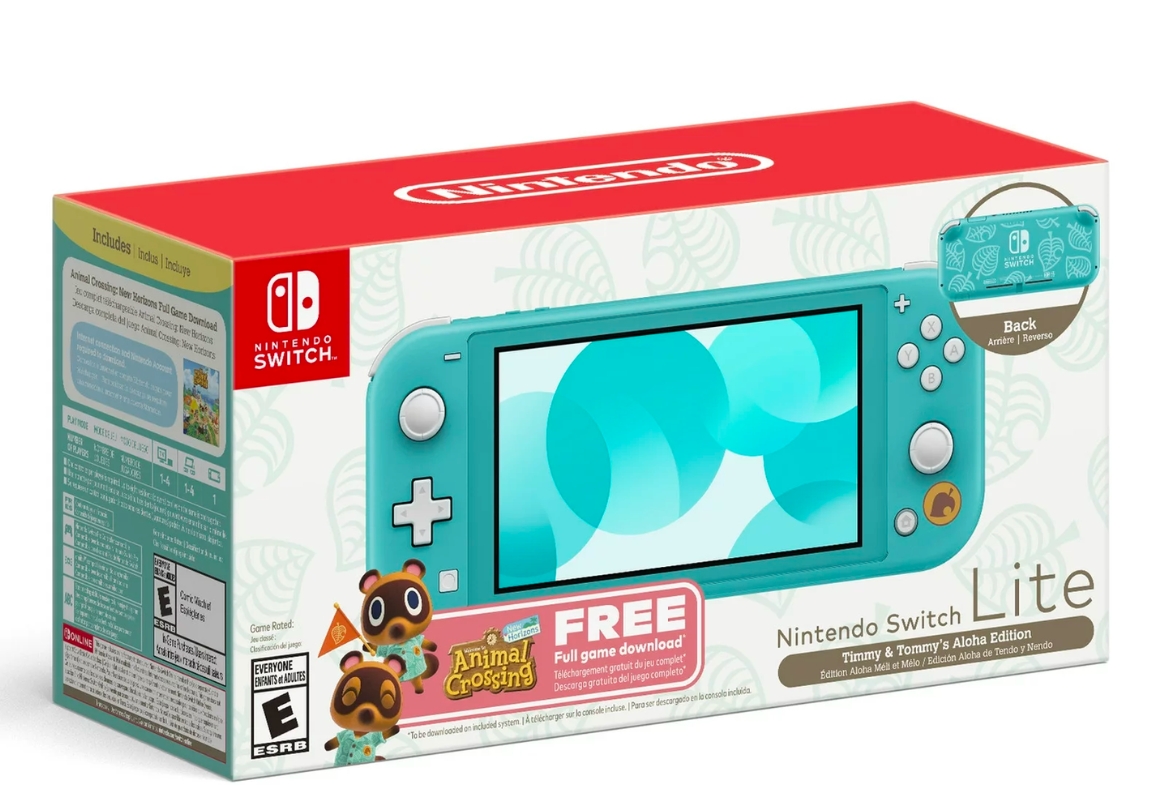 Shipping:
Free with Walmart+ or on orders of $35+
You can pre-order these Nintendo Switch bundles now at Target!
Find these video game deals at Target. We also found a Just Dance game on sale.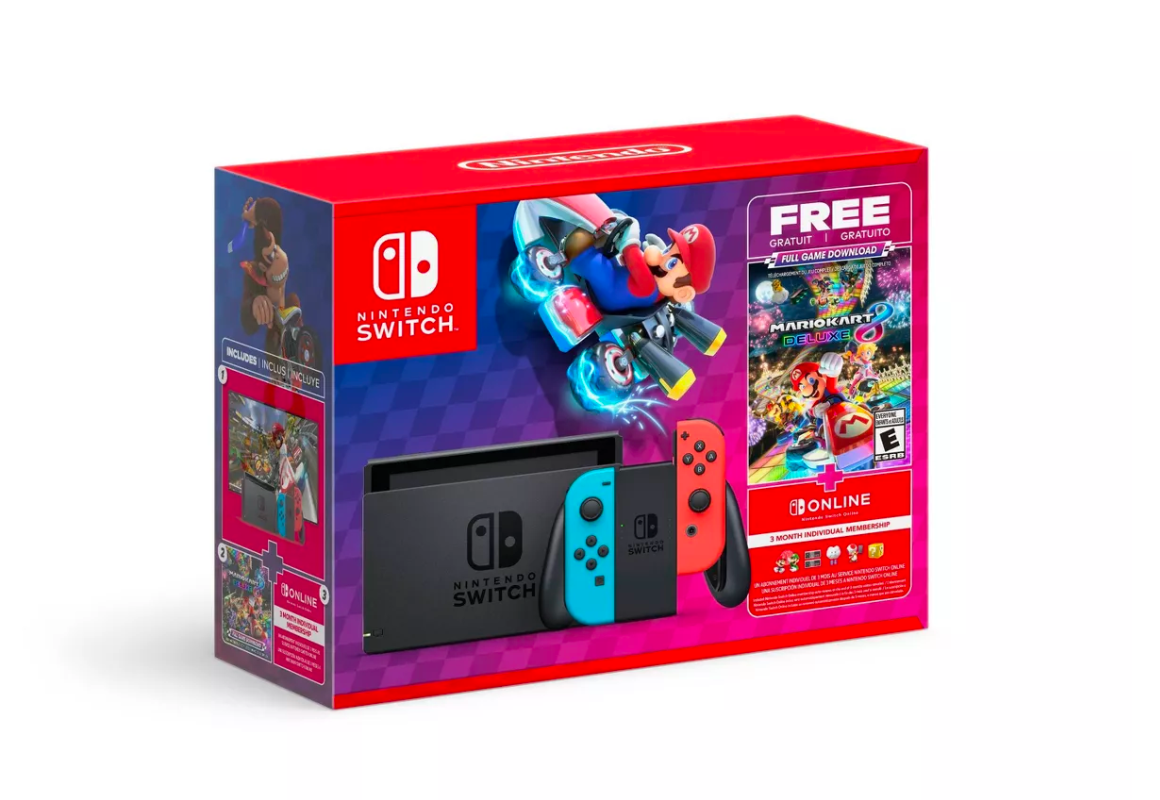 As low as
$285.99
$299.99
(5% Off)
MOBILE COUPONS NEEDED
PRICE SUMMARY
Free copy of Mario Kart 8 ($60 value) and 3 months free online membership ($5 value)
PRICE SUMMARY
Free copy of Animal Crossing: New Horizons ($60 value)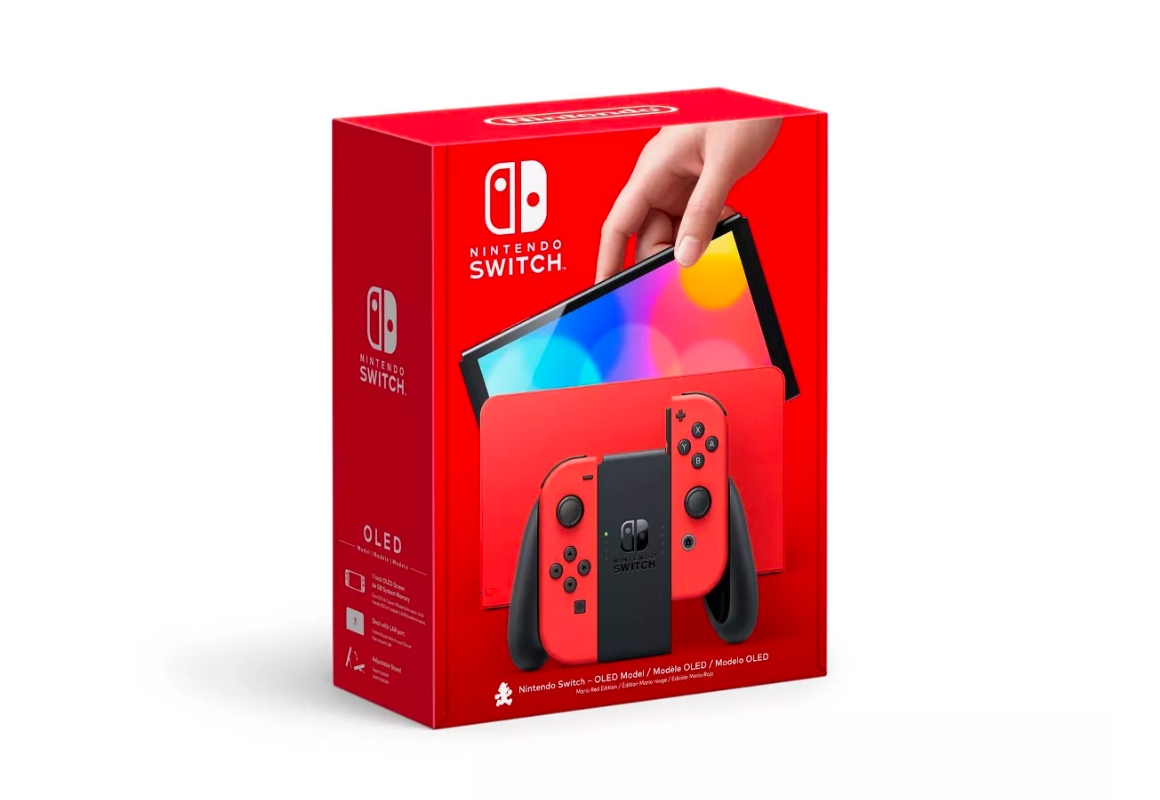 PRICE SUMMARY
Price when you purchase online. Pre-order now before release date of Oct. 6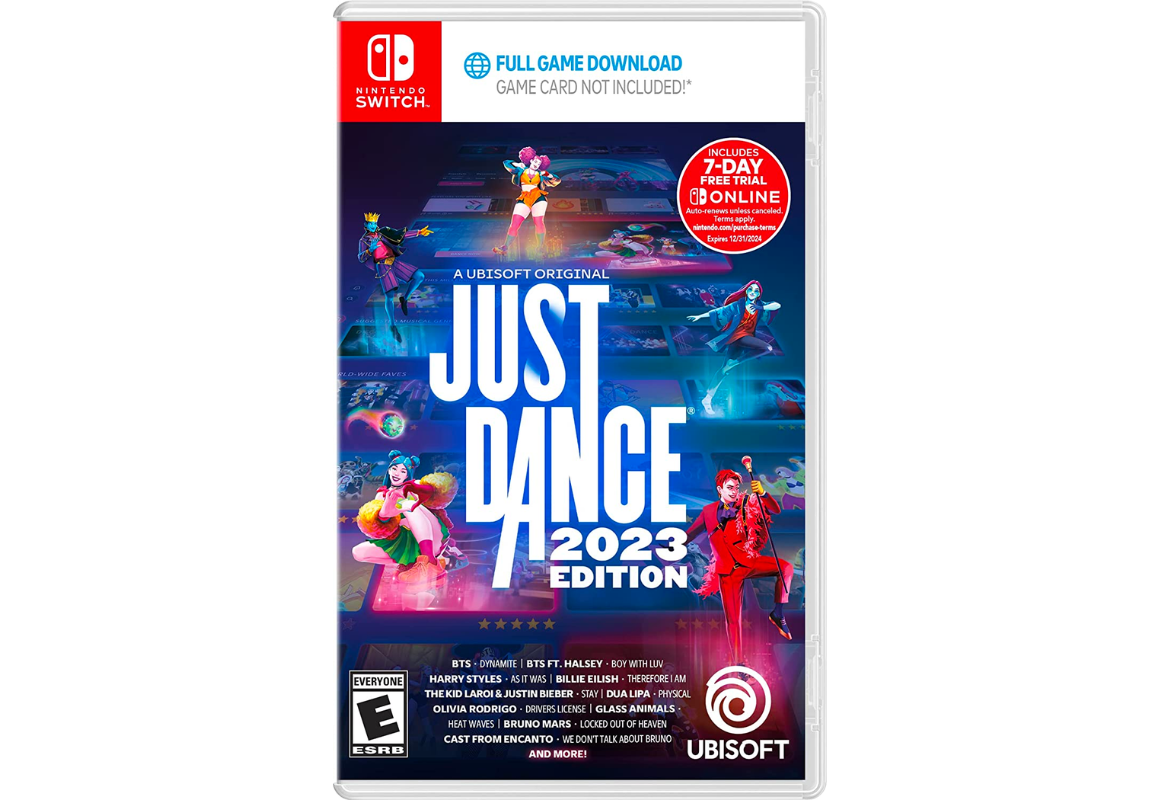 As low as
$18.99
$59.99
(68% Off)
MOBILE COUPONS NEEDED
Shipping:
Free with RedCard or on orders of $35+
1. Save $67.99 on Nintendo Switch bundles from Best Buy during Black Friday.
The most reliable time to find Nintendo Switch deals has been around Black Friday. Retailers such as Walmart, Best Buy, Target, and even Kohl's sell bundled packages that include the Switch, a major video game title, and other accessories or subscriptions.
The Best Buy deal has in years past been the only one to include an online subscription in its bundle:
Buy 1 Nintendo Switch Neon Blue/Neon Red Joy-Con + Mario Kart 8 Deluxe (Download) + 3-Month Nintendo Switch Online Membership $299.99, special buy
Free shipping on orders of $35+
Final Price: $299.99
Why is this deal so awesome? Mario Kart 8 Deluxe retails at $60 and three months of Nintendo Switch Online would cost $7.99. You just saved over $65!
2. Use your Target RedCard for early Black Friday sale access and $75 off their Nintendo Switch Bundle.
Target RedCard holders will get early access to special deals and offers for sales like Black Friday, which includes Nintendo bundles and games. This is awesome, as they tend to sell out super fast. And of course, you'll get the extra 5% off for using your RedCard.
Buy 1 Nintendo Switch Mario Kart 8 Deluxe Bundle $299.99, regular price
Use RedCard for 5% off
Use RedCard for free shipping or free shipping on orders of $35+
Or free store pickup or "Drive Up"
Final Price: $284.99
3. Earn $120 in Kohl's Cash when you buy their Nintendo Switch Bundle pre-Black Friday.
Kohl's charged $80 more for its Nintendo Switch bundle than what we've seen from Best Buy in years past. But hear me out: The overall savings from Kohl's were better for those who bought during a Kohl's Cash earn period — which hit in early November 2020.
Buy 1 Nintendo Switch Console with Mario Odyssey Game & Red Dual Joy-Con Charger $379.99, regular price
Spend $50, receive $15 Kohl's Cash through Nov. 27, no limit
Spend $100, receive $5 Kohl's Rewards, no limit
Free shipping on orders of $75+ or free curbside pickup
Final Price: $379.99, plus $15 Kohl's Rewards and $105 Kohl's Cash redeemable Nov. 28-Dec. 9
Kohl's Switch bundles have looked different since then — some include two big-name games as well as a screen protector, for example.
The point is: If you're planning to gift clothes during the holidays or even want to splurge on yourself, these Kohl's Cash savings provide a better return than any Nintendo Black Friday deal we've seen. One time, I used my Kohl's Cash to buy all of my stocking stuffers and holiday party hostess gifts.
4. Buy Mario games for $25 – $45 off on Mario Day, March 10 every year.
If you miss out on one of the Black Friday bundles, that doesn't mean you missed out on your chance for discounted Mario games.
Many retailers offer deals on Mario titles and even consoles on Mario Day, written "Mar10." Get it? Doesn't matter. Here are the deals I've seen in 2021:
Nintendo.com 35% off select Mario games through March 13
BestBuy.com Save $45 on Mario games for Switch one day only
Target.com $20 off select Mario games for Switch, plus Target Circle offers to save an additional 10% on electronics.
Walmart.com save anywhere from $10-$20 on Mario games for Switch
5. Stack the Target RedCard 5% off on top of a 10% off electronics Circle offer.
If you're wondering, yes you can stack the RedCard savings on top of the Black Friday and Mario Day sales and use the 10% off electronics Circle offer! Cha ching!!
Buy 1 Super Mario Maker 2 for Nintendo Switch (reg. $59.99) $38.99, sale price through March 13
Or Super Mario Party for Nintendo Switch (reg. $59.99) $38.99, sale price through March 13
Or Mario & Sonic at the Olympic Games: Tokyo 2020 for Nintendo Switch (reg. $59.99) $38.99, sale price through March 13
Use RedCard or 5% off
Use RedCard for free shipping or free shipping on orders of $35+
Or free store pickup or "Drive Up"
Final Price: $37.04
6. Save $9 on Nintendo eShop gift cards from Raise.com.
Nintendo $50 eShop gift cards are $4 off at Raise.com, but boosting those savings to 18% is as easy as signing up for a Raise account with a new email address and phone number.
If you can do that, you'll take $9 off a $50 Nintendo eShop gift card, which is stackable with Nintendo's rewards points.
Buy 1 $50 Nintendo eShop eGift Card (reg. $50) $46, sale price through Nov. 11
$5 account credit for new users
Electronic delivery
Final Price: as low as $41
7. Earn Nintendo Rewards with My Gold Points to save 40 – 60% on indie games.
Whenever you buy a physical or digital Nintendo game while you're signed in to your Nintendo account, you can get rewards back in the form of My Nintendo Gold Points.
Here's how it works: You get 1% back on physical purchases and 5% back on eShop purchases. On a $60 eShop buy, that amounts to $3.
I've usually put these rewards toward additional savings on indie games, which frequently get marked down to less than $10—sometimes as low as $1.99. Gold Points are also stackable with eShop gift cards, though, and can boost your gift card savings by as much as 5%.
8. Buying pre-owned consoles from GameStop only saves you $15 – $20.
Buying GameStop's Refurbished Nintendo Switches will reliably save you between $15 – $20, but not much more. GameStop clerks told me that this is because Switches hold their value really well right now.
If your product has any issues, return it for a refund in the first seven days. You have 30 days for an exchange.
9. Save $20 – $30 on used Nintendo Switch controllers on Facebook Marketplace.
I've bought a Nintendo Switch Pro controller in good condition for $40 through Facebook Marketplace. That's $30 off the regular price! And it's $13 cheaper than refurbished Pro controllers from GameStop.
I made my purchase from a local seller, which meant I avoided shipping costs, too.
10. Scan Nintendo's eShop for 60 – 90% off major and indie games.
Nintendo.com always has a list of deals and specials on their website that are totally worth checking out. This includes direct links to deals from retailers like Walmart, Target, and Amazon.
They also have a list of discounted games you can download directly from Nintendo online. I've found big-name titles at 60% off (read: under $15), including Borderlands and the LEGO Harry Potter Collection, as well as highly reviewed indie games such as The Garden Between for $4.39. That's 78% off!
11. Join Amazon Prime to get release date delivery and special offers.
Release date deliveries are free for Prime members when two-day shipping is selected. Rather than waiting in line at the store for a newly released game, preorder it through Amazon and get it delivered to your home that day.
Amazon Prime members can also get access to offers like a free year of Nintendo Switch Online.
12. Trade in old games or consoles at GameStop for up to $300 in store credit.
Get more for your Gamestop trade-ins when you opt for store credit instead of cash. The first generation Nintendo Switch with Neon Blue and Neon Red Joy-Con can be traded in for $175 store credit or $140 cash.
Gamestop also offers trade-in bonuses, like an additional $25 towards the Animal Crossing-themed Switch if you trade in your old model.
13. Save $100 if you opt for the Nintendo Switch Lite.
The Nintendo Switch Lite was released in September of 2019 as a smaller, budget-friendly option. The Switch Lite only supports games that can be played in handheld mode on the device, not ones that can be played on a bigger screen.
The Switch Lite also integrated the Joy-Cons into the main hardware, so they are not removable pieces like with the original Switch. The retail price for the Switch Lite is $199.99, $100 cheaper than the original.
14. Keep up with Nintendo deals on Reddit.
If you're looking for Nintendo Switch deals, Reddit is a great resource 'cause gamers don't play. Er…they do, but not when it comes to deals. The r/NintendoSwitchDeals subreddit is extremely active, and they post sales on physical games, digital games, and accessories.
The r/3DSdeals subreddit is also a good spot, but less active, since it's an older console.
15. Buy Nintendo from stores with great return policies.
When you're searching for Nintendo sales and deals, like with any electronics, buy from stores or sites with great return policies. Let me tell you now, physical stores tend to be better as you don't have to pay return shipping. Here are some return policies you should be familiar with:
What are your favorite Nintendo deals? Drop 'em in the comments below. Thanks for reading!