We're reader-supported and only partner with brands we trust. When you buy through links on our site we may receive a small commission at no extra cost to you. Learn More. Product prices and availability are accurate as of the date and time indicated and are subject to change.
If you're a huge fan of Friends and Polly Pocket, you're going to love the new Polly Pocket Friends Collectible Compact — however, fair warning: It's around $50 and it already sold out for pre-orders on Target, Entertainment Earth, and Amazon. It was briefly in stock on Walmart.com, but not for long. And now, we're keeping a close eye on the next restocks.
Like other nostalgic toys including Legos, Furby, and Barbie, The Polly Pocket brand resurged with a new line of collectibles. In fact, after the success of the Barbie movie, a new Polly Pocket movie is already in the works.
The beloved TV series Friends comes to life in the newest Polly Pocket Collectible. The iconic Central Perk coffee cup exterior opens to reveal three nostalgic locations from the show. Plus, Polly Pocket friends can hang out at Central Perk (or their famous, purple apartment) with all six character micro dolls. There are also fun accessories and even a few "Easter Eggs" (surprises) for the show's die-hard fans.
Download The Krazy Coupon Lady app for more money-saving tips, deals, and coupons. Here's what we know about the new Polly Pocket Compact:
The Polly Pocket Friends Collectible Compact dropped on Aug. 3 and is currently out of stock.
The Polly Pocket Friends Collectible Compact arrived on August 3, 2023. Because this $50 collectible is so hot, preorders are already sold out on Target, Entertainment Earth, and Amazon.
We've also seen availability on Walmart.com, but it's currently out of stock. Stay tuned — we'll let you know when this must-have collectible returns.
Related: These expert tips show you how to unlock Walmart hidden clearance.
What does the Polly Pocket Friends Compact include?
Shaped like a Central Perk coffee mug, The Polly Pocket Friends Compact comes with six main character micro dolls (Ross, Rachel, Monica, Phoebe, Joey, and Chandler) and nine accessories, including the infamous turkey Monica stuck on her head for Chandler. It also comes with three iconic Friends locations (their kitchen, living room, and the Central Perk coffee shop) as seen on the show. The set even includes a few Easter eggs for die-hard fans to sniff out.
Check out other Polly Pocket Keepsake Collection Compact sets under $50.
In addition to the new Polly Pocket Friends Compact collectible, Mattel has a few other keepsake compacts available. Here are a few we found at Amazon:
Polly Pocket Keepsake Collection Mermaid Compact
Here's a never-before-seen seashell-shaped Polly Pocket Keepsake Collection Mermaid Dreams Compact. This compact includes two mermaid dolls, and a treasure chest adorned with a golden finish. Plus, there's a clam that opens to reveal a wearable 'pearl' ring.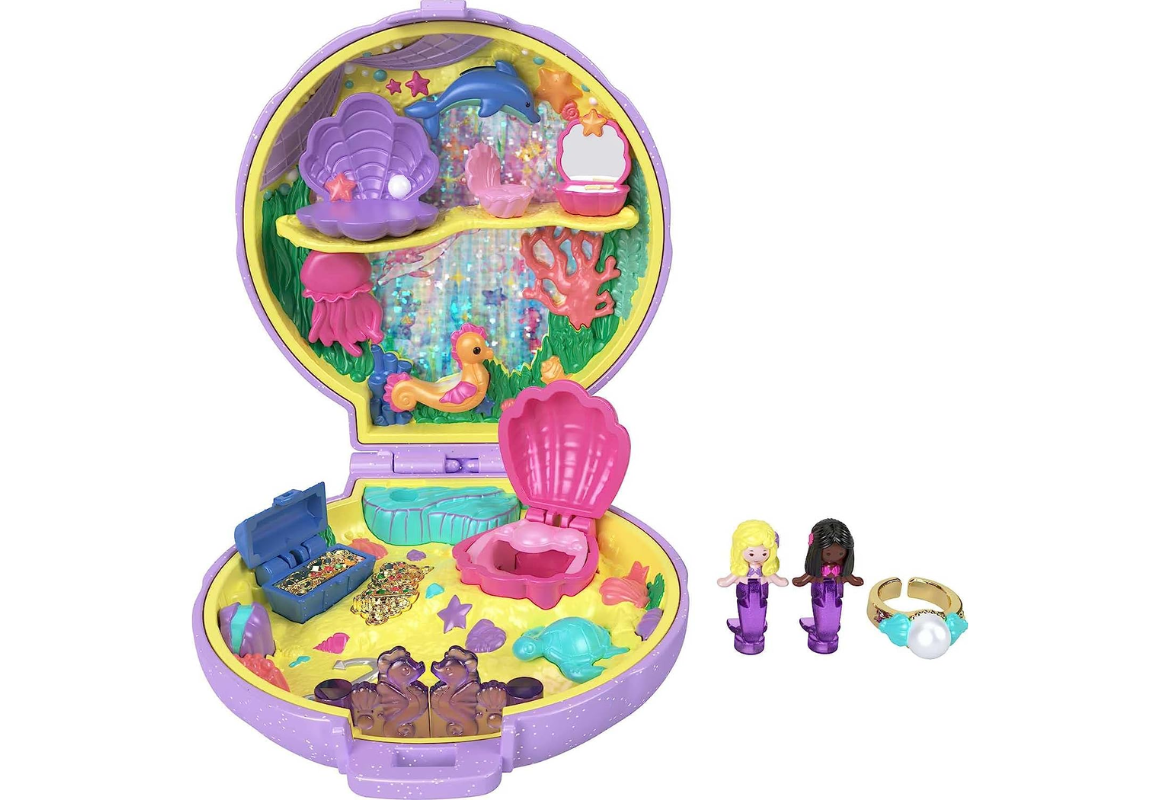 Shipping:
Free with Walmart+ or on orders of $35+
Polly Pocket Starlight Castle Heritage Keepsake Collection Compact
This special edition Polly Pocket Collector Compact is a recreation of the popular 1992 Polly Pocket Starlight Castle Compact. The collectible includes a Polly doll, a prince doll, a horse and carriage, a swan, and a unicorn. Other features include lights that turn on, an updated enchanted castle (that really opens), and a garden with a secret door.
Polly Pocket Starlight Dinner Party Keepsake Compact
The Polly Pocket Starlight Dinner Collectible Compact from the Keepsake Collection is an updated take on a classic playset. It includes three dolls, two of which are Polly Pocket figures, each clothed for either daytime or nighttime. This set also features a table that can be flipped to reveal a 3-course dinner setting, a functional refrigerator, and a light-up dressing room. Plus, it has additional working lights which switch between day and night modes.