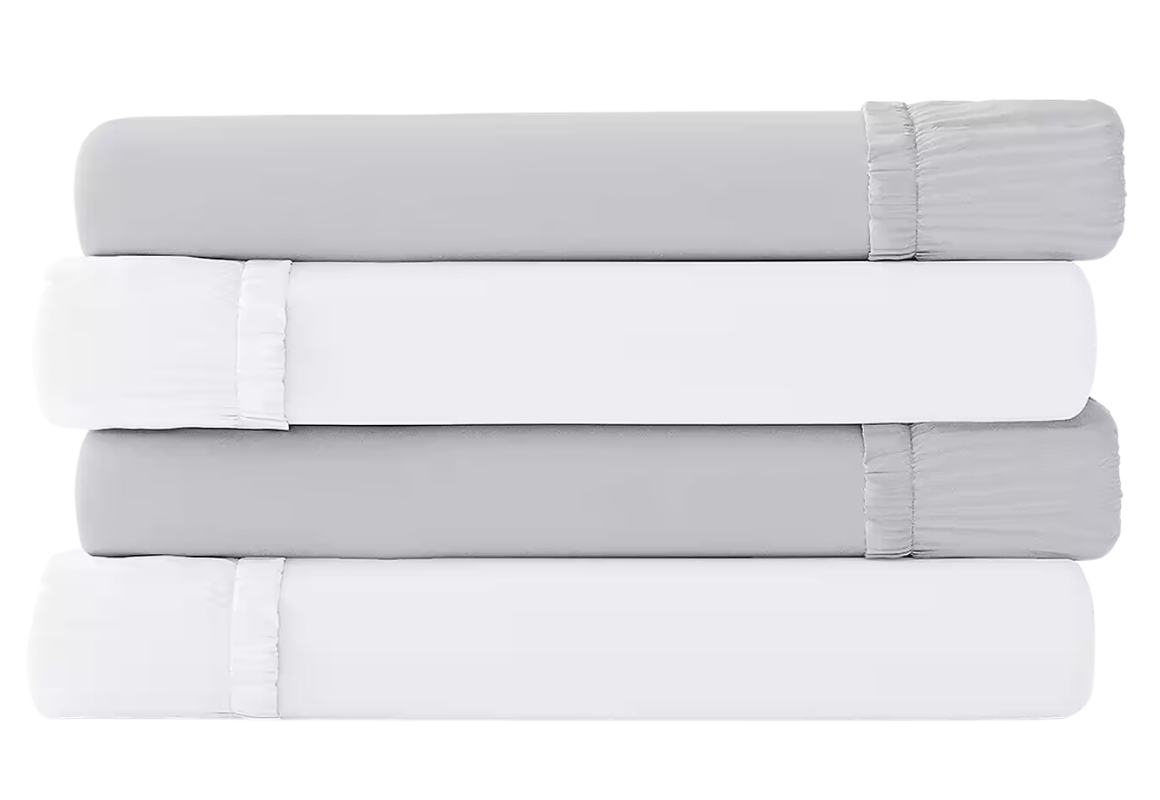 As low as
$16.49
$55.00
(70% Off)
Shipping:
Free on orders of $75+ or free ship to stores on orders over $25
Get all the new deals and savings hacks straight to your inbox
Do you catch yourself looking for the best deal on sheets at the last minute? Get yourself a 4-pack set of Casual Comfort Cotton Microfiber sheets on clearance ahead of time at
JCPenney
. You can get a twin XL set for $16.49, full for $17.99, or a queen set for $20.99. With savings of 70% on this, now's a great time to stock up. The best part is you're paying as little as $4.12 per set at these super low prices.
Save a ton of money with more of our best JCPenney shopping tips. You'll learn how to price match and all about how to use JCPenney Rewards. For example, it's important to note that JCPenney has a tendency to inflate prices by up to 30% to make their sales more enticing. Don't be fooled by the "sale" prices as they are often comparable to regular retail prices.
If you're a JCPenney rewards member or cardholder, take advantage of the fact that JCPenney allows up to ten $10 reward coupons per transaction. These coupons are earned through JCPenney's rewards program, with a $10 reward given for every 200 points accumulated. Additionally, JCPenney occasionally releases free shipping coupons, which can be combined with other discounts. Just keep in mind that some stores may not allow a discount with a free shipping coupon. However, you can stack various combinations of coupons, as long as the discount doesn't exceed the purchase price.
Even after making a purchase, JCPenney allows price matching within 14 days. If you find the same item advertised for a lower price elsewhere, simply bring in the local competitor ad, and JCPenney will refund you the difference. Similarly, if you notice a price drop on an item you recently purchased during that 14-day window, you can request a price adjustment.
Save a ton of money with our best JCPenney shopping tips. You'll learn how to price match and all about how to use JCPenney Rewards. I also suggest finding out how to decode clearance and markdowns to know you're getting the best prices from stores like JCPenney, Macy's, Old Navy, and more.
And shop for more killer deals with these hot prices on home deals. Always on the go? Download the KCL app and curate your home page to get notified about the deals you're interested in right when they go up. If you prefer email, sign up for the KCL newsletter and get the best deals delivered right to your inbox.
Text JCP to 57299 and be the first to know about the hottest deals each day.