The product image shown in the header is for illustrative purposes only and isn't an exact match to the item we've written about in this post. The product is a different size, color, and/or variety.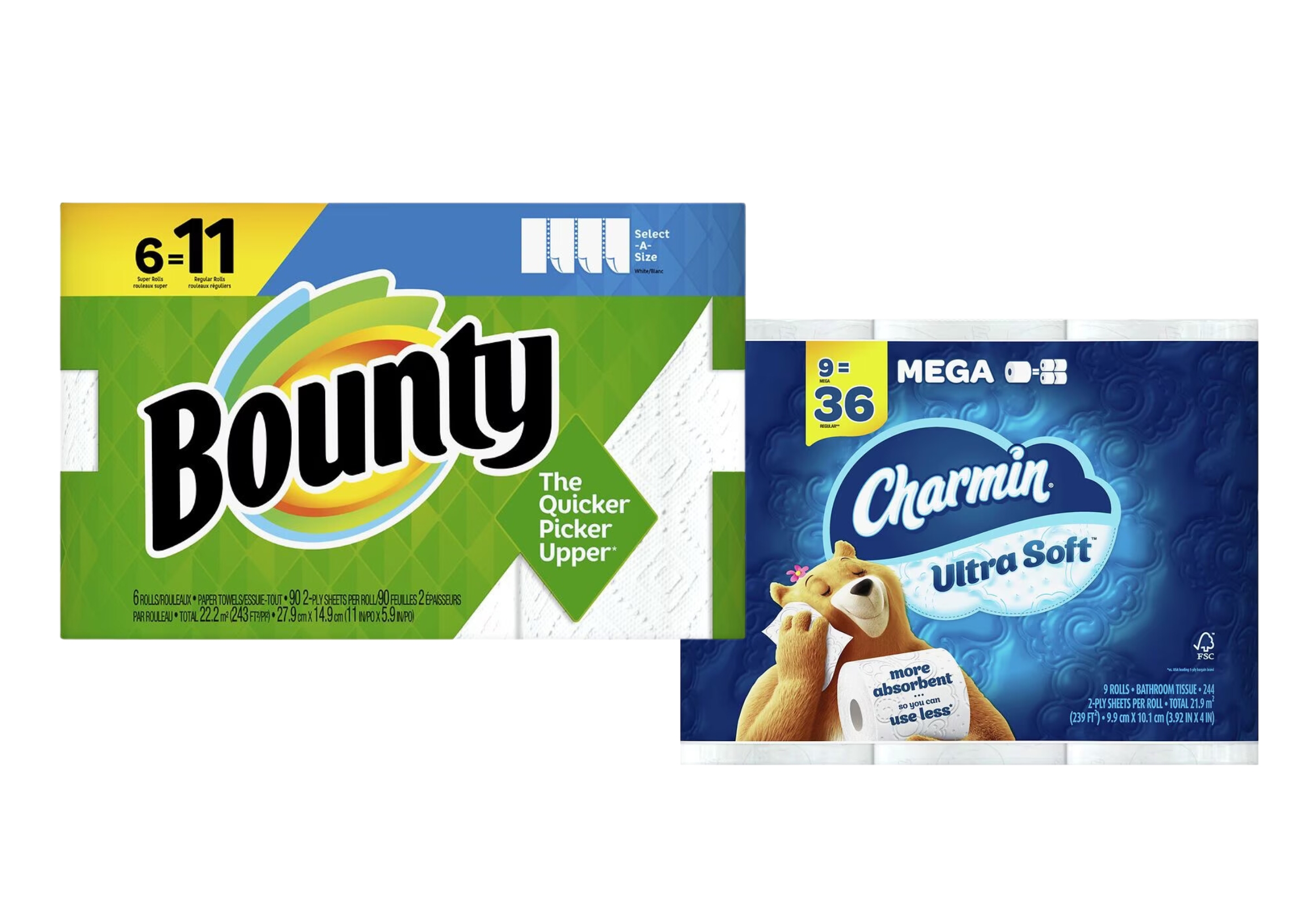 Buy 2, receive $6 Register Reward
PRINTABLE COUPONS NEEDED
PRICE SUMMARY
Pay $17.98, receive $6 Register Reward
$5.99 each / Bounty, $0.02 per sq ft / Charmin, $0.03 per sq ft
Get all the new deals and savings hacks straight to your inbox
There are a couple of
rare printable coupons for Bounty and Charmin
available. Read for more details, and then head to Walgreens to pick up a 6-pack of Bounty paper towels and a 9-pack of Charmin toilet paper. Printable coupons can only be used in-store, so this deal wouldn't work on an online pickup order.
You should receive a $6 Register Reward for buying two, but if it doesn't print, let the cashier know. It helps to have the weekly ad pulled up on your phone to verify the offer. If you don't notice it until after you've already checked out, feel free to contact Customer Service.
As you may already know, toilet paper and paper towel sizes all vary. So how do you know you're getting a good deal? Check out KCL's guides to getting cheap toilet paper and how to save on paper towels. Hint: calculating square footage per pack is the best comparison method.
If you love shopping at Walgreens, consider downloading the Walgreens app to increase your savings on every shopping trip. You'll be able to order groceries right from your phone and get app-exclusive coupons.
Then be sure to download the KCL app to get familiar with all of the best deals Walgreens has to offer. The Walgreens weekly ad is where you'll find current coupons and deals. Don't forget to bookmark the Walgreens coupon policy in case you run into any issues.
Store sales and promotions can vary by region. Before shopping, check your local ad to confirm that this deal is available in your area.
Text WALGREENS to 57299 and be the first to know about the best Walgreens deals.