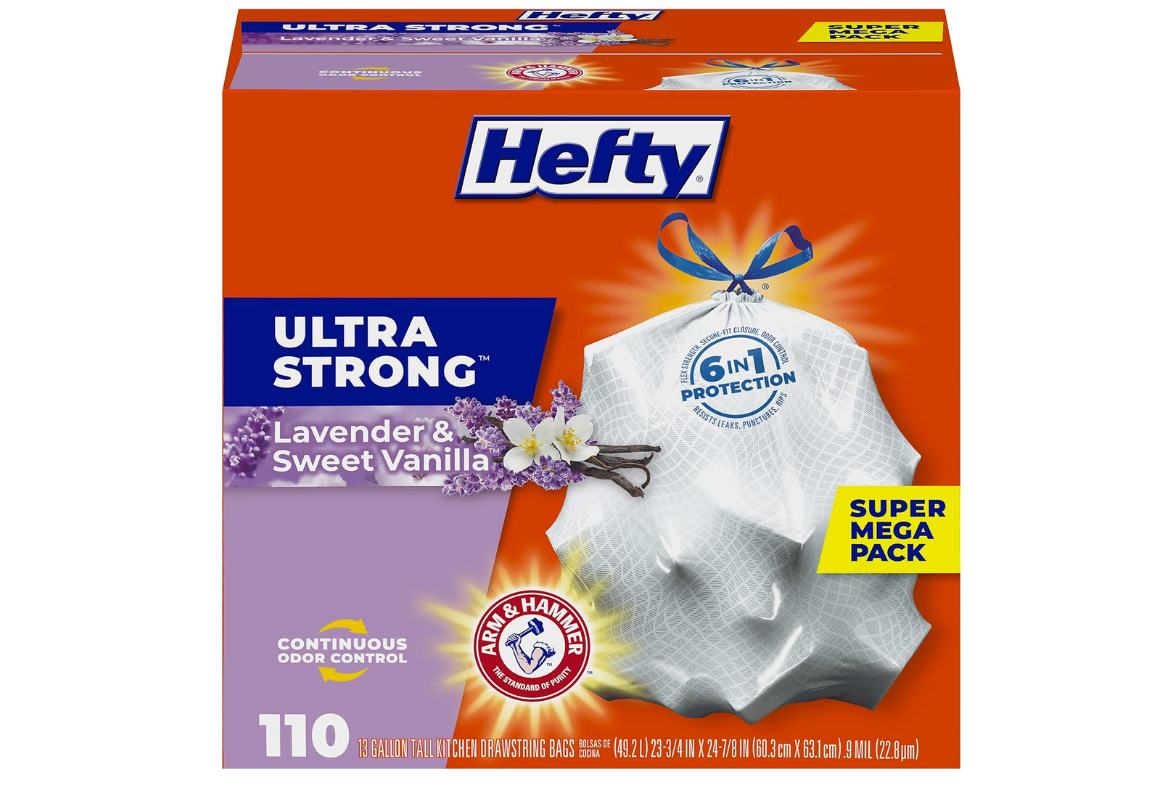 As low as
$31.17
$61.56
(49% Off)
5% or 15% off with Subscribe & Save
MOBILE COUPONS NEEDED
20% off - Hefty Ultra Strong Kitchen Trash Bags, Lavender & Sweet Vanilla, 110 ct, Amazon Coupon, Limit 1
PRICE SUMMARY
$15.59 each / $0.14 per bag
The product image shown in the header is for illustrative purposes only and isn't an exact match to the item we've written about in this post. The product is a different size, color, and/or variety.
Score two boxes of Hefty Ultra Strong Trash Bags from Amazon. Each box contains 110 bags, so you'll receive 220 bags in total. To spend less, you'll want to clip the coupon located beneath the list price for 20% off of your order. Then try taking advantage of this limited time multibuy offer: spend $50, save $15. To reach this amount, add two boxes to your cart.
To save more, you'll want to check out through Subscribe & Save for up to 15% off. Subscribe & Save is a service offered by Amazon that allows customers to receive regular shipments of select items they use frequently, such as household goods, personal care items, and groceries. With it, spend only $31.17 for both boxes. Discover exactly how Amazon Subscribe & Save works.
Consider signing up for the KCL newsletter to receive daily updates sent to your inbox on the latest and greatest deals our team has discovered. Keep in touch with us further when you download the KCL app, and keep your coupons handy and stored right on your phone.
Text AMAZON to 57299 and be the first to know about the best Amazon deals.