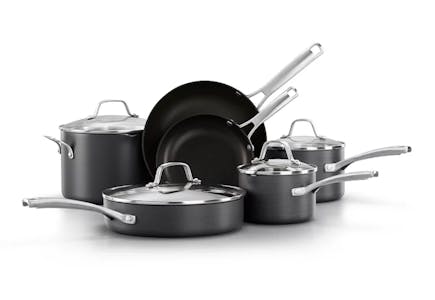 Spend $50, receive $15 Kohl's Cash Nov. 23 - Nov. 24
Spend $100, receive $5 Kohl's Rewards
Shipping:
Free on orders of $25+
PRICE SUMMARY
Pay $114.74, receive $5 Kohl's Rewards and $30 Kohl's Cash redeemable Nov. 25 - Dec. 6
Get all the new deals and savings hacks straight to your inbox
In need of a new cookware set? Grab the Calphalon Classic 10-Piece Hard-Anodized Nonstick Cookware Set this week at Kohl's. You'll find the highly rated set marked at $149.99, regularly $249.99. But that's not all; if you're a Kohl's Rewards member you can use code GET10 to save an extra 10% on kitchen items, plus GOSHOP15 to save an additional 15% on your order. Pay just $114.74 at checkout.
Not a rewards member? Sign up today for free.
The icing on the cake? All shoppers will earn $10 Kohl's Cash for every $50 spent at checkout; plus if you're a Kohl's Rewards member, you'll get an additional $5 back in rewards for every $100 you spend. That's a total of $25 for you to use towards a future purchase, brining your final price down to just $102.49.
Text KOHLS to 57299 and be the first to know about the best Kohl's deals.