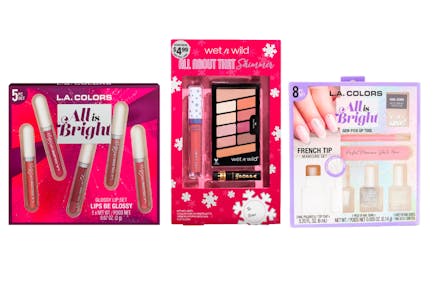 Spend $15, receive $7 ExtraBucks, limit 2
PRICE SUMMARY
Pay $14.97, receive $7 ExtraBucks
Get all the new deals and savings hacks straight to your inbox
Stock up on L.A. Colors and/or Wet n Wild cosmetics gift sets for only $2.66 each at CVS. Through Nov. 25, use your CVS account, and you'll receive $7 in ExtraBucks when you spend $15 on gift sets. You can do this deal twice if you'd like. You won't need any coupons; just purchase three gift sets of your choice at a regular retail price of $4.99. Your out of pocket cost will be $14.97, and you'll receive $7 in ExtraBucks.
You can minimize your costs by using ExtraBucks rewards you may already have in your account.
Store sales and promotions can vary by region. Before shopping, check your local ad to confirm that this deal is available in your area.
Text CVS to 57299 and be the first to know about the best CVS deals.