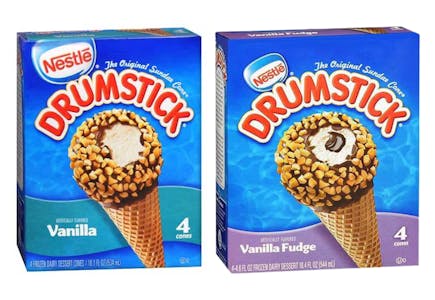 REBATES TO SUBMIT
Pickup:
Free on orders of $10+
PRICE SUMMARY
Pay $9.00, submit for $5 Ibotta credit and 655 kicks Shopkick credit
Plus 655 kicks Shopkick credit
Get all the new deals and savings hacks straight to your inbox
Looking for a sweet, wallet-friendly treat? Look no further — Nestle has a few offers that can be stacked to pay just $2 for a box of four Drumstick ice cream cones at Walgreens. You can shop this deal in stores or online with a $10 order. If you shop online, just make sure to ask for your receipt when you pick up, as they usually don't automatically give you one unless you ask.
Once you've checked out, open the Shopkick offer, then scan the barcode while you're still in the store to claim five kicks. This can only be scanned once, which is why you earn 655 kicks instead of 660. Then, submit your receipt on both the Shopkick and Ibotta apps. Keep in mind that these offers vary by user. Approximately 250 kicks convert to $1. Learn more info on using rebate apps to save big on everyday purchases.
Store sales and promotions can vary by region. Before shopping, check your local ad to confirm that this deal is available in your area.
Text WALGREENS to 57299 and be the first to know about the best Walgreens deals.