We're reader-supported and only partner with brands we trust. When you buy through links on our site we may receive a small commission at no extra cost to you. Learn More. Product prices and availability are accurate as of the date and time indicated and are subject to change.
The Scrub Daddy has taken TikTok by storm, especially amongst CleanTok. But its popularity actually began in 2012 when the viral sponge alternatives were featured on an episode of Shark Tank. The item has since been called "Shark Tank's most successful product to date." But why is there so much hype surrounding the cleaning product? What makes it different from any other sponge? And is it really worth the money?
I've scoured the Internet, and my kitchen, for answers. I'll tell you where to find the best prices, how to save money by recycling your sponges, everything about the seasonal Scrub Daddy shapes. Get ready to become an expert on the Internet's most popular sponge.
For more smart shopping tips and savings hacks, text HACKS to 57299 or download the Krazy Coupon Lady app.
Save 44% on the Scrub Mommy Sponge at Walmart:
The Scrub Daddy Scrub Mommy Sponge is on sale for $3.88 (reg. $6.88). It's available online or for store pickup: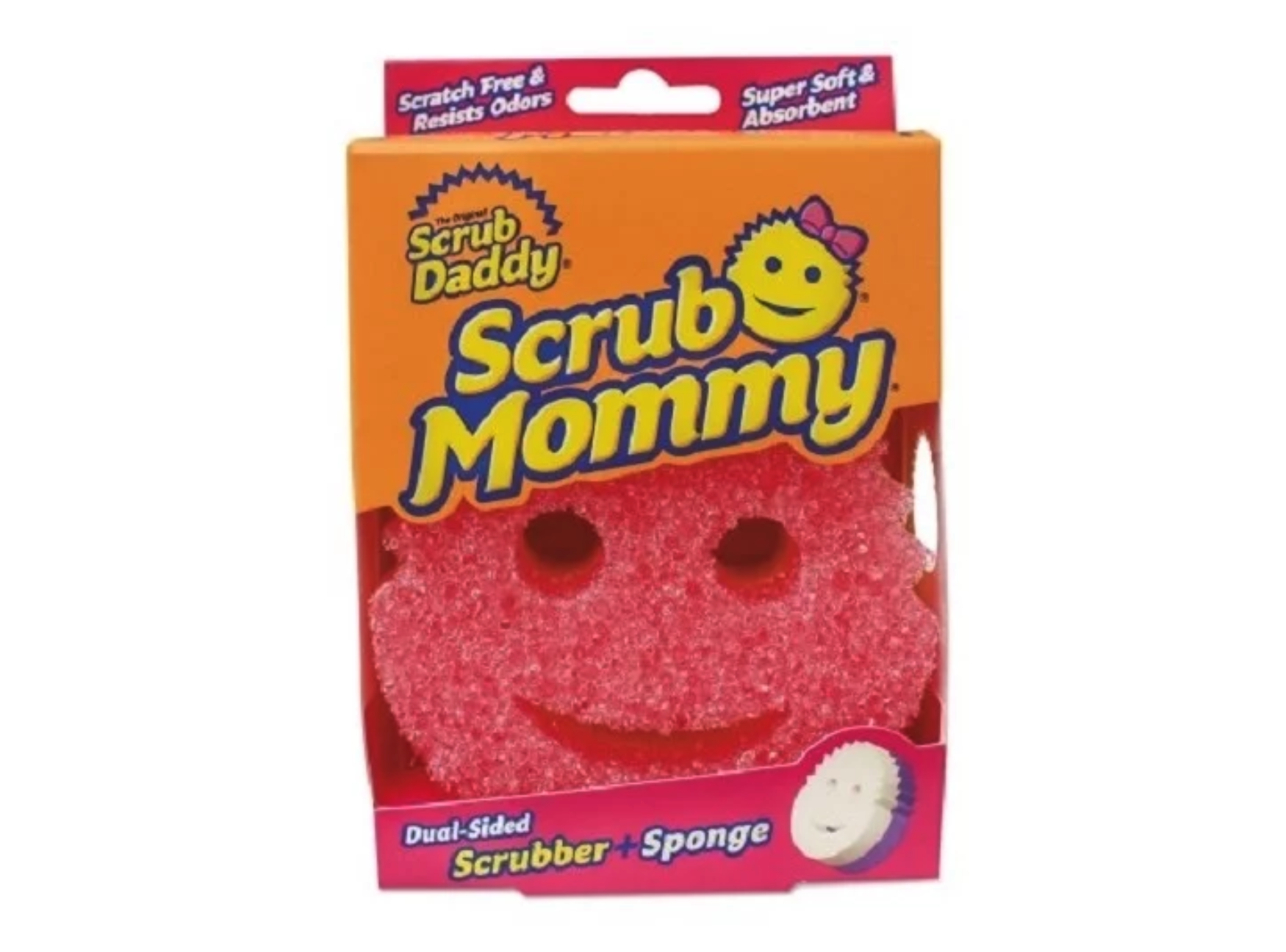 Shipping:
Free with Walmart+ or on orders of $35+
1. Scrub Daddy's signature face design is actually functional — it cleans utensils with the eyes and mouth.
Sponges in the olden days were made of actual sea sponges from the ocean, but now they're mostly made of plastic.
But Scrub Daddies are made of "highly engineered polymer foam," a.k.a FlexTexture. Essentially, it's a special material that softens in warm water but firms up when dry or in cold water. The firming feature is great when you need to really scrub some hard-to-remove food scraps or debris. Otherwise, the soft texture works perfectly for everyday use. Plus, the sponge is odor- and stain-resistant (tried and tested it myself, I agree!).
Another key design difference is the Scrub Daddy face, which is functional by the way. The smile is made to clean utensils in just one pass, rather than having to flip them over to clean both sides. As brutal as it sounds, I like using the eyeholes to clean chopsticks and straws.
And despite being pretty sturdy, it doesn't scratch surfaces. It's even ok for washing cars. When tested, it didn't scratch the paint.
RELATED: Grab Scrub Daddy Products at Target — Prices Start at Just $2.99
2. Scrub Daddy isn't the cheapest sponge brand at $3.99 per piece, but you can often find it on sale or at a discount.
You can buy at any nationwide big-box store, including Amazon, Walmart, Target, CVS, and Whole Foods. The brand is also sold at many regional grocery stores like H-E-B, Meijer, Kroger, Harris Teeter, and more. You can find a full list of Scrub Daddy retailers on their site.
Prices vary by location, but the OG sponge has a list price of $3.99 each. It's available for that price at the Scrub Daddy site and Target (but drop that price down to $3.79 if you use your Target RedCard). You can get it for $0.11 off MSRP at Walmart, where it retails for $3.88.
The only major store I would not recommend you shop for the viral scrubber is Amazon. At the time of publication, they're selling it for $5.99 — a whole $2 more than the list price.
3. Shop in bulk at Costco to find the cheapest price per sponge at $2.09 per piece.
We've seen Costco offer bulk 8-packs of Scrub Daddy for $16.79. That brings each sponge to $2.09 per piece.
4. Get paid when you send your used Scrub Daddy sponges in the mail.
One of the best ways to save on Scrub Daddy is to send 'em back when you're done with them. When you participate in the brand's Recycling Rewards program, you'll get money back for recycling. Basically, customers can earn $2 per item in credit or coupons towards future Scrub Daddy purchases. Here's how it works:
Create an account on SmileShop.ScrubDaddy.com.
When you're ready to recycle your Scrub Daddy product, log into your account. Click the "Recycling Rewards" tab.
Complete the short form detailing your address and order.
Hit "Create a Recycle Return."
Look out for an email from Scrub Daddy saying that your submission has been approved and your account has been credited.
5. To make your Scrub Daddy sponges last longer, throw 'em in the dishwasher.
Because of their durable quality, Scrub Daddies last way longer than other brand names. If you're like me, I mostly use mine for household dishes and washing the sink, so they last a few months. It should be reasonably durable if you don't use harsher chemicals like bleach. Dish soap, baking soda, and/or vinegar are usually enough to complete a basic household task.
By regularly cleaning your Scrub Daddy, you can make it last longer. And one of my favorite ways to clean a Scrub Daddy is to throw it in the dishwasher. Just make sure you only put it on the top rack. If you just want to do a quick sanitize, simply get the little guy just a bit damp and toss him in the microwave for 60 seconds.
And with any sponge, once it's no longer up to snuff for kitchen cleaning, you can demote it to the bathroom, or outdoors. That way you can use it for twice as long. But then again, you could always recycle it (see Tip 4)!
6. There's really no difference between opting for Scrub Daddy or Scrub Mommy.
A Scrub Daddy is made entirely of FlexTexture, i.e. the fancy polymer stuff. By comparison, the Scrub Mommy is double-sided with dual textures. One side is made with the signature polymer, while the other side is soft like a traditional sponge. From an aesthetic angle, the Scrub Mommy also has a little bow in her hair.
The bottom line, though, is that you can use either sponge for any cleaning job.
As low as
$3.79
$3.99
(5% Off)
MOBILE COUPONS NEEDED
5% off - Target RedCard Savings
Shipping:
Free on orders of $35+
7. The brand comes out with various shapes every season or holiday. But they cost more, at up to $5 each.
Scrub Daddy often has different designs for different occasions. Holidays like Halloween and Mother's Day get special shapes and colors that fit the theme. There are also seasonal offerings to commemorate the start of spring, summer, or the winter holiday season.
These are limited-stock products, so they'll cost more at up to $5 each. While they do cost more, these shapes tend to be in demand and sell out quickly. Here are some you can still shop now:
Is Scrub Daddy worth the money?
Let's compare the price of the Scrub Daddy to the price of a standard sponge. A cheap four-pack of kitchen sponges from Scotch-Brite is $2.79 at Target, or $0.69 each. That's a pretty typical price for a sponge, not counting sales or special deals.
By comparison, a Scrub Daddy is $3.99 each. That's $3.30 more than a single Scotch-Brite sponge. However, the quality of a Scrub Daddy is overall better. They're sturdier than a standard sponge and have more scrubbing capability since you can control the firmness. They're also odor resistant for up to eight weeks, as well as mold resistant and easy to clean. A traditional sponge can't be put in a dishwasher, but a Scrub Daddy can.
To make a long story short, if you just want the cheapest option at a moment's time, then you probably don't want a Scrub Daddy. But if we're talking value and overall payout, I would say a Scrub Daddy is a better choice because of its long-lasting quality and additional features.