We're reader-supported and only partner with brands we trust. When you buy through links on our site we may receive a small commission at no extra cost to you. Learn More. Product prices and availability are accurate as of the date and time indicated and are subject to change.
If you've got teen boys in your family or a teen heading off to college this fall, chances are they're all about AXE. Earlier this year, AXE launched their Fine Fragrance Collection and the new scents went viral on TikTok. But if you're looking for a deal, now's the perfect time to stock up on AXE Body Spray and Axe Stick Deodorant because you can get them for 67% off at Walgreens.
Here are five reasons why I'm stocking up on AXE at my house. Be sure to text HACKS to 57299 for all our money saving secrets.
1. Now through July 29, AXE Body Spray and Deodorant is on sale for $5 at Walgreens.
Right now, AXE is Walgreens' $5 Deal of the Week. So while a 4 oz. bottle of AXE Body Spray usually costs $9.99, you can get it for just $5. That's a 50% savings. Plus, 2.6 oz. sticks of AXE Deodorant are marked down from $7.99 to $5, saving you over 37% off the regular price.
2. If you buy two AXE products, you'll also get a $4 reward to use on a future Walgreens purchase, which brings your final price on each item down to $3.
On top of the heavy discount, Walgreens is also offering a $4 Register Reward at checkout when you purchase 2 AXE products. That Register Reward brings your total savings to 67% off the regular price. That's like getting each product for $3 — and we haven't seen AXE products priced this low all year.
Related: Over $49 of Groceries for $5.49 with MyW Days — Today Only!
3. You'll save almost $60 if you stock up on AXE stick deodorant now, instead of buying it monthly for a year.
With Walgreens' current deal, you can get a 2.6 oz stick of AXE deodorant in Blue Lavender for just $3, which is less than half the regular price of $7.99. So if you stocked up right now and bought 12 sticks, your final cost would be $36. But if you waited and bought the same deodorant once a month when it wasn't on sale, you would end up paying $95.88. By stocking up now, you're saving yourself $59.88 over the course of a year. That's smart shopping to us.
4. AXE deodorants and body sprays have a shelf life of two years, so you can buy them in bulk.
Usually when products are priced so low, there's a limit on how many you're allowed to buy. But there are no restrictions on this sale. And with everything from gas to groceries getting expensive, I'm stocking up big time. Since deodorant and fragrances have a shelf life of two years, I know they won't go to waste.
5. AXE's Fine Fragrance Collection comes in five different scents.
Usually, we'll see a brand launch one new fragrance at a time, and if you don't like it, tough luck. But AXE's Fine Fragrance Collection has five new scents: Blue Lavender, Green Geranium, Aqua Bergamot, Golden Mango, and Pure Coconut. So if your partner prefers cedar scents (Green Geranium) but your teen is more into citrusy ones (Golden Mango), you'll have plenty to choose from.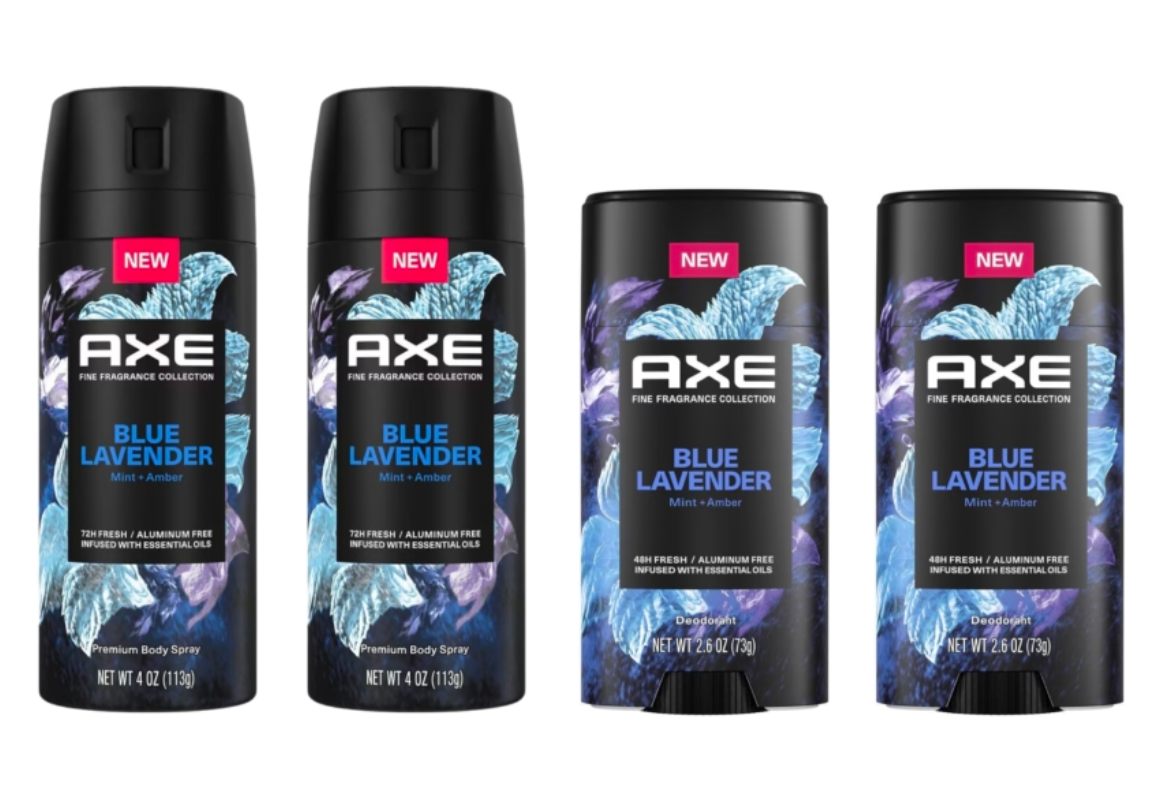 Spend $20, receive $5 Register Reward
PRICE SUMMARY
Pay $20.00, receive $5 Register Reward