Do you know that feeling in the evening when you'd rather do absolutely anything other than cook dinner? SAME. On those nights when I can't bring myself to spend time in the kitchen, my go-to dinner is cheap frozen pizza. It's quick, easy, and pretty dang affordable.
But which cheap pizza is actually the best bang for your buck? We broke down the prices of five popular frozen pizza brands that you can find at your local Walmart. For comparison, we stuck to the supreme toppings and calculated the per-ounce price. To do this at your store, just open your calculator app and enter the pizza's price ÷ the total ounces to get the price per ounce.
It probably comes as no surprise that Walmart's Great Value brand is, well . . . a great value. A 29.5-ounce supreme pizza at just $0.14 per ounce beat the competition by $0.04 – $0.15 per ounce. We also looked at Red Baron, Tombstone, Jack's, DiGiorno, and Screamin' Sicilian. See how the prices of the slices stack up below.
For more smart shopping tips, pizza coupons, and savings hacks, text HACKS to 57299, and be sure to download the Krazy Coupon Lady app.
1. Walmart's Great Value Rising Crust Supreme Pizza has the best per-ounce value at $0.14.
Walmart's version of the rising crust pizza that many of us love rings in at the best value per ounce. At under $4.50 for the entire 29.5 ounce pizza, you're paying just $0.14 per ounce.
Walmart price: $4.44

Size: 29.5 ounces

Price per ounce: $0.14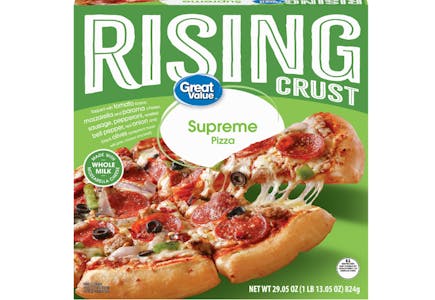 2. Red Baron Classic Crust Supreme Pizza is a close second at $0.19 per ounce.
Red Baron's pizza is only a few cents more expensive. However, with fewer ounces, it means that the per-ounce price is $0.04 higher at $0.19.
Walmart price: $4.47

Size: 22.95 ounces

Price per ounce: $0.19
3. DiGiorno Rising Crust Supreme Pizza at $0.22/oz is pretty affordable for such a well-known brand.
Although DiGiorno came in third on our list, I was surprised by the value. This is a fan-favorite cheap frozen pizza and though you're paying close to $7, the size of the pizza makes it a pretty decent value. Unlike the next two on our list.
Walmart price: $6.96

Size: 31.4 ounces

Price per ounce: $0.22
4. Original Tombstone Supreme Pizza has a cheap price tag, but it's not a good value per ounce.
Both the Tombstone pizza and the Jack's pizza below seem to be affordable at first glance. Both ring in under $5, but if you look at the size of the pizzas, they are between 8.6 - 13.7 ounces smaller than the Great Value pizza.
Walmart price: $4.82

Size: 20.8 ounces

Price per ounce: $0.23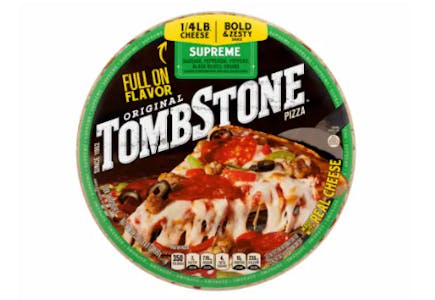 Tombstone Original Pizza, Supreme
5. Jack's Original Thin Crust Supreme Pizza is under $4, but the cost per ounce is high at $0.24.
Though it's got the cheapest price tag, this pizza is a baby compared to the Great Value and DiGiorno rising crust pizzas. It's nearly half the size of the Walmart brand and even though it's only $0.10 per ounce more, that's still a 42% difference! Skip this one if you're looking for a good deal.
Walmart price: $3.86

Size: 15.8 ounce

Price per ounce: $0.24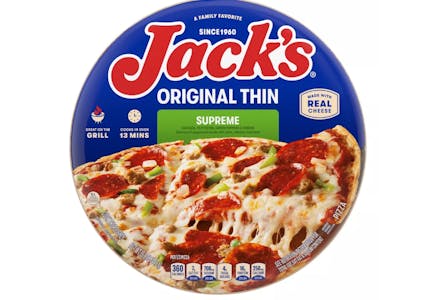 Jack's Original Pizza, Supreme
6. Screamin' Sicilian Supremus Maximus Pizza is touted as a "premium" pizza with the highest per-ounce price.
While this pizza is a decent size, it's still ringing in at the highest price tag and the highest per-ounce cost. That being said, this brand gets pretty good reviews from cheap frozen pizza fans.
Walmart price: $7.26

Size: 25 ounces

Price per ounce: $0.29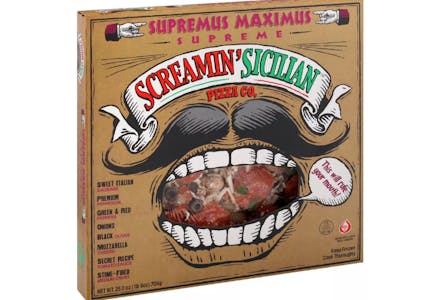 Screamin' Sicilian Supremus Maximus Pizza