I love it when I can get free trials of things like streaming services or unlimited food delivery, and now we're getting access to a big "Network Pass" free trial for T-Mobile cell service.
One of the scariest things about switching cell providers is not knowing how that carrier's reception is going to be at home or work. But with the T-Mobile free trial, you can test out the connection without ditching your existing cell service (or even your phone number).
Not gonna lie, it sounds too good to be true. I'm digging into the T-Mobile Network Pass trial to let you know which phones it works with, what kind of services you can expect, if there's a catch, and any other perks worth knowing about before you sign up.
If you're not already a T-Mobile subscriber, you can get a free three-month 'Network Pass' trial.
Three months is pretty bonkers. Even the Amazon Prime trial is only 30 days. But that's what the limited-time promo is offering.
If you're not a current T-Mobile subscriber, and you've never taken advantage of the free trial, you're eligible to try out T-Mobile's network free for three months.
During the trial period, you'll have access to unlimited high-speed data, including 5G (if your phone is compatible).
Note: The fine print says that if you're a subscriber of any cell service partner that uses T-Mobile's network, you're not eligible for this promo. But I have Google Fi cell service — one of our best cheap cell phone plans — and was able to sign up without incident.
You can use your current phone (and phone number) during the trial.
Yeah, if I had to go through the hassle of buying a new phone or porting my existing phone number over to T-Mobile to do the free trial, I'd pass. So it's a good thing that's not the case.
Customers can continue to use their current phone and phone number during the trial period, so long as your phone is eSIM-enabled and is unlocked by your carrier (they'll do it for free).
If you have a phone with eSIM technology, you can keep using your current phone number to send texts and make phone calls, while testing out T-Mobile's 5G data.
Not sure your phone has eSIM capabilities? You can check if your phone is eSIM-enabled by looking in your phone settings or consulting the manufacturer's website. Here are some popular phones that have it:
Apple iPhone XR/XS and newer
Google Pixel 3 and newer
Samsung Galaxy Fold/Z Flip/S20 series/Note 20 and newer
Note: During this trial, you won't have the option to use your phone as a mobile hotspot to share your T-Mobile network connection with other devices, such as a laptop or tablet. If you want to do that, you could instead opt to get their free hotspot device. Also, expect video to be SD (not HD) quality during the trial.
If you don't have eSIM on your phone, T-Mobile will send you a free hotspot device for 30 days.
If you don't have an eSIM-enabled phone, T-Mobile will send you a free portable 5G data hotspot device that you can connect to with your smartphone, tablet, or laptop. Now, this is only accessible via the website; I had trouble using the request form on their site to get one, but maybe you'll have better luck. If all else fails, you can call 1-888-437-1209 to request one over the phone.
Once you receive the device — usually in 3-5 business days — you can turn it on and connect your smartphone or other devices to the Wi-Fi network it creates. This isn't the same three-month trial, though — this one's only 30 days — but a month of free internet? Sign me up.
T-Mobile includes instructions on how to set it up and connect your devices. Keep in mind that the hotspot device is only for data, so you won't be able to make regular phone calls or send SMS with T-Mobile's network using this device. (Although there are plenty of apps that accomplish the same things.)
Related: T-Mobile Offers Free Internet for Students (Really!)
You don't have to give any payment information (or visit a store) to participate in the T-Mobile free trial.
Everything's online; there's no need to go into a T-Mobile store. And unlike the vast majority of other trials, you won't be asked for any payment information, such as a credit card number or bank account information. During the signup process, T-Mobile will ask for some basic information, such as your name, address, and phone number.
At the end of the trial, if you don't want to continue, you're not going to get a bill from T-Mobile. The service will simply stop working. You just have to remove the eSIM from your phone (they'll tell you how to do that here) and be on your merry way.
You'll have to become a paid member to enjoy T-Mobile Tuesdays freebies; they aren't available during the free trial.
We weren't sure, so we asked T-Mobile about this. They said you must "have a qualified postpaid or prepaid account" to get access to the T-Mobile Tuesdays weekly freebies.
So, if you like T-Mobile's network after trying it out during the free trial period, and you're ready to start your T-Mobile Tuesdays (or get the T-Mobile teacher discount or military discount), they've got a program called Easy Switch to help you switch to their service permanently.
With Easy Switch, you can switch up to five lines through the T-Mobile app anytime, without having to visit a physical store or talk to a customer service representative. (But if you need to switch more than five lines, you can visit a T-Mobile retail location for assistance.)
And if you owe money on your current phone, T-Mobile will pay off the remaining balance when you switch to their network, up to $800. You just have to keep your new service for at least 40 days (otherwise you'll have to pay T-Mobile back).'
Download the T-Mobile app to sign up for the free 3-month trial.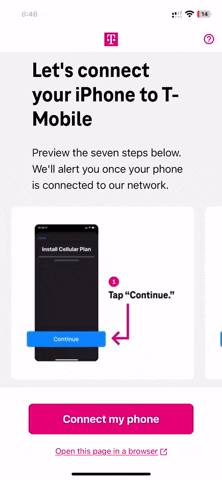 To sign up and activate T-Mobile's free trial offer, follow these steps:
Check if your phone is eSIM-enabled. To participate in the trial, you'll need an unlocked phone with an eSIM card.
Download the T-Mobile app via the Apple App Store or Google Play Store.
Follow the instructions in the app to sign up for the trial offer. You'll need to provide some basic information, including your name, address, and phone number.
Activate the eSIM or hotspot device. If your phone is eSIM-enabled, the T-Mobile app will give step-by-step instructions on how to activate the eSIM.
Once your eSIM or hotspot device is activated, you can start using T-Mobile's network for data. You'll still be able to make calls and send texts on your current provider's network.