For most of last year, the Sony PlayStation 5 gaming systems have been tricky to find, to the point where every restock is a major event. In the past, restocks at stores like Target, Walmart, and Amazon have sold out within minutes.
Right now, Walmart, Best Buy, and Amazon all have the original PS5 in stock. You can save 11% on a PS5 Console and Spider-Man 2 Bundle right now.
But, if you're in the market for the PS5 Digital Edition, you're out of luck. Those are currently sold out everywhere… for now. But, we're anticipating a major restock in time for Cyber Monday (We also predict some solid PS5 Black Friday deals too.) And in case you didn't know the difference, the digital version doesn't come with a disc slot (in case you wanted to watch DVDs) and it can make your gaming experience a little slower overall. But, it's $100 cheaper.
In general, when looking for the PS5, retailers announce restocks in advance; some have notification lists you can join, and others you might just have to regularly check on. We've gathered all the info on PS5 restocks at Amazon, Walmart, Best Buy, Target, and more into one place. If you miss the latest restock, be sure to check back for future PS5 restock dates.
Download The Krazy Coupon Lady app or text SAVE to 57299 so you never miss out on the best tips and discounts.
Black Friday PS5 Deals Live Now
Use your Target RedCard to save 5%, which brings the price down to just under $475. Or, save 11% with a special Spider-Man 2 bundle deal at Walmart or Amazon.
Target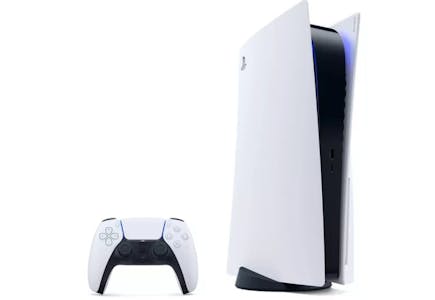 As low as
$474.99
$499.99
(5% Off)
MOBILE COUPONS NEEDED
PRICE SUMMARY
Out of stock online, available for pickup at some locations
Walmart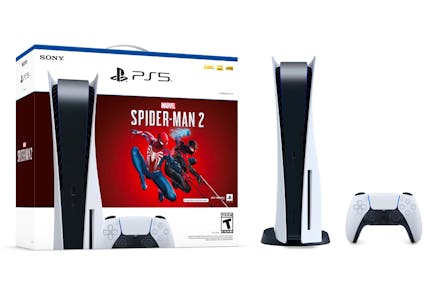 $499.00
$559.99
(11% Off)
Shipping:
Free with Walmart+ or on orders of $35+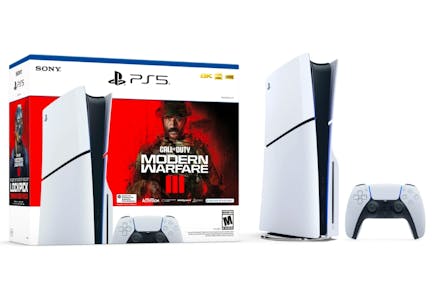 $499.00
$559.99
(11% Off)
Shipping:
Free with Walmart+ or on orders of $35+
Amazon
Only Black Friday 2023, this PS5 deal sold out in minutes.
The best of the best deals sell out at lightning speed. This huge discount at Target was in stock online one minute and completely gone the next. We hope it'll be restocked soon since it was the largest discount we've seen so far. While the deal is over, you can still order the console for pickup at some locations so be sure to check your local Target. And we'll keep you posted if it does make a comeback online. Here's what we saw so you can keep in mind for Black Friday 2024.
Be ready to shop at midnight on Black Friday.
We predict a major restock of the PlayStation 5 digital edition on Black Friday. And since there's going to be increased demand, you'll want to be ready to purchase right at midnight. Make sure you have a few tabs of different retailers open and your preferred payment method in hand. Because when it comes to the PS5, the early bird gets the console.
The PS5 rarely goes on major sale. But at the least, there might be a bundle deal or a $50 savings during the holiday season.
Because the consoles have been in and out of stock for the past year, we really don't anticipate any major discounts on the console any time soon. Although, we did see multiple retailers offer the console for $50 cheaper in Aug. 2023 and then again in November for Black Friday.
So if there are any Black Friday discounts this year, we predict bundle deals where you can get a game with your purchase, or $50 off your purchase.
Walmart shoppers can shop the PS5 in-store and online today.
Walmart has the PS5 in stock online and in-store. You can finally order them for store pickup (something we've been waiting for for months).
If you find one online, make sure it's not sold by a third-party reseller, as that won't always be the best deal. Instead, find the best deals on consoles with Walmart+.
Some background on Walmart+: you can become a Walmart+ member to get early access to deals and restocks, like PS5 releases. Just know that the Walmart+ membership costs $98 per year or $12.95 monthly. This membership includes early access to special events, like up to seven hours of early access to hot Black Friday deals. Also as a member, you score video streaming through Paramount+, free shipping, free delivery, and $0.10 per gallon fuel savings at participating gas stations.
Also, as of Nov. 2023, Sam's Club has the PS5 in stock. They also sell accessories like controllers, charging stations, and headsets.
Shipping:
Free with Walmart+ or on orders of $35+
Target has the PS5 in stock in stores.
Target has some inventory of the PS5 online for pickup only as of Dec. 2023. Shipping isn't available for the console, though. Be sure to use your Target RedCard if you have one to get 5% off.
As low as
$474.05
$499.99
(5% Off)
MOBILE COUPONS NEEDED
5% Off - Target RedCard Savings
Best Buy has the PS5 in stock.
Best Buy recommends becoming a TotalTech member. This'll give you exclusive access to releases of popular products like the PS5. And no, you don't need a membership to buy a PS5 at Best Buy — it'll just increase your chances of getting one. However, a membership costs $199.99 per year, almost half the price of the PS5. So it's probably only worth signing up if you shop Best Buy a lot and will use the other perks. Those include 24/7 tech support from Geek Squad, free shipping, up to 24 months of product protection on purchases, and extended 60-day returns.
Related: Black Friday PlayStation Deals
Amazon has the PS5 in stock.
Amazon has one edition of the PS5 in stock. While you can find digital edition PS5 bundles for resale, it's very difficult to come across a new one. And if you can find a new one, it's going to be marked up significantly. Instead, we recommend shopping for the OG PS5:
Become a rewards member at GameStop to get product announcements.
If you're already part of GameStop's PowerUp Rewards Pro program, you'll be first in line when the retailer restocks the PS5. Sometimes GameStop announces restocks through their newsletter, but in-store and online sales have been limited to rewards program members. If you want to become a member, it costs $14.99 per year and will give you early access to console restocks and other collectibles. You'll also get perks like a $10 off welcome reward, a $5 monthly reward, and 2% back in rewards made on every purchase. If you're a frequent GameStop shopper already, it might be worth the membership for early access to PS5 restocks.
Request an invite from Sony to keep track of PS5 restocks.
Similar to Amazon, Sony lets buyers request an invitation to purchase a PS5 or a PS5 bundle during restocks. Sony manufactures the PS5, so it's a reliable way to eventually score a console. However, they're usually one of the slower retailers to restock. Requesting an invite doesn't guarantee you'll end up with a PS5, but you will get notified when the console becomes available.