We're reader-supported and only partner with brands we trust. When you buy through links on our site we may receive a small commission at no extra cost to you. Learn More. Product prices and availability are accurate as of the date and time indicated and are subject to change.
If you haven't shopped for Sam's Club furniture clearance deals yet, here's your cheat sheet on how (and when) to do it.
Sam's Club offers virtually every type of furniture, including nursery pieces, stuff for bonus rooms, and outdoor patio furniture that comes from recognizable brands like La-Z-Boy and Serta. And just like other stores, Sam's Club follows a pretty regular clearance sale pattern for furniture, too.
But because most of Sam's Club furniture is online only, you'll need to learn the basics of what to expect when you buy Sam's Club furniture. We've put together this list of everything to know about buying Sam's Club furniture, including their return policy, delivery practices, and what time of year you can expect the best Sam's Club furniture clearance sales to happen.
For more smart shopping tips and savings hacks, text HACKS to 57299.
Shop these Sam's Club furniture clearance deals now:
Keep in mind that you'll have to pay for the shipping fee ($179) with the Kimberly five-piece set we share below.
$249.00
$499.00
(50% Off)
Shipping:
Free for Plus members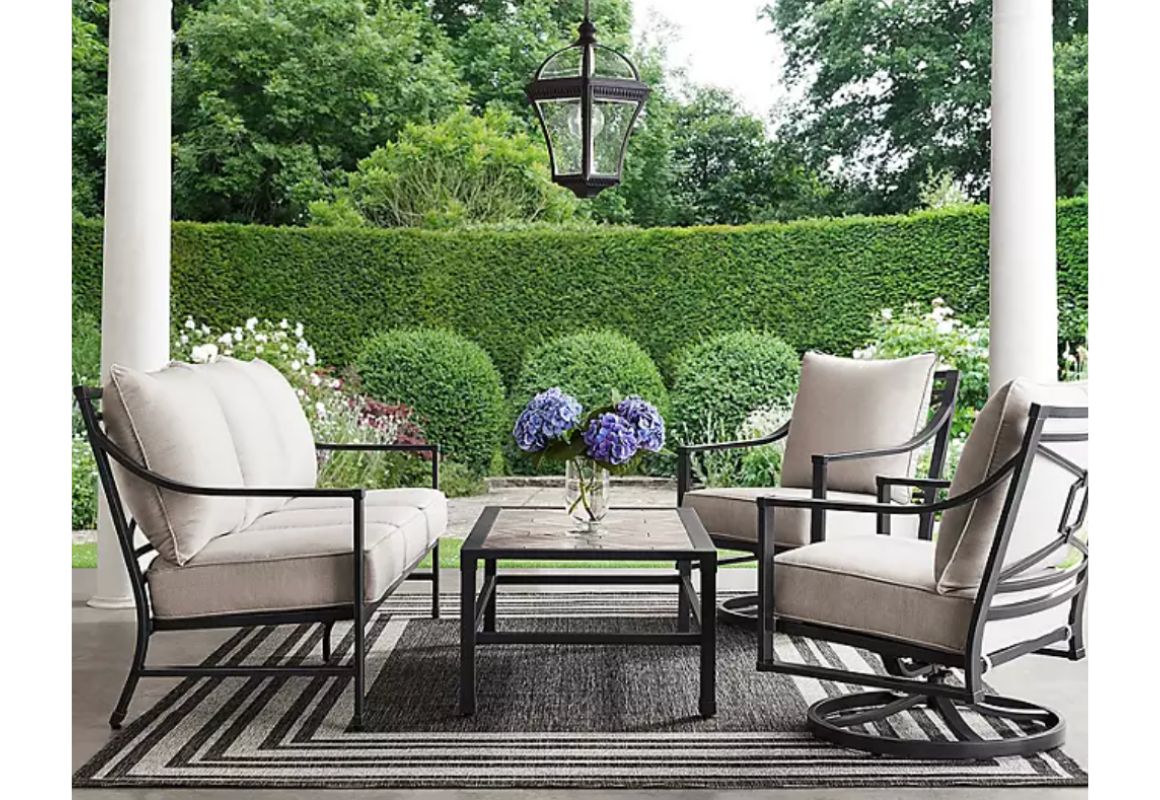 $999.00
$2199.00
(55% Off)
Shipping:
Free for Plus members
1. Wait until June to get Sam's Club furniture clearance deals of up to 60% off.
June is Furniture Month at Sam's Club, which means savings of up to 60%. For example, this past June, we saw a Pedestal Gaming Chair with Built-In Sound & Vibration (reg. $249.98) for just $99.98 — that's 60% off — and the deal included free shipping.
Other popular deals from Furniture Month included this Cleo Antique Brown Accent Chair with Nailhead Trim (reg. $399) for $249 with free shipping — a savings of 38%.
Related: Check out our best hacks for saving as a Sam's Club member, then bookmark our Sam's Club page where we'll alert you to the latest price cuts as soon as they hit.
2. Every July, expect Sam's Club patio furniture markdowns of up to 37% off.
One of the best ways to save on patio furniture is to wait until the second month of summer (July). We see patio furniture start getting clearanced out at Sam's Club at the beginning of the month, which still leaves plenty of time to host a summer BBQ with a brand new dining set.
Sam's Club had this Valencia Eucalyptus Patio 4-Piece Set listed for 37% off starting July 3 — regularly $949 marked down to $598 — and it came with a $49 shipping fee.
And this popular 3-piece Recliner Patio Set from La-Z-Boy was $300 off, bringing the price down from $1,299 to $999 (23% off).
3. Look for savings of around 20% on small space furniture in July and August at Sam's Club.
Just like the patio furniture sales, college furnishing sales start popping up in July, too, which means serious savings on small space furniture from Sam's Club.
Take this space-saving Serta Morgan High-Performance Leather Fabric Convertible Sofa, for example. The price dropped from $599 down to $419 in July 一 a savings of $189 (or 19%).
4. Always shop for Sam's Club furniture online instead of in the warehouse.
Sam's Club's online inventory and selection of furniture dwarfs anything you'll see in a warehouse. And it's also where you'll find the best selection of Sam's Club furniture clearance when there's a sale going on.
The easiest way to find the savings is to jump right to the "Furniture Deals" page on SamsClub.com. You'll see the hottest flash sales like $1,200 off the Titan TP-Pro Cosmo Zero Gravity Massage Chair with free shipping for Plus members.
TIP: Sam's Club Plus members get free shipping on most online purchases, including furniture. You'll also get special finance options and access to earlier shopping hours. However, Plus is $110/year, so you'll need to decide if it's really worth it to sign up for Sam's Club Plus membership depending on how much online shopping you plan to do. Look for $50 off Plus membership sales in July.
5. Don't forget to read Sam's Club furniture reviews.
To be honest, many of the reviews on Sam's Club furniture are a bit unnerving. The online Sam's Club furniture selection has quite a few two-star reviews and very few five-star reviews. In fact, I'd say many reviews on Sam's Club furniture look to be subpar.
To compare, when scrolling through Costco's furniture selection, you'll see most items have numerous reviews in the range of 4.5 – 5 stars.
But you'll likely pay more if you get your furniture from Costco, unless you know when to shop a Costco furniture sale.
The moral of the story? Just be sure you look at the ratings before making a furniture purchase from Sam's Club.
6. Decide whether you'll need the extended Allstate Protection Plan ($49.99) to cover stains or damage.
Your Sam's Club furniture purchase will come with its own manufacturer warranty, along with Sam's Club's 100% satisfaction guarantee.
But you'll also have the option to purchase additional furniture insurance coverage from Allstate for $49.99.
The additional coverage lasts five years and will pay for any accidental damage or stains. If Allstate can't repair the item, they'll send you a new furniture piece to replace the damaged one. However, they note that intentional damage isn't included, so be sure to document how the damage happened.
7. Look for the White Glove Delivery option in the Product Details section.
When you're reviewing the shipping details for a piece of furniture online, make sure you expand the Product Description section to check if White Glove Delivery is offered. This means your item will get delivered and installed by the delivery crew, and they'll also remove all packaging materials on their way out.
After you make your purchase, the carrier will contact you to set up a delivery window.
8. You can return Sam's Club furniture at the warehouse or by shipping it back (and you'll likely pay for that).
Unfortunately, furniture tends to be a difficult item to return no matter where you shop.
When it comes to furniture purchases from Sam's Club, items can be shipped back or taken to your nearest Sam's Club location with a receipt.
If you choose to ship the item back, you can try contacting Sam's Club directly to ask them about covering the shipping fees. Otherwise, it'll be on you.