We're reader-supported and only partner with brands we trust. When you buy through links on our site we may receive a small commission at no extra cost to you. Learn More. Product prices and availability are accurate as of the date and time indicated and are subject to change.
I've been covering the retail beat at The Krazy Coupon Lady for about a year now, and here's one thing I've noticed about KCL readers: they're pretty passionate about their favorite stores. So passionate, in fact, that you guys will wear Aldi joggers, collect Chick-fil-a sauce packet key chains, and even sport slides with the Kirkland logo on your feet.
That's why I was pumped to see that Sam's Club is getting in on the game, too. They have brand-new Sam's Club merch that features their retro 80s logo. And the price is also right, at just $7.98. Would I dare wear this Sam's Club logo tee while shopping at Sam's Club? I'm not sure. (Would I wear it while shopping at Costco? I dare not.) But it would make the perfect gift for any Sam's Club lover in your life.
Here's what to know about the new Sam's Club merch and where to find it for under $8.
For more smart shopping tips and savings hacks, text HACKS to 57299.
New Sam's Club retro shirts are now online — and should be in all stores by the end of the month.
I first heard about these new Sam's Club T-shirts in a Facebook group I follow. But at the time the buzz started (around Aug. 1), no one had spotted them in stores yet.
So I reached out to a Sam's Club rep, and she told me the shirts would arrive in clubs "later this month." Looks like my store has their act together because as of Aug. 7, I'm already finding them in stock!
This Sam's Club Adult Retro Tee has a unisex fit and comes in sizes S – 3XL. Though, the 3XL appears to be sold out online right now.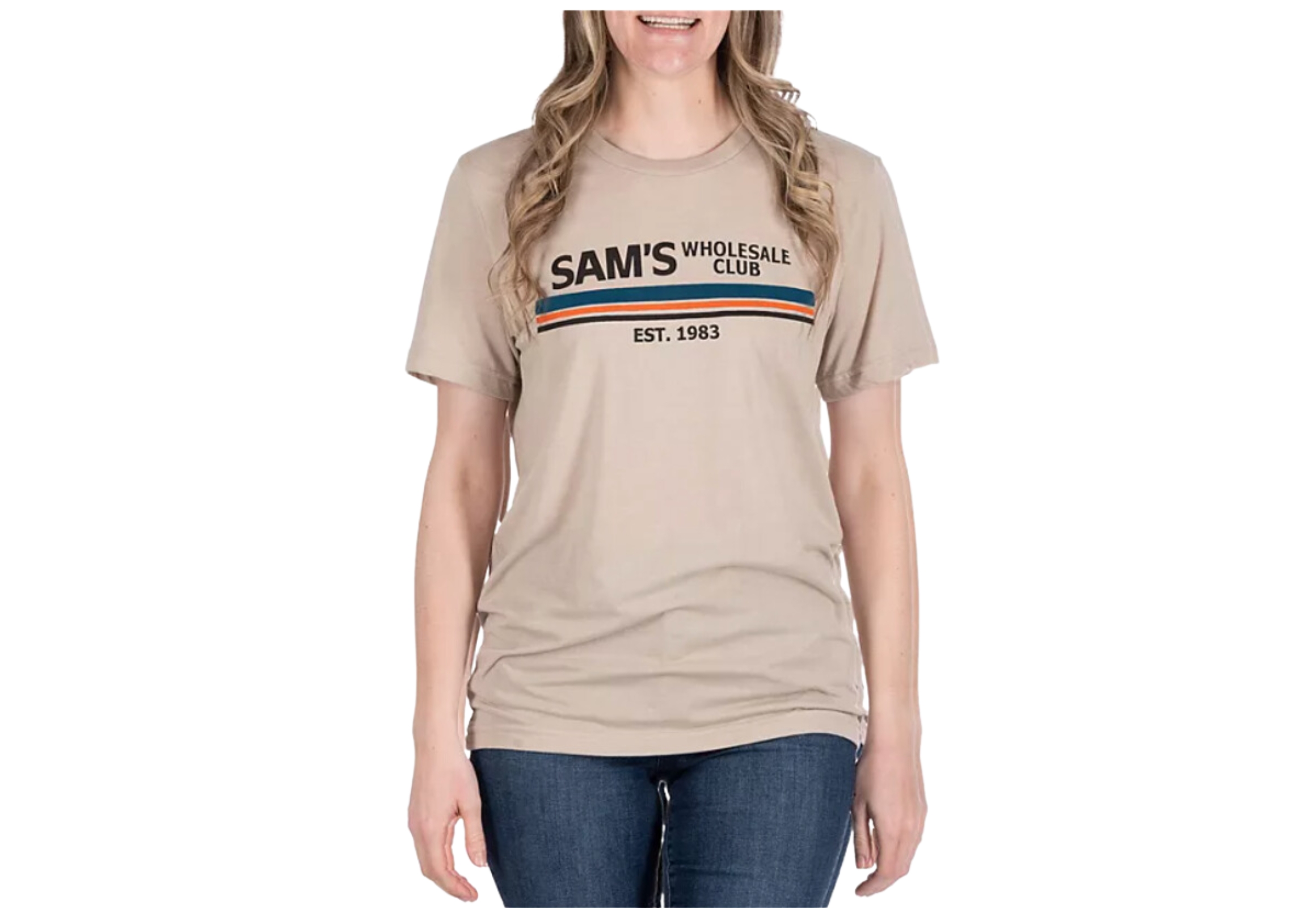 Shipping:
Free for Plus members
Pickup:
Free for Plus members
These throwback Sam's Club tees have the same price tag online as in stores (just $7.98).
Like all Sam's Club products, the price you see online matches the in-store price, which is one of the main factors that sets them apart from Costco.
But keep in mind that with online Sam's Club purchases, you'll pay a shipping fee unless you have the upgraded membership level, Sam's Club Plus. Without Plus, my estimated shipping fee for this shirt came out to $2.98.
Related: We've rounded up even more of our favorite Sam's Club finds.
They have additional Sam's Club merch for sale on another site, but you'll pay more.
Much to my surprise, they have even more retro Sam's Club merch listed for sale on the SamsClubHub.com website, which sells authentic Sam's Club-branded gear.
Even though I found a similar vintage tri-blend tee ($14.99) sporting the 1980s Sam's Club logo, it's not exactly the same — and it's priced 88% higher, not to mention the $4.98 shipping fee.
If you're ok with the added cost, here are a few of the additional Sam's Club merch items I found that have the retro logo: