We're reader-supported and only partner with brands we trust. When you buy through links on our site we may receive a small commission at no extra cost to you. Learn More. Product prices and availability are accurate as of the date and time indicated and are subject to change.
The Target Cash Register isn't the first Target-exclusive toy to sell out faster than lightning.
Similar to the Target Barbie Skipper Doll and the Target Toy Shopping Cart (both exclusive to Target), the Target Cash Register is the latest buzzworthy toy on Target.com. And every time it gets restocked, they sell out again within seconds.
We've been sitting on the edge of our seats watching this super hot toy go in and out of stock online. If you're one of the many people hoping to get their hands on this Target-branded toy for kids, we'll do our best to help you get your order in before it disappears again.
In the meantime, check out all our best Target toy shopping tips and download The Krazy Coupon Lady app to track all the best toy deals happening now.
The exclusive Target Cash Register Toy gets restocked multiple times a day — but typically sells out within seconds.
We can barely catch a break. Every time we get that "back-in-stock" alert from Target, we rush to order the super popular Target Cash Register Toy. But by the time we get there, it's already out of stock again. This has been happening on and off for a two-week timeframe, but don't worry — we're watching it like a hawk.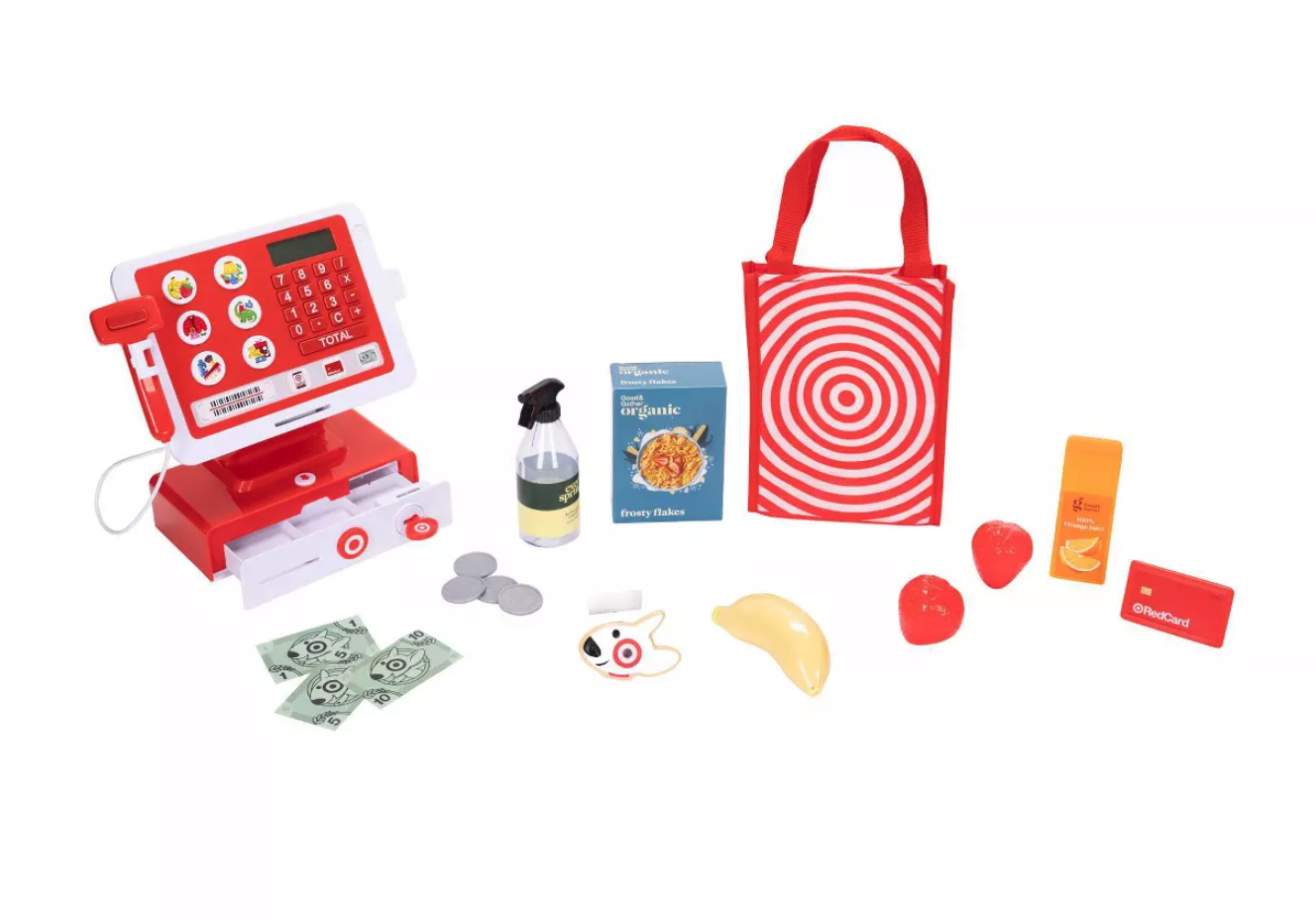 As low as
$28.49
$29.99
(5% Off)
5% off - Target RedCard Savings
You can keep an eye on it yourself by visiting the
product page
on Target.com and subscribing to email alerts when it gets restocked.
The Target Cash Register costs $29.99, but you'll save 5% when you pay with your RedCard.
This 22-piece set comes with an exclusive Target-branded cash register, a mini Target shopping bag, play money and coins, and a few scattered grocery items from Target-owned brands. It even comes with a faux Bullseye The Dog cookie, which look just like the real cookies you can buy from the Target bakery.
The Target Cash Register Toy costs $29.99 at regular price, but if you pay with your RedCard, you'll save $1.50 off the total.
You can buy the new Target Cash Register on eBay, but you'll pay more than four times as much.
We found a brand new Target Cash Register Toy on eBay.com, but it's currently listed for $74.99. That's more than twice the cost of the regular Target price ($29.99), and it's the same exact toy. Our thoughts? Don't waste your money. Wait for the toy to get restocked on Target.com.
There's also a vintage version of the toy on eBay, but it costs at least $10 more.
There are a few vintage Target Cash Register Toys on eBay. The bad news? The lowest price starts at $39.99 — a full $10 more than what you'd pay for the new toy on Target.com.