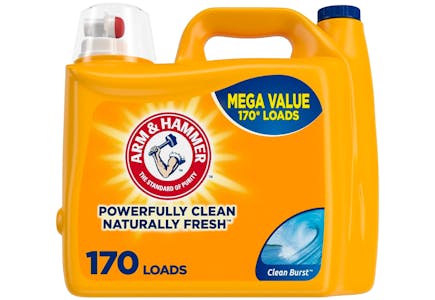 As low as
$25.65
$47.97
(47% Off)
5% or 15% off with Subscribe & Save
PRICE SUMMARY
$8.55 each / $0.05 per load
The product image shown in the header is for illustrative purposes only and isn't an exact match to the item we've written about in this post. The product is a different size, color, and/or variety. 
Stock up on Arm & Hammer Laundry Detergent when you shop on Amazon. This item is part of Amazon's buy 3, save $10 promotion. Once you add three to your cart, you'll instantly receive $10 off at checkout. Before heading to checkout, pay with Subscribe & Save, and you'll save up to 15%. Score two for as low as $25.65, or $8.55 each.
Here's how Amazon Subscribe & Save works. You're under no obligation to continue your subscription once this deal has shipped, and here's how to cancel Amazon subscriptions.