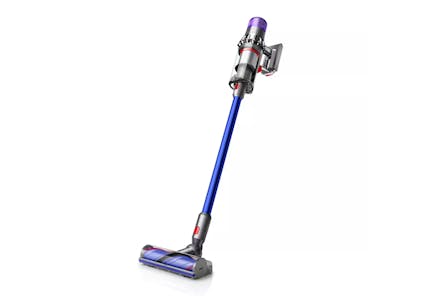 $229.99
$569.99
(60% Off)
Spend $50, receive $10 Kohl's Cash Nov. 23 - Nov. 24
Spend $100, receive $5 Kohl's Rewards
Shipping:
Free on orders of $25+
PRICE SUMMARY
Pay $349.99, receive $15 Kohl's Rewards and $105 Kohl's Cash redeemable Nov. 25 - Dec. 6
Get all the new deals and savings hacks straight to your inbox
Shop the Kohl's Black Friday Sale to save on Dyson. I got excited over the Dyson V11 Cordless Vacuum being marked at $349.99, regularly $569.99. You won't be able to apply any coupons to this order to pay less up front at checkout, but I do have some good news.
All shoppers earn $15 Kohl's Cash for every $50 spent at checkout through Friday. Plus, if you're a Kohl's Rewards member, you'll earn an extra $5 back in rewards for every $100 spent. That means you're earning a total of $105 with this order to use towards a future purchase made between Nov. 25 and Dec 6. Not a rewards member? Find out everything you need to know about the Kohl's Rewards Program (it's free).
Shop the best deals from the Kohl's 2023 Black Friday Ad.
Text KOHLS to 57299 and be the first to know about the best Kohl's deals.