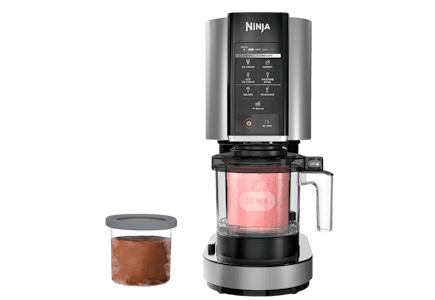 $125.94
$259.99
(52% Off)
Spend $50, receive $15 Kohl's Cash
Spend $100, receive $5 Kohl's Rewards
Shipping:
Free on orders of $25+
PRICE SUMMARY
Pay $175.94, receive $5 Kohl's Rewards and $45 Kohl's Cash redeemable Nov. 25 - Dec. 6
Get all the new deals and savings hacks straight to your inbox
Looking for a fun way to enjoy sweet treats with the family? Try making your own ice cream, gelato, or sorbet with this Ninja Creami at Kohl's. This treat maker is on sale for $229.99, originally $259.99. However, when you use codes GET10 and GOSHOP15, you'll see an additional 10% and 15% fall off, bringing it down to $175.94.
Even better, you'll earn $15 Kohl's Cash for every $50 you spend. Plus, if you're a Kohl's Rewards member, you'll receive an additional $5 in rewards for every $100 you spend. That's $50 towards a future purchase, making your final price just $125.94.
Learn the ins and outs of Kohl's Rewards. And while you're at it, peruse through the Kohl's Black Friday Ad of 2023.
Text KOHLS to 57299 and be the first to know about the best Kohl's deals.