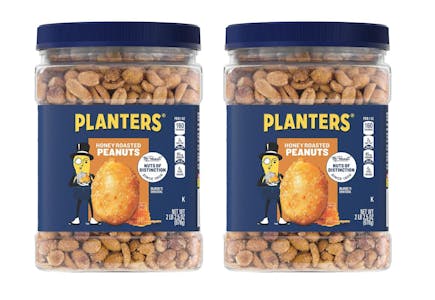 As low as
$8.81
$16.75
(47% Off)
5% or 15% off with Subscribe & Save
Get all the new deals and savings hacks straight to your inbox
The product image shown in the header is for illustrative purposes only and isn't an exact match to the item we've written about in this post. The product is a different size, color, and/or variety.
If you're looking for deals while restocking your pantry, check out this deal on Amazon. They have two 34.5-ounce tubs of Planters Honey Roasted Peanuts on sale for only $10.36 (regularly $16.75).
To get an even better deal, check out with Subscribe & Save for 5% or 15% off. You could pay as little as $8.81 for two jars.
Browse more Subscribe & Save deals as well as these Amazon snack deals KCL has gathered already.
Amazon Subscribe & Save is a convenient way to stock up on products you use regularly. It's a subscription service that lets you choose weekly or monthly deliveries at a discounted price. This service aims to make your shopping experience hassle-free while helping you save time and money.