The very easiest way to print coupons from a mobile device is through the Coupons.com app.

If you haven't done it yet, stop what you're doing right now and download the Coupons.com app.

After downloading, you'll need to sign up or log in to your existing Coupons.com account. When you see the prompt to verify your account, enter a mobile phone number and the unique code (you'll receive it via text message) to validate that you are a real person. This is a one-time (per device) step.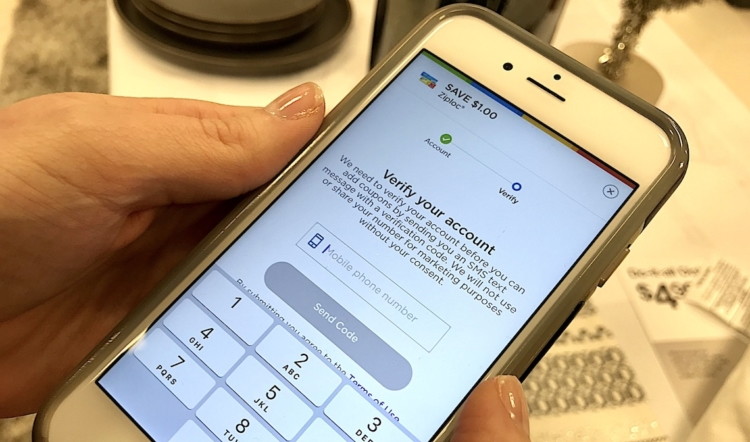 Coupons.com ties your account to a phone number which prevents you from printing more than two of the same coupon. This is new technology for Coupons.com, which replaced their pesky coupon software. (Yay!)

You can save money three ways with the Coupons.com app:
PRINT COUPONS FROM THE COUPONS.COM APP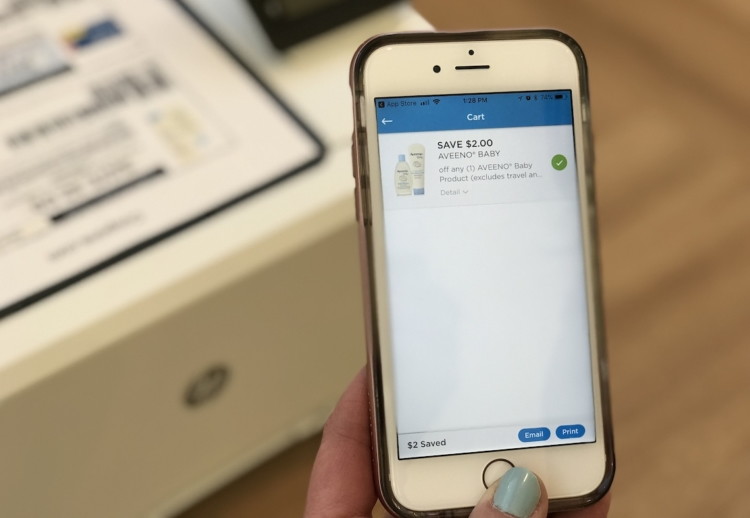 To print coupons from the Coupons.com app, all you need is a wireless printer. Check out this list of compatible wireless printers (but note it's not an exhaustive list).

First, set up your wireless printer on the same Wi-Fi network that your mobile device accesses.

Once logged in to the Coupons.com app, use the menu button at the top left (three horizontal lines) to find "Printable Coupons." Here you can browse offers, search by a keyword, or "jump" to a specific category. My favorite way to find coupons I'm looking for is to use the search bar. For example, when I type "deodorant," I see all current deodorant coupons.

After you've selected your printable coupons, select the blue "Clipped Coupons" button at the bottom right-hand corner.

To print right from your device, select "Print" at the bottom right-hand corner. The app scans your network for connected and compatible printing devices. Choose one and printing will begin. You'll see a progress bar at the bottom of your screen. Stay on this screen until printing is complete.

If you don't have a compatible Wi-Fi printer, or you prefer to print from a desktop computer, select the "email" button, and a link to your coupons will be emailed to you.

Repeat the process to print a second coupon. You'll see "Limit Reached" when you can't print it again.

LOAD DIGITIAL COUPONS TO YOUR STORE LOYALTY CARD FROM THE COUPONS.COM APP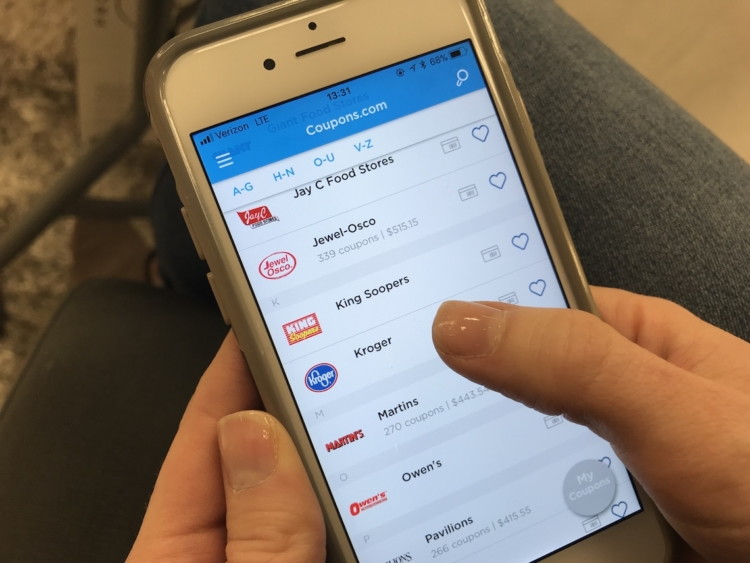 With Load-to-Card coupons, you can add coupons from the app to your store loyalty card and save them there without printing. The Coupons.com app has over 35 participating retailers. Load-to-Card coupons are manufacturer coupons and cannot be combined with other printable or newspaper manufacturer coupons. All Load-to-Card coupons can be redeemed one time, so there's no "stock-up" potential.
When you open the Coupons.com app, you can begin by selecting stores you have in your area. This is the first step toward accessing Load-to-Card coupons.

For each store you add, you'll need to link your store loyalty card. Do this by clicking on your store and then the "link card" button. Some stores will link your card directly from the Coupons.com app, and other stores will redirect you to the store's website.

Follow the prompts to enter required information about your store loyalty accounts. You'll find the loyalty card information that you need on your shopper card or on a recent receipt from that store.

Next, add offers to your loyalty card by clicking the + icon next to each offer. As you add offers to that store's list, you'll be able to review them by clicking on the blue circle in the bottom right-hand corner.

Shop those stores and the coupons will come off automatically at the cash register when you scan your loyalty card or phone number.

If you can't remember what coupons you selected, the app has a feature called "shopping list," where you can review all of your loaded loyalty card coupons.


RECEIVE CASH BACK WHEN YOU SNAP A PIC OF YOUR RECEIPT FROM THE COUPONS.COM APP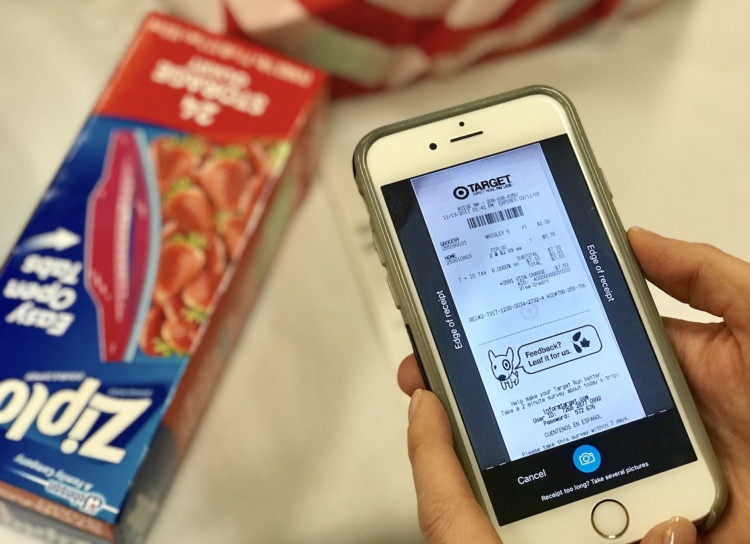 For stores that don't have a store loyalty card (think: Walmart and Target) there's a receipt-scan capability, similar to Ibotta. When you're at the Coupons.com homepage (Load-to-Card offers), you'll see that some stores have a camera icon next to them. This means you can scan your receipt to receive cash back on the items in the app.
If you've never uploaded a receipt with Coupons.com, keep your eyes peeled for a completely free-after-rebate offer. Lately, we've seen offers for free bread, eggs and milk. These offers are for first-time receipt-scan users only! Once you redeem one free offer, you likely won't see any others.
Here's how to use this feature on the app:
Load your offers before you go shopping by tapping them.

Buy your items at that store.

Come back to the app to submit a picture of your receipt

within 3 days of shopping

. You can access your pre-selected offers/coupons (look for the circle in the bottom right-hand corner), or by visiting that store's page.

Tap "Submit Receipt."

Use the app prompts to take a picture of your receipt.

Tap "Finish."

Enter your PayPal account information in order to receive your cash back when you're prompted.

Review the status of your cash-back offers by visiting the main menu bar (three horizontal lines in the top left corner). Go to "Cash Back Status" to see pending, accepted, or "action needed" offers you've submitted. Typically, you'll get your rebate within 48 hours of receipt-submission acceptance, and there's no minimum threshold to cash out.

FREQUENTLY ASKED COUPONS.COM QUESTIONS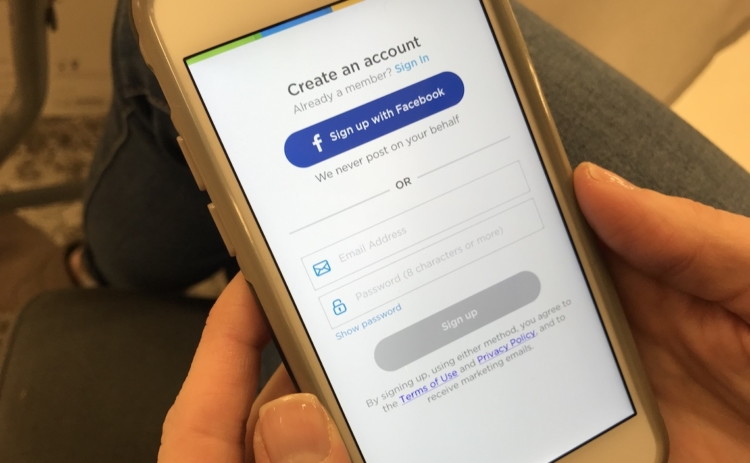 How many prints per account do I get?
Most Coupons.com offers are limited to two prints per mobile phone number.
Can I use a coupon on a cash-back offer?
No. Coupons.com does not allow the use of paper coupons and cash-back offers at the same time.
How many times can I redeem a Load-to-Card or cash-back offer?
Only once unless otherwise noted. If an identical offer appears under both Target and Walmart, once you redeem the offer from one store, it will disappear from the other store. Be sure to select "Detail" for each offer to read restrictions and specifications, as they vary by offer.
Can I use a paper coupon with a Load-to-Card offer?
No. Both coupons are manufacturer coupons and cannot be used together on one item.
What if the cash-back offer is more than the price of the product?
Your rebate will be reduced to the value of the product.
What do I do if the Coupons.com app can't find my printer?
First, make sure your phone and Wi-Fi printer are both connected to the same wireless network. Second, make sure the printer is on and active so that your network can find it. Most of the time, restarting the printer will resolve this issue.
Why do my coupons print without a barcode, or what if they have other missing/incomplete information?
Check your printer ink levels. Often, if your ink level is too low, the barcode won't print. If your coupon doesn't have a barcode, your store won't accept it.
How do I correct problems with my receipt submission?
If you received an alert from Coupons.com that your receipt was not accepted, the message should contain instructions for correcting and resubmitting your receipt image. If you're still stuck, be sure to review the FAQs from coupons.com on common issues with receipt submissions and how to correct them.