Shopping back-to-school clearance school supplies requires loads of patience as you lie in wait all summer for markdowns to happen.
And then when markdowns finally show up, you have to pounce! The biggest challenge with waiting for back-to-school prices to drop is that you'll have to decide if the deeper markdowns are worth chancing that your item will disappear from the shelves. This is always the gamble with clearance shopping.
But if you time it right, you stand to save over 80% on items from your child's school supply list, plus clothing and more. A word to the wise — many of these examples are straight clearance prices, but if you ever have manufacturer coupons for items on clearance, stack them with the low price, and you'll save even more.
For more smart shopping tips and savings hacks, text HACKS to 57299, and be sure to download the Krazy Coupon Lady app.
1. Walmart back-to-school clearance has arrived for the 2023 season.
Walmart back-to-school clearance prices have officially arrived. We're seeing up to 74% off with prices starting at just $0.10 for folders. These prices are valid in-store only and we've also seen $2 first day of school chalkboards and Crayola paints.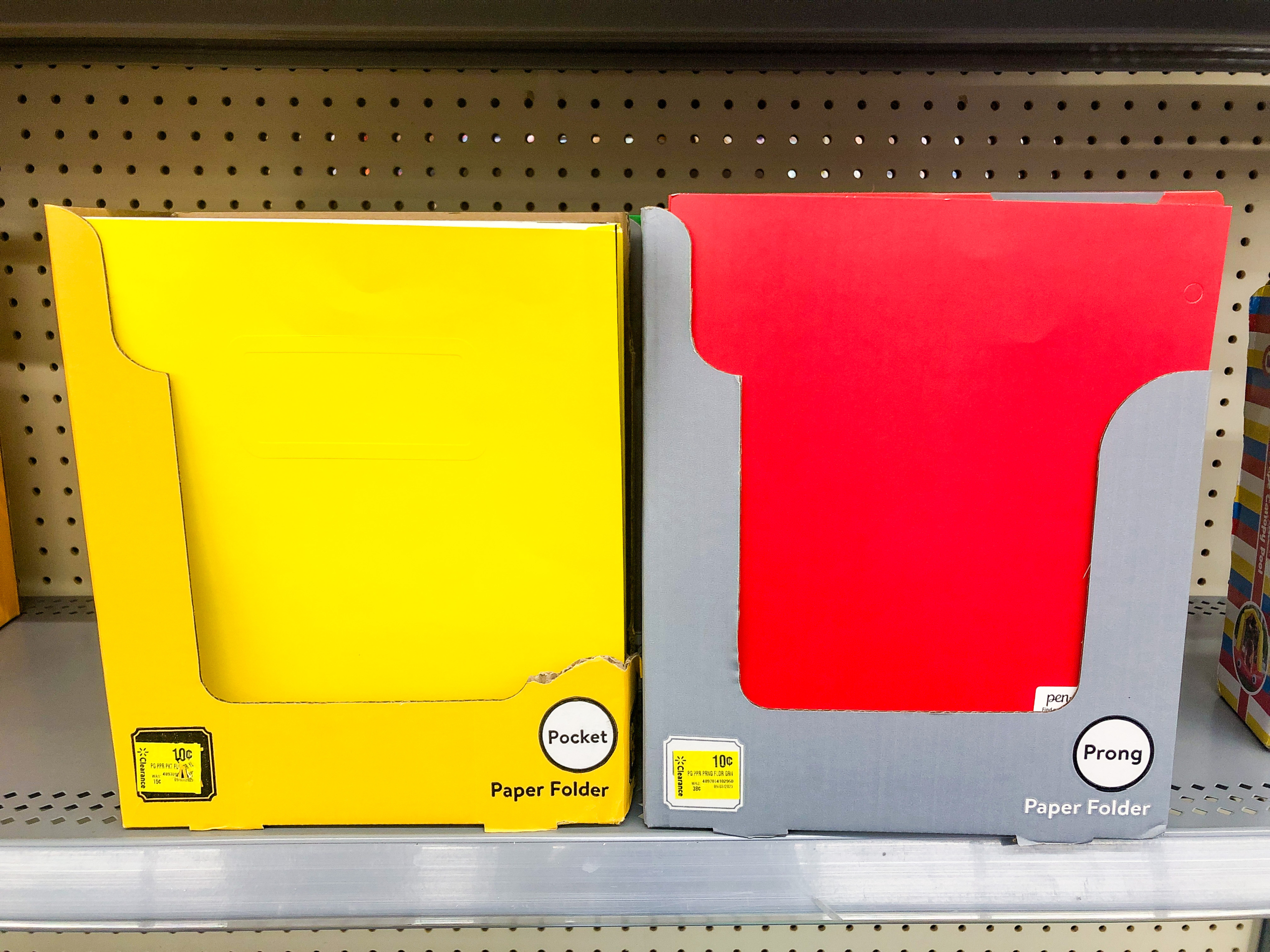 Pen+Gear Paper Pocket Folder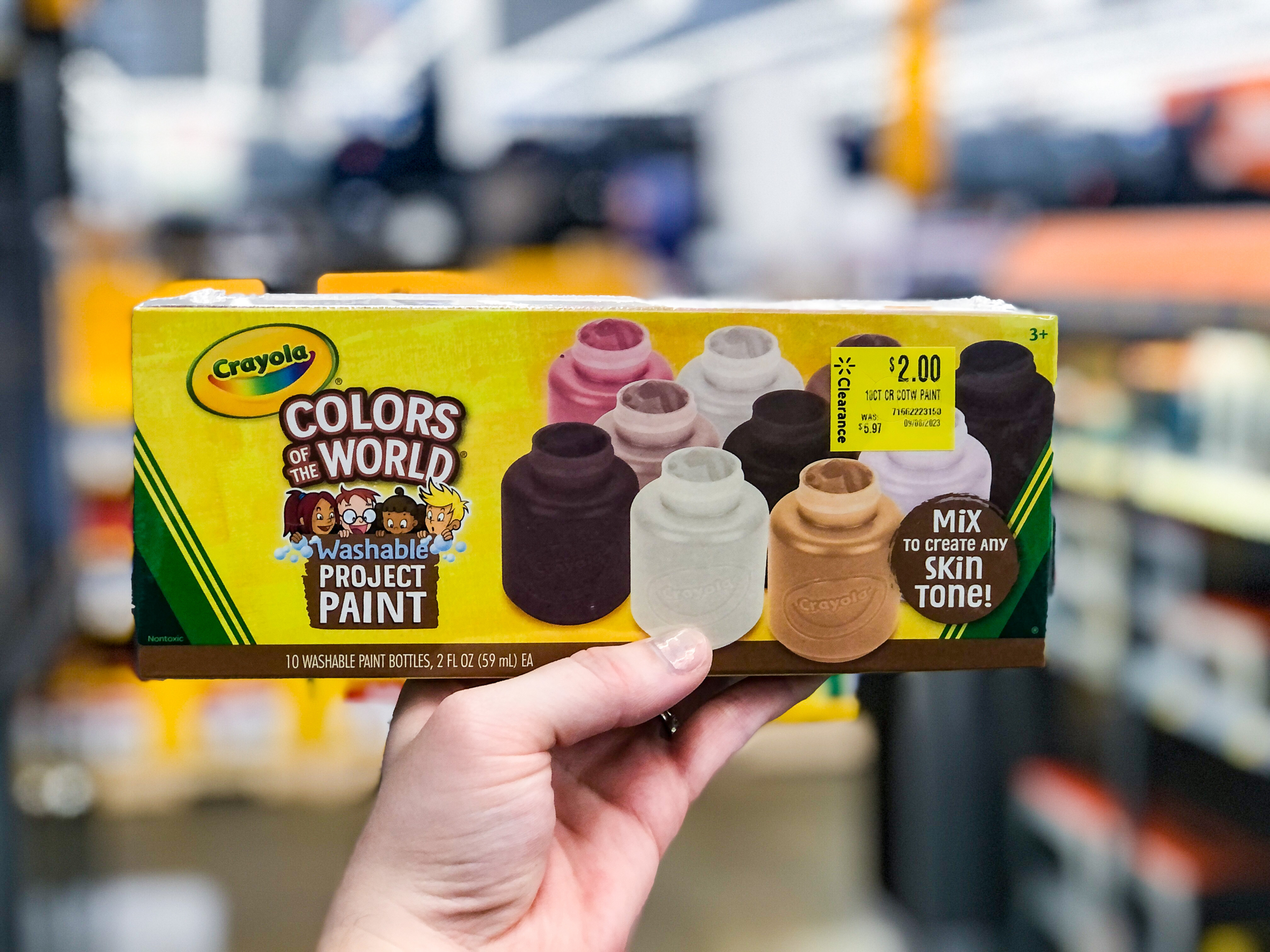 Crayola Colors of the World Paint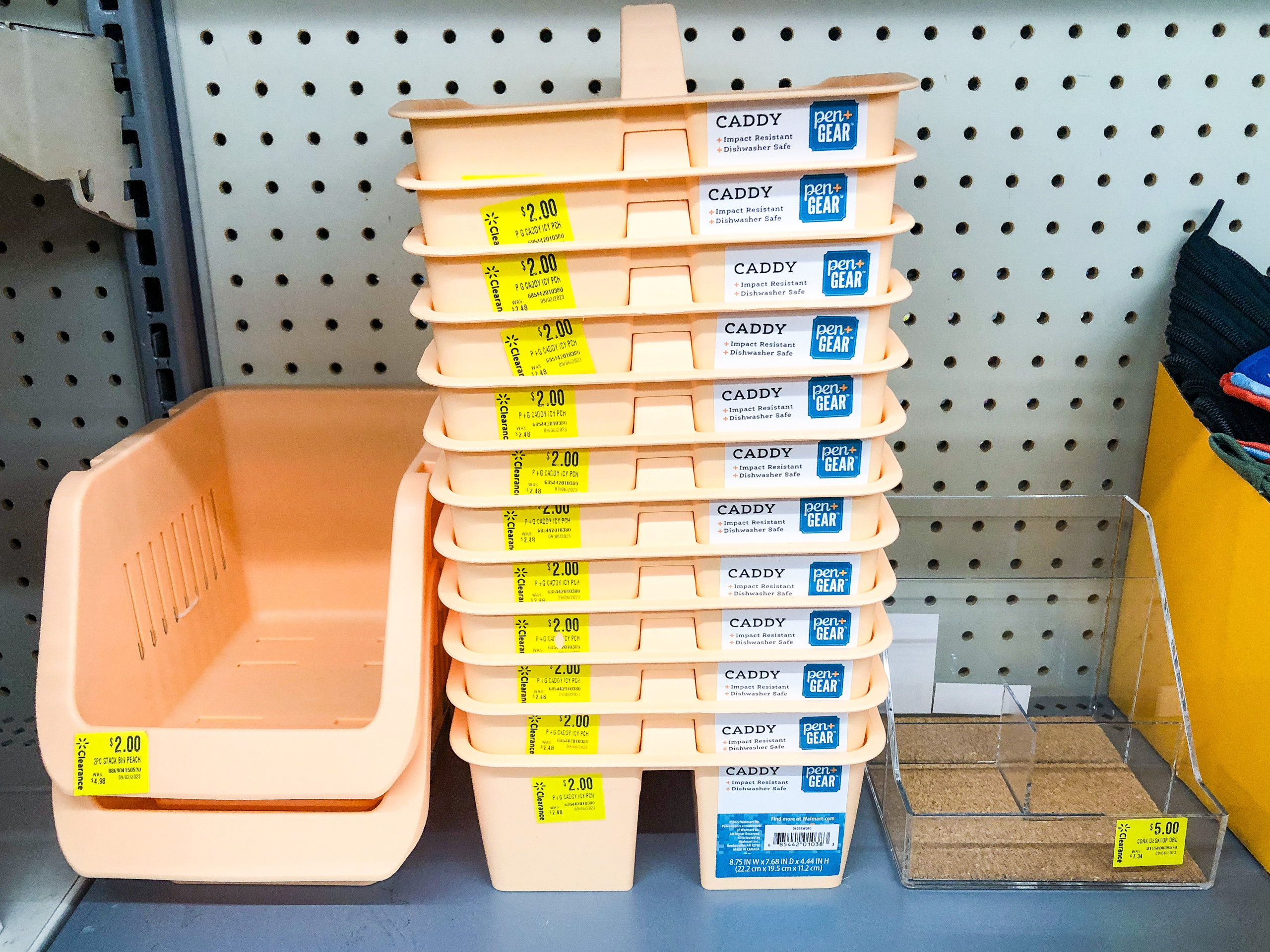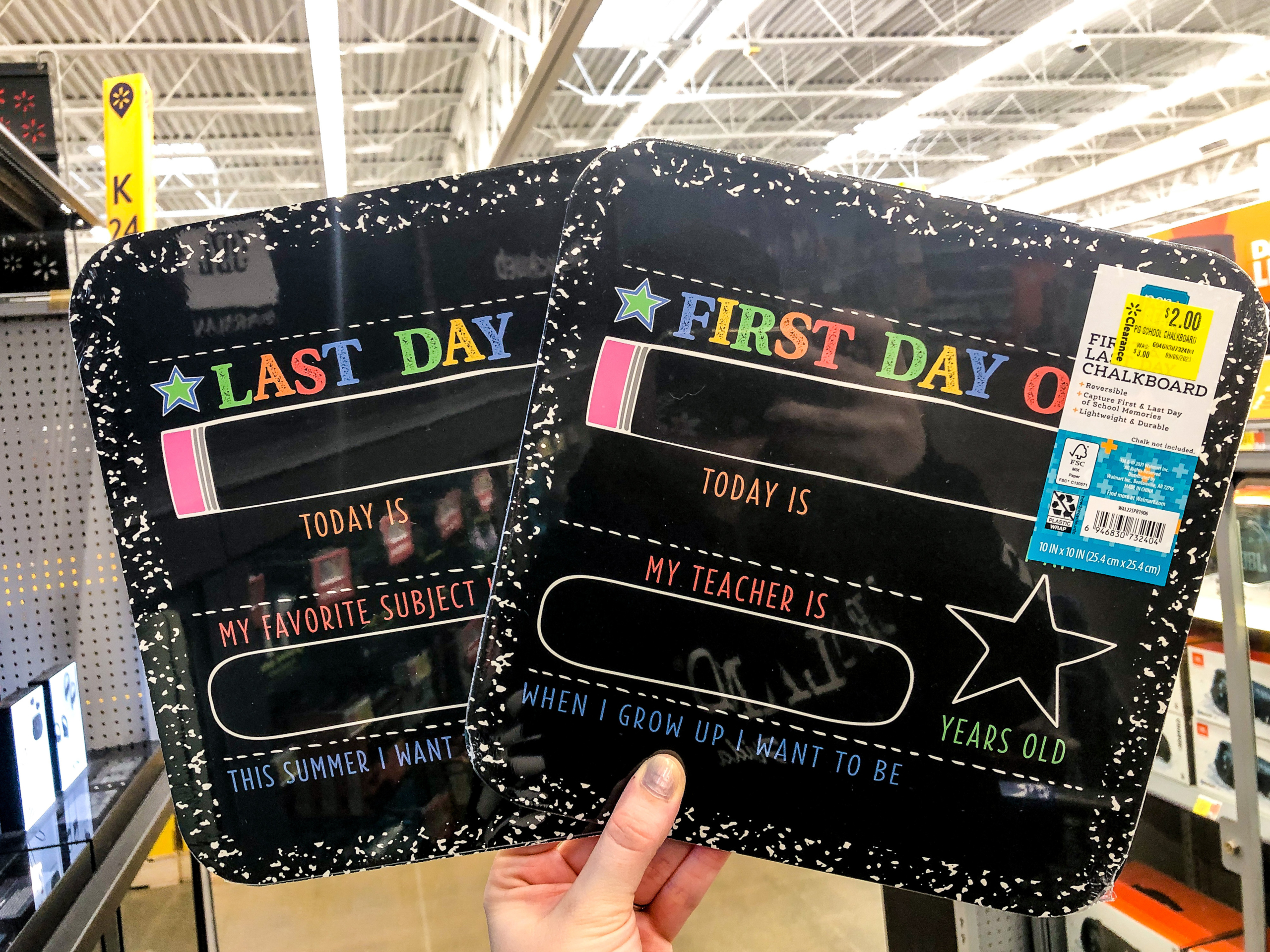 Pen+Gear First and Last Day Chalkboard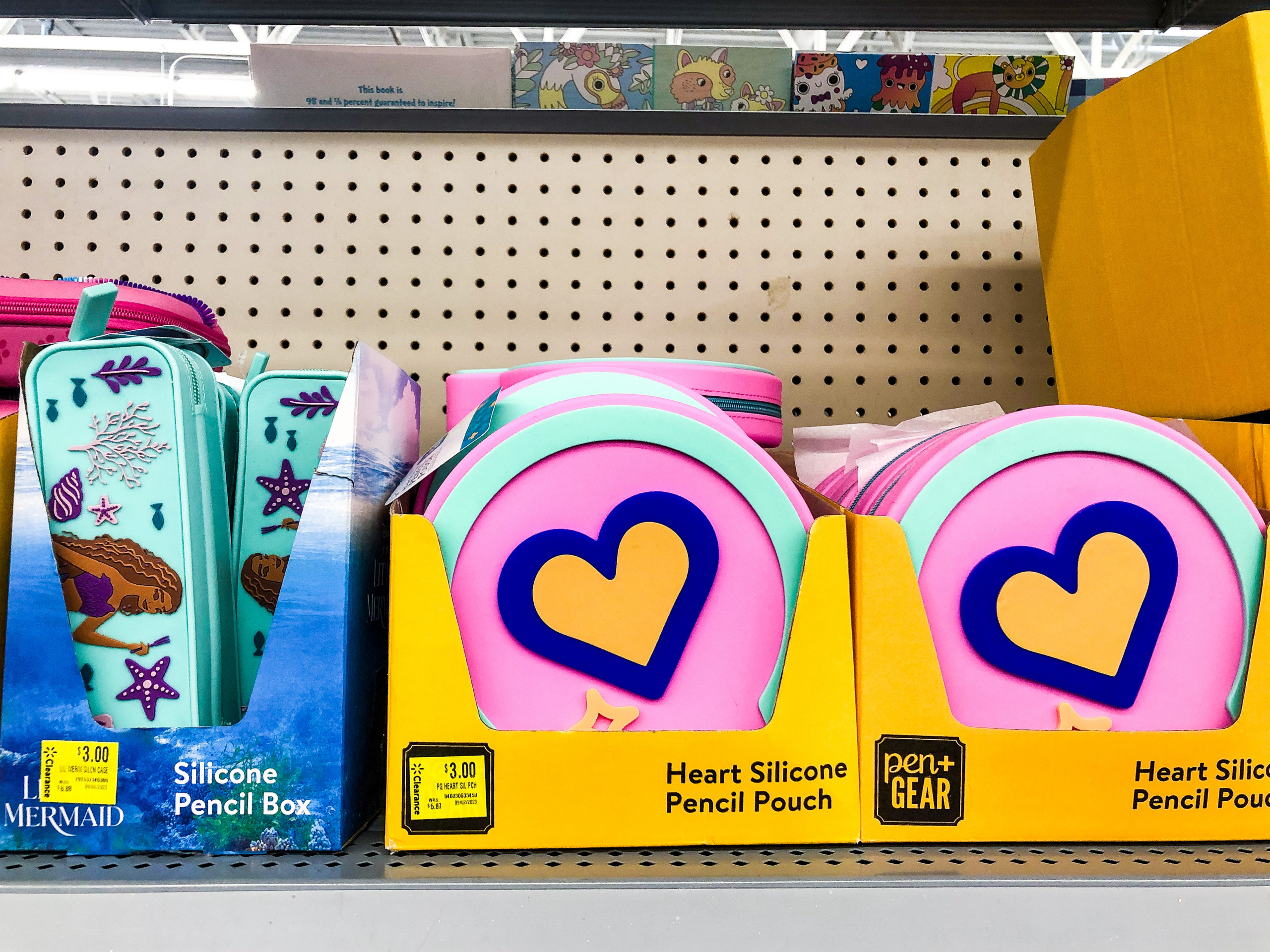 Pen+Gear Silicone Pencil Pouch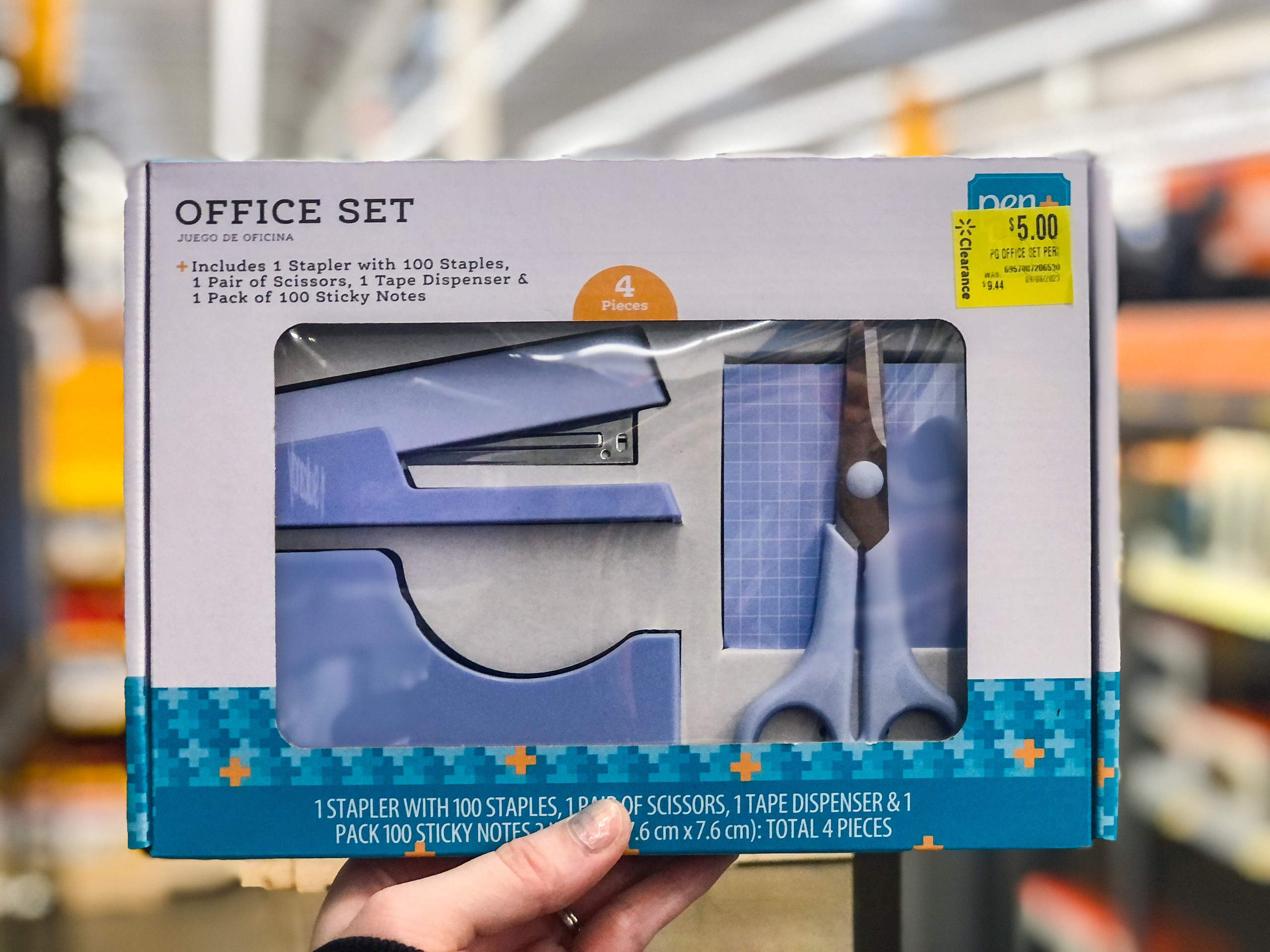 Elmer's 30-Count of Glue Sticks
Also,
Walmart
consistently offers school supplies at stock-up prices, based on
KCL's 2023 School Supply Stock-Up Price List
. Year over year, Walmart offers items at these prices around mid-August and into September, with no coupons needed. Take a look:
Related: How to save money on Walmart back-to-school.
2. Shop Target for back-to-school clearance and get up to 70% off.
Target usually clears out back-to-school shelves to make room for Halloween items by the end of August. In fact, you'll find many school supplies under $1 before September even arrives.
During the first week of September, look for sales starting at 30% off. By mid-September, back-to-school clearance prices should reach 50 – 70% off.
Use your RedCard for 5% off on top of everything else.
Learn more secrets for saving on Target back-to-school.
3. Save 80% on Walgreens back-to-school clearance like glue sticks and markers.
We've spotted up to 80% off school supplies in the Walgreens back-to-school clearance. We're seeing prices as low as $0.14 for folders, $0.99 for highlighter two-packs, $1.49 for dry-erase boards, and more.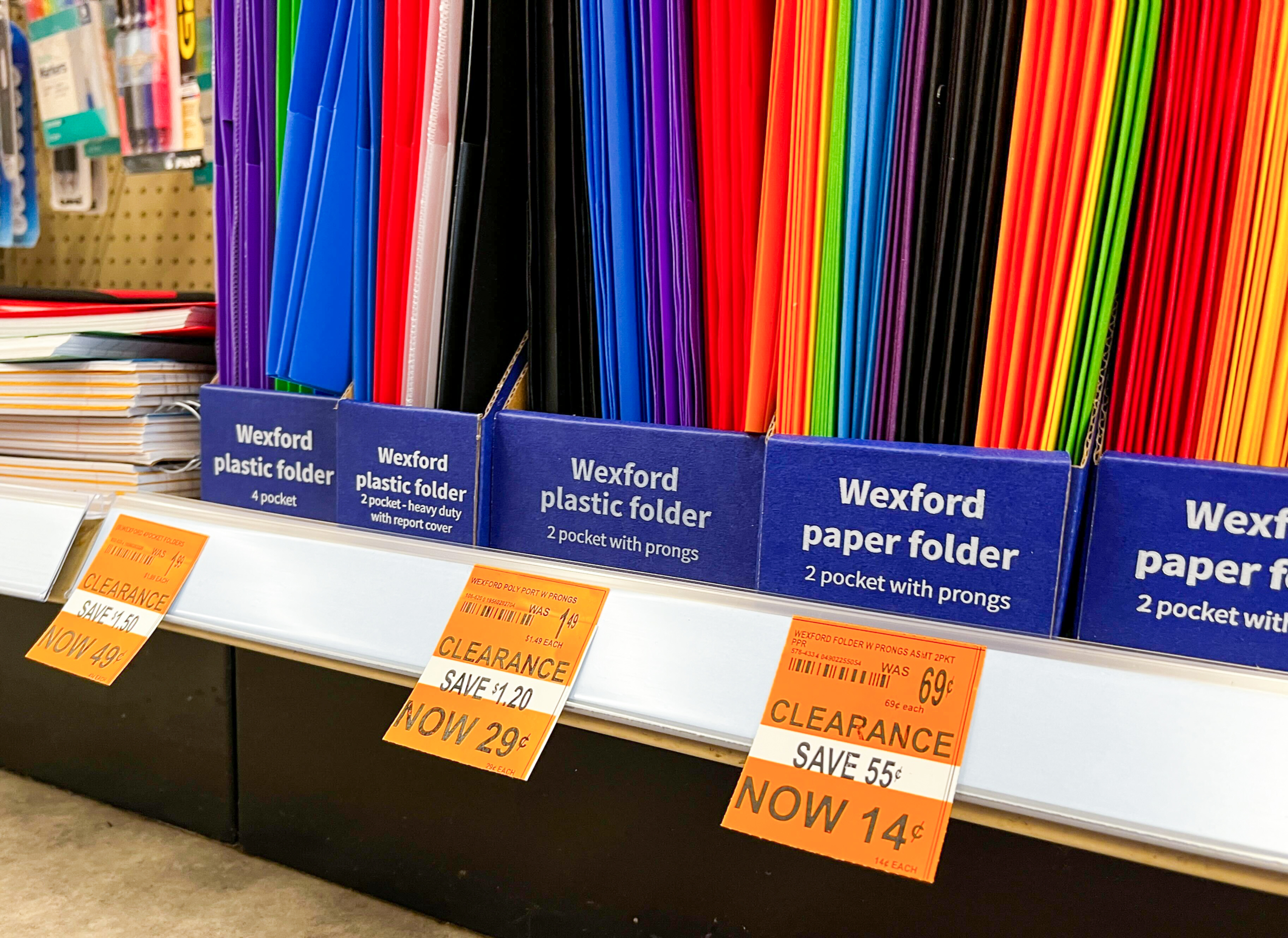 As low as
$0.14
$0.69
(80% Off)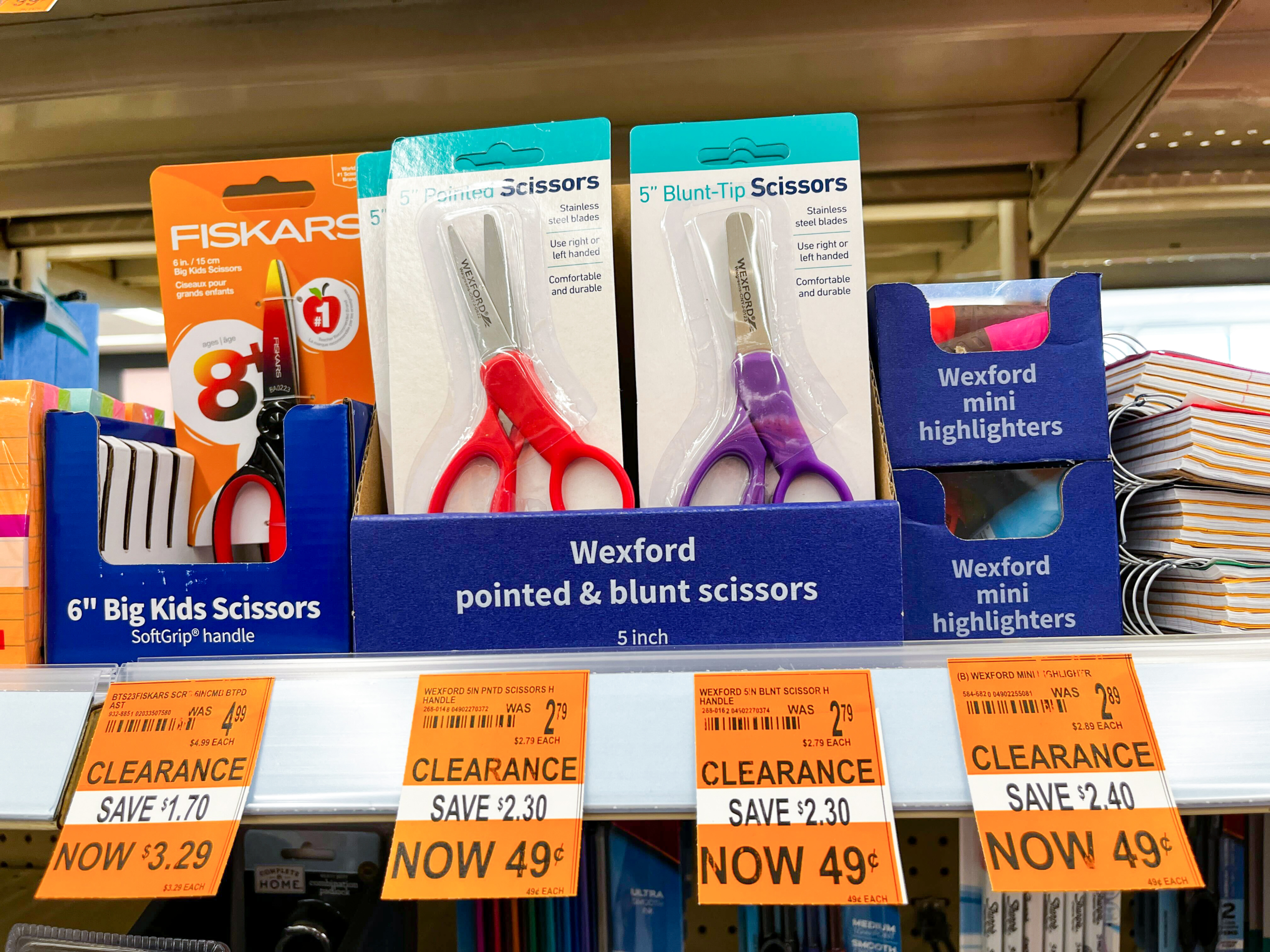 Wexford Pointed or Blunt Scissors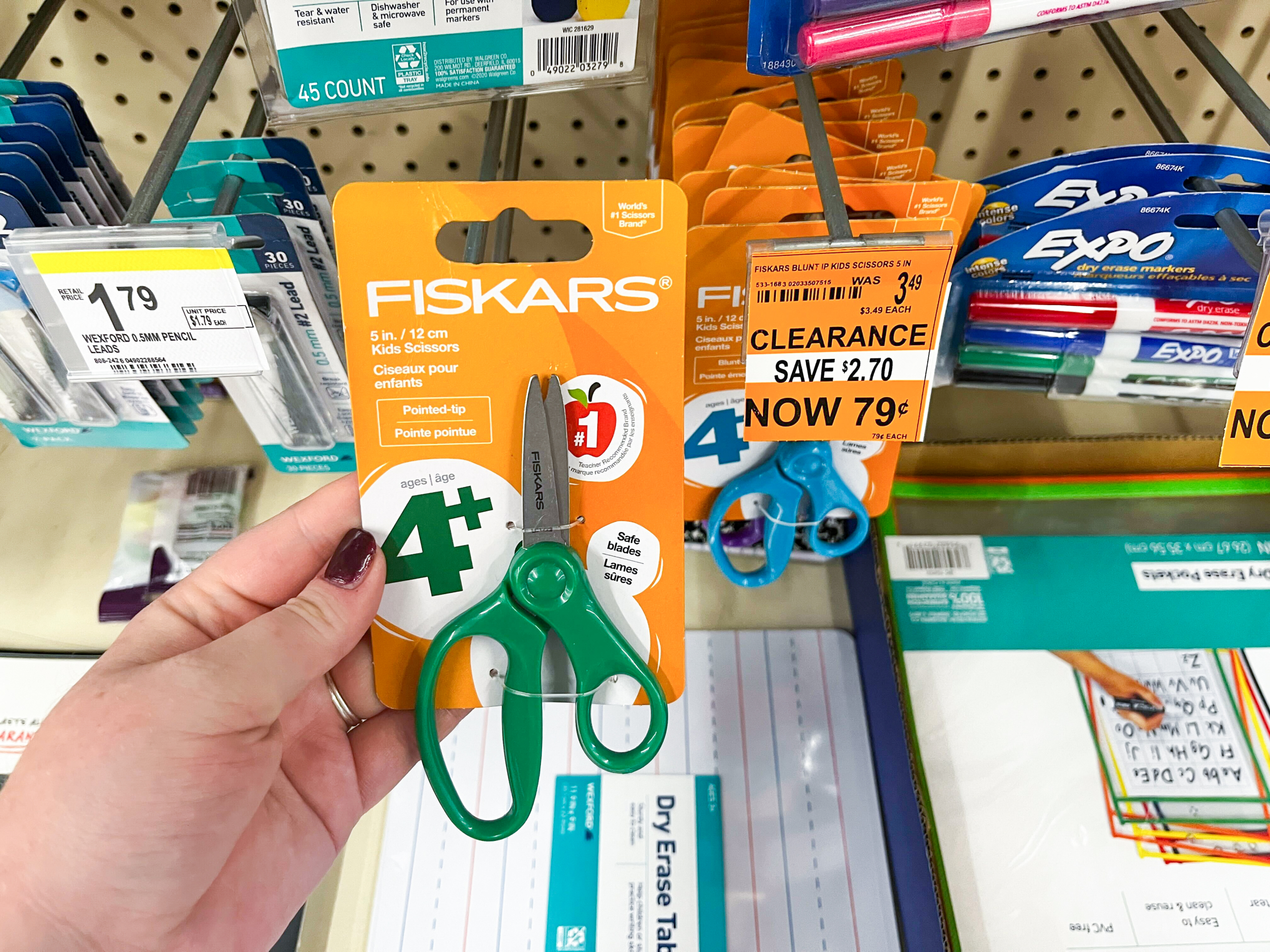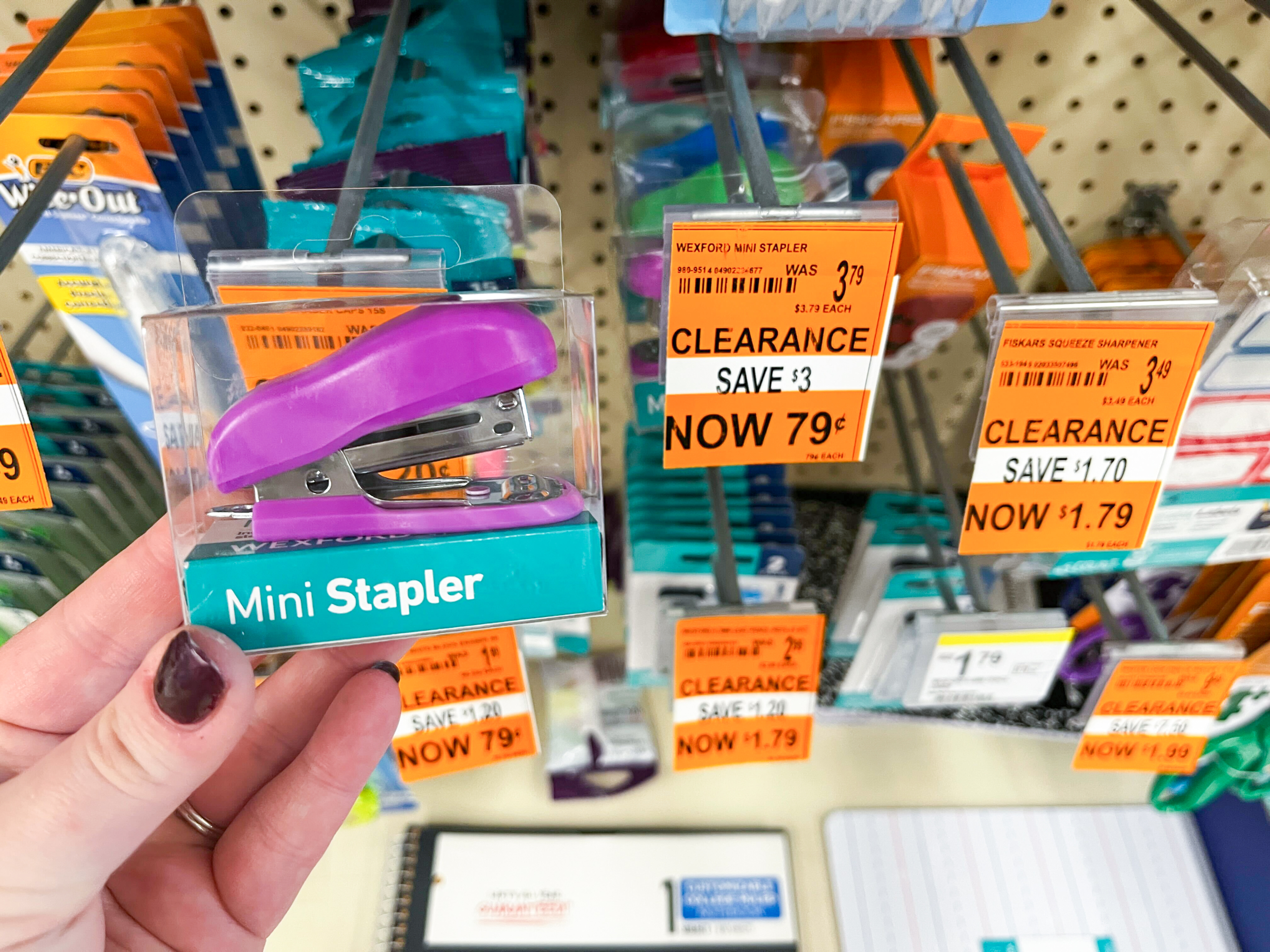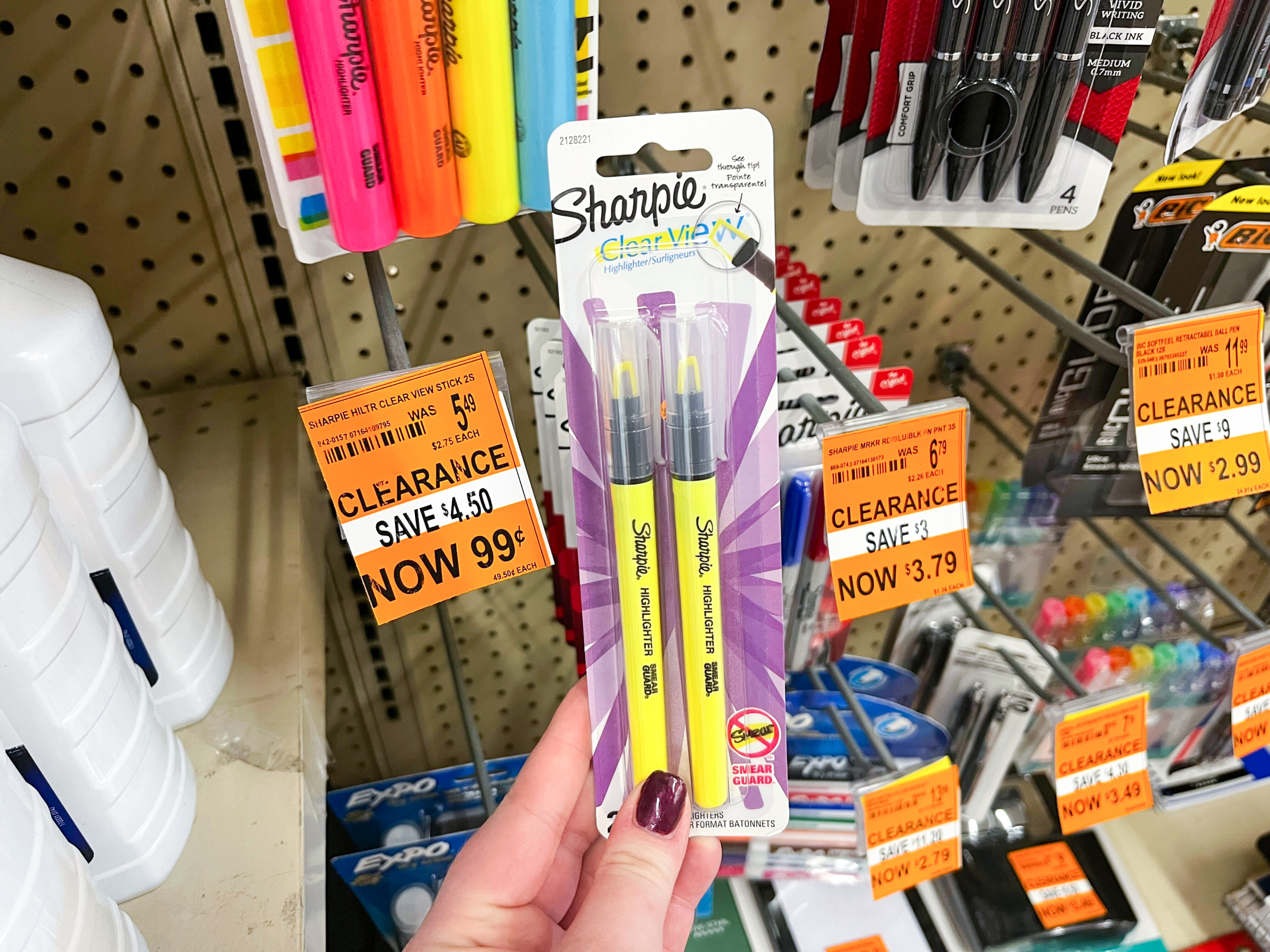 Sharpie Highlighters, 2 ct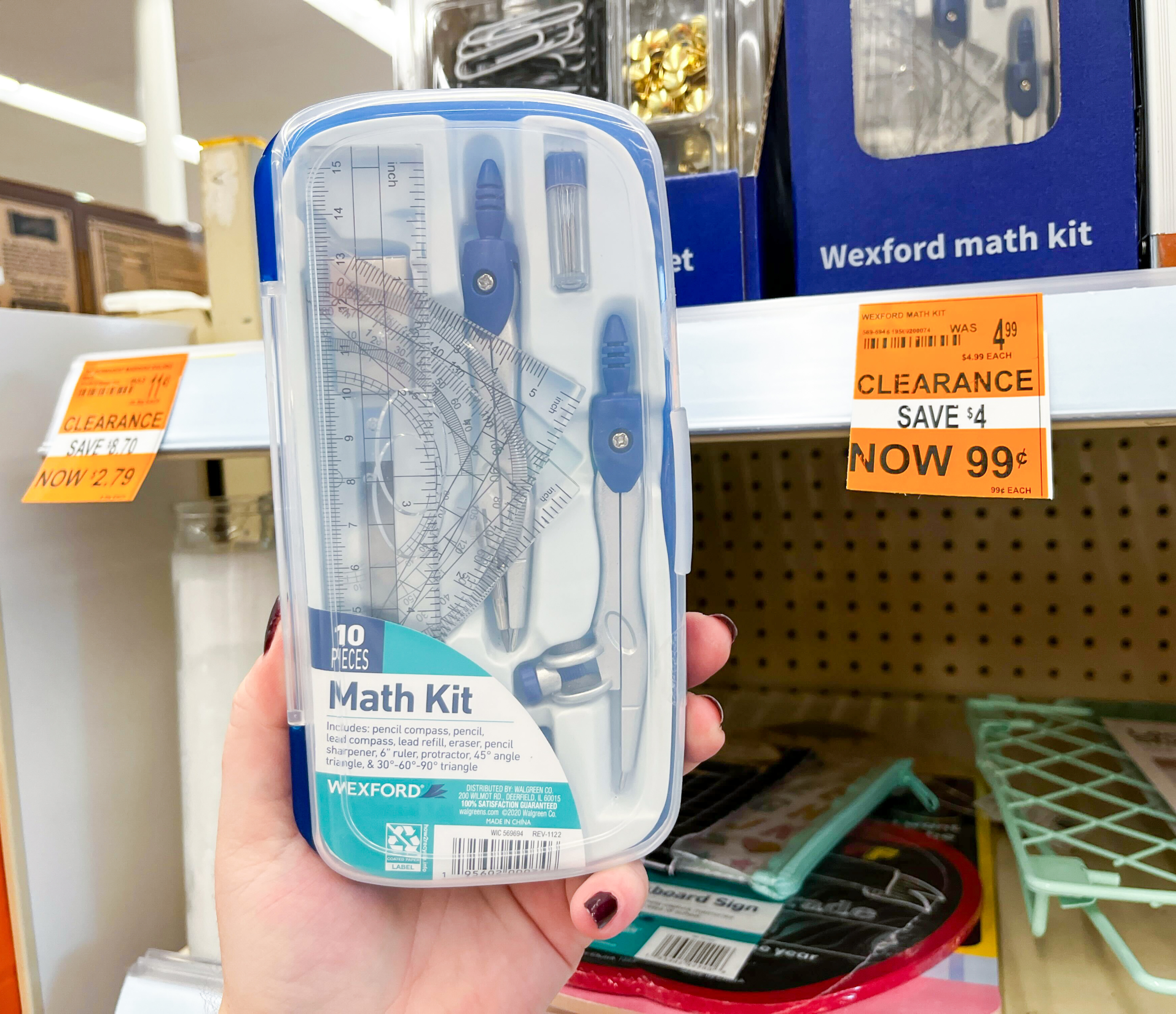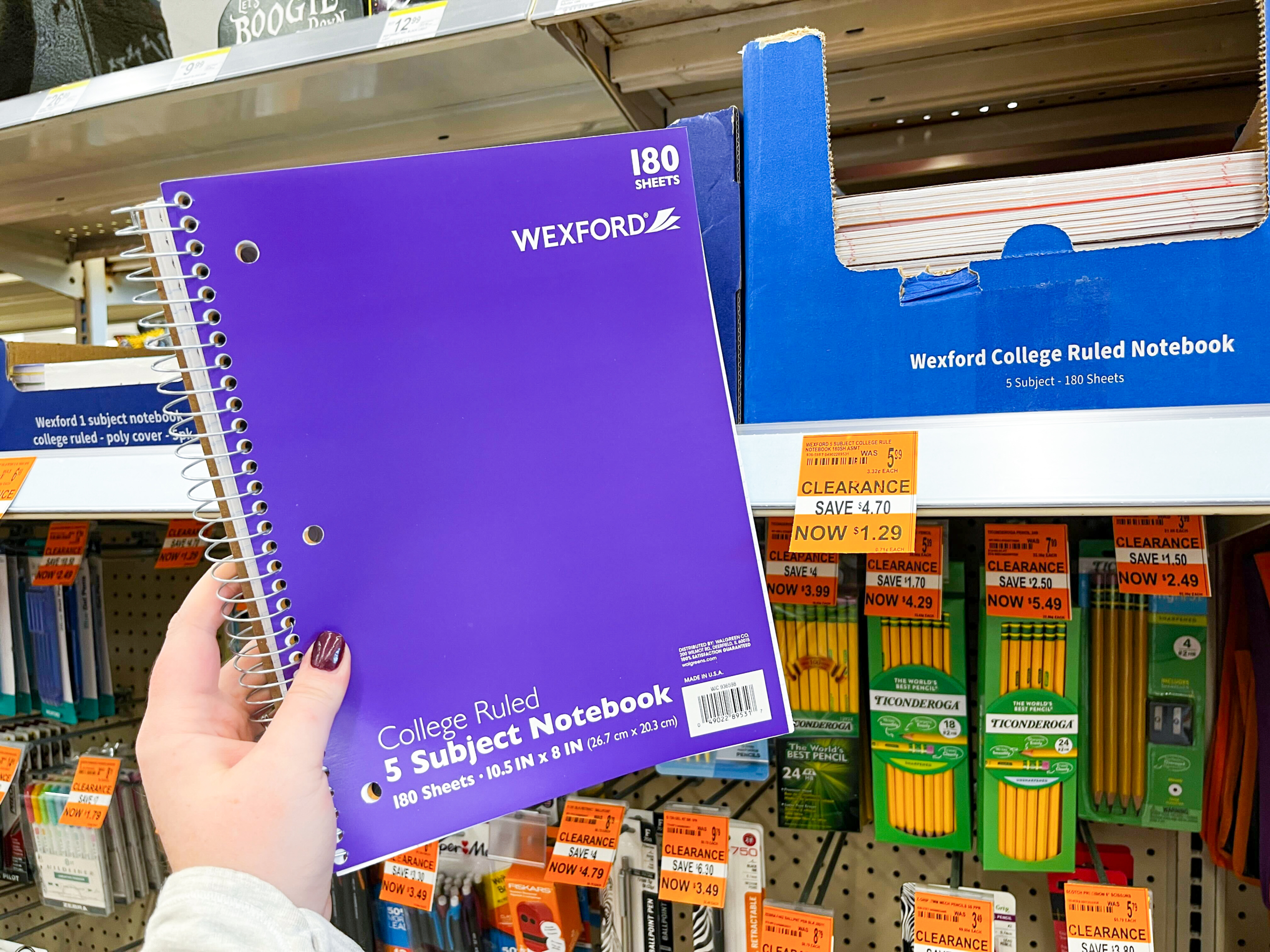 Wexford College-Ruled 5-Subject Notebook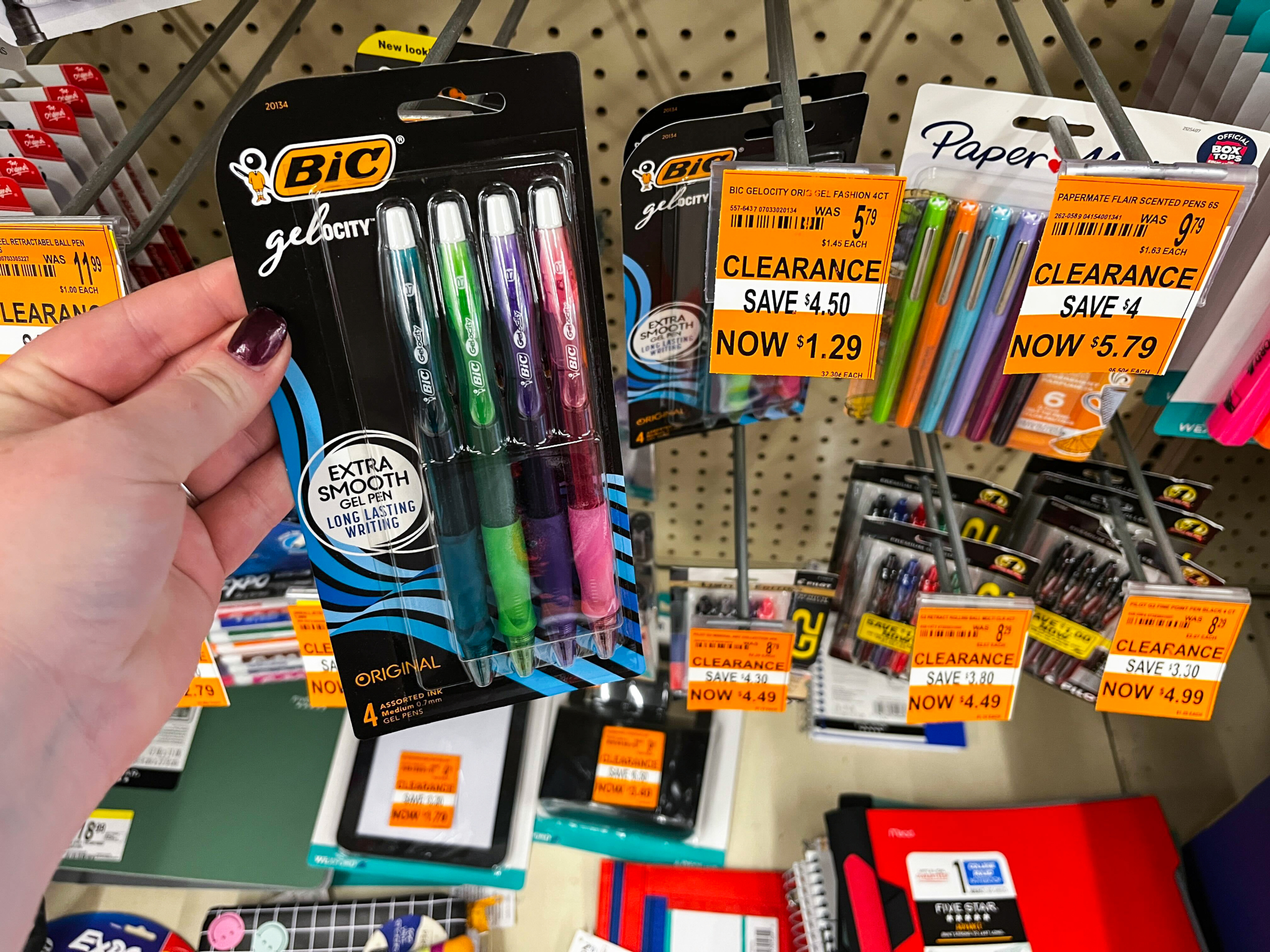 Bic Gelocity Extra Smooth Pens, 4 ct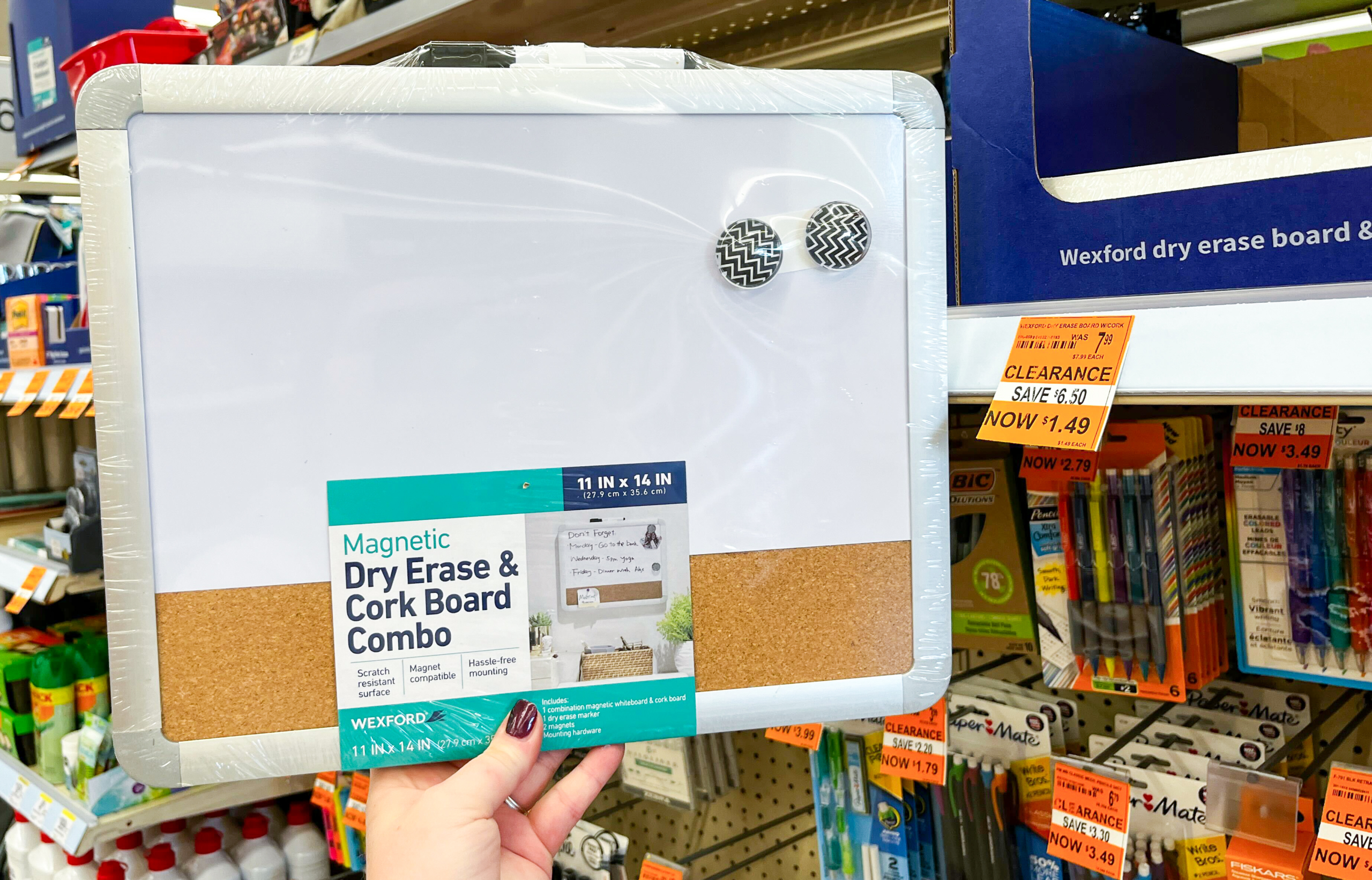 Wexford Magnetic Dry Erase & Cork Board Combo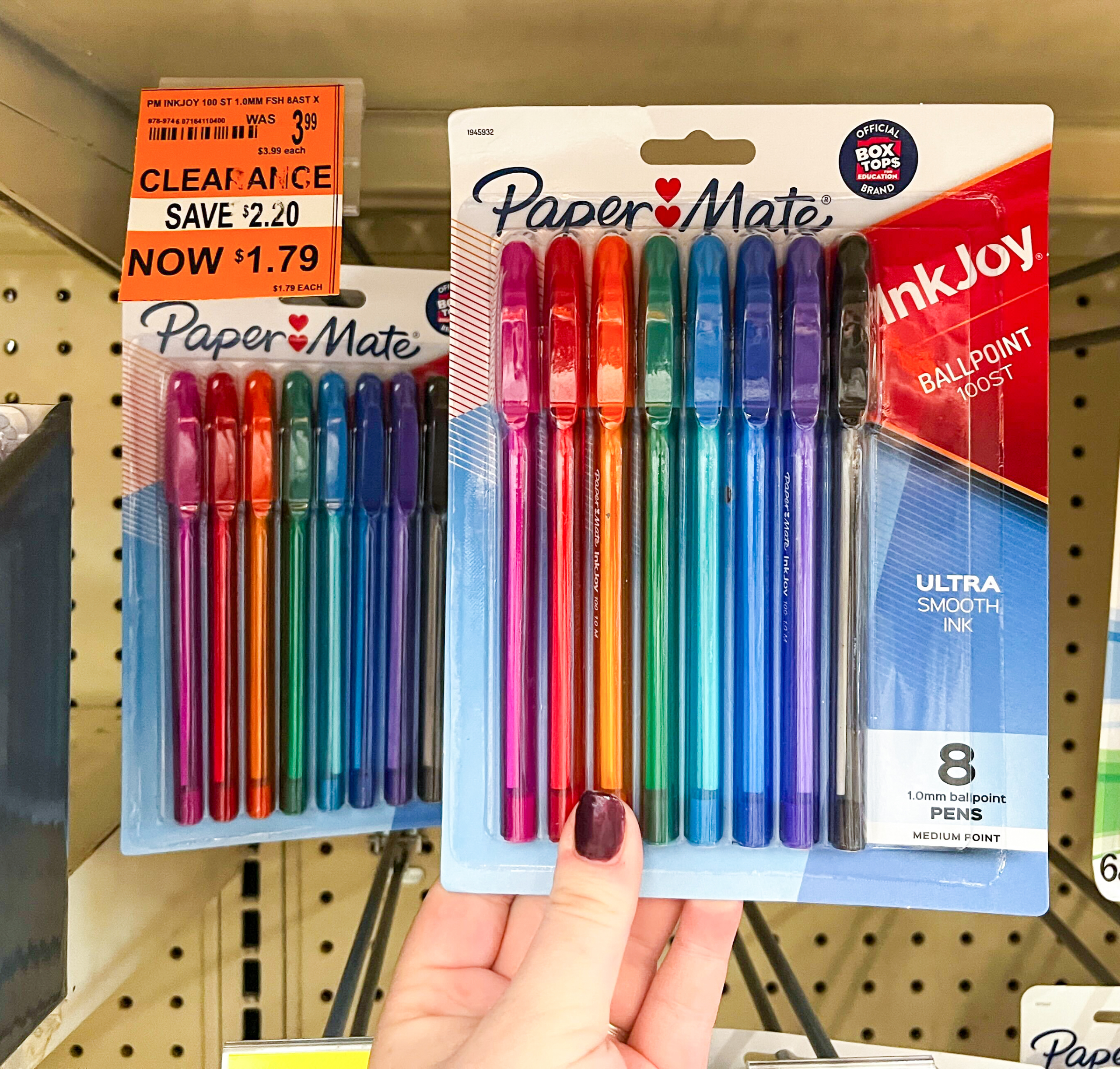 Paper Mate Color Ballpoint Pens, 8 ct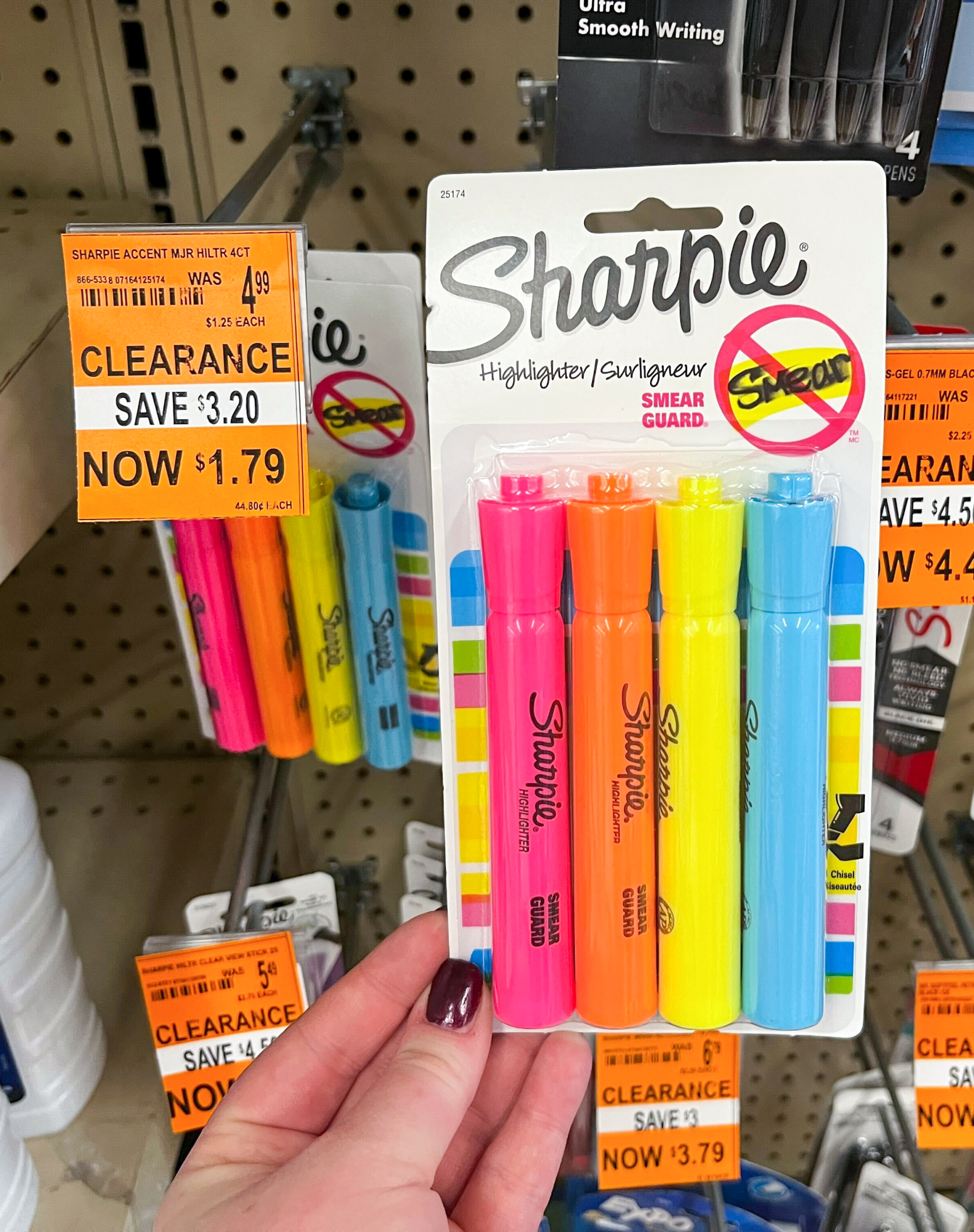 Sharpie Highlighters, 4 ct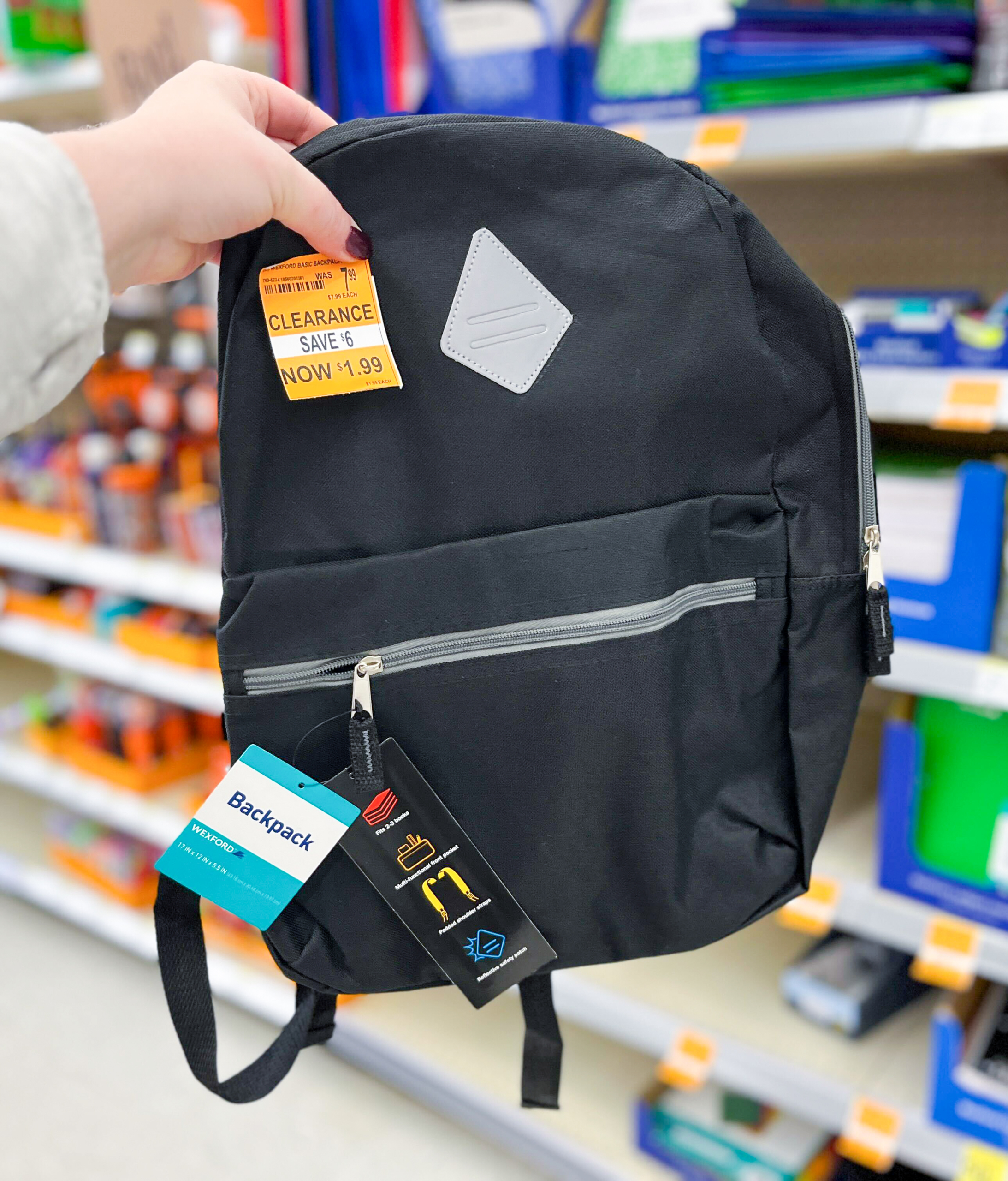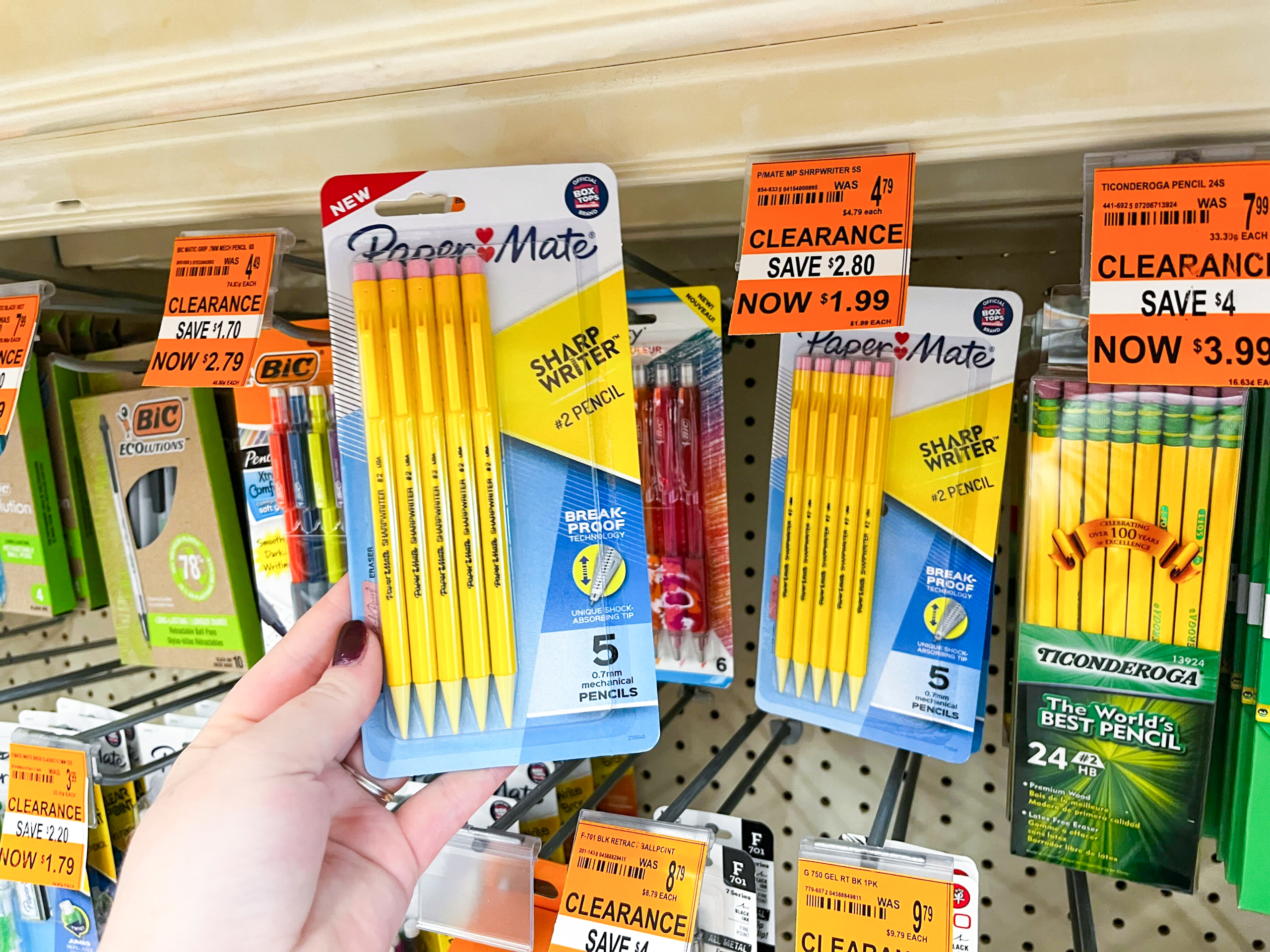 Paper Mate #2 Mechanical Pencils, 5 ct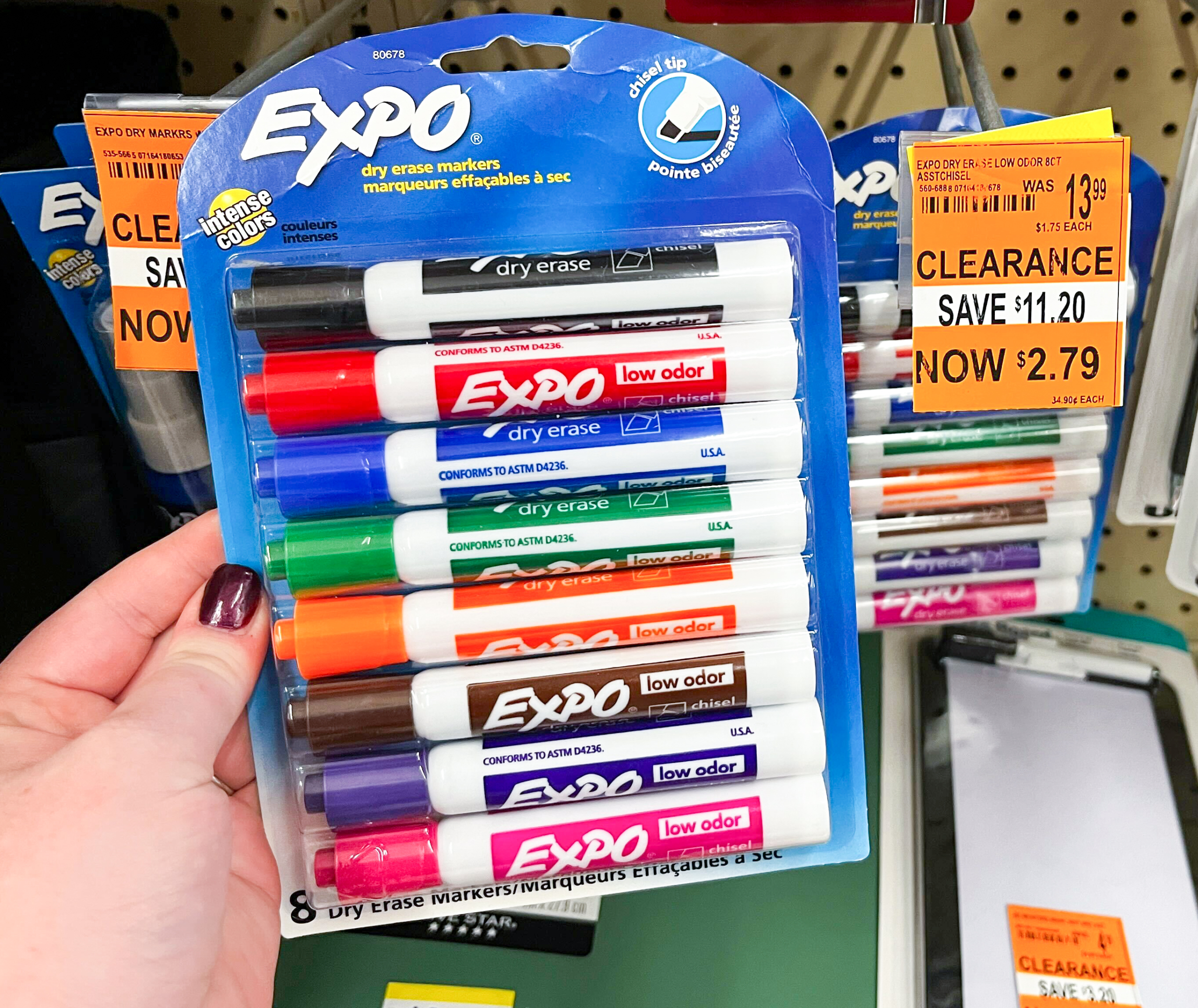 Expo Dry-Erase Markers, 8 ct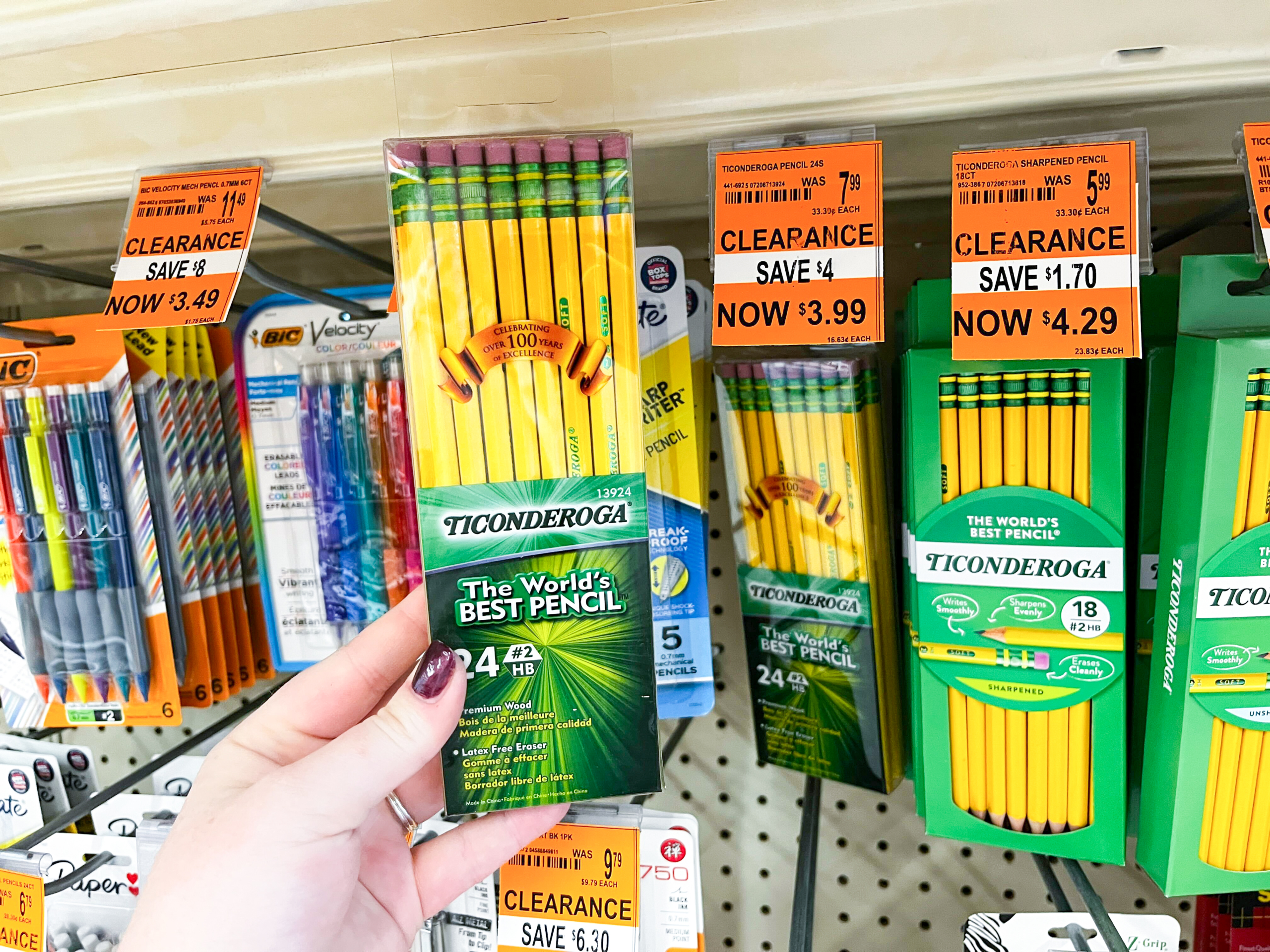 Ticonderoga #2 Wood Pencils, 24 ct
Related: Learn more about the cheapest places to buy school supplies
4. You'll also snag up to 90% off on back-to-school clearance at CVS.
If you can wait until late September, you can score 90% off select back-to-school supplies in-store at CVS. In 2022, we saw lots of deals for under $1.00 (and some much less than that). This sale is better to shop for fun school items like whiteboards or novelty pencils. You'll want to grab the school essentials earlier in August from clearance sales that start much earlier than this one. But for a sneak peek, here's what we saw in 2022.
Glitter folders, $0.30 (reg. $2.99)
Whiteboard & Pen Set, $0.30 (reg. $3.00)
LOL Surprise Gel Pens and Pencils, 5 for $0.40 (reg. $3.99 each)
Classroom decor signs, $0.50 (reg. $5.00)
Reusable water bottles, $0.70 (reg. $7.00)
5. Buy college dorm decor in the Hobby Lobby Spring Clearance for 75% off.
Hobby Lobby marks down spring clearance up to 75% off in early August. College students can use these discounts for dorm room decor and teachers can snag deals for classroom decor. We're already seeing dish towels for $1.75 (reg. $6.99), shower curtains for $8.75 (reg. $34.99), and table runners for $8.25 (reg. $32.99). These deals are in-store only and you'll want to use the handy clearance price charts to know the final prices of the deals.
Learn how to save the most at Hobby Lobby.
6. Get college dorm bedding and clearance kid's clothes at Kohl's.
Great deals on bedding at Kohl's happen in August. For instance, you can get The Big One comforters, BOGO 1/2 off. I recently found some clearance bargains; Jumping Beans Kids' Tees on sale for $6.00, regularly priced between $12 – $14, and SO kid's denim shorts on sale at $7.50, regularly priced at $25. This Kohl's clearance sale started on Aug. 1, 2023. In 2022, we saw it the first week of September.
7. Shop JCPenney for kids' school clothes when you see the extra 40% off back-to-school clearance.
In August, JCPenney has clearance for 50% off apparel and shoe purchases. Last year, I found a couple of clearance bargains; Little & Big Girls Round Neck Long Sleeve T-Shirt for $4.99, regularly priced at $26 and New Balance Nitrel Boys Running Shoes for $27.49, regularly priced at $55. We'll share more clearance deals as they begin.
Sign up for JCPenney Rewards to earn a $10 reward for every $200 you spend.
8. Find over 60% off graphic tees and cheap uniform shirts at The Children's Place.
The Children's Place offers deals worth your time on back-to-school clearance items in August. In 2022, kids' graphic tees were marked down to an insane $2.99 (regularly $10.50), that's 72% off, and short-sleeved polo uniform shirts were on sale for $4.99 (regularly $10.95). Stock up for the whole year when you see prices this low! They've got a Back-to-School sale going on now, but you'll get even steeper discounts if you wait until later in August.
9. Score Old Navy clearance apparel for under $3.
The Old Navy back-to-school clearance deals happen at the start of August when you can get kids' clothes for up to 60% off. Recently, I found a sale on full-length girls' leggings, regularly priced at $9.99, on sale for $2.91. And t-shirts regularly priced $10 on sale for $5 each.
Check out these Old Navy deals now.