It's the gift-giving season and you know what that means — it's also gift-wrapping season. We've got great ideas for stocking stuffers, gifts under $5, and gifts under $50 for everyone on your list. Save yourself some time and some Scotch tape by using gift bags instead of wrapping paper this year. (And next year — because you could reuse them!)
While it is true that wrapping paper is more affordable overall, you can find gift bags for as cheap as FREE — yep. Let's dig in and find the lowest prices as we look at the best place to buy cheap gift bags!
For more smart shopping tips and savings hacks, download the KCL app or text SAVE to 57299.
Where can you get the cheapest gift bags? It depends on the size bag you need.
Overall, you're going to save the most at Walmart on single gift bags. They have small, medium, large, and even extra-large bags for as little as $0.98. The designs are limited, but if you're looking to save on your holiday costs this year, shop at Walmart. If you need a larger quantity of bags (we're talking 20+ bags), Amazon has the lowest price.
Whether you need a single bag or a big set, here are the best places to do your holiday bag shopping this year. While Walmart and Dollar Tree should be your go-to stores for buying single bags, some stores — like Costco and Amazon — have better deals if you buy in bulk. For comparison purposes, we price-checked bags that were all around the dimensions of 9×7 or larger.
Find BOGO or FREE gift bags at Walgreens for a limited time.
Every holiday season, Walgreens has a special BOGO 40% off deal on wrapping paper, and this year they're back with some even better deals. You can get $0.49 gift bags or even free gift bags for a limited time.
Shop Amazon for 9×7 gift bags that cost as low as $0.49 per bag.
If you're looking to get a bulk set of gift bags, Amazon offers prices of around $0.50 per bag. This is even better than Costco's pricing when you buy in bulk, so it would be smart to buy your multi-size bulk bags from Amazon this year. Some reach up to $0.95 per bag, but that's still in the ideal price range.
Shop gift bag packs on Amazon:
PRICE SUMMARY
$0.92 per bag before discounts
Shop Walmart for medium and large gift bags at $0.98 each.
If you're not interested in buying sets of bags, Walmart has the lowest individual bag price at just $0.98 each. The bag dimensions vary, and we'd consider them to all be medium- to large-size bags. For a single bag, Walmart has the lowest price.
Shop Walmart gift bags: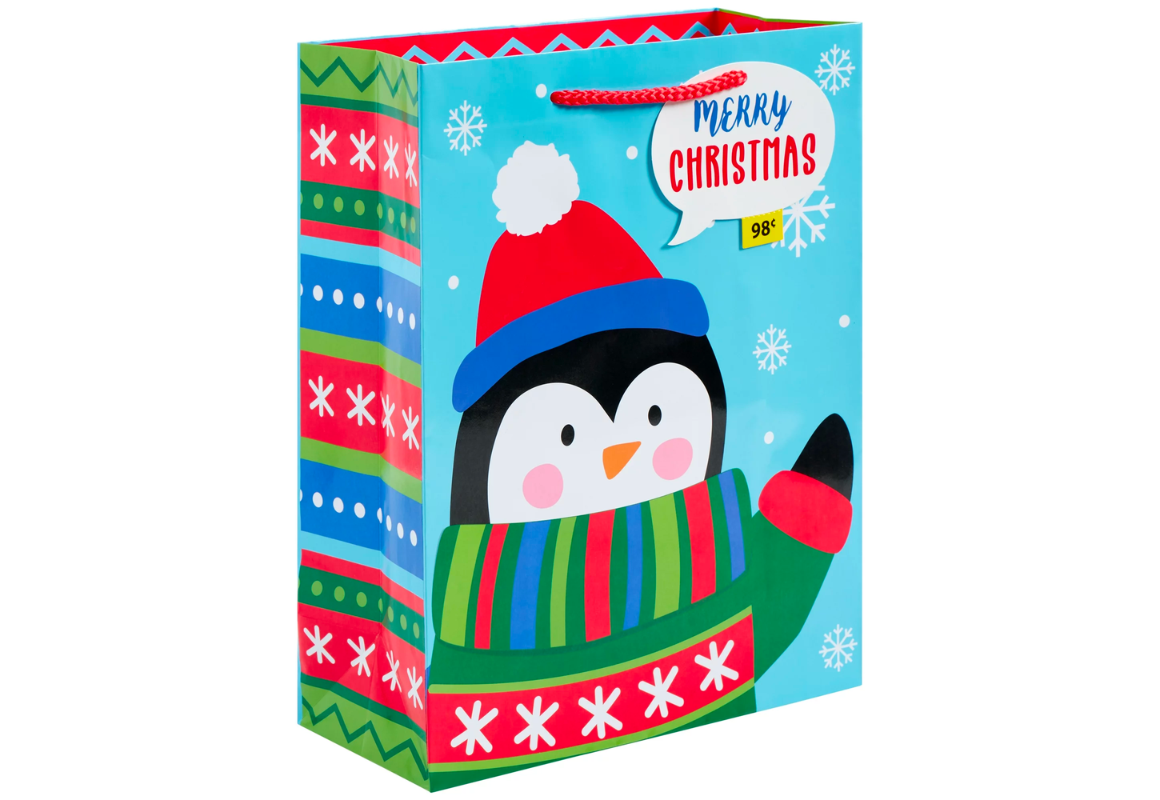 Shipping:
Free with Walmart+ or on orders of $35+
Shipping:
Free with Walmart+ or on orders of $35+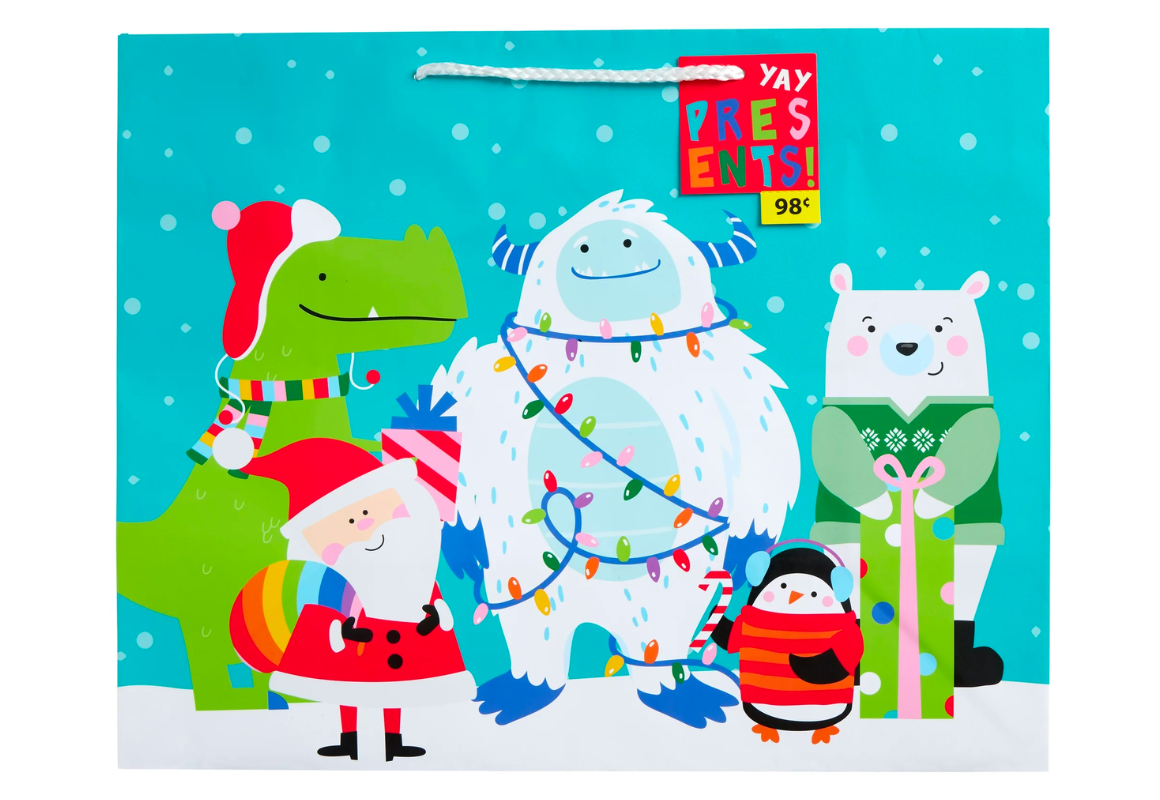 Shipping:
Free with Walmart+ or on orders of $35+
Shop Dollar Tree for large cheap gift bags at just $1.25 per bag, or mini bags for $0.41 each.
Dollar Tree is another go-to for large gift bags. While many of the other retailers' prices will vary by size, Dollar Tree bags are $1.25 for all sizes. Generally, you can get a better deal on mini gift bags elsewhere, unless you opt for a pack of three for $1.25. This comes out to $0.41 per mini bag.
Note that you can only find this deal in-store.
Costco has a bulk 20-piece Hallmark bag bundle for $0.90 per bag.
In 2022, Costco had (now sold out) 32-ct holiday gift bags for $39.99, working out to $1.25 per bag. However, they've stepped up their game this year with an even better deal. We found a 20-pack of bags for $17.99 or $0.90 per bag. This beats Walmart's and Dollar Tree's single-bag prices.
Note that you can only find this deal in-store.
Target's Dollar Spot has great finds for $1 to $3 each.
Target has a variety of different cheap gift bags in different sizes in the Dollar Spot section for $1 each. You can also shop their holiday aisles and find Christmas gift bags between $1 and $3, depending on size. Or if you have the Target RedCard, these drop to $0.95 – $2.85 each. While their holiday bags aren't always the lowest prices, the Dollar Spot finds can sometimes beat Dollar Tree for value per bag.
Shop Target gift bags: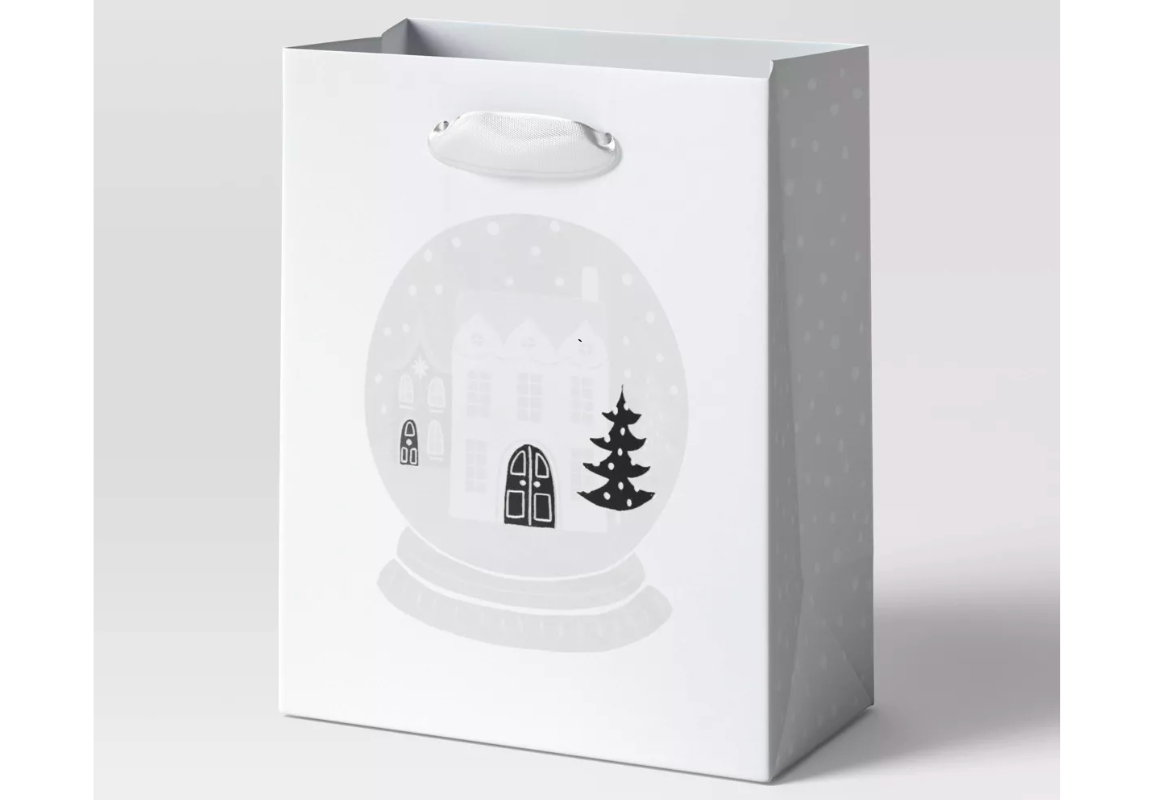 As low as
$0.95
$1.00
(5% Off)
MOBILE COUPONS NEEDED
As low as
$1.90
$2.00
(5% Off)
MOBILE COUPONS NEEDED
As low as
$2.85
$3.00
(5% Off)
MOBILE COUPONS NEEDED
Never spend more than $1 per single bag or $0.70 per bag in a mutli-pack.
Judging by the prices we're seeing this year, there's no reason to spend more than $1 per single bag. And if you need multiple bags, find a deal that works out to under $0.70 per bag to know you're getting a good price. Our advice is to always buy in bulk and save any unused bags for next year.
Tip: Measure your gifts before you go gift bag shopping. Make sure your gifts will fit in the bags you purchase to ensure less waste and better bargains.
Don't forget the tissue paper — Dollar Tree has it for $0.04 per sheet.
Tissue paper is an added cost to buying gift bags. Though it does add some to your overall budget, you can find some decent deals on tissue paper if you know where to look. Dollar Tree has 35 sheets of white tissue for $1.25, which works out to $0.04 per sheet, which is the best deal you'll find.
In the past, Walmart had $0.06 per sheet when you buy their 100-sheet pack of American Greetings tissue paper for $5.98. Currently, that pack is out of stock, but we're hoping the deal makes a comeback soon. Shop some other deals we found on tissue paper below.
Shop tissue paper deals: