Want to know where and when to shop for cheap LEGOs? Or how to sell that dusty bin of used LEGO bricks that nobody's played with since fourth grade?
Check out these 13 cheap LEGO hacks you'll need for buying and selling LEGOs: those pain-in-the-foot, vacuum-killing bricks that we all love/hate.
1. Check Costco's website for Costco LEGO!
Costco.com doesn't show up in most online shopping apps and searches, even though it's hard for anyone to beat their everyday toy prices. Costco.com usually has a handful of LEGO sets for sale on its website throughout the year.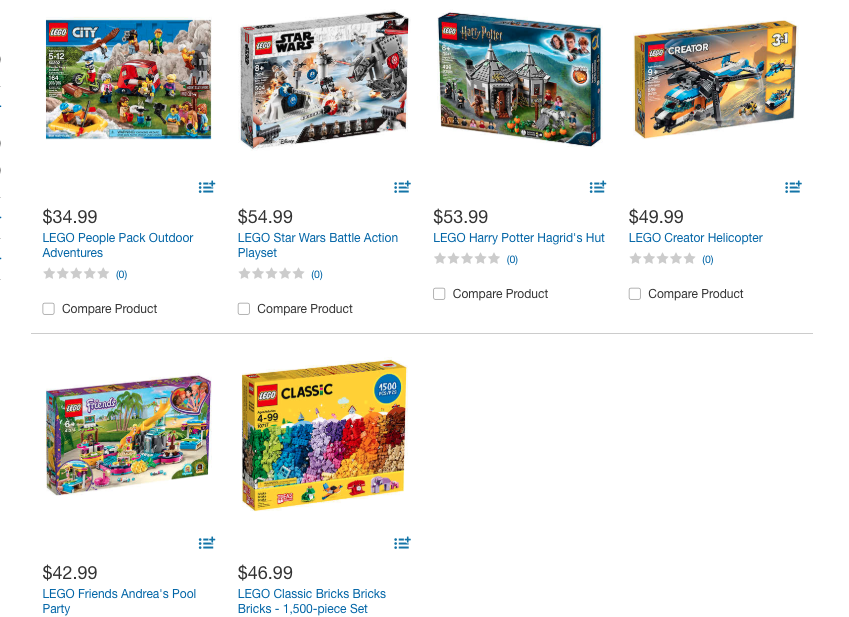 One is a LEGO Classic Bricks Bricks Bricks 1500 piece set (10717) for $46.99 and free shipping.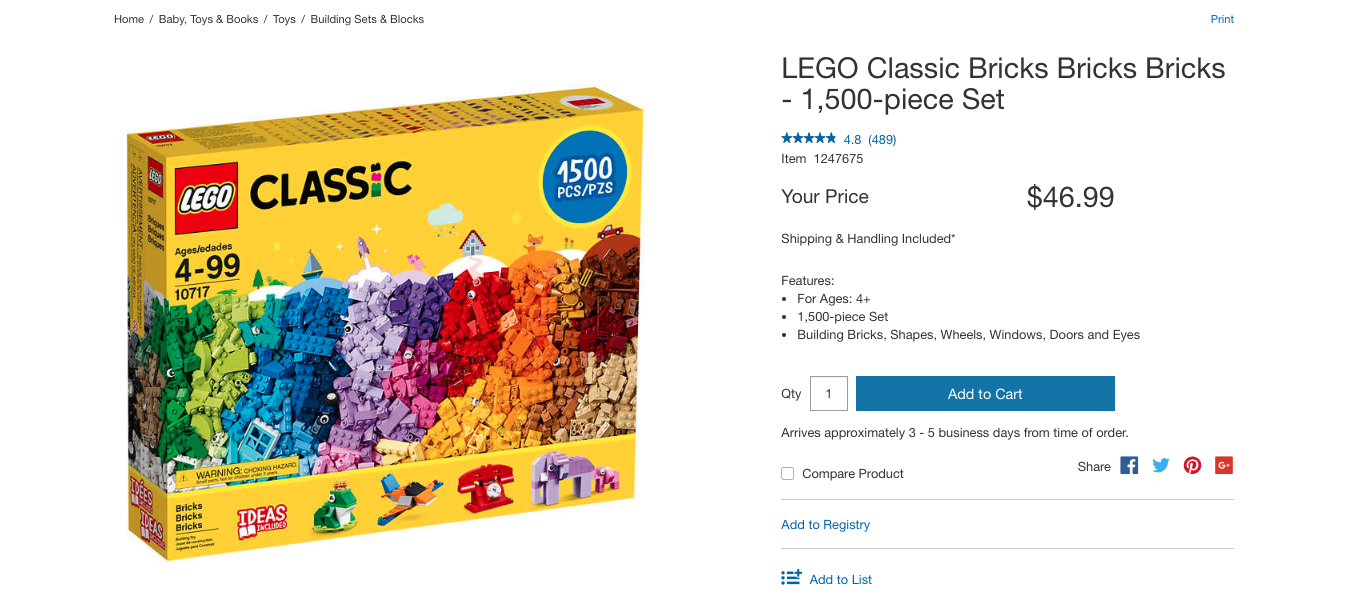 At 3 cents a brick, this is a steal! Here's how other online retailers compare for the same set:
Walmart.com
Classic Bricks, Bricks, Bricks 1500 piece set
$59.99 with free shipping
Amazon.com
Classic Bricks, Bricks, Bricks 1500 piece Set
$69.80 with free shipping
Lego.com
Classic Bricks, Bricks, Bricks 1500 piece set
$59.99 with free shipping
2. Price compare Costco.com with in-store stock.
The same Classic Bricks, Bricks, Bricks set I found on Costco.com for $46.99 was selling for $39.99 at my local store, a savings of $7! Now we're talking a little over 2 cents a brick with this set!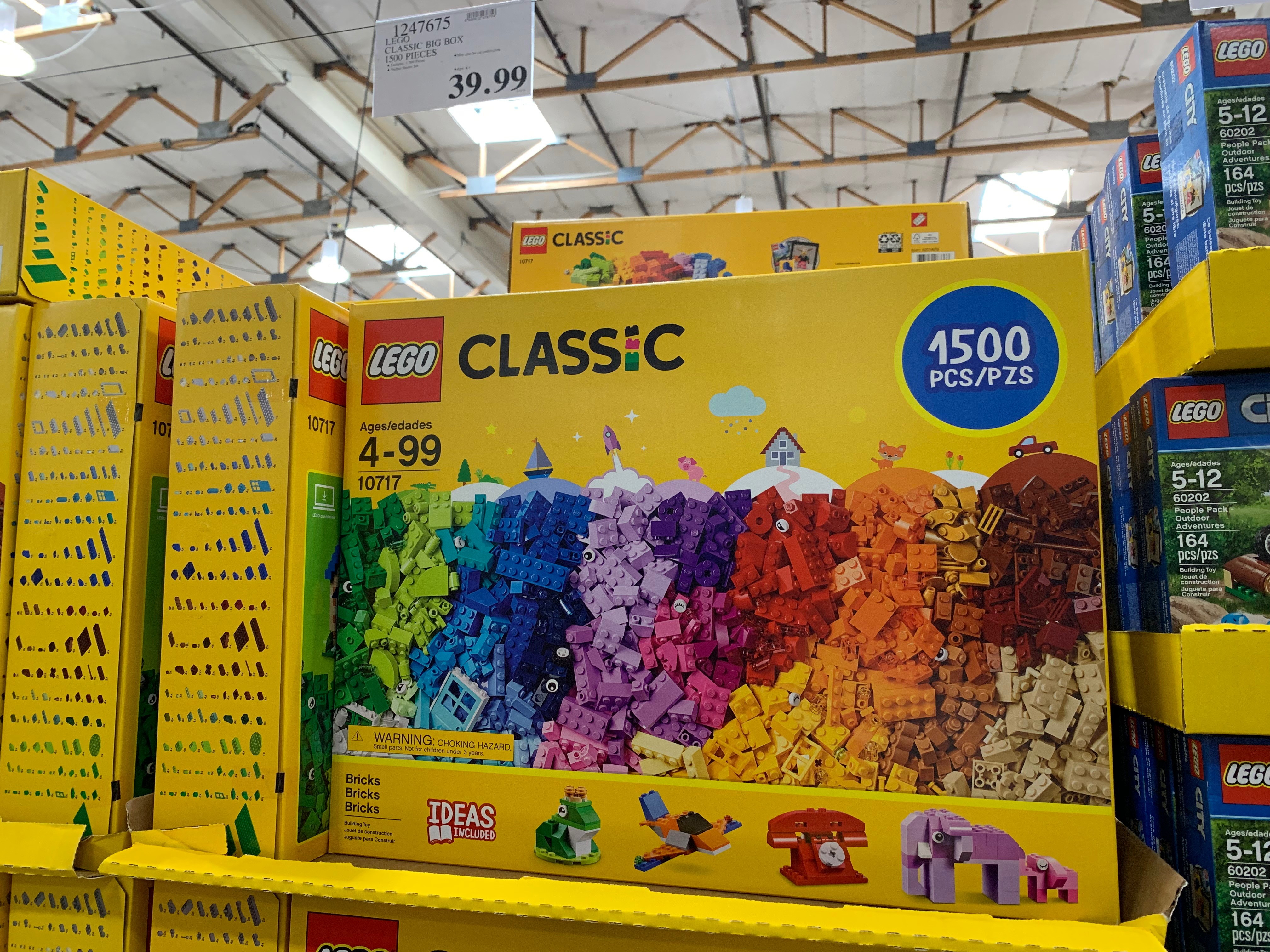 LEGO People Pack Outdoor Adventures at Costco.com for $34.99 sells in store for $27.99, a $7 savings!
LEGO Star Wars Battle Action Playset at Costco.com for $54.99 sells in store for $48.99, a $6 savings!
LEGO Harry Potter Hagrid's Hut at Costco.com for $53.99 sells in store for $48.99, a $5 savings!
LEGO Creator Helicopter at Costco.com for $49.99 sells in store for $44.99, a $5 savings!
LEGO Friends Andrea's Pool Party at Costco.com for $42.99 sells in store for $37.99, a $5 savings!
3. Shop the big sales, like Black Friday, for the best times to stock up on LEGOs.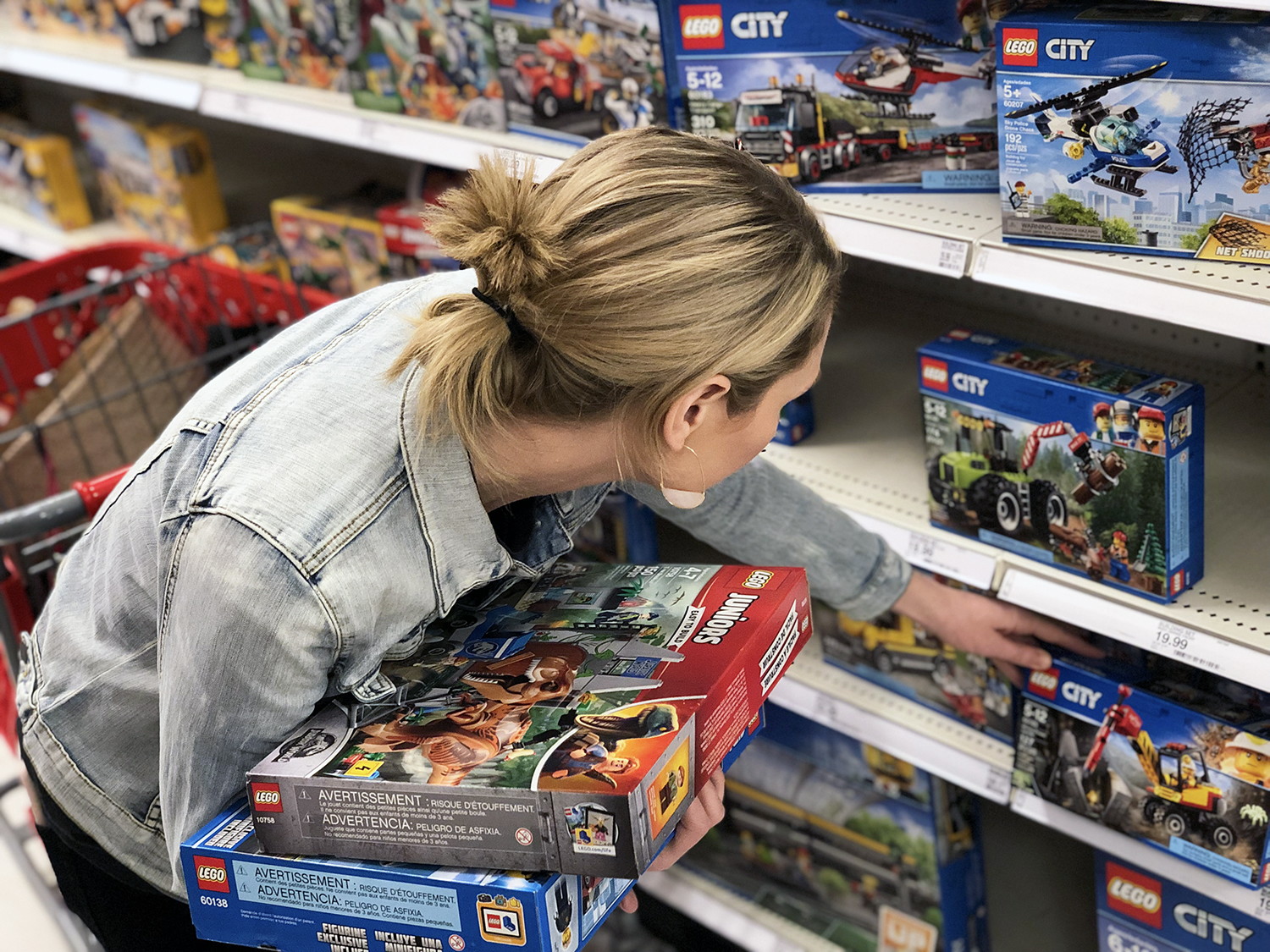 Here are some of the major sales I never miss:
Black Friday toy sales. In 2018, Kohl's discounted LEGO sets by 30%, Target was selling 200-piece sets for as low as $11.39, and Walmart sold a LEGO classic 303 piece set for $10 (there's that 3-cents-a-brick deal again!)
Target's Semi-Annual Toy Sale in mid-January and mid-July. It starts at 30% and jumps to 50% and before you know it—boom—70% off!
Amazon Prime Day

in July.

One Reddit user scored a Star Wars Millennium Falcon for $84!
Walmart Toy Clearance. This one is tricky as it happens by store, not online and usually in January and July, just like Target. See the next tip on how to stay informed!
4. Set alerts for LEGO deals near you or online.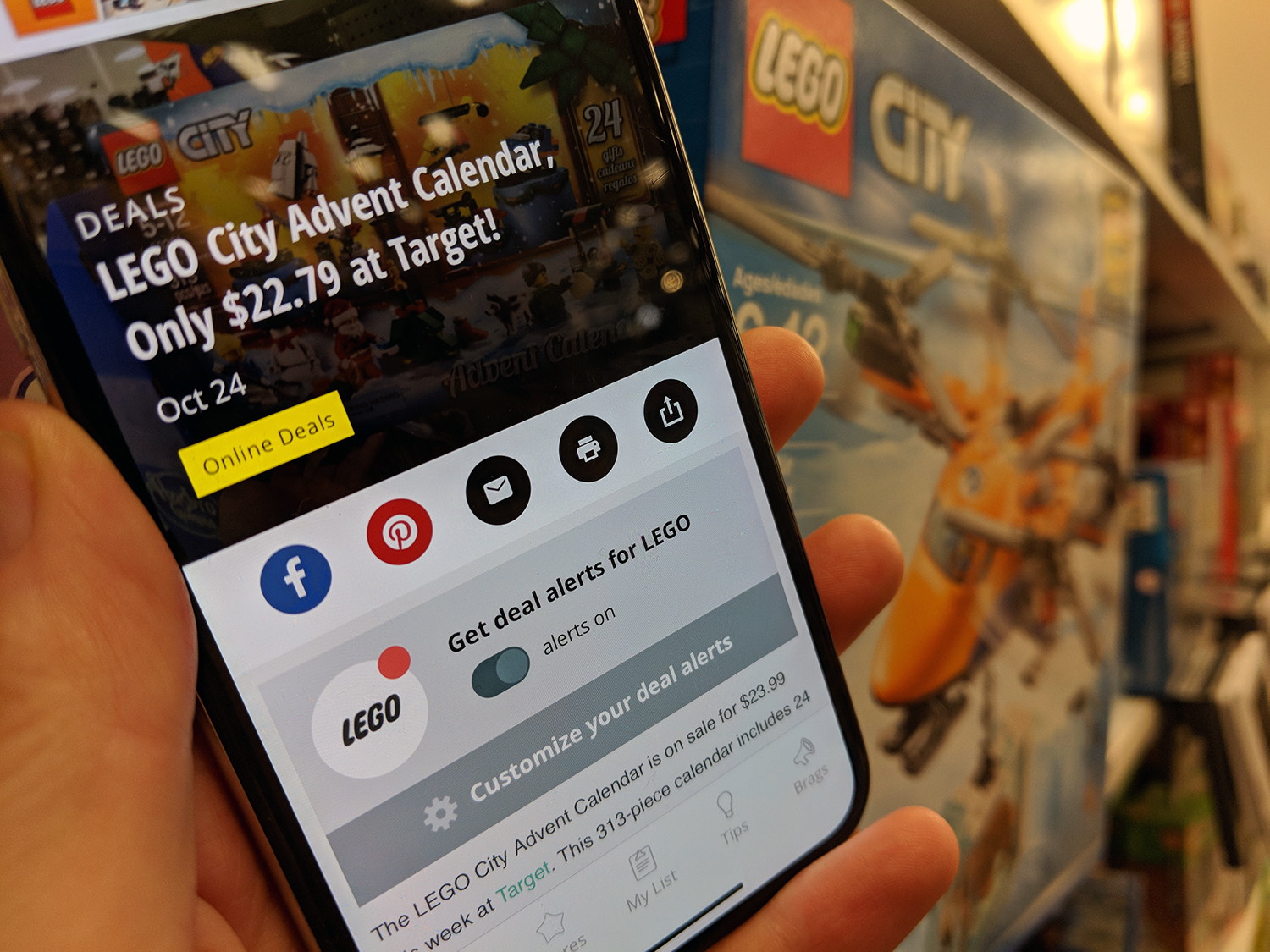 Before you burn through a tank of gas driving store to store, technology can help you strategize.
5. Find LEGO deals on Reddit.

The subreddits r/legodeal and r/legodeals post deals users find online or at their neighborhood retailers. One Reddit user posted a 20% off LEGO sale on a $25 minimum toy purchase at Kroger that can be stacked with a 30% off one toy coupon found in the Kroger app. This leads me to my next tip.
6. Stack Coupons, Sales, Promos, and Insider Discounts for Cheap LEGOs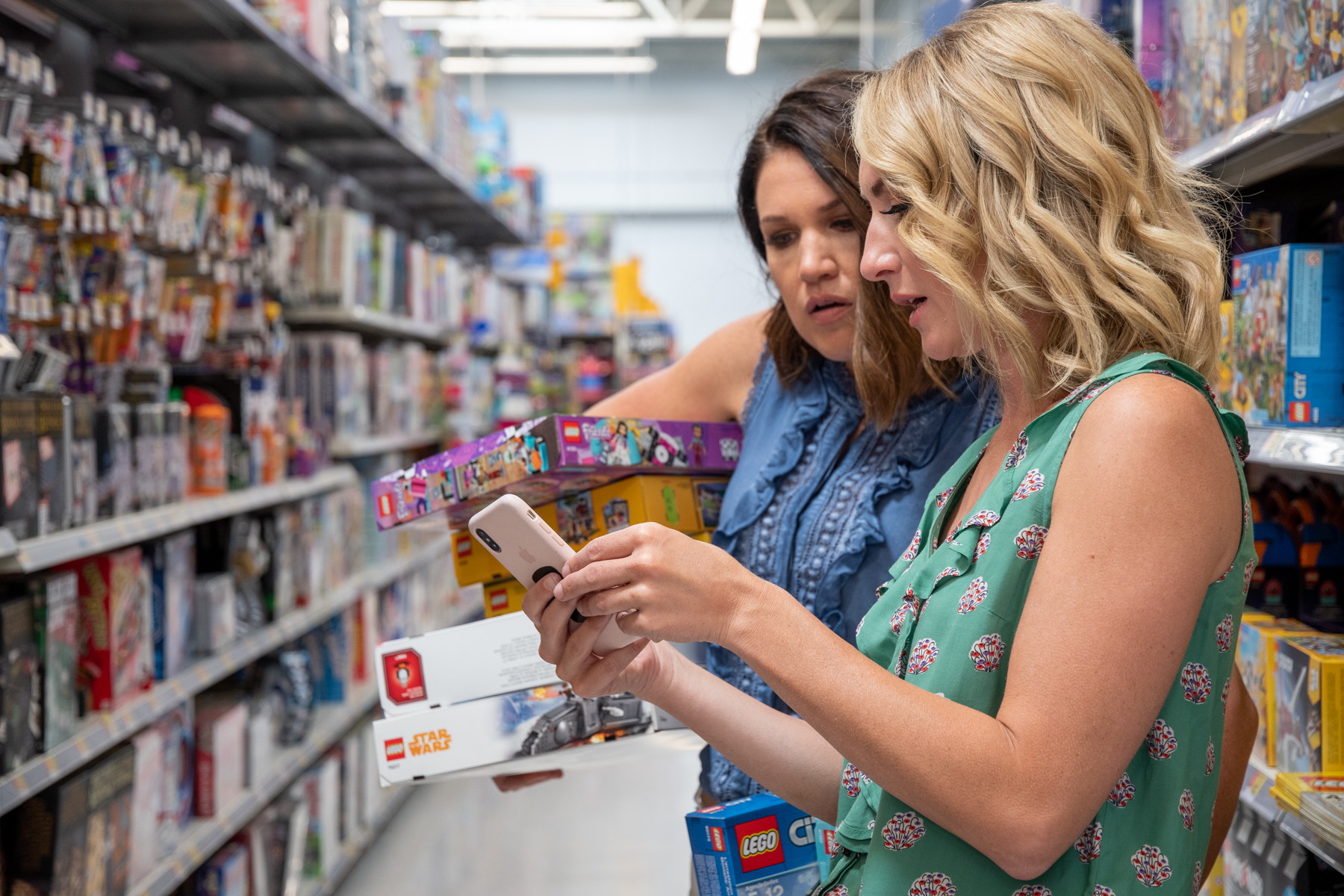 I wouldn't be the Krazy Coupon Lady if I didn't do crazy things like stack deals. Here's how it works:
During Black Friday, Kohl's is offering 30% off all LEGO sets. I grab a LEGO Star Wars Imperial Fighter Set for 30% off the regular price of $69.99 at $49.00. Then I use $20 in Kohl's Cash and end up paying $29.00. I also earn 29 points on the purchase with my Yes2You Rewards!
7. Set a Google alert about retail stores closing near you.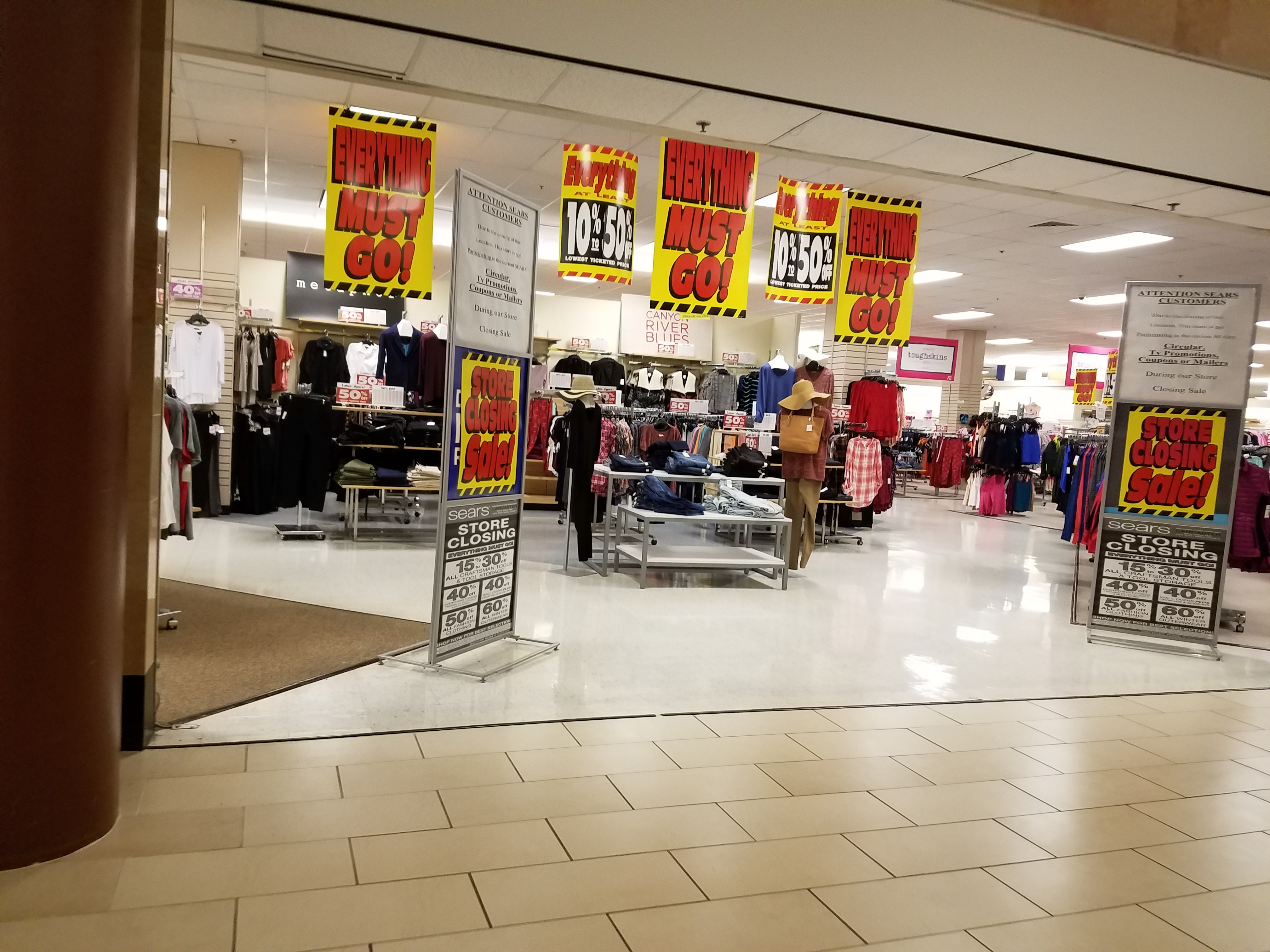 Go to Google Alerts and under your profile, create an alert for "retail stores closing near me." The retailer's corporate (not shopping) website will announce close-out sales for those locations.
What I found: Kmart and Sears are closing over 21 stores across the U.S. by October 2019. Liquidation sales are to begin August 15. Both stores sell LEGO! Get the full list of Kmart and Sears stores closing here.
8. Hunt for LEGOs in random stores you wouldn't think of.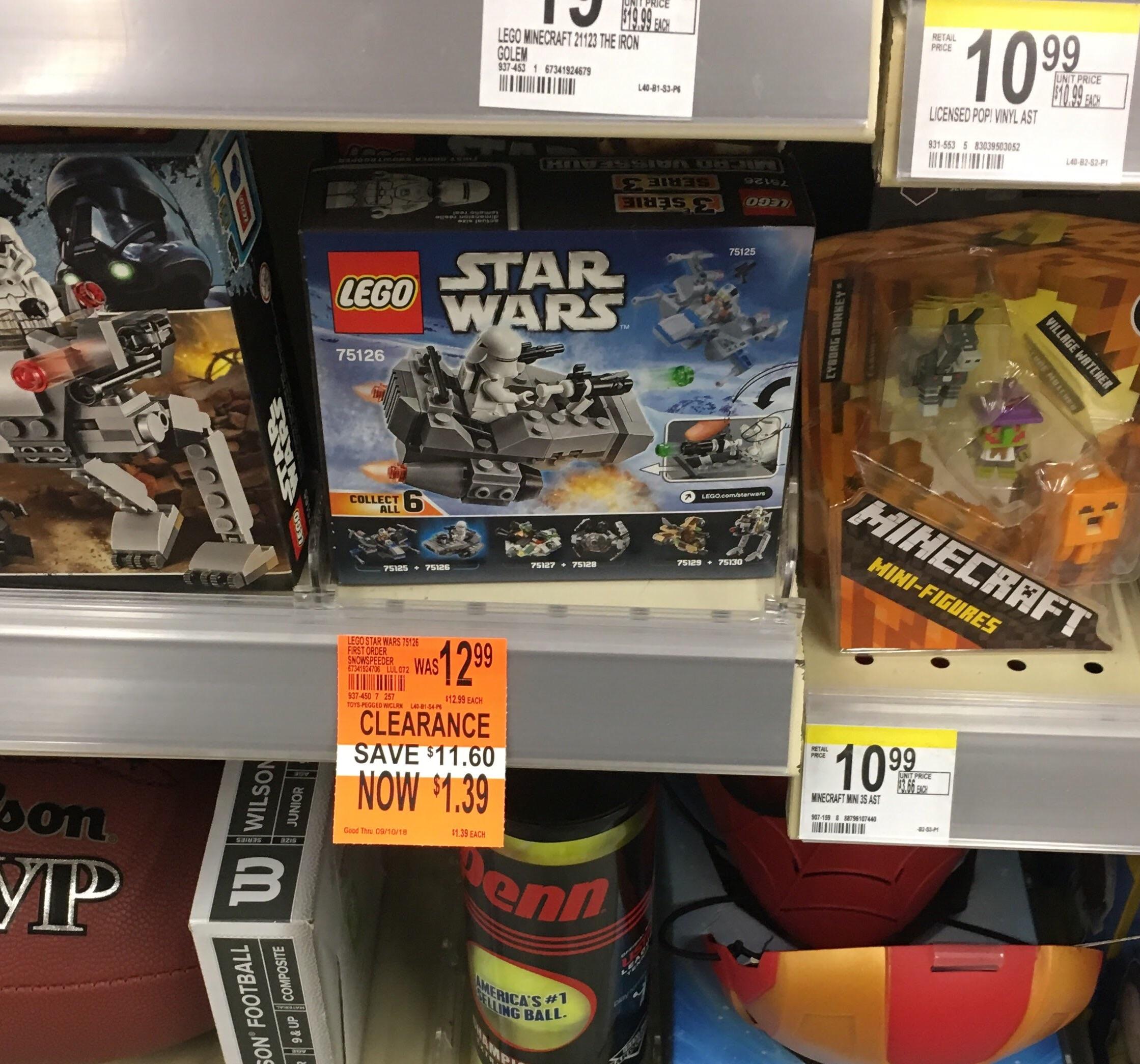 Hobby and craft stores, grocery stores, hotel and hospital gift shops, and drugstores often hang on to the same dusty LEGO sets for years. Keep your eyes peeled; the more dust the better, because you could happen upon a rare set! Then, do a quick search on Bricklink.com or eBay to see if you struck gold.
9. Join a LUG (LEGO User Group) for discounted LEGOs in bulk.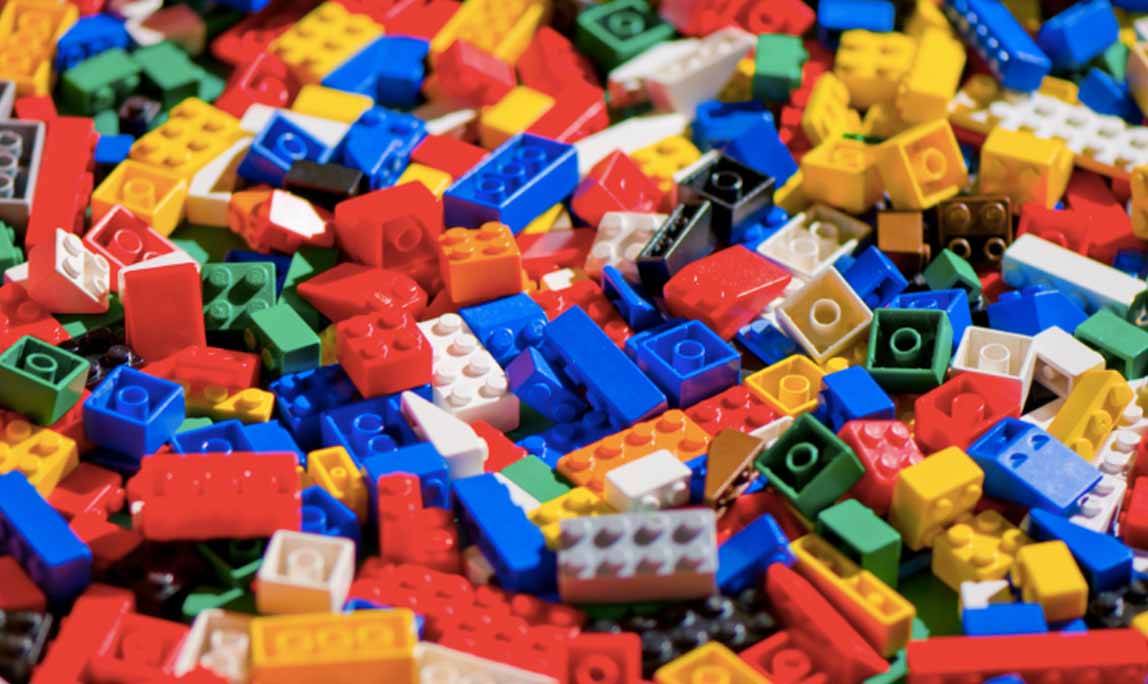 The acronym-obsessed LEGO Ambassador Network (LAN) is formed by smaller LEGO User Groups (LUGs). LUGs are Adult Fans of LEGOs (AFOLs) or Teen Fans of LEGOs (TFOLs) that meet in their communities to talk about LEGOs, the properties of LEGOs, and build life-sized things out of LEGOs. Right before the holidays LEGO announces LUGbulk, a bulk-buying LEGO sale where LUG members stock up mountains of new bricks for a nice discount.
10. Sign up for the LEGO VIP Program for free LEGO stuff.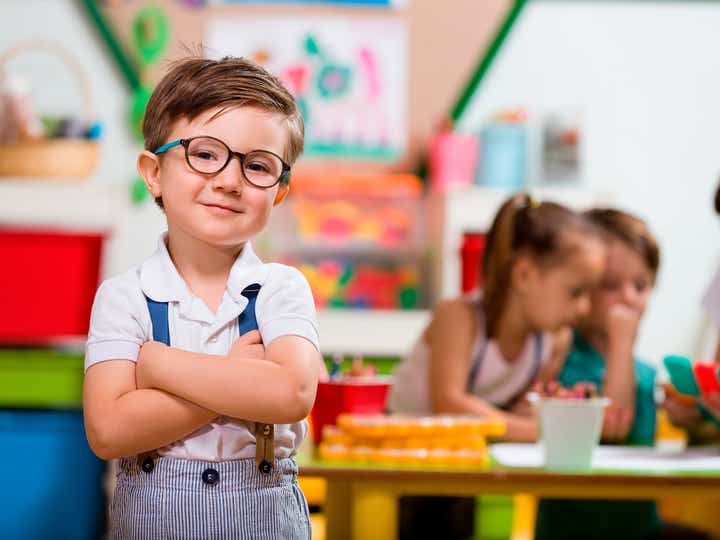 Discounts for VIP members average 5%-15% off in the LEGO Store and online. It's not much, but diehard LEGO fans sign up for:
Limited-edition, branded Gifts With Purchase (GWP) products bought in the LEGO store or online, like totes or picnic blankets, unavailable to laypeople.
Early access to limited-edition sets, like The Upside Down, based on the Netflix series "Stranger Things," backordered for non-VIPs.
Sweepstakes entries for giveaways.
Points earned on purchases they can use to buy more LEGOs.
Want to flex that VIP LEGO status at LEGOLAND? Read this for LEGOLAND deals!
11. Buy used LEGOs in your neighborhood.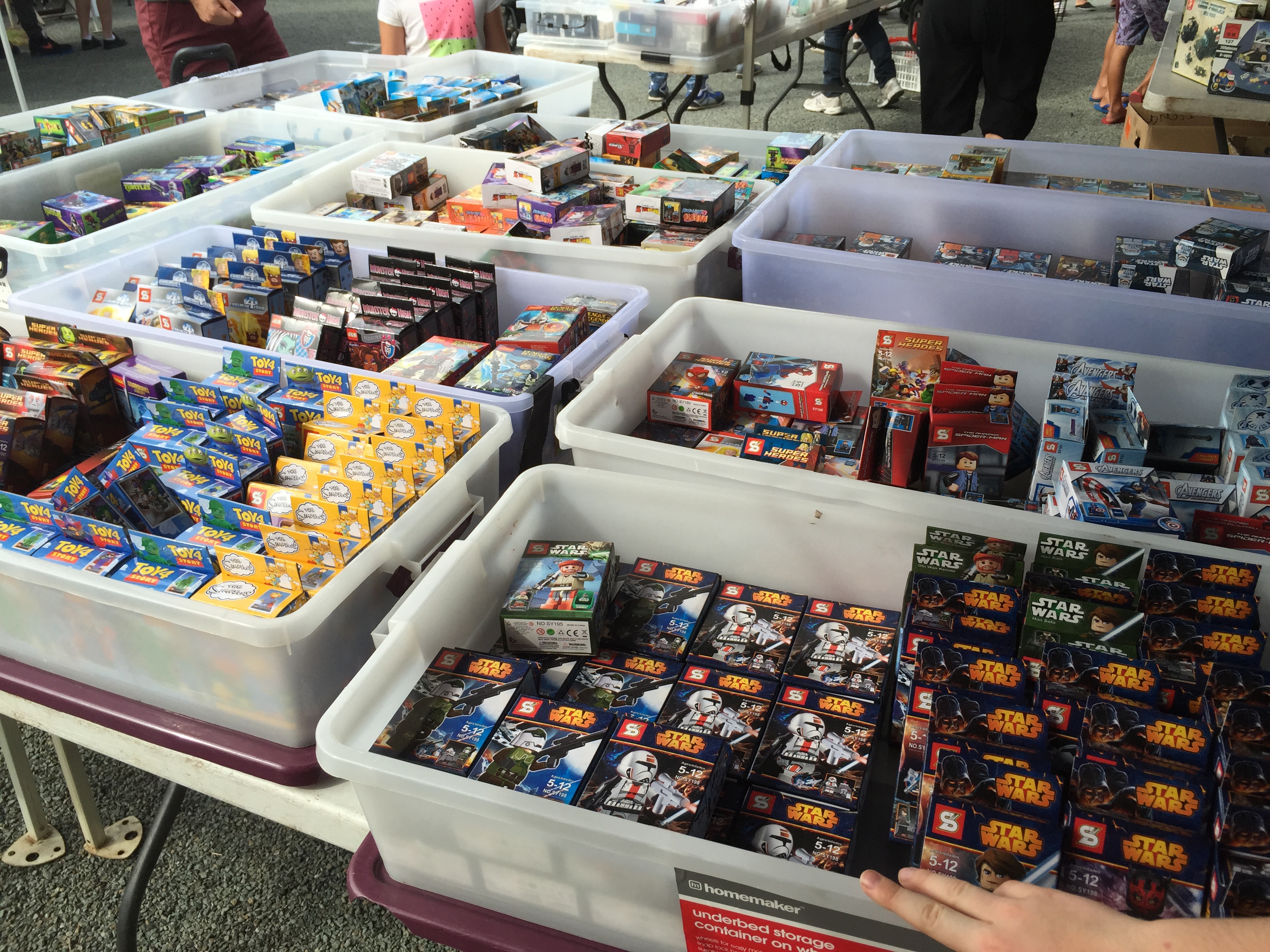 Hit up your local suburban garage or rummage sales. To save time and gas, search Facebook Marketplace, OfferUp, Craigslist or Nextdoor.com for great deals on LEGO sets or bulk LEGOs. Some quick tips for buying used LEGOs:
12. Before you sell your LEGOs, price check them on Bricklink.com.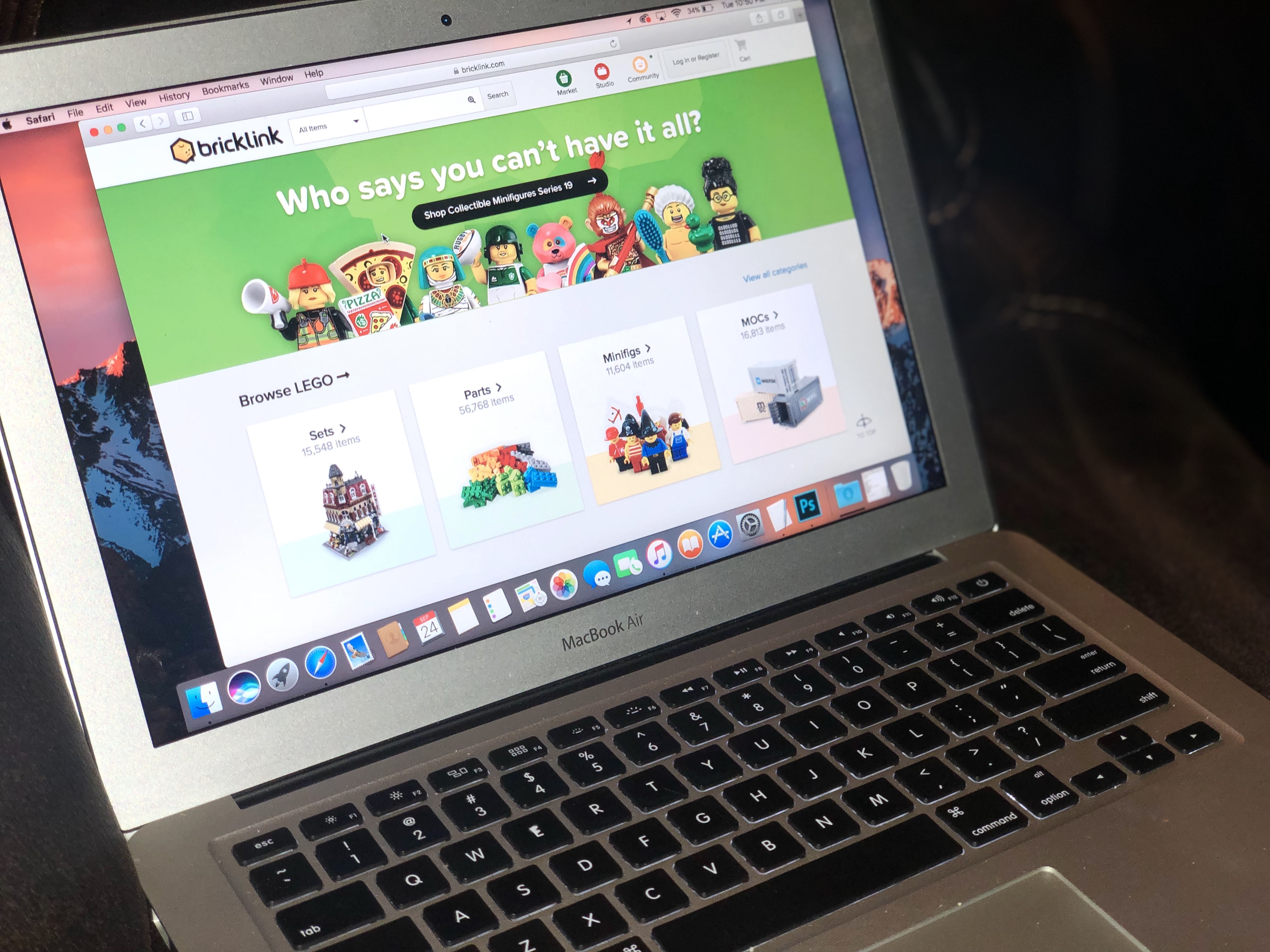 Bricklink has a core LEGO community and marketplace for the kind of people who'll pay $150 for a custom Anime mini figure. Use the Bricklink Price Guide to find out if any of your LEGO sets have gone up in value before you sell them for much less than they are worth.
13. Sell your used LEGOs for cold hard cash.
Most people sell LEGOs on eBay and Bricklink if they can ship them, or Facebook Marketplace if they just want someone to come get them. You get more money for doing more prep work before you sell.
Minimal Work
Decluttr is a website for selling and buying used tech and LEGOs, which they recycle. Dump your LEGOs in a sealed plastic bag, weigh them, put them in a box, and send to Decluttr for free. They pay $1 per pound (about 180 standard bricks are in a pound.)
Medium Work
Hose down your bricks, let them air dry out of direct sunlight, and sort them by color, removing the minifigures and specialty pieces. No need to worry about complete sets, boxes or directions. You can get about $5 per pound on eBay for clean sorted LEGOs.
Maximum Work
You get the most money for complete sets, assembled, (or in the box) with directions. Even if you aren't sure everything is there, you can guesstimate a percentage (99% all there.)
Related Links:
Bookmark this page for LEGO Deals!