If you've spent any time on TikTok lately, there's a good chance you've come across at least one #WaterTok rundown or recipe. This leads to the inevitable question, "What is WaterTok?" Much like #BookTok (all about books) and #CleanTok (for the cleaning obsessed), #WaterTok is all about water. But not just any water. This is trendy water, people.
Essentially, creators behind the #WaterTok movement are sharing all kinds of water "recipes" on TikTok. They explain how flavoring their water has helped them reach their water intake for the day, as well as avoid other sugary drinks like juice or soda.
For example, one of my favorite things to do is mix new Splenda Peel & Pour into 2 quarts of water, then pour it into my Stanley Tumbler (saving the rest for later!). And I'm instantly cutting out so much sugar and calories.
But the best part is that you can you can get a 6-pack of Splenda Peel & Pour at Walmart COMPLETELY FREE right now. I'll show you how to do it, how to save on other #WaterTok supplies, and share more hacks and recipes below.
Download The Krazy Coupon Lady app for more of our favorite money-saving tips, deals, and coupons.
What is #WaterTok? It's where users share recipes for water on TikTok.
The answer to "What is #WaterTok? is really simple. It's a place on the 'Tok where people post water recipes and share videos. To get on #WaterTok (if you're not already), just type in "WaterTok" to the search bar on TikTok. From there, you can follow #WaterTok creators, check out videos, and learn how to make recipes.
There are countless #WaterTok recipes, but the "magical" ones are the most popular.
Because this trend has blown up so much, there are hundreds (and I mean hundreds) of #WaterTok recipes. However, there are some that are super popular, and for good reason. Mermaid Water, Unicorn Water, the Pink Drink, and even dupes for Herbalife-loaded teas are all the rage. But really, if it's named after a mythical creature, chances are people are loving it.
Basically, Mermaid Water is any drink that's bright blue, Unicorn Water is any drink that contains Skinny Syrup's Unicorn Syrup, the Pink Drink is a delicious spin on traditional lemonade, and Herbalife dupes taste just like the originals. I'll give you the best and cheapest recipes for these drinks in just a minute.
Splenda Peel & Pour Zero Calorie Drink mixes are FREE now thru Oct. 31 at Walmart.
Splenda just came out with their new Peel & Pour Zero Calorie Drink Mix Zero Calorie Drink Mix pods, including Fruit Punch and my personal favorite, Pink Lemonade. Every box comes with 6 liquid pods, which are perfectly portioned to flavor 2 quarts of water. A 6-count box normally sells for $6.28, but you can get an entire box for free, now through Oct. 31 at Walmart.
All you'll need to do is save the offer in the Ibotta app before you complete your purchase. Be aware that you'll have to buy the box at full price, but after you check out and get your receipt, the Ibotta cash will hit your account.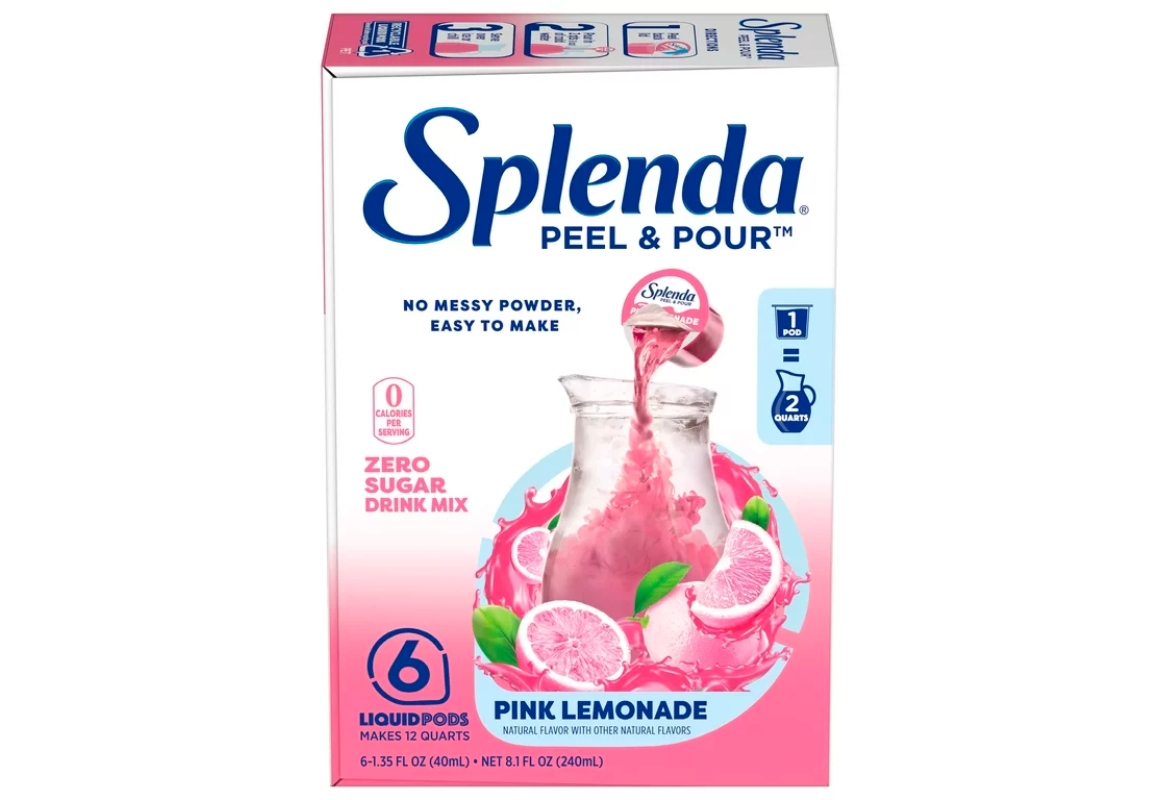 REBATES TO SUBMIT
PRICE SUMMARY
Pay $6.28, submit for $6.28 Ibotta credit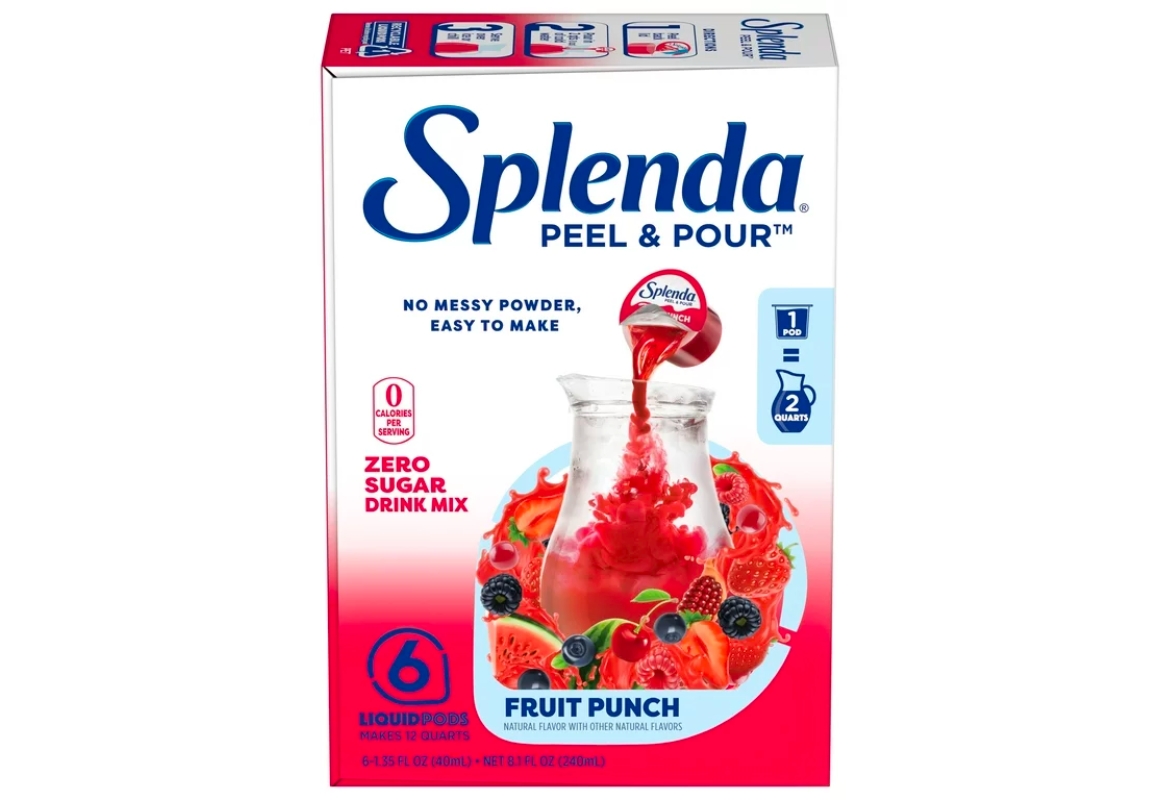 REBATES TO SUBMIT
PRICE SUMMARY
Pay $6.28, submit for $6.28 Ibotta credit
Find other syrups for cheap at Walmart, Ross, Marshalls, T.J.Maxx, and Home Goods.
Perhaps the most important part of #WaterTok lies in the syrup selection. To make these colorful drinks, people rely on pumps of bright syrups. The most popular ones for #WaterTok drinks are undoubtedly from the brand Jordan's Skinny Mixes. These have zero calories, zero sugar, and zero carbs. They come in all kinds of flavors including Mermaid Syrup, Cotton Candy Syrup, Cookie Dough Syrup, and more. All syrups bought on skinnymixes.com are $7.99, pumps are $4.99, and shipping costs $12.95. To get free shipping, you have to spend over $50.
However, you can find them for cheap at places like Ross, Marshalls, T.J.Maxx, and Home Goods. They're usually $4 or $5 at these stores, as opposed to $8 on the Skinny Mixes website. I will warn you: you might have to hunt around at these stores since they sell out fast. But you can always call your local store to see if they're stocked up before making the trip over.
You can also buy Skinny Mixes at your local Walmart store. However, some Walmart locations charge $12 for Skinny Mixes. So again, it's best to go to the retailers I mentioned earlier for better prices.
Another popular syrup is from the brand Torani. If you buy them from the website, they're $10.19, and the pump costs $4.99. You can find Torani syrups for around $7 at World Market, Ross, Marshalls, T.J.Maxx, and Home Goods. Pro tip: World Market is usually stocked up on these, so check there first.
Shipping:
$12.95 Ground Domestic or spend $59+ for free shipping
Head to Amazon and the dollar store for powder packs from brands like Welch's or Starburst.
What do you get when you mix the syrup with a flavored powder pack? A true #WaterTok creation. There are a bunch of powder packets you can get, including some from name brands like Welch's, Gatorade and Propel.
I found that you can get the most value by buying these powder packets on Amazon. A pack of 12 Welch's powders with six sticks in each pack (72 packets altogether) goes for $20 on Amazon. That means each packet is only $0.28. Plus the prices often drop, so keep your eyes out for daily deals.
Additionally, if you have a dollar store by you, there's a good chance that you can find packets for low prices. Just know the ones from dollar stores come with fewer packets than the value boxes on Amazon. You'll usually get one set with six packets for about $1.
Walmart also has pretty low prices on powder packets. However, it's best to shop online because these items in-store can be opened or tampered with. (This often happens to products at my local Walmart, so thought it was worth the mention.)
As low as
$19.17
$20.18
(5% Off)
Up to 5% off with Subscribe & Save
PRICE SUMMARY
As low as $0.27 per stick
Bonus: There are flavored water packets without aspartame.
If you're deep on #WaterTok like I am, you might've heard about aspartame. This is an ingredient (aka an artificial sweetener) that's often found in water packets which some people want to avoid. Luckily, there are packets that don't contain aspartame, like all Welch's, Celsius, and Pure Boost packets. Plus the Crush Watermelon packets don't, either (though other Crush flavors do).
As low as
$9.33
$10.98
(15% Off)
5% to 15% off with Subscribe & Save
PRICE SUMMARY
As low as $0.67 per stick
The Best #WaterTok recipes you can make at home for cheap.
The fun thing about #WaterTok is that the drink combinations are endless. Ready to make your own? Let's get started.
Pitchers
If you're making a water recipe, you might as well go big. Create your concoction in a pitcher or jug so you can sip on it all day without having to make multiple batches. Consider this Drink Dispenser ($22.77, Amazon). However, if you don't want to spend money on a jug, simply use the cup you have and refill it when it's empty.
Shipping:
Free 2-Day Shipping for Prime Members
Sweet Tea
Here's how to make Sweet Tea with Splenda's Peel & Pour Pods:
Fill a 2-quart pitcher with water.
Add 1 Splenda Peel & Pour Sweet Tea Pod.
Fill up your Stanley with ice and add the Sweet Tea.
Save the rest for your mid-day pick-me-up and Enjoy!
Mermaid Water
If you want to make the TikTok-famous Mermaid Water, here's how:
Fill a 1-gallon jug or pitcher with water.
Add three Skittles Tropical Passionfruit packets.
Use six pumps of Skinny Mix Mermaid Syrup.
Mix and enjoy!
Unicorn Water
Like the sound of Unicorn Water? Me too.
Grab your Stanley tumbler and fill it with water.
Add one pink or blue Starbursts water packet.
Then add a dash of Skinny Mix Unicorn Syrup.
Herbalife Loaded Tea Dupe
Make a copycat of the famous Herbalife loaded teas with this recipe that's the most ingredient-heavy one on the list.
Grab your Stanley tumbler.
Dump one citrus and one orange 4C Energy Rush Packet into the tumbler.
Add ¼ teaspoon of Waka peach green tea.
Next add ⅛ teaspoon of guarana powder.
Then add 5 ounces of hot water.
Add 1 ounce of Skinny Mixes Peach Syrup.
Stir.
Fill the cup with ice.
Add two ounces of aloe vera juice to the ice.
Separately, mix 1 ounce of Skinny Mixes Pina Colada with one ounce of Skinny Mixes Cherry.
Add 8 ounces of cold water to the pina colada and cherry mix.
Pour the concoction over the ice.
Find budget-friendly cups at Target and Amazon.
OK, if you want to make a #WaterTok drink like everyone else, you're going to need the viral $45 Stanley Adventure Quencher Tumbler. Now that is hardly cheap, but if you're willing to fork over the dough, you can find this cup in a range of colors on Amazon, Stanley, REI, and Dick's Sporting Goods. However, if you don't want to spend $45 on a cup (I get it), you can opt for a Stanley tumbler look-alike. For example, the Ozark Trail 40-Ounce Vacuum Insulated Stainless Steel Tumbler is $15 at Walmart. The Embark Stainless Steel 30-Ounce Lidded Tumbler is even less — just $10 at Target (though, obviously, also 10 ounces smaller than the other two). Check out our full guide to see other options.
However, if Stanley cups aren't your vibe, you can opt for an affordable, more traditional water bottle like a Nalgene ($16) or Camelbak ($16). Both of these options have clear bottle colors so you can see the color of your drink through them.
Shipping:
Free with Walmart+ or on orders of $35+
Shipping:
Get free 2-day shipping when you spend $35+ or use your Target RedCard
Need more #WaterTok inspiration? Follow these TikTok accounts.
Want more? Get #WaterTok recipes from these well-hydrated creators: