We're reader-supported and only partner with brands we trust. When you buy through links on our site we may receive a small commission at no extra cost to you. Learn More. Product prices and availability are accurate as of the date and time indicated and are subject to change.
If you've never browsed Costco's collection of furniture before, you might be surprised to learn that Costco offers all sorts of high-quality pieces. Their quality often beats what's offered by Ashley Furniture, and Costco has way more options than just the pieces you see in your local warehouse.
But since you can't exactly go into a Costco and sit on the exact sofa or dining chair you have your eye on, making a furniture purchase from Costco can feel like a bit of a gamble. But it doesn't have to be.
We've answered every burning question you might have about how furniture purchase and delivery works from Costco — including how to return a couch that looked comfortable online but didn't quite hit the mark once it got to your living room.
Here's exactly what to expect when you purchase furniture from Costco.
And for more smart shopping tips and savings hacks, text HACKS to 57299.
1. Expect a Costco furniture sale every 4 – 8 weeks, with the biggest ones in late December and late July.
Every few months, Costco promotes online furniture sales featuring deals up to 50% off.
For example, at the beginning of May, Costco put a wide variety of furniture on sale for up to 50% off, including the highly-rated Gemma Fabric Sectional, which went from $1,999 down to $999, and this Quinn Corner Desk with a Lift, marked down 50% from $599 to $299. About 8 weeks prior, Costco sectionals were up to $1,300 off. And so on.
As for the Costco furniture clearance sales, look for the biggest in-store markdowns to pop up in late December and late July, when they clear out remaining inventory. These semi-annual sales happen so regularly that we call them "Costco Furniture Month."
When it comes to outdoor furniture, you'll see patio sets go on sale in the months leading up to summer or during Memorial Day weekend, when Costco's outdoor furniture goes on sale for up to 50% off.
Just sign up for text alerts when you download the Krazy Coupon Lady app so you never miss an upcoming Costco furniture sale.
TIP: While Costco furniture deals mainly pop up in late December and late July, we see the best deals on Sam's Club furniture clearance in June.
Check for these Costco furniture sale deals at your store:
Ove Decors Nelson 30" Bath Vanity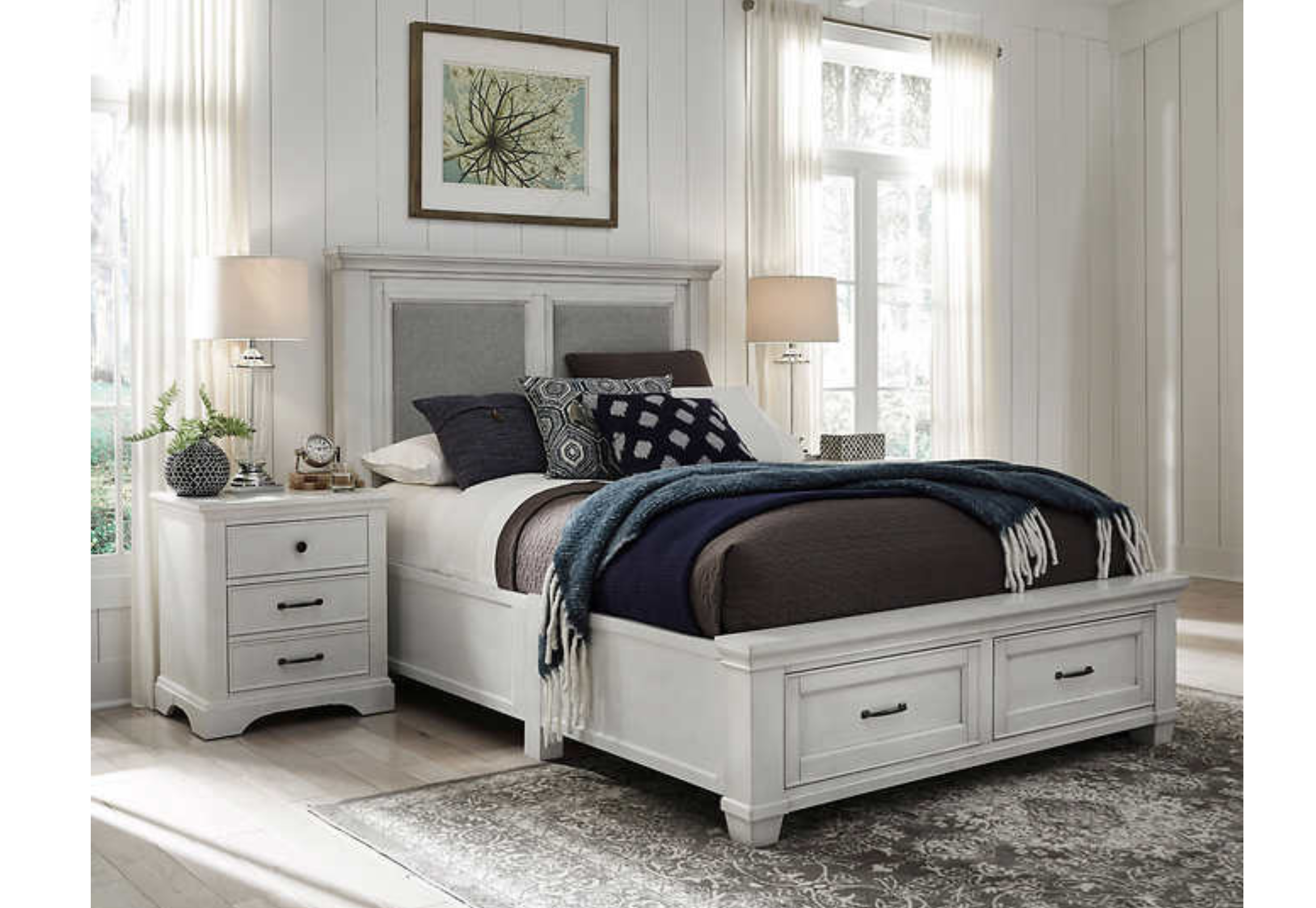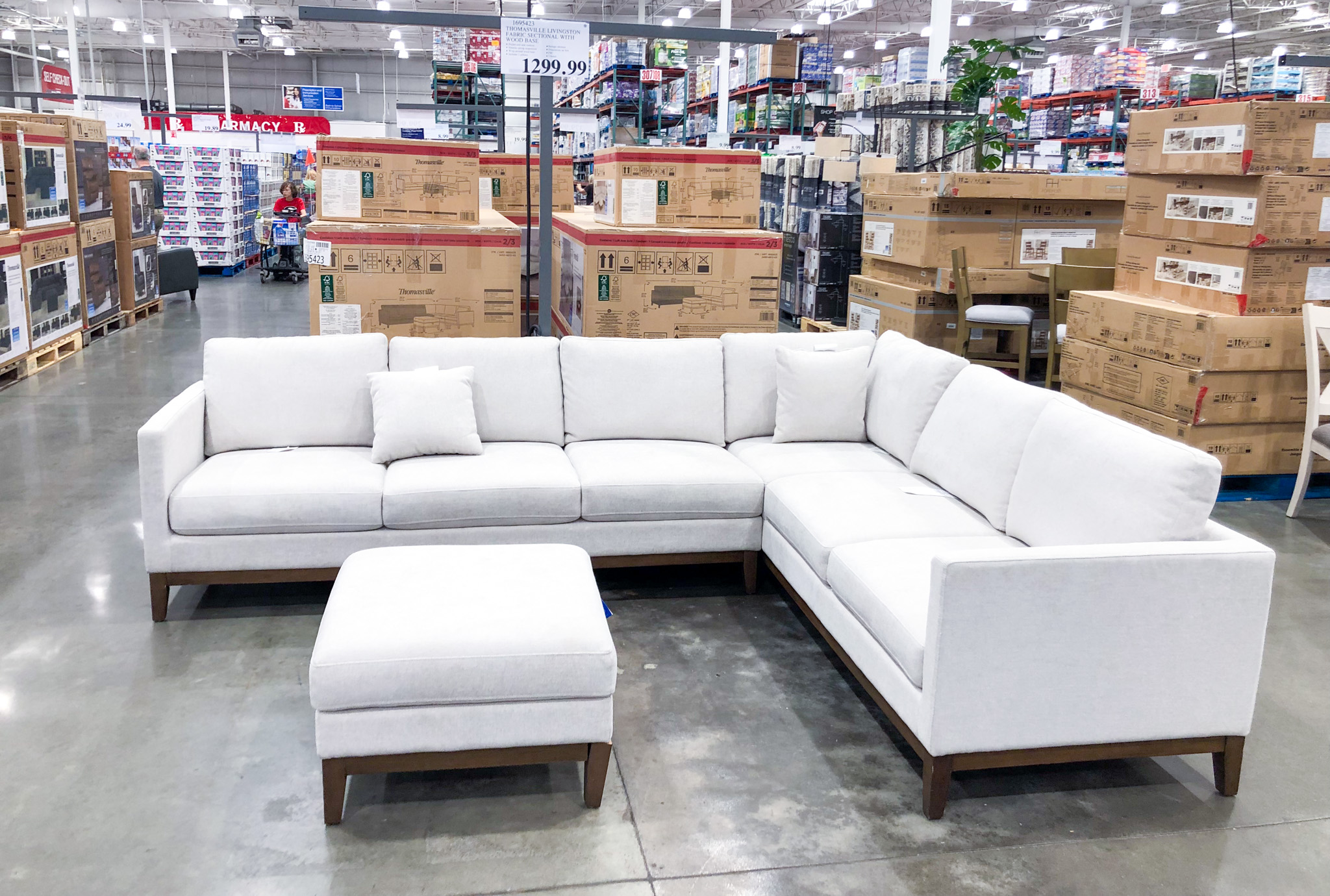 Thomasville Livingston Fabric Sectional
Thomasville Tisdale 6-Piece Fabric Sectional
TIP: Don't have a Costco membership? You can still take advantage of Costco furniture sale prices, but non-members will pay a 5% surcharge. So if that 5% fee comes out to more than $60, go ahead and purchase a basic Costco membership instead.
2. Browse Costco.com for a bigger selection of furniture than what you see in the warehouse.
Costco warehouses tend to feature just a small collection of in-store furniture you can browse, like a certain sofa set, or patio dining options when warm weather approaches.
But when you visit Costco.com, you'll find every kind of furniture category you may need.
Here are the current Costco online furniture deals happening now:
$1999.99
$2799.99
(29% Off)
Buy 1, save $800, limit 5
3. Most items include delivery, setup, and removal of packaging, but always check the fine print.
To be clear on exactly what type of delivery or setup gets included with the Costco price, look for the details in the fine print. Under the "Your Price" line, you should see a little blue question mark and the fine print listed in light grey.
The Shipping & Delivery section on the product description often won't put the delivery type in plain terms, but you'll see these three types of furniture delivery options from Costco:
Curbside: Delivery to your doorstep.
Threshold: The item will get placed inside your front door or garage, but they won't assemble it or remove it from the packaging.
White Glove: Includes delivery, setup, and packaging removal.
Certain products, like many of Costco's sofa sets, include White Glove service as the standard. But other items like baby cribs may only include Threshold Delivery, which means the item will get placed inside your front door or garage but they won't assemble it.
TIP: Delivery includes addresses within 50 miles of a Costco warehouse. So if you're expecting free delivery to a remote cabin 50 miles or more outside the city, you may be disappointed.
4. You can return Costco furniture the same way it was delivered.
For Costco returns other than furniture, you just bring your item back to the warehouse. No questions asked, thanks to the generous Costco return policy.
But since they consider furniture a freight return, the process works a bit differently.
Basically, when you initiate a return, the carrier who delivered your item will call you within 5 – 7 business days to set up a pick-up time that works with your schedule.
Then your item will be picked up in the same way it was delivered — Curbside, Threshold, or White Glove.
Once the item gets picked up, they'll initiate a full refund. You'll receive a confirmation email once the refund has been processed on Costco's end, and then it's up to your bank's timeline to process the refund in a timely manner.
5. Don't expect traditional financing options through Costco.
We've all heard popular furniture finance deals like "No money down, no interest, and no payments until next year," right? Don't expect those types of financing options when you buy furniture at Costco.
Your only financing option is to use a credit card and pay it off before the end of the month in order to avoid hefty credit card interest rates and fees.
Related: Bookmark our furniture deals page so you can stay on budget during your next home makeover.
6. Expect the quality of Costco furniture to beat similar items from stores like Ashley.
Costco's furniture tends to be extremely high quality, and the reviews speak for themselves.
You can find furniture that matches the look of Costco's pieces — like this 7-piece Caitbrook dining set from Ashley priced at $699 — that looks just like this 7-piece Blakely dining set priced at $1,299 from Costco. So why does Costco charge 86% more?
Let's consider a few key differences. Costco's set features leather upholstery, solid wood pieces, a self-storing table extension, a hand-applied finish, and floor protection. The Ashley set has engineered wood, polyester upholstery, no table extension, and no floor protection. So while they look the same, they'll perform very differently once you get them home.
TIP: If you're not satisfied with Costco's furniture for any reason, it can always go back for a full refund.
7. Look for manufacturer warranty information in the Shipping & Returns section of the product info.
To find out if your Costco furniture piece has a manufacturer warranty in addition to Costco's generous return policy, look at the line in the Shipping & Returns section of the product info that reads, "For manufacturer warranty information, please contact us."
8. Earn 2% cash back on your furniture purchase with an Executive Level Costco membership.
If you're purchasing big-ticket items from Costco, like furniture, it may be worth it to sign up for Costco's Executive membership, at least for that year.
An Executive Membership costs $60 more than a regular membership, but you get 2% cash back on all your purchases for the year. Basically, you'd have to spend $3,000 in one year at Costco to make the Executive Membership worth it (and get $60 in rewards at the end of the year).
So if you purchase a $3,500 sofa set, you'll get $70 back. That's already $10 more back in your pocket than what you paid to upgrade your membership.
And if you don't get at least $60 cash back at the end of the year to make your membership upgrade worth it, Costco will refund you the cost of the Executive Membership.
It's Costco's way of giving you satisfaction guaranteed on your upgraded membership!