We're reader-supported and only partner with brands we trust. When you buy through links on our site we may receive a small commission at no extra cost to you. Learn More. Product prices and availability are accurate as of the date and time indicated and are subject to change.
You might be surprised to learn that even though Sam's Club is a big warehouse club, they go all out for the holidays, starting in late August or early September. Once their holiday inventory arrives, you can find super cheap outdoor Christmas lights, festive Christmas cacti, trendy holiday sweatshirts, and glorious ugly Christmas sweaters.
But that's not to say all Sam's Club Christmas decor is a smart buy. For example, their family Christmas pajamas are super cute, but they're not really a deal or a steal. (You're better off buying holiday #famjam pajamas at Kohl's, JCPenney, Walmart, or a few other stores, which we'll explain later.)
And while Member's Mark Christmas trees are a great value for the price in terms of quality, you can find other artificial Christmas trees cheaper elsewhere.
Let's take a deep dive into all the holiday cheer at Sam's Club — and whether or not it's worth your hard-earned cash. Be sure to download the KCL app to keep on top of the best deals throughout the holiday season, or text HACKS to 57299 so we can send the deals straight to you.
1. Sam's Club Christmas decorations have started arriving in stores as of September.
Expect to see employees start setting up Sam's Club Christmas decor displays in the first few weeks of September. The exact date will vary by location, and there is always the potential that Sam's will break with past trends and set up earlier.
But typically, if they change the date they start selling Christmas items in-store, they're moving it up earlier rather than later. That means that in 2023 thus far, things look like they will be the same, just like we've seen with the predictability of the arrival of Sam's Club Halloween decor.
Look for these deals in-store:
When do Sam's Club holiday toys start to arrive in stores?
Based on what we saw last year, expect to see holiday toys and advent calendars begin to arrive at Sam's Club around the first week of September. Their popular Member's Mark Holiday Squishie Plushes ($19.48) tend to arrive a few weeks after that, in the last week of September.
2. Prices are the same online as they are in-store for Sam's Club Christmas items.
Sam's Club is already shipping out some of their Christmas decorations if you shop on their website. You can find things like wired ribbon adorned with Christmas trees and tartan prints in the indoor holiday decor section of SamsClub.com, and a white neon snowflake to hang on your porch in the outdoor holiday decor section.
This is similar to how Costco Christmas decor launches online in July each year. But unlike Costco, prices for Sam's Club items are the same online as they are in-store.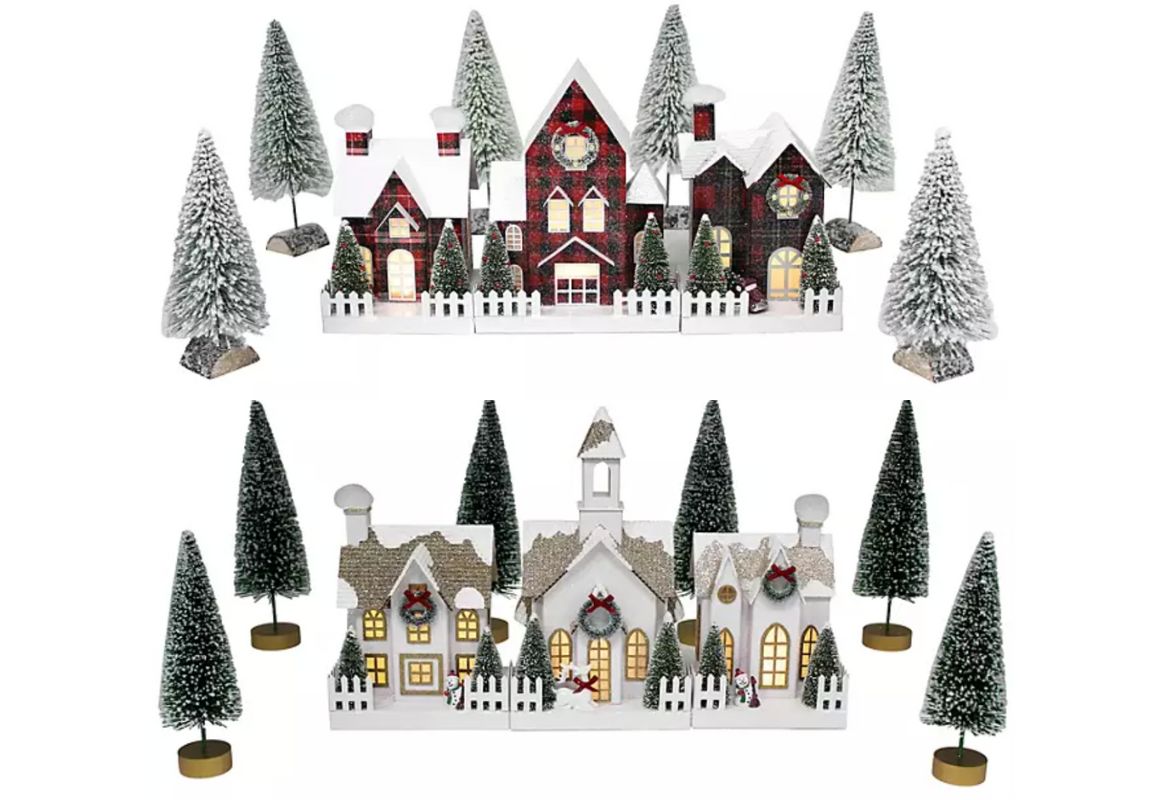 Shipping:
Free for Plus members
PRICE SUMMARY
Multiple colors available
3. Sam's Club Christmas trees come in artificial and (sometimes) live varieties.
Artificial trees? Sam's Club's got them. Flocked or pre-lit? Sam's Club has those, too. Live trees? Maybe.
We've seen Sam's Club sell live Christmas trees in the past, but for the last couple of years, there have been Christmas tree shortages. The shortages have caused Sam's Club (and their competitor Costco) to only sell live trees at select locations.
TIP: Wanna hear a fun fact? The recent Christmas tree shortage had very little to do with the pandemic. Instead, it can trace its roots back to the 2007 – 2008 financial crisis, when farmers didn't always have the land or resources to plant a huge number of trees. The lack of planting back then results in a shortage now — when the trees are matured.
We're probably facing a similar situation in 2023 (and maybe even into 2024), as we're on the end-cusp of harvesting those Great Recession planting seasons. Plus, the Canadian wildfires this year have also taken out a lot of North American stock of Christmas trees.
So regardless of where you buy your live Christmas tree this year, expect a high sticker price. And at places like your local Sam's Club, don't be surprised if you don't see them available at all.
4. Skip buying artificial trees at Sam's Club — they're cheaper at Target.
Member's Mark Christmas trees are good quality and come in so many varieties, but if you're looking for the absolute lowest price on full-sized trees, you're better off looking at places like Target, Walmart, or Michaels. Sometimes we see good deals on Amazon, too.
The two cheapest times to buy a Christmas tree tend to be Black Friday and After Christmas sales, so regardless of which retailer you shop, if you're hunting for a 2023 Christmas tree you might want to wait until around Thanksgiving to buy it.
5. You can't get Balsam Hill trees at Sam's Club.
Balsam Hill trees are mainly sold on the Balsam Hill website or at places like Amazon. You won't be able to pick one up at Sam's Club, but as of 2020, you can additionally browse the selection in person at select Nordstrom locations.
TIP: If you happen to live anywhere near Burlingame, California, check out the in-person Balsam Hill Outlet. They sell trees that have been returned — but at a discounted price!
6. Pick up your Christmas Cactus at Sam's Club starting in November.
The family tree of what we call a Christmas Cactus or Thanksgiving Cactus is super convoluted. What it boils down to is that there's this really pretty family of cacti that bloom red flowers sometime between November and February depending on the species. Officially, Christmas Cacti are in the Schlumbergera genus, though it used to be called a zygocactus instead.
Sam's Club still sells them under the name Zygo Cactus name. Start looking for them to hit the garden section in November!
TIP: Plants fall under the return-anytime Sam's Club return policy unless otherwise stated, so if you're dissatisfied with your cactus (or fail to keep it alive), you can technically return it. The Sam's Club return policy is super generous, but we don't endorse abusing it.
7. Expect Sam's Club Christmas sweatshirts to make an appearance in mid-November.
Sam's Club Christmas sweatshirts were so hot last year! We're hoping they make their way back to stores this year. If they do, expect to see them roll out sometime in early-to-mid-November-ish, depending on your location.
The base price was $14.98 for standard sweatshirts last year, but prices dipped down to $9.98 during Sam's Club Black Friday shopping weekend. There was also a super special Peanuts sweatshirt with embedded LED lights for $15.98, so keep an eye out for luxe designs that cost just $1 more than the standard ones.
TIP: Sam's Club is also a great place to find ugly Christmas sweaters at a similar price point, whether you're being sincere or ironic.
8. Sam's Club family Christmas pajamas roll out in mid-October.
If you're looking to get in on Sam's Club #famjam goodness, you might start spotting family Christmas jammies as early as mid-October depending on your warehouse club location. By mid-November, they're at pretty much all Sam's Club locations — until they sell out.
Now, Sam's Club Christmas pajamas are sought-after and good quality, but they're not the most cost-effective option on the market. Prices were $19.98 for adult sets and $14.98 for kids' sets last year. But Burlington operates on a similar price point but has offered brand name prints in years past — like Disney, the Grinch, and Spongebob.
Typically, we see better deals on Christmas pajamas at stores like:
9. Christmas gift baskets are available in mid-October, too.
Starting in mid-October, you can find super classy holiday gift baskets at Sam's Club. A lot of them revolve around chocolate, but Sam's also runs with some niche interests, too. In 2022, we saw an Italian cooking kit gift basket along with a charcuterie gift basket, both filled with gourmet ingredients.
The prices in the past have ranged from $29.98 – $39.98, but we'll have to see if they bump up the cost a little in 2023. Inflation isn't nearly as bad as it was a year ago, but it's still a thing.
Related: We rounded up all the cheap gift baskets under $30.
10. Sam's Club has competitive prices on Popcornopolis stocking stuffers.
If you're looking for an easy (and coveted) stocking stuffer, look no further than Popcornopolis cones. Around the holidays, these gourmet cones come in festive flavors like:
Snicker Doodle
Caramel Corn
Cinnamon Toast
Kettlecorn
In the past, Sam's Club has slashed prices as low as $9.98 for a 12-cone Christmas gift pack, which is a jaw-droppingly low number. That price comes out to $0.83/cone, which is shockingly even lower than the prices on Costco's Halloween Popcornopolis cones (at $1.25/cone).
11. Sam's Club has outdoor Christmas lights for 42% cheaper per bulb than Target.
Last year, you could get a string of 250 C9 outdoor Christmas lights for $16.98 (equivalent to $0.07 per bulb). It's one heck of a deal if you're a person who needs to buy lights now and can't wait until clearance sales after the holidays.
For comparison's sake, we get excited when we see strings of 300 lights at Target for $35.99 ($0.12 per bulb) or 100 lights for $30.79 at Michaels ($0.31 per bulb).
Related: Here's what to expect from the Christmas decoration deals after Black Friday.
12. Find the Sam's Club snowman in the first wave of Christmas products.
Sam's Club snowman lawn decorations typically roll out with the first wave of Christmas inventory. So think late August/early September-ish. They're about six feet high after they pop up out of the box, and last year they cost $129.98.
TIP: You can also buy an entire crystal-beaded snowman family from Sam's Club. The tallest snowman in this set is a little over four-feet-high.
13. Sam's Club Christmas clearance sales do exist, but the biggest discounts will be in the two weeks before Dec. 25.
Sam's Club isn't known for their clearance sales, but one time you will find items on clearance is after Christmas.
Compared to other stores, Sam's Club just doesn't have a ton of inventory left after the holiday. But you are likely to find a lot of unsold Christmas gift sets, if nothing else. The discount on these sets isn't impressive — it's usually somewhere around 25% off in the days immediately following Dec. 25.
If you want more dramatic percentage discounts, you could consider the two weeks leading up to Dec. 25 to be more of a traditional Christmas clearance sale, even though it happens before the holidays. During this time, it's not uncommon to see holiday decorations, artificial trees, and ornaments marked down to 60% – 70% off.
They want to move these items before the holiday is over with steep discounts — which is why you don't see a super wide variety of Christmas inventory left over after Dec. 25.
TIP: In 2022, we did find clearance toys at Sam's Club starting on Oct. 5. Deals included Disney, Rainbow High, and Zuru X-Shot toys.
14. Remember, Sam's Club is closed on Thanksgiving, Christmas, and New Year's Day.
They're closed on the big holidays, but on Christmas Eve and New Year's Eve, Sam's Club stays open. But they close a little early at 6 p.m. (Sam's Club is usually open until 8 p.m. on non-holidays.)
15. So is a Sam's Club membership worth it just for Christmas? Maybe.
The more you shop at Sam's Club, the more valuable your membership becomes. If you're just picking up a Sam's Club-exclusive item or two for the holidays, you might just wanna sign up for a free 90-day trial because the membership doesn't start paying for itself until after you've saved at least $50.
If you shop for your family and could see yourself shopping at Sam's Club year-round for things like groceries, a Sam's Club membership is totally worth it. You could even pay an increased fee of $110 for a beefed-up Plus membership that gets you 2% back in rewards on every purchase. If you spend $1,000/month on groceries, your membership will pay for itself after six months. In the second six months of your membership, you'd essentially be wracking up profit via their cashback rewards.