We're reader-supported and only partner with brands we trust. When you buy through links on our site we may receive a small commission at no extra cost to you. Learn More. Product prices and availability are accurate as of the date and time indicated and are subject to change.
Have you heard? A very pink, special edition Barbie Monopoly game is set for an Oct. 1, 2023 release. It's actually available for preorder at a few stores now, which we'll get to below.
If that's not Kenough to get you excited, we also found where can you preorder Barbie Monopoly to get the best price. Actually, hot tip: it's on sale for just $19.88 now! See below for details.
Plus, we calculated the fastest arrival time so you can have the game ready for your next Barbie-themed game night.
But first, download the Krazy Coupon Lady app or text HACKS to 57299 so you get sale alerts on Barbie and beyond. You can also check out our favorite Amazon Barbie finds, how to save on Barbie dreamhouses, and how to best navigate Barbie Black Friday deals.
1. The Barbie Monopoly game has already been preordered over 1,000 times last month. What's so special about it?
Just like other licensed Monopoly games including Star Wars Monopoly and Mario Bros Monopoly, Barbie Monopoly uses the classic Monopoly layout and strategy while adding plenty of custom pink properties and specialty cards.
Players will choose from six "Be Anything" cards and travel the hot pink game board using six Barbie game tokens including a pink high heel, roller skate, dog, boat, Barbie bust, and car. And instead of building red hotels, you'll build pink Barbie Dreamhouses ー though no mention of Ken's Mojo Dojo Casa House here!
Kids ages 8 and up can play this game, with two to six players.
RELATED: 17 Secrets to Saving $$$ on Barbie Dolls & Dreamhouses
2. Amazon has the cheapest price online for Barbie Monopoly — and it ships the fastest. (But this is on sale now for cheaper for a limited time!)
Right now, Amazon and Walmart both have the lowest preorder price for this item, just $24.86. But Amazon gets the edge with an earlier arrival date and a Pre-Order Price Guarantee. Amazon will honor the lowest price offered between now and the Oct. 1 release date, no matter which way prices go. Plus, they guarantee preorders will arrive by Oct. 2.
Even without an Amazon Prime membership, you can get Barbie Monopoly by Oct. 2, but shipping would cost you $6.99. By comparison, Walmart offers free shipping to everyone (even for non-Walmart+ members), but your Barbie Monopoly will arrive later, on Oct. 7. So if you don't have either membership, you'll have to decide between free shipping and getting the game sooner.
3. Shopping in store at Walmart on Oct. 1 to get it fastest.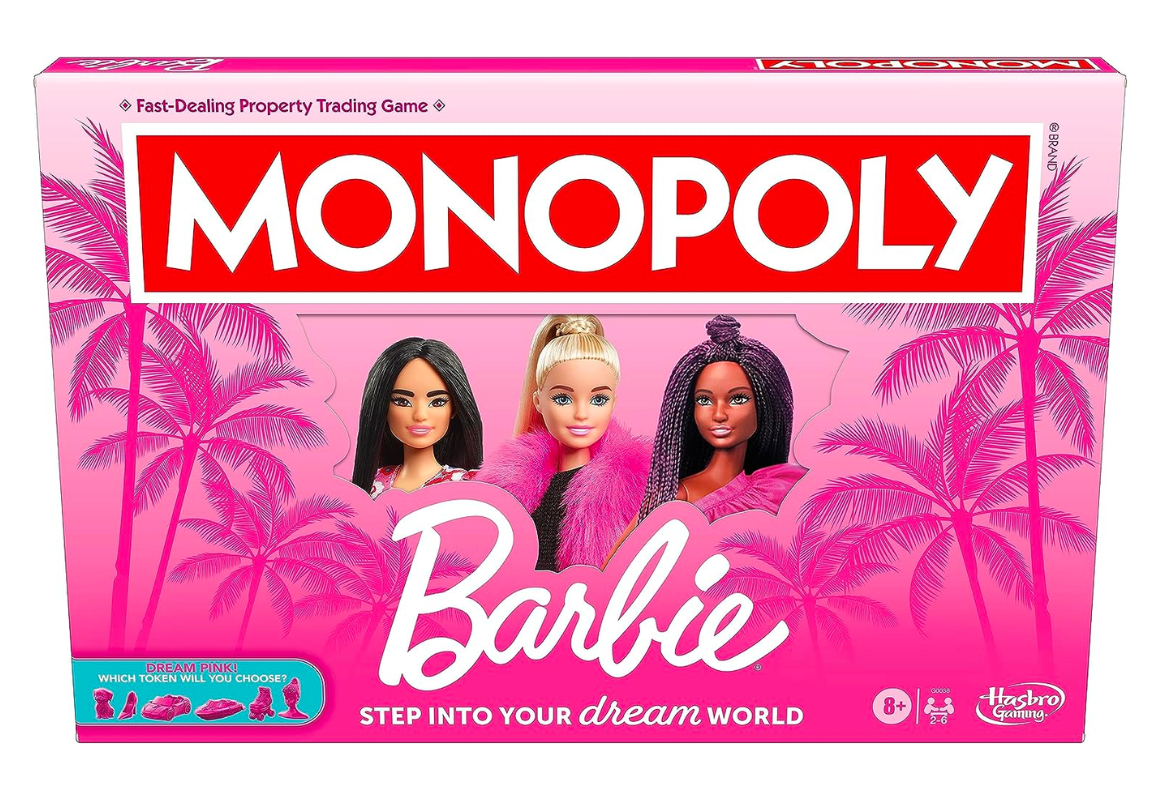 PRICE SUMMARY
Releases 10/1. Preorder now
Barbie Monopoly is set to release on Oct. 1, so stores like
Walmart
will stock their shelves that day with Barbie Monopoly games priced at $24.86. If you purchase the game on Amazon with a Prime membership, your Amazon preorder won't arrive until the next day, Oct. 2.
So if you want to get your hands on Barbie Monopoly the day it releases while also getting the lowest price, shopping in-store at Walmart is your best bet. Just make sure to call the store to make sure it's already in stock before making the trip.
RELATED: Barbie Will be HOT This Black Friday — Our Predictions (Plus, Deals to Shop Now)
4. Steer clear of eBay; sellers are already trying to charge more than double for the game.
Yep, we found eBay listings asking for $46.88, $49.99, or even $59.99 for the game. This doesn't include shipping. This is wrong, but sellers know that this game will likely be in demand due to the
Barbie
movie's popularity. Unfortunately, anyone who misses the Barbie Monopoly release on Amazon or Walmart might feel subjected to this unfair pricing. So it's best to secure the goods now on Amazon or Walmart if you don't want to pay double.
5. Expect lower prices on Barbie Monopoly compared to other special edition Monopoly games.
When not on sale, classic Monopoly is priced at $21.99 on Amazon, which is $3 less than the MSRP for Barbie Monopoly. However, other specially licensed Monopoly games tend to be more expensive than the preorder price for Barbie Monopoly. Here's how other special edition Monopoly games are priced:
6. Save up to 50% on special edition Monopoly games during Black Friday sales through the middle of December.
According to the Amazon price tracker, CamelCamelCamel, special-edition Monopoly games go down in price every November through December on Amazon.
For example, Pixar Edition Monopoly dropped from $26.99 down to $13.99 on December 9 in the last two years. Additionally, Lord of the Rings Monopoly dropped from $44.50 to $21.00 during Black Friday sales last year. Also keep an eye out for board games to get marked down as much as 53% during the Target Semi-Annual Toy Sale (which happens every June/July and December/January).
Look for price drops on Barbie Monopoly during Black Friday sales this year, and be sure to download the Krazy Coupon Lady app for sale alerts and other great game deals.
RELATED: The Amazon "Toys We Love" List for 2023 is LIVE