We're reader-supported and only partner with brands we trust. When you buy through links on our site we may receive a small commission at no extra cost to you. Learn More. Product prices and availability are accurate as of the date and time indicated and are subject to change.
American Girl dolls are one of the most coveted toys out there, but at $151 for a single doll, they're not exactly a modest purchase (in fact, the new Disney Collector Dolls are even more — selling for $300). Luckily, we found a lot of ways to get the best American Girl prices for dolls and accessories with discounts, coupons, and even buying used, including insider info about American Girl deals.
We saw some great deals during their 2022 Black Friday sale (and expect more for Black Friday 2023), but if you can't wait, you'll also find deals in their Last Chance Outlet section. Or keep an eye out for sales throughout the year. We did see deals on select dolls in July of 2023. Near Prime Day, Amazon dropped select Truly Me dolls to $99.99, a 33% discount. We also saw the Truly Me #92 doll for $61 at the end of July on Woot (owned by Amazon). Below are more of our favorite ways to score American Girl deals year-round.
For more smart shopping tips and savings hacks, text HACKS to 57299. And don't forget to download the KCL app and set up American Girl deal alerts so we can notify you as deals go live!
Tip: You can mix or match four American Girl® New Truly Me™ accessories and receive 15% off at checkout.
Start Christmas shopping early with this deal at Costco.
American Girl Doll sets for 2023 have arrived at Costco. The American Girl Doll 11-Piece Donut Dreams Set comes with a Truly Me doll dressed in pink donut-themed pajamas. This set also includes a blue folding chair that doubles as a bed, a blanket, a sleeping mask, a robe, a donut pillow, a pink hair extension, and slippers.
To compare, AmericanGirl.com retails the Truly Me doll (by herself) for $115. Costco members will get the doll and 10 accessories for $14.99 more.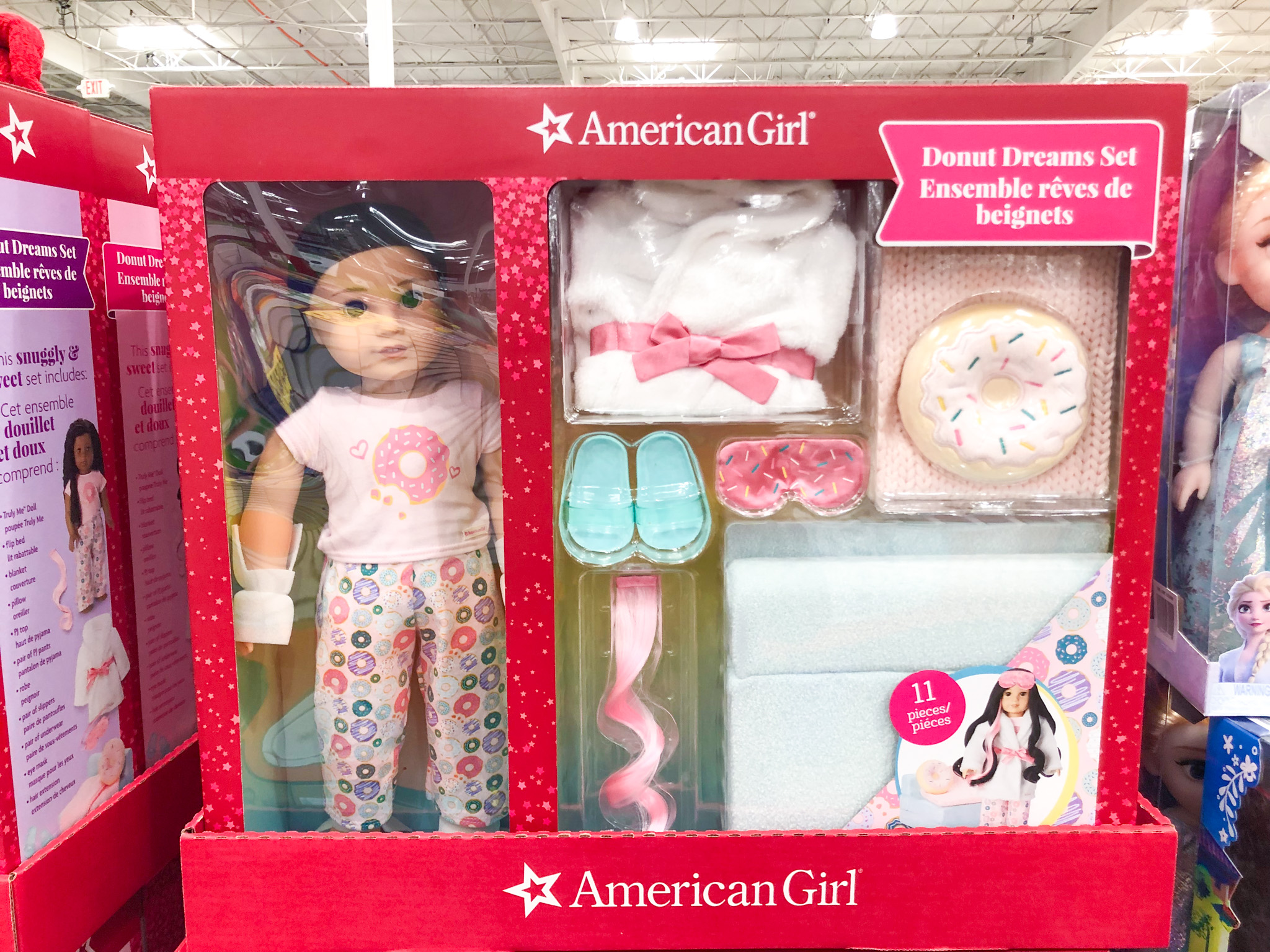 American Girl Doll 11-Piece Donut Dreams Set
1. Shop American Girl's Last Chance Outlet to get up to 70% off dolls, clothes, and accessories.
Check out the Last Chance Outlet on AmericanGirl.com. You can find clothes, accessories, and books starting as low as $2! This is a great way to score a few items and stash them away for future gifts.
American Girl deals you can shop now:
Shop the most popular American Girl items this year:
As low as
$325.00
$350.00
(7% Off)
Shipping:
Free with $150+
2. Get American Girl coupons from AmericanGirl.com.
AmericanGirl.com offers American Girl coupons and promo codes. Make sure you check the current special offers section before you plan your purchases so you don't miss out on any discounts that could save you more money, like:
50% off sale items
$20 off $100 purchase
Free shipping
3. Sign up for AG Rewards to get a $10 reward after you spend $200.
American Girl's 3-tiered reward program offers reward coupons, gifts, and other perks. It breaks down like this:
SILVER
Get one point per $1 spent and a $10 reward after you spend $200. The Silver tier includes a birthday gift and the possibility of racking up more points for attending in-store events.
GOLD
Get 1.25 points for every $1 spent and a $10 reward after you spend $200. The Gold tier includes a birthday gift, extra points for attending in-store events, and early sale alerts.
BERRY
Berry, the highest tier, is for those who spend more than $500. You'll get everything the Gold tier gives plus 1.5 points for every $1 spent, first access to new products, experiences, and a tiara with the use of American Girl Doll Salon. Plus, your points will never expire.
4. Sign up for the American Girl email newsletters.
Make sure you're signed up for American Girl emails for the latest sales and discounts. Recent alerts include up to 60% off items during the end-of-year sale, 20% off orders of $100 or more, and earning 3x points for those enrolled in the American Girl Rewards program (see above).
5. Buy the smaller 6.5-inch American Girl Mini Doll.
Unlike their 18″ counterparts at a whopping $110, 6.5″ American Girl mini dolls are just $24.99. They're just as fun as the big girls! Minis come with a book and have their own set of accessories and clothing.
6. Head to Costco for discounted doll and accessory bundles.
In the past, we've found American Girl Doll & Accessory Sets at Costco for $119.99 (regularly $131.99) and a WellieWishers Doll & Accessory Set (regularly $125) for as low as $79.99.
Prices are lower than they would be on Americangirl.com. For example, the American Girl Camping set is $80 on AmericanGirl.com but Costco recently offered it for $59.99. We often see these great deals during the holidays, too.
7. Snag 20% off American Girl coupons when you sign up for their catalog.
A couple of times per year, American Girl will publish coupons in their catalog, like 20% off, free shipping, or three select dolls for $98 each.
8. Watch for 20% off dolls on National Doll Day in August.
National Doll Day falls on the first Sunday in August each year. This year, it was on Aug. 6, 2023. American Girl Doll celebrated by offering 20% off 18-inch dolls from Aug. 4 – 6. This sale was valid online only and did exclude some special edition dolls. Amazon also matched the sale, offering 20% off select Truly Me dolls during this timeframe. We saw dolls at AmericanGirl.com drop from $151 to $120.80 with the discount. Amazon dolls are regularly closer to the $115 price point even without sales, so you could score a better bargain by shopping with them.
So if your daughter wants a specific 18-inch American Girl doll, your best bet may be to shop the next National Doll Day sale at AmericanGirl.com. The next Doll Day falls on Aug. 4, 2024.
9. Can't afford American Girl? Buy the best dupe on the market — Target's Our Generation doll.
Even cheaper than a WellieWishers doll is one of Target's Our Generation dolls. In fact, at $34.99, they're about half the price of a WellieWishers (one-fourth of the price of an American Girl doll!), and reviewers say they're just as cute with comparable features.
Journey Girls are another honorable mention for American Girl Doll lookalikes.
The Journey Girls line is a collection of 18-inch dolls that look very similar to American Girl dolls. You'll find them regularly priced at $39.99, but during toy clearance sales, we've seen them drop to under $14! Shop these dolls at Macy's, Amazon, and Kohl's.
10. Save big by buying a used doll and/or accessories.
Some of the best American Girl doll deals can be found on Facebook, OfferUp, eBay, or even at thrift stores. Quality ranges from brand-new to definitely secondhand.
Facebook groups are a great resource for finding cheap American Girl dolls and accessories. Some of the best groups we've found are:
11. Buy from Girl AGain to support a good cause.
New York-based Girl AGain is a resale boutique dedicated to selling fairly priced refurbished and gently used American Girl dolls and accessories. Plus, it's run by and helps support Yes She Can Inc., a nonprofit that provides professional support and guidance to young women with autism.
12. Pay as little as $30 to get your American Girl doll looking like new.
If you're buying a used American Girl doll, you should know that for as little as $30, you can visit the American Girl Doll Hospital and get her all cleaned up!
Depending on the type of doll and service needed, the price can vary all the way up to $88. You can bring your doll into a storefront or mail her in. If shipping, all treatments include free round-trip shipping within the United States.
Wellness visits include skin cleaning, hair brushing or restyling, and limb tightening if necessary.
13. Buy a WellieWishers doll at Kohl's and get $25 Kohl's Cash.
Kohl's sells dolls and accessories from the WellieWishers line, a more affordable brand from American Girl. The WellieWishers doll is the same price at Kohl's and on AmericanGirl.com ($65), but when you buy at Kohl's, you can earn or pay with Kohl's Cash.
You get the following for every $100 you spend during Kohl's Cash earning periods:
TIP: While you can earn and spend Kohl's Cash on American Girl, Kohl's coupons or promo codes won't work.
14. Shop Zulily for dolls and accessories starting at $8.
Zulily hosts daily sales on American Girl dolls and accessories. Sometimes they have accessories for as low as $8 and doll sets for $149.99 (regularly $185).
Amazon also had a big sale on American Girl dolls during their Prime Early Access Sale on Oct. 11 – 12, 2022, with the same Wellie Wishers Camille doll marked down by 31% on sale for $44.99. A Truly Me 18-inch doll was also marked down to $80.49, a savings of $34.51 (regularly $115). Look on Amazon during Black Friday 2023 for similar sales.
15. Snag discounted dolls and accessories at T.J.Maxx or HomeGoods.
We've seen several posts on Reddit and TikTok of users finding American Girl Truly Me dolls at HomeGoods and T.J.Maxx. Overall, the discounted price seems to be right around $80, which is 34% off the original $115. We've seen posts here and there since 2017 about American Girl dolls or accessories being sold at these discount retailers, but most recently we've seen more and more stores offering these dolls as of November 2022.
16. Score a free doll-sized cup and saucer when you eat at the American Girl Cafe or Bistro on your kid's birthday.
There are 18 American Girl locations in the U.S., as well as two in Canada. Chicago and NYC are the two biggest locations. At the New York City location, the two floors offer an interactive shopping experience, from playing arcade basketball in the 1986 doll Courtney's world to playing with a variety of the Itty Baby items, like the strollers, the baby bath, and crib.
In NYC, you can make an appointment for your doll's hair to get a special hairstyle (prices start at $15, and you have a variety of hair styles to choose from), and be sure to make a reservation beforehand, as spots do fill out very quickly. The 18-inch doll piercing is $16 and includes extra earrings and a take-home booklet. For a cheaper salon offer, look for the doll nail polish service at $5 or the pampering plus (soft scrub for face, arms, and legs, plus a set of nail decals) for $5. If your little American Girl lover wants to get their hair done as well, hairstyles start at $30 and include matching hairstyles.
How to save on more American Girl experiences.
For the NYC prices, if you're looking to eat the American Girl cafe, the teatime package will cost you $40 per person plus tax and gratuity and includes tea sandwiches, sweet treats, and a pot of tea. A craft activity is also included. Make sure to bring your doll or ask to borrow one — they have a whole shelf of dolls for anyone who needs one — and each doll gets a booster seat to sit at the table, which is pretty darn cute.
Save money by booking the dining experience, which comes out at $27 per person, plus tax and gratuity, which includes the following: complimentary beverages; cinnamon buns; a first course of spinach-artichoke dip, mini pretzels and mustard, and yogurt fruit cups; one main course per person; and a chocolate mousse flowerpot dessert. You can see the entire menu here. Take-home freebies include a free doll-sized mug and saucer, as well as flower hair ties (one per person).
American Girl birthday packages.
A birthday celebration at an American Girl Cafe or Bistro location starts at $40 per child depending on the location of your restaurant and party package you choose. You'll leave with a birthday crown, a goodie bag, and a full stomach. Goodie bag contents vary per location, but in the past we've gotten stickers, a T-shirt, a hair bow, and balloons.
You can also pick up a Birthday Take-Home Celebration which is $25 per child. There are multiple packages to choose from to bring the American Girl experience to your home. All of the celebration packs come with:
Personalized digital invitations
Signature cake and ice cream
Goody bags and doll tiaras
A gift or crown for the guest of honor
Doll crowns and doll‑sized cups and saucers
Table talkers to get girls conversing
17. Get 15% off with American Girl's Military Discount.
American Girl offers a 15% Military discount to all active-duty military, retirees, veterans, military spouses, and dependents — but only in store, not online.
18. Make the most of American Girl's return policy.
Keep your receipt. You can return or exchange anything you bought online or in the American Girl store within one year. American Girl Outlet purchases are final and excluded from this policy.