We're reader-supported and only partner with brands we trust. When you buy through links on our site we may receive a small commission at no extra cost to you. Learn More. Product prices and availability are accurate as of the date and time indicated and are subject to change.
Forget the traditional Advent calendars with paper flaps and hide-and-seek pictures — "interactive" Advent calendars are a thing now, and Costco is one of the cheapest places to buy them. Costco's Advent calendars let you taste wine, cheese, and chocolate — or even put together Legos — for each day of the season from Dec. 1 – 24.
But like other hot deals at Costco, the Advent calendars sell out fast. And their calendars don't usually linger on shelves long enough to really go on sale.
To help you decide if forking over $99.99 for a Costco wine Advent calendar is really worth it this year, we crunched the numbers to find out how much each popular calendar costs per "surprise." We'll also tell you when you can expect the calendars to pop up in your store, since they can be here and gone in a flash.
For more smart shopping tips and savings hacks, text HACKS to 57299.
1. Look for Costco Advent calendars to start arriving in stores around mid-September.
Costco usually releases their Advent calendars in-store around the second week of September. Some Advent calendars will only be available in-store, while others will eventually make their way to Costco.com (but don't count on that).
Remember, items you buy on Costco.com will often have higher markups (around 7% – 20% more) than in-store items. It's just one of the drawbacks of Costco online shopping.
2. Their Advent calendars range in price from $17.89 all the way up to $99.99.
I know, the $99.99 price tag seems excessive for an Advent calendar. But the higher-priced calendars are more like 24-packs of surprise items, and they come in big boxes. The cheapest Costco Advent calendars start at $17.89 for the 25-day Harry Potter and Friends Advent Calendars, and the most expensive ones are the 24-day wine Advent calendars.
TIP: A good way to compare your Advent calendar options is to consider the "per-surprise" price, by dividing the total cost by the number of surprises inside the box.
3. Expect to pay full price for Costco Advent calendars, as they rarely go on sale.
Just like most of the Costco Christmas decor, Advent calendars are a seasonal item that won't see many restocks. And the Advent calendars usually sell out, making sale prices pretty much non-existent. The one exception is the Costco pet Advent calendar, which got a $10 price cut last year on Nov. 4, making it 23% off.
If you're not picky about the selection, you can take a gamble and wait to buy a Costco Advent calendar around Black Friday to save anywhere from 14% to 23%. Here are the markdowns we saw last year:
Related: We've rounded up even more great deals on Advent calendars that are already happening.
4. Pay just $0.75 per treat with the Lindt chocolate calendar — it's the best value of the bunch.
When you calculate the cost per surprise, the best value is the Lindt Advent Calendar at Costco for $17.89, coming in at just $0.75 per chocolate. Expect to see this item in your stores around Sept. 26.
TIP: You'll pay slightly less for a Moser Roth chocolate Advent calendar at Aldi, but it'll be their store brand of chocolate. Last year they had a 24-day chocolate calendar for $15.99 and a 24-day truffle calendar for $8.99.
5. Get 25 surprises in the Friends and Harry Potter calendars (only $0.76 per surprise).
You get one bonus item in these themed Harry Potter or Friends TV show calendars ($18.99 each), which have 25 days' worth of surprises including mini books and mementos. We've also seen Disney, Lego, and Nickelodeon Advent calendars for kids go for only $15.99, with 24 days of books inside ($0.67 per piece).
Look for these low-priced Advent calendars for sale in the book section starting in mid-October.
6. Costco has a 12-day version of the Bonne Maman Advent calendar for $1.33 per jam.
At Costco, you'll pay $15.99 for the box of 12 limited edition mini jars of Bonne Maman spreads. The only place I've seen these cheaper is at Sam's Club, where they sell them for $14.98 (6% less).
Related: If you want the full 24-day version of it, we found out where to get the Bonne Maman calendar at the cheapest price.
7. Lego Advent calendars are 22% cheaper at Costco compared to Amazon — just $1.46 per toy.
My local Costco store had these Lego Advent calendars in stock starting on Sept. 12, and they're the same price as last year ($34.99). You can choose from the popular Harry Potter Advent calendar, Marvel, or Star Wars — all with 24 days of gifts. If you want to call ahead to confirm they have them at your store, mention item number 1022915.
This in-store Costco deal will save you 22% compared to the current price for this Amazon Advent calendar: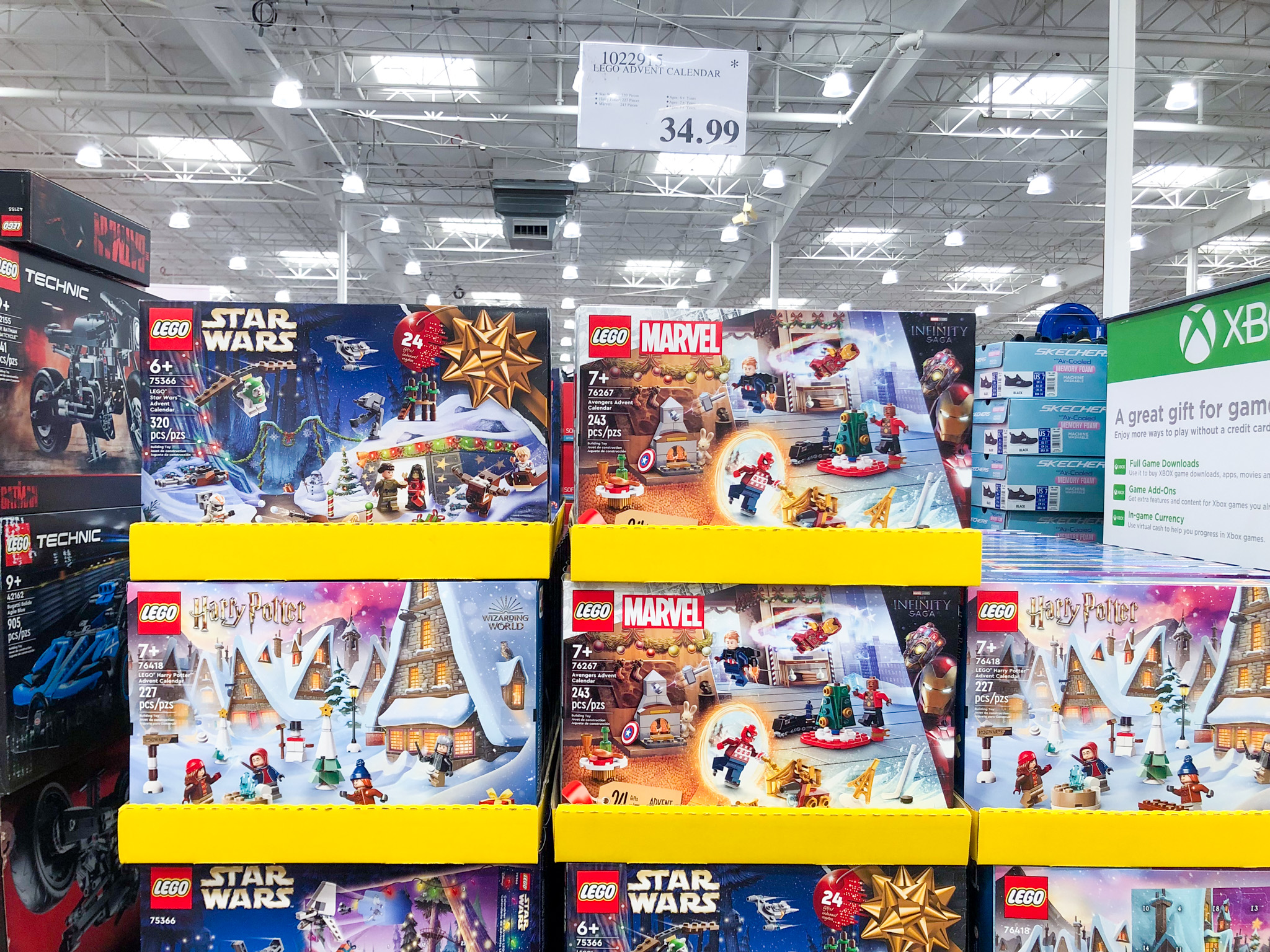 TIP: If you're not a Costco member, look for Lego advent calendars to pop up at Aldi stores around Nov. 1. Last year, they had Marvel, Star Wars, and Harry Potter Lego calendars in stock for $39.99, which is pretty similar to Costco's price.
8. Costco dog Advent calendars include 24 surprises that come out to $1.66 each.
Last year, we first found the Costco dog Advent calendar pop up at our store on Sept. 22. Each calendar includes eight dog toys and 16 bags of dog treats for $39.89, so you're essentially paying $1.66 per item. Not bad when you consider the regular price for dog toys at Costco is more like $6 – $10.
As long as inventory lasts, you might get a better deal if you wait until the first week of November, though, when Costco has some pet deals. For example, in 2022, this dog Advent calendar went on sale on Nov. 4 for $10 off in store.
9. The Costco beer Advent calendar is a fan favorite — you're paying $2.92 per beer.
As of Sept. 14, we're already seeing the Costco beer Advent calendar in our store! Each Brewer's Advent Calendar comes with 24 cans (16.9 ounces) of imported German beers, with the varieties pictured on the side of the box so it's not totally a surprise. All of the beers come from small breweries in Germany, and the styles include pilsners, pale ales, smoked beers, and more.
The price for the box is $69.99, which comes out to $2.92 per beer.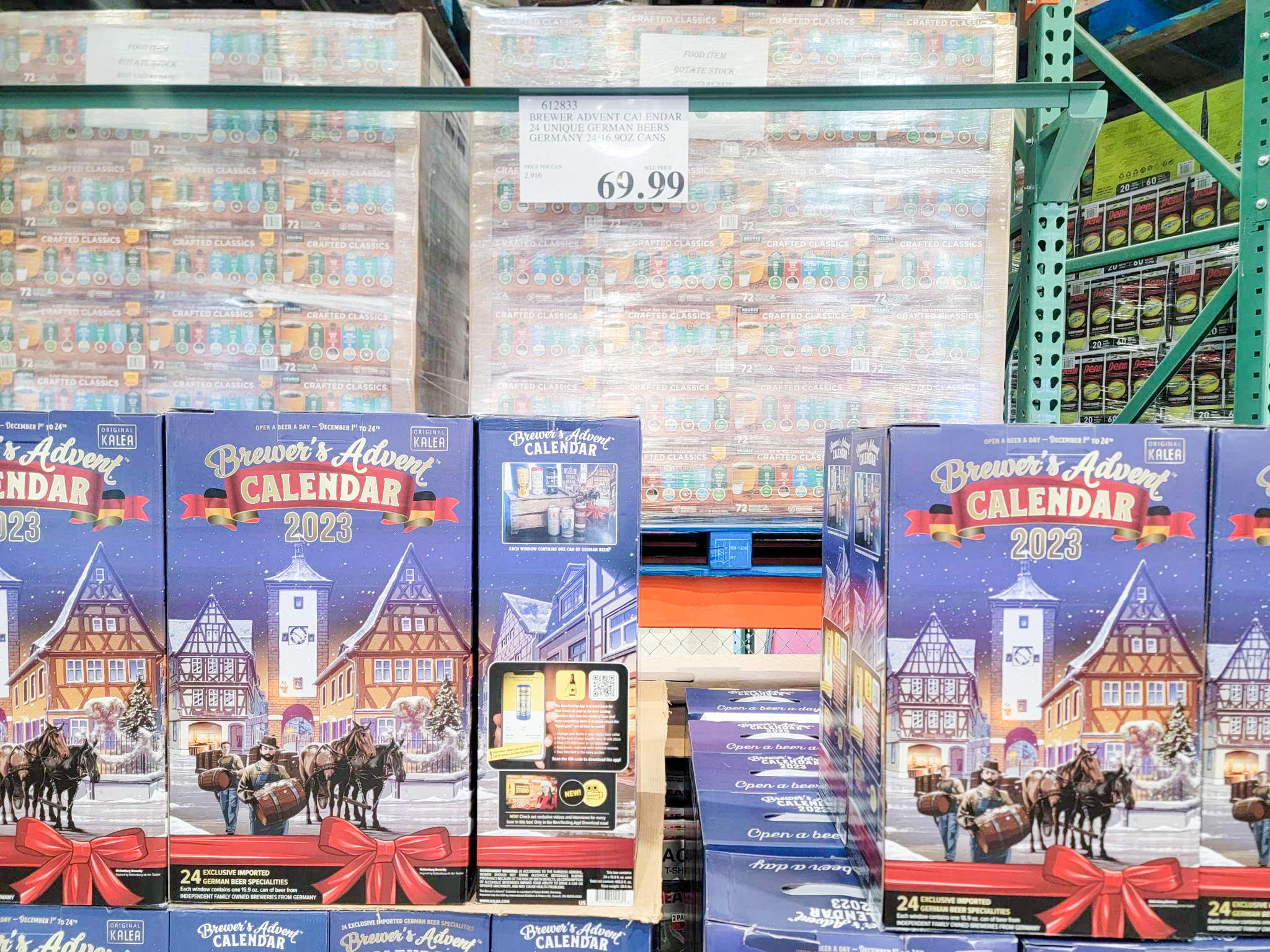 2023 Brewer's Beer Advent Calendar
TIP: You'll pay a little less for the Aldi beer Advent calendar, which should get released in stores on Nov. 1, 2023. With the Aldi calendar, you get 24 cans (12 ounces each) for $49.99, or $2.08 per can. Another cheaper option is the American Brewed Craft Beer calendar from Sam's Club, which is $35.96 for 24 cans (12 ounces each), or $1.50 per can.
10. Prepare for sticker shock with the Costco wine Advent calendar, but it's $4.17 per half-bottle.
The toughest thing about the Costco wine Advent calendar might be waiting until Dec. 1 to open the box. And as of Sept. 26, we're finally seeing this wine Advent calendar at our store!
You'll notice a new look for the "calendar" this year, with less of a holiday theme (and more of a travel design) so you can enjoy the bottles anytime. And they'll also have a smaller option with only 12 bottles.
Here are all the Costco-exclusive wine calendars to choose from in 2023:
Around the World in 24 Wines (24 half-bottles at 375 mL each), $99.99 — $4.17 per bottle
Take a Wine Adventure (24 half-bottles at 375 mL each), $99.99 — $4.17 per bottle
Around the World in 12 Wines (12 half-bottles at 375 mL each)
TIP: If you don't like surprises, you can get a sneak peek at all the wines included in each box on the manufacturer's website.
11. You'll pay the most per surprise with the 12-day Costco cheese Advent calendar — at $4.58 per cheese.
Last year, our store stocked this 12-day Costco cheese Advent calendar around Oct. 11, so keep an eye out for it. It contains 12 imported European cheeses — that's just over three pounds of cheese goodness!
A cheaper option is the Emporium Selection Advent Cheese Calendar at Aldi ($16.99), but you'll have to wait until November to get it.
Related: This year's new Ulta Advent calendars are already in stock, and they start at $1.83 per surprise.