We're reader-supported and only partner with brands we trust. When you buy through links on our site we may receive a small commission at no extra cost to you. Learn More. Product prices and availability are accurate as of the date and time indicated and are subject to change.
Whether you're collecting Disney Squishmallows, shopping for Easter Squishmallows, or looking for the Five Below Squishmallows when they drop, we bet you somehow became a Squishmallows fan. And you're not alone: These soft squishes exploded in 2022 and and have remained popular in 2023.
Case in point? March 7, 2023 (at 8 a.m. ET) , was officially the first-ever Squishmallows Day filled with giveaways, product reveals, brand announcements, and exclusive merch. So, what's in store for next year? While we don't have the details yet, here's a look back on the event in 2023, and what to expect for Squishmallows Day 2024.
Text DEALS to 57299 and be the first to know about the hottest deals each day.
Squishmallows Day takes place on March 7.
Squishmallows Day falls on March 7. In 2024, the celebration will fall on a Thursday. Why March 7? The date marks when the first ever Squishmallow Cameron the Cat was produced.
Expect a lot of Squishmallows surprises on March 7.
In 2023, the brand delivered on their promise to reveal new characters. Squishmallows that made their debut on March 7, were Check-In Series Malcolm the Mushroom in a Puffer Jacket (a San Diego Comic-Con International exclusive), Maritza the Cactus, and Benny the Bigfoot (in white).
Other Squishmallows surprises included their Instagram exclusive giveaway for shirts, posters, stickers, and limited edition Squishmallows Day pins. Plus, two new Squishmallow Instagram filters were announced along with Aston the axolotl, which was only available in the digital Squishmallows game in the Metaverse.
Score exclusive Squishmallows Day merch.
Squishmallows and Threadless collaborated together to bring exclusive Squishmallows Day merchandise in 2023. And, they shipped worldwide! They offered sweatshirts, posters, skate decks, and more.
Squishmallows Day Adult T-Shirt – $22.45

White, Charcoal, Pink, or Black

Squishmallows Day Kids T-Shirt in Black – $22.45
Squishmallows Day Classic Fleece Sweatshirt – $43.45
Squishmallows Day Classic Fleece Pullover Hoodie – $46.45
Squishmallows Day Kids Pullover Hoodie in Black – $44.45
Sticker – $7.92
Phone Case – $28.45+
Skate Deck – $64.45+
Collector's Poster – $29.95
Enter the Squishmallows Day Photo Challenge.
On Squishmallows Day 2023, 10 lucky winners received Squishmallows Day Merch Packs with one Poster, one Pin, one T-shirt, one Sticker, and one 12″ Squishmallows. Here were the detailed terms and conditions for Squishmallows Day Photo Challenge, and the easy version:
How to Enter:
You had to create a public Instagram post with #SquishmallowsDay and #Contest hashtags by 11:59 pm ET on March 7, 2023.
Only one entry was allowed per person, household, or email address.
How to Win:
Entries were evaluated by judges based on content (50%) and creativity (50%).
The top 10 entries won a Squishmallows Day Merch Pack.
Who Can Enter:
Entrants had to be at least 13 years old and a legal resident of the United States, United Kingdom, or Canada (excluding Quebec).
You had to own or have authorized use of a registered Instagram account.
Notification of Winner:
Winners were notified through a direct message on Instagram by March 9, 2023.
If you failed to respond or complete necessary forms within 24 hours of notice it may have resulted in forfeiture of the prize.
TIP: Be sure to follow along across all Squishmallows social channels to see what's happening: Instagram, Facebook, TikTok, and Twitter.
[wp_Ad_camp_1]
Where are Squishmallows sold?
Squishmallows are available for purchase in various locations worldwide, including the United States, Canada, and beyond. They are sold in both physical retail stores and online. For a comprehensive list of Squishmallows retailers, click here.
Shop these stores in the United States:
Aahs! The Ultimate Gift Store (CA only)
Boscov's
Hallmark
Justice
Learning Express
Party City
Roundy
Santa Monica Pier, CA
Shop TBS
Seaworld
Sesame Street
The Paper Store
Toy City
When were Squishmallows created?
Squishmallows first launched in 2017 by the California-based company KellyToy Worldwide Inc. Jazwares bought KellyToy in 2019 and currently owns Squishmallows.
What is the first Squishmallow?
The first Squishmallow ever created was Cameron the Calico Cat. He was one of eight released in 2017. He serves as the main mascot of the Squishmallows brand.
The original squad included eight characters, including Cam the Cat, Wendy the Frog, Fifi the Fox, Hans the Hedgehog, Piper, and Puff the Penguins, as well as Hoot and Holly the Owls.
To celebrate Squishmallows' 5-Year Anniversary, all of them, except for Piper, were reintroduced in a Walgreens Exclusive squad, showcasing a new tie-dye pattern.
What are the rarest Squishmallows?
Jazwares has a Rarity Scale for Squishmallows, which is also displayed on their bio tags. If you're in search of rare Squishmallows, we've got you covered!
One of the scarcest Squishmallows in both 2020 and 2021 was Archie, the light pink axolotl. While Treyton, the yellow axolotl, took the crown in 2022. Halloween Squishmallows belong to the rarest subcategory, featuring charming designs such as pumpkins, ghosts, and spiders. Jack the Black Cat Squishmallow holds the title of being the rarest Squishmallow ever produced, with only 500 made.
How many Squishmallows are there?
There are over 1,000 different squishmallows. Jazwares has an online Squishmallow Collector's Guide for you to keep track of how many Squishmallows you have. Plus, you can even sort this collector's guide by rarity, color, and size.
Squishmallows Deals to Shop Now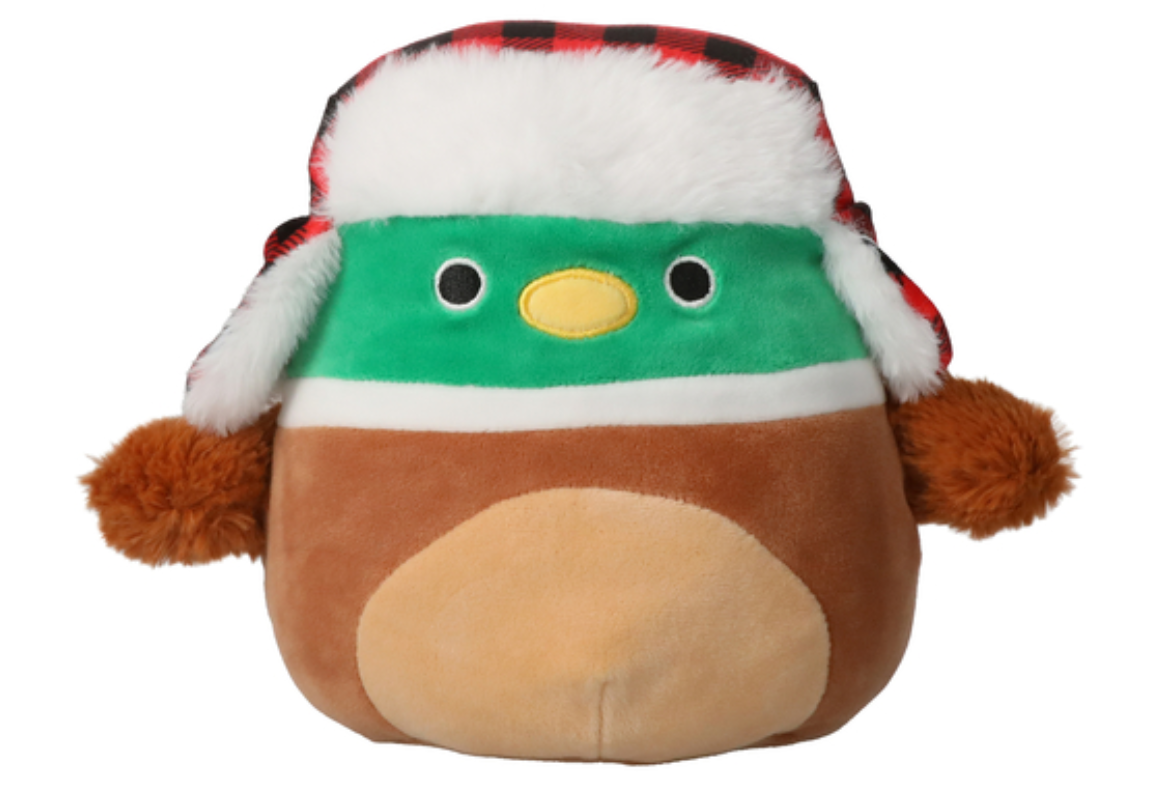 Shipping:
Free with Walmart+ or on orders of $35+