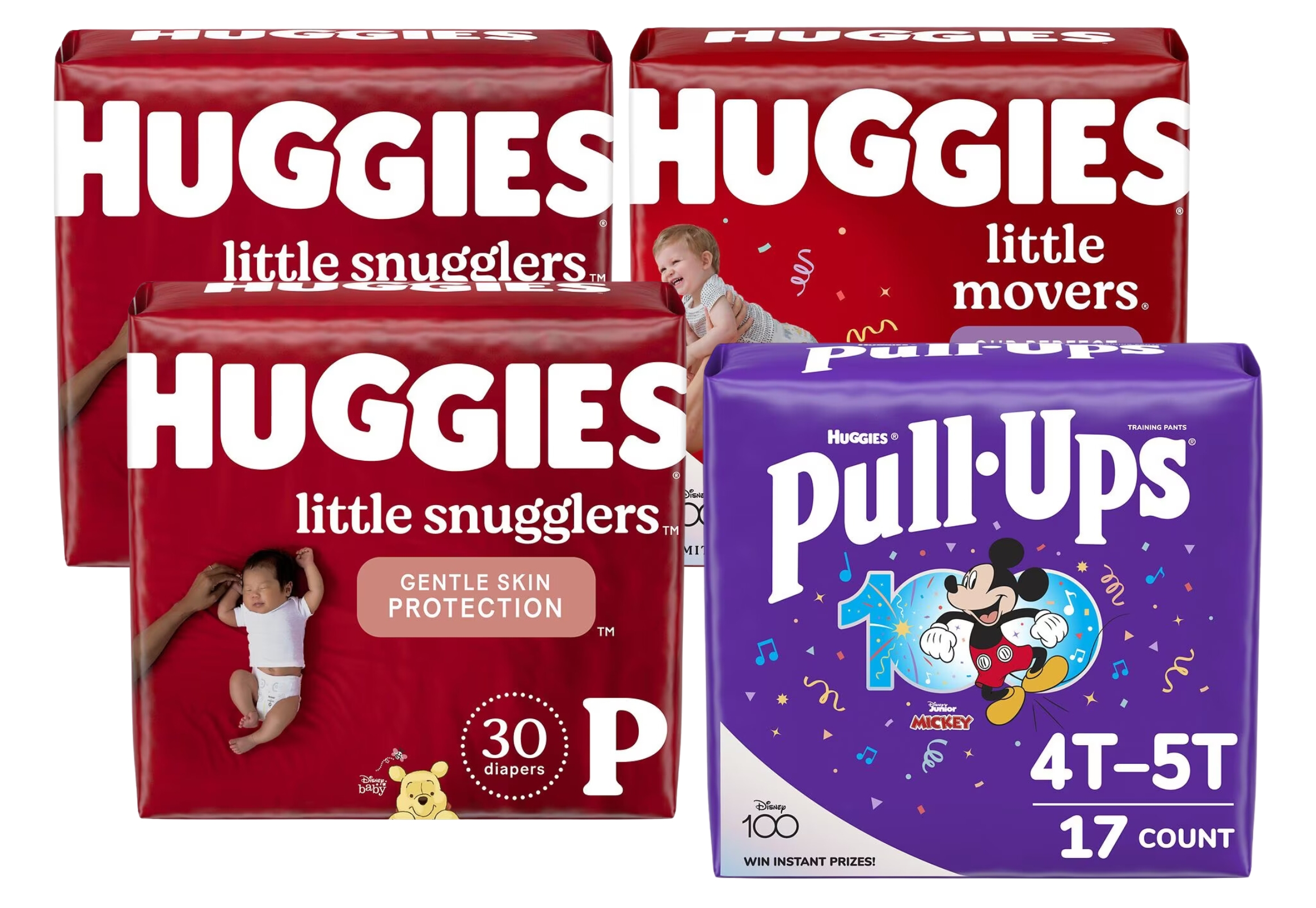 As low as
$9.00
$59.96
(85% Off)
Must buy 2+
Spend $35 on Kimberly-Clarke, receive $10 Register Reward
Spend $35 on Huggies, receive $10 Register Reward
MOBILE COUPONS NEEDED
$4.00/1 - Huggies Diapers, GoodNites or Pull-Ups, Walgreens App Coupon (Select Accounts)
$2.50/1 - Huggies Little Movers Diapers, Walgreens App Coupon (Select Accounts)
$2.50/1 - Huggies Little Snugglers Diapers, Walgreens App Coupon (Select Accounts)
$2.00/1 - Huggies Diapers, Super Pack, Walgreens App Coupon
REBATES TO SUBMIT
PRICE SUMMARY
Pay $31.00, receive $20 in Register Rewards and submit for $2 Ibotta credit
Get all the new deals and savings hacks straight to your inbox
Get Huggies diapers for just $2.25 per pack when you stack coupons, an Ibotta rebate, and a couple of Register Reward promotions. To get the digital coupons,
sign up
for a myWalgreens account if you haven't yet. Then clip the coupons on the
app
or
website
. Keep in mind these coupons vary by account.
Switch to the Ibotta app and add the $2 Pull Ups offer. After purchasing, submit your receipt to the Ibotta app and your account should be credited. For more tips on using the Ibotta app, check out KCL's informative article.
If you're new to using Walgreens coupons to save money, it may take some time to get the hang of it. However, with patience and practice, you can become an expert couponer and score amazing deals. Even beginners can get freebies at Walgreens with a little knowledge and effort.
By maximizing Walgreens Cash and Register Rewards, you can earn free money to put toward future purchases. You can save up to 90% on items like laundry detergent, diapers, and toilet paper by using coupons.
To get started, download the KCL app to get familiar with all of the best deals Walgreens has to offer. The Walgreens weekly ad is where you'll find current coupons and deals. Don't forget to bookmark the Walgreens coupon policy in case you run into any issues.
Diapers can be expensive, and since they're an everyday essential for your little ones, the price can really add up over time. Let the experts at KCL help you save big on diapers or even get diapers for free. Expecting parent? Learn all about diaper math and how many diapers your baby will need. I also suggest looking at how to budget for a new baby to get more for your baby while spending less.
Store sales and promotions can vary by region. Before shopping, check your local ad to confirm that this deal is available in your area.
Text WALGREENS to 57299 and be the first to know about the best Walgreens deals.