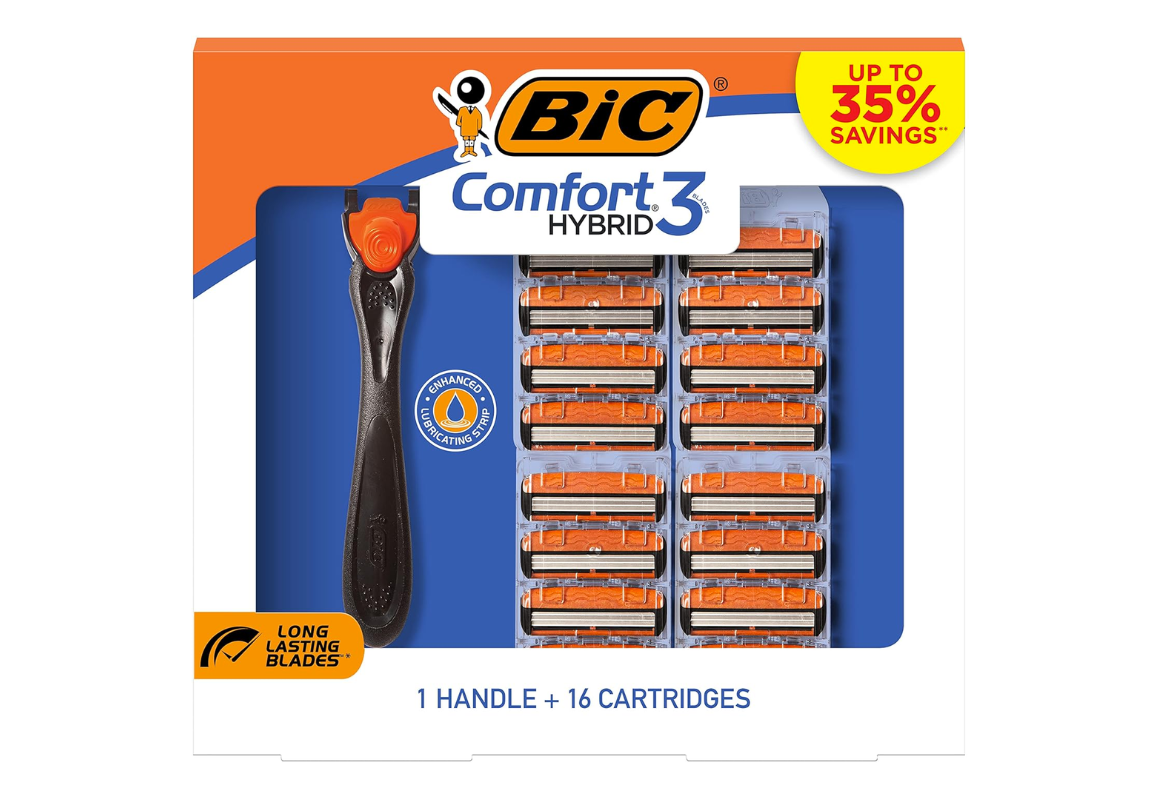 As low as
$7.31
$14.99
(51% Off)
5% or 15% off with Subscribe & Save
MOBILE COUPONS NEEDED
30% off - Bic Comfort 3 Hybrid Razors Kit, 16 ct, Amazon Coupon, Limit 1
The Bic Comfort 3 Hybrid Razor 17-Piece Kit is on sale at
Amazon
. The kit is presently priced at $13.29 and features a 30% off coupon you can clip. Checking out with Subscribe & Save will earn you an additional 5% or 15% off. Pay only $731.
It's best to act fast on Amazon deals. We know how quickly their prices can change, so order yours while the deal is still good. Love to score free items when you shop? Learn how you can score free Amazon credits.
Have you ever used Subscribe & Save before? The program is designed to help Amazon shoppers save big on their essential items and even schedule repeat deliveries so you never run out of stock. Here's all you need to know about Amazon Subscribe & Save. Shop all of the best Subscribe & Save deals here.
Learn how to make the most of each shopping trip when you join Amazon Prime. Prime costs $14.99 a month, or you can decide to pay the total annual cost of $139. Read through the full list of Amazon Prime Member benefits and perks you might be missing out on.
When you're placing an order on Amazon, consider using an Amazon Hub Locker nearby to keep your packages safe and secure. And if you're not satisfied with your purchase, you have the option to make a return using the Amazon Hub Locker or mailing it in for free. Learn more about Amazon's return policy and the easiest ways to return your purchase.
If discounts make your heart skip a beat, be sure to stay in touch by signing up to be a KCL Insider. You can even take your savings game to the next level by downloading the KCL app. This powerful tool allows you to create a personalized home page tailored to your specific interests and preferences. By curating your own unique experience, you'll receive instant notifications for deals that align with your shopping needs and desires. No more sifting through countless offers that don't resonate with you — the KCL app ensures you're always in the loop about the deals that matter most.
Text AMAZON to 57299 and be the first to know about the best Amazon deals.