As you get ready for another fourth Thursday in November, we've rounded up the best Thanksgiving hacks you need to know to save you time and money.
From how to get a free Thanksgiving turkey, decor ideas, and simple cooking tips, the goal is to make planning and prepping a breeze. Use that extra time to focus on all the great Black Friday deals dropping around the same time your bird gets roasting in the oven. Then you can sit back and enjoy the deals while eating mini pumpkin pies.
For more Thanksgiving hacks, check these out DIY Dollar Tree crafts for Thanksgiving you'll want to gobble up. Don't forget to text HACKS to 57299 for more savings hacks and smart shopping tips or download the Krazy Coupon Lady app.
Thanksgiving Hacks You'll Want to Use Every Year
1. Print out Thanksgiving recipes and tape them at eye level on kitchen cabinets.
Sure, you can keep your favorite Thanksgiving recipes pulled up on a phone or computer screen, but then you'll have to deal with your device's sleep mode and toggling between screens. And cookbooks on countertops are bound to be in your way on Turkey Day.
Instead, grab some $5 painter's tape (or really any tape you have available) and plan to use this Thanksgiving cooking hack (you'll thank me later!).
2. Shape foil into a ring to keep the turkey moist while roasting.
Don't have a roasting pan? It's all good. Make a foil ring to help heat flow around your turkey for even roasting. Set your bird on top of the aluminum foil ($3) and add more as needed so that your Thanksgiving turkey will stay elevated while cooking.
Want a real roasting pan? These cookware deals will make you happy.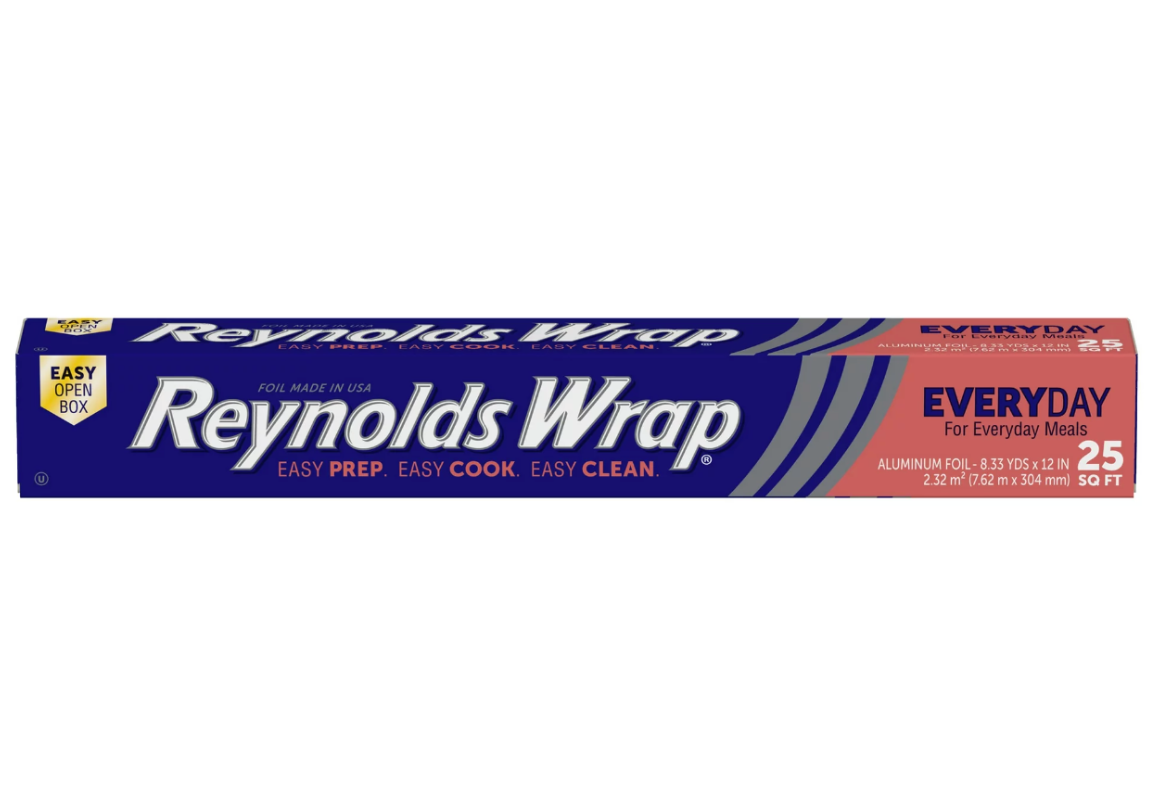 Shipping:
Free with Walmart+ or on orders of $35+
3. Use a thermos as a gravy warmer to free up space on the stove.
Raise your hand if you like gravy on almost all your Thanksgiving sides?! Keep gravy warm in a thermos ($13) so you don't have to keep reheating it until dinner is ready. No thermos? Insulated drinking cups (like Stanley Quenchers) keep liquids hot for about seven hours.
4. Prep or cook as many dishes as you can the day before to save time.
Whether you're cooking for a family of four or 14, shortcuts can save you from being overwhelmed. Every Thanksgiving my mom cooks her green beans the day before and just reheats them before dinner on Turkey Day.
Now that I have my own family, I've taken her advice and made dishes like cranberry sauce and deviled eggs the night before so I can move on to the heavy hitters on Thanksgiving.
5. Use a paper plate as a hand mixer splash guard.
Use the blender whisks to poke two holes into the paper plate ($3 for 50) and position it over your bowl and your mix. Just don't overmix your mashed potatoes — they'll turn out gummy, and nobody wants that for this core Thanksgiving side dish.
6. Keep mashed potatoes warm in a slow cooker.
A slow cooker isn't just for cooking food — use the warm setting to keep your food at an even temperature. Plus, you'll free up space in your oven and stove this way. Need a new slow cooker? We rounded up all the best slow cooker deals.
7. Grate butter for easy mixing when making biscuits or Thanksgiving pie crusts.
Grating your butter — instead of dicing it — causes the end result to be flakier. Plus, the pieces are more uniform and combine better. By the way, I know an amazing pumpkin pie cupcake recipe that you can try instead of a store-bought pumpkin pie.
8. Drape a towel over a KitchenAid to prevent ingredients from splashing everywhere.
Your KitchenAid should be coming to your aid this holiday season, not cause an extra mess. Draping a kitchen towel ($5) over the mixing bowl will prevent your mix from flying all over your space.
9. Microwave garlic for 15 seconds to easily remove skin.
After 15 seconds, be very careful peeling the skin — it's hot! The heat from the microwave causes the garlic to release steam, which helps break down the bond between the clove and the skin.
You can stick an entire bulb in the microwave if you need more garlic (or want to prep cloves ahead of time). Cut both ends of the bulb off and squeeze one side until the cloves slip out of the peel.
10. Boil cinnamon sticks, apple peels, orange rinds, and whole cloves in water for a festive-smelling home.
Give your space a scent boost with some basic kitchen ingredients. Fill a small pot with water, let it boil, then add cinnamon sticks, fresh cloves, orange rinds, and apple peels. Boil for 30-60 minutes until your space starts to smell like fall. Don't have space on your stove? Heat the ingredients up in a Crock-Pot for a couple of hours.
11. Cover the kids' Thanksgiving table with kraft paper and set out crayons to keep them entertained.
Kraft paper ($5) as a Thanksgiving tablecloth isn't just for kids, you know. Lay it out on the adults' table too and ask them to write or draw what they're thankful for this year ❤️. Have a cup of Crayola items like crayons and colored pencils ready to go. You can also use paper grocery bags for a last minute fix.
12. Use a hollowed-out pumpkin as a DIY Thanksgiving centerpiece.
First, cut open and hollow out a pumpkin. Then tuck a waterproof liner like cellophane inside the pumpkin. Here are the steps to do it:
Soak floral foam ($2) in water. Then place the saturated block inside the pumpkin. Measure and cut flowers, and then stick stems into the foam in any desired pattern. For best results, start by adding greenery and small filler flowers before large flowers in your clever Thanksgiving centerpiece.
Need to learn how to roast pumpkin seeds perfectly every time? We've already tackled it for you.
13. Use square and rectangle pans so you can fit more dishes in the oven.
I don't know about you, but oven space is a battle every Thanksgiving. This Thanksgiving hack will help solve your cooking space issues. Use pans of the same shape to fit more in your oven at a time. Have you seen these cookware deals?
14. Keep food warm in a cooler.
Cover dishes tightly with foil and use the cooler's insulation to retain the heat. Place a kitchen towel on the bottom if the dishes are super hot. This is also a great travel hack if you're bringing dishes to a Thanksgiving dinner.
15. Cook Thanksgiving stuffing in muffin tins for easy serving and delicious, crispy edges.
Spray a muffin pan ($4) with cooking spray before filling with Thanksgiving stuffing. Be sure to press your mixture into each cup with a spoon so your muffins don't fall apart. Bake for about 20 minutes at 350 degrees or until stuffing is firm and tops are golden brown.
16. Prevent a mixing spoon from falling into a bowl or pot full of food by wrapping a rubber band around the handle.
You're probably going to be moving pretty quickly on Turkey Day. This may be the simplest of Thanksgiving hacks, but it could also save the day. Less mess = less stress.
17. Make pumpkin pie bites with a cookie cutter and whipped cream.
If your guests ask if you made this, say yes! Take a store-bought pumpkin (or sweet potato) pie and transform it into bite-size desserts.
If you don't have a round cookie cutter that's deep enough, try a biscuit cutter ($3). For best results, slightly spray the biscuit cutter with nonstick cooking spray before cutting into your Thanksgiving pie.
Use a knife or spoon to tap the outside of the biscuit cutter to help the pumpkin pie slip out without messing it up. Top with whipped cream and enjoy!
Psst … Costco has the best pumpkin pies for this Thanksgiving dessert idea!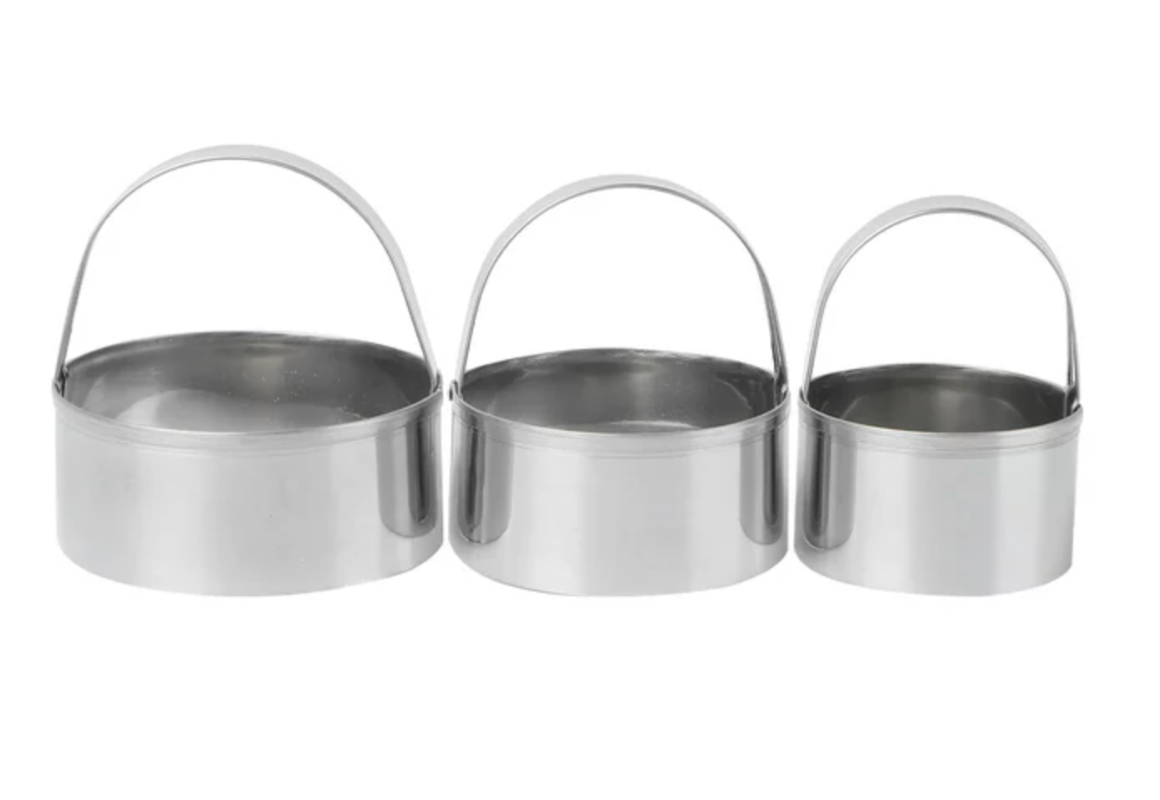 Shipping:
Free with Walmart+ or on orders of $35+
18. Get fluffier whipped cream by chilling a metal beater and bowl beforehand.
Because you can't have Thanksgiving desserts without the fluffiest whipped cream. There's no shame in buying your own whipped cream, but making it is too easy!
Chill your whisk and mixing bowl in the freezer because otherwise you'll end up with some non fluffy, pretty sad cream to top your desserts. Take your chilled heavy whipping cream and whip like nobody's watching until you see the cream expand. Add a tablespoon of confectioners' sugar to sweeten it and to stabilize it.
19. Chop and refrigerate all of your vegetables the night before.
Chop those onions and bell peppers and dice your potatoes. Trust me, you'll be so happy that you took the time to do it the night before. Make sure you cut more than enough so you can use them for different dishes. It's a small task to overlook, so put it on your to-do list!