While Christmas is still a few months away, I'm already finding tons of Christmas LEGO sets popping up on display. You can build a LEGO Christmas tree, a festive wreath, or even an entire winter village — complete with minifigures of Santa and Mrs. Claus.
As any LEGO fan knows, real LEGO products are on the pricier side, especially when compared to "off-brand" blocks. However, the LEGO brand has been around for decades and is known for being high-quality and durable. (My family still plays with LEGOs my grandparents bought way back in the day!) Plus, if you keep the instruction manuals and keep all the pieces together, you can re-build the sets year after year.
While these Christmas LEGO sets don't often go on sale, we do have several LEGO savings tips to help you get the best deals. For example, consider investing in a kit and supplementing it with loose bricks (you can find these on sale for Black Friday and Cyber Monday) to add even more fun and creativity. Plus, check out our favorite Disney Amazon LEGO sets under $20, or popular Disney LEGO sets on sale now.
To stay up-to-date on the best LEGO deals and get more money-saving tips, download the KCL app or text HACKS to 57299.
Shop These Popular Christmas LEGO Sets Now
1. LEGO Wintertime Polar Bears Building Kit
Create your own polar bear friends with this LEGO set ($12.99, Amazon). For just under $13, you'll get more than 300 bricks to create two polar bears and a Christmas tree on top of a festive rotating base. It's currently being sold for the lowest price we've seen on this product.
Ages: 9+
Pieces: 312
Release date: Available now
2. LEGO Christmas Train Puzzle
This set ($16.95, Amazon) includes four complete 100-piece puzzles and the pieces are slightly larger to help smaller hands. This would make a great gift idea for any LEGO fan this holiday season. The price hasn't changed since its release in August.
Ages: 7+
Pieces: Four 100-Piece Puzzles
Release date: Sept. 26
3. LEGO City Advent Calendar 2023
Don't wait until Christmas to start the LEGO building! This LEGO brand Advent calendar ($34.99, LEGO.com) has 25 windows, one for each day of December leading up to Christmas. Each one is filled with a minifigure or small building project to help you complete the LEGO City scene on the included playmat. It's labeled for ages 5 and up. It's currently sold out on LEGO.com, but you can still find it at Walmart for just $20, or 56% off!
Ages: 5+
Pieces: 258
Release date: Available now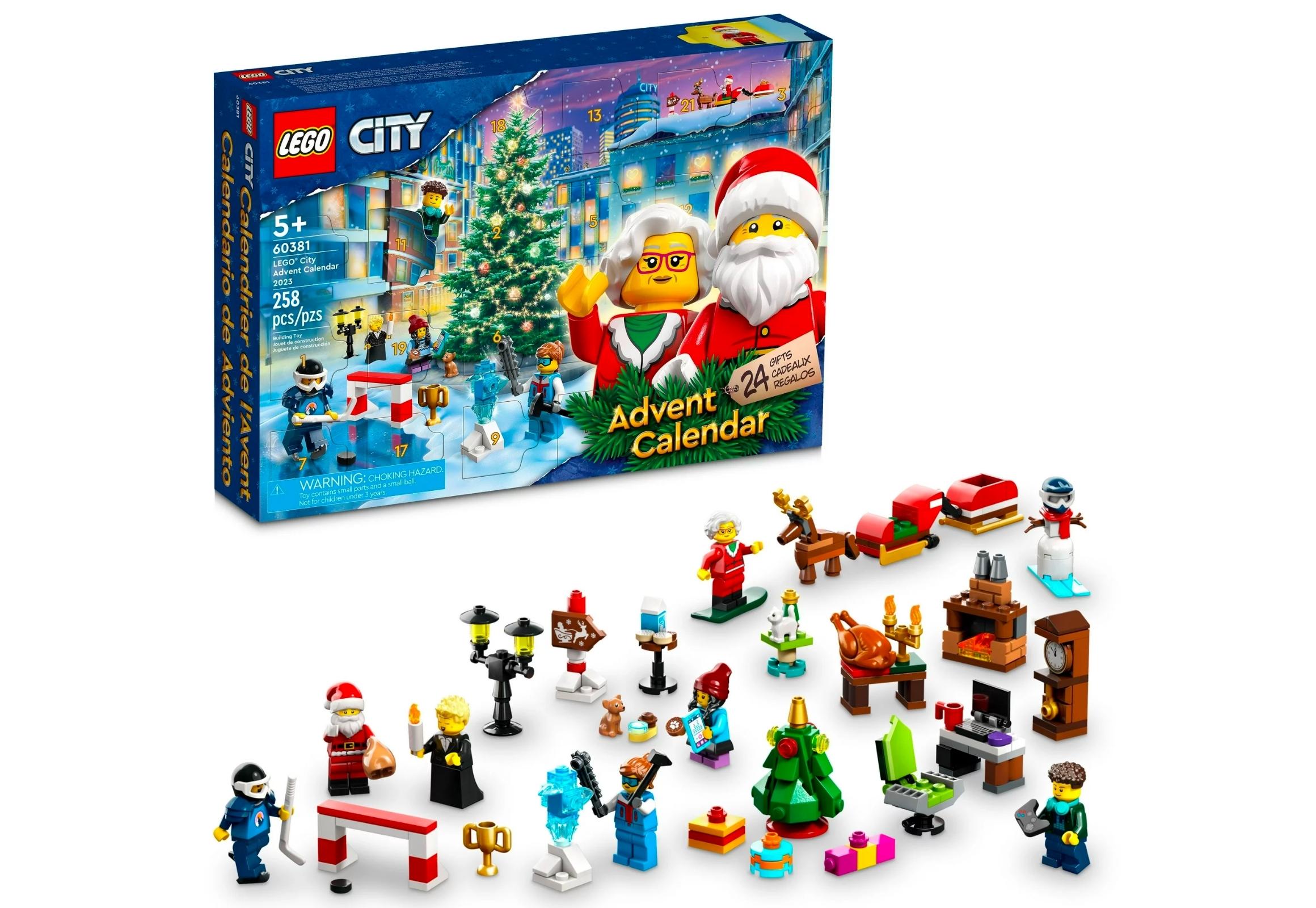 Shipping:
Free with Walmart+ or on orders of $35+
RELATED: These Disney Lego Sets on Amazon Cost Less Than $20
4. LEGO Winter Elves Scene
Make Santa's workshop, complete with elves ($42, Amazon). This kit, for ages 9 and up, has everything you need for a North Pole scene, complete with two elf minifigures, twinkling lights, and Christmas trees. In the past we've seen it as cheap as $24.97, so we hope it drops in price again.
Ages: 9+
Pieces: 372
Release date: Available now
5. LEGO Christmas Wreath
With more than 500 pieces for under $40, this Christmas wreath kit ($39.99, LEGO.com) has plenty of hours of fun for the money. And, it's a 2-in-1 set, which means after you've built the traditional wreath, you can take it apart and build a holiday centerpiece!
Ages: 9+
Pieces: 510
Release date: Available now
6. LEGO Christmas Tree
This festive Christmas tree ($44.99, LEGO.com) is another 2-in-1 set. Use the bricks to build one large tree decorated with candles, ornaments, and a cute Christmas tree skirt. Or, use the same set to create two smaller decorated trees. With more than 780 pieces for under $45, this is one of the best cost-per-brick sets LEGO offers.
Ages:

12+

Pieces:

784

Release date:

Available now
7. LEGO Harry Potter Advent Calendar 2023
One advantage of paying more for authentic LEGO brand products is that they have the rights to popular movies and characters that most of the off-brands don't. Their 2023 Advent calendar collection ($44.99, LEGO.com) is packed with favorites, like this Harry Potter countdown. Each day, open a door to find 6 minifigures and 18 mini-builds. And, it's even on sale for $4.50 less!
Ages:

7+

Pieces:

227

Release date:

Available now
8. LEGO Santa Claus Workshop
Renovate Santa's workshop with this building set ($19.99, LEGO.com). Filled with packages, toys, and tools, the workshop set includes mini-figures of Santa Claus and an elf, buildable toys, and even a moving conveyor belt! This set is hard to get your hands on at LEGO, but if you can find it, pick it up ASAP. Otherwise, you'll be stuck ordering from Amazon and paying about three times as much.
Ages:

9+

Pieces:

329

Release date:

Available now
9. LEGO 'A Christmas Carol'
Recreate Charles Dickens' iconic holiday story with this A Christmas Carol-inspired LEGO set ($22.99, LEGO.com). The bricks come together to form a classic scene from the story, with the base of the set resembling a book. It's appropriate for ages 8 and up. This is another set you should only buy from LEGO. Otherwise, Amazon is selling it for a whopping $61.
Ages:

8+

Pieces:

333

Release date:

Available now
10. LEGO Holiday Main Street
Create a Hallmark-movie-ready townscape with this set ($99.99, Amazon) of more than 1,500 pieces. Build a moving streetcar that takes a collection of minifigures to the toy store, music store, and bus stop for a day of holiday shopping. The price hasn't really changed in the last year.
Ages:

18+

Pieces:

1,514

Release date:

Available now
11. LEGO Creator Expert Gingerbread House
This season, skip the edible gingerbread house and splurge on this LEGO kit ($178.49, Amazon) instead. This set is labeled 'creator expert,' and comes with more than 1,400 pieces, so it's best for experienced builders. Create a magical gingerbread mansion complete with a frosted roof, bright candy accessories, gingerbread men, and holiday decor. Before the set was discontinued at LEGO, you could get it for $79.99. But now, it's being sold for $178.49. or a whole $100 more.
Ages:

12+

Pieces:

1,477

Release date:

Available now
Black Friday is a great opportunity to find LEGO sets for up to 50% off.
This is true for big box retailers like Target, Amazon, Walmart, and even the LEGO store. Additionally, Kohl's will have a special promotion where you can earn Kohl's Cash on any and all LEGO Black Friday purchases.
Costco is the best place to find LEGOs for cheaper year-round.
Costco will often offer a LEGO set cheaper than its retail price, but this is especially true in the months leading to Black Friday. For example, in late Sept. 2023, you could get the LEGO Tranquil Garden Set for $89.99, which is $20 cheaper than its retail price.
LEGO sets do go on sale. And their sales sometimes last a while.
For example, the Disney Mini Haunted Mansion and Up! House went on sale on Amazon and Walmart respectively for weeks, from mid-August through late September 2023. You can also shop their clearance section on the site, where you can find discounts of up to 40%.
Head to Costco to find LEGO Advent calendars for cheaper than Amazon.
In September 2023, we found a bunch of LEGO advent calendars, like Harry Potter and Marvel, offered at $34.99. The same exact calendars were found on Amazon for $44.97, saving Costco members $9.98 per calendar.
Find up to 70% discounts on LEGO sets during Target's Semi-Annual Toy sale.
Target's Semi-Annual Toy sale happens in mid-January and mid-July. We've seen LEGO sets marked down anywhere from 30% to 70% off every time, and it's likely that Christmas sets would be included. The only bummer is that you'd have to get them well after (or before) the holiday season starts.
We've also seen Target offer Black Friday discounts or special promotions for LEGO VIP members during the early summer. So, it's likely that these Christmas LEGO sets will see discounts too — either on Black Friday or a few months after the holiday season.
Join LEGO VIP (now LEGO Insiders) to earn rewards on future purchases.
When you become a LEGO Insider member, you're automatically notified of any LEGO promotions and discounts that go live. You also earn VIP points on purchases and are among the first to get access to special promo codes directly from LEGO.
And the best part? It's free to join. You just need to sign up with your email online or in-store.